This Cajun steak bites recipe does not have butter, making it perfect for a buffet or appetizer bar. A cast iron skillet is the recommended cooking method for this easy and delicious beef-lovers dish with cajun spices.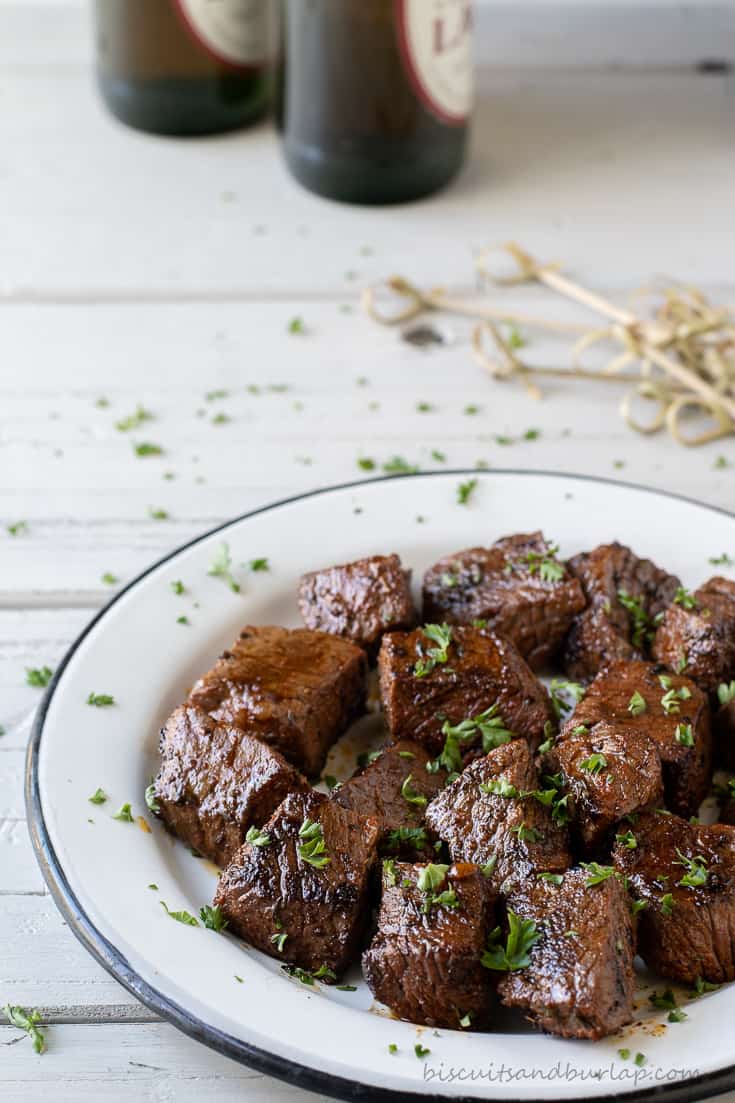 Why is it best to leave out the butter?
While delicious served hot from the skillet, these Cajun Steak Bites can also be set out on an appetizer board and allowed to get to room temperature. Butter would tend to separate as the steak cools and not be nearly as mouthwatering.
You wouldn't want to actually cook the steak bites in the butter because butter will burn at higher temperatures. This steak should be cooked in a high smoke point oil like canola oil. Butter would be added at the end making two grease based ingredients.
It's just not needed! These steak bites have a delicious flavor with a few, simple ingredients.
Are Cajun steak bites spicy?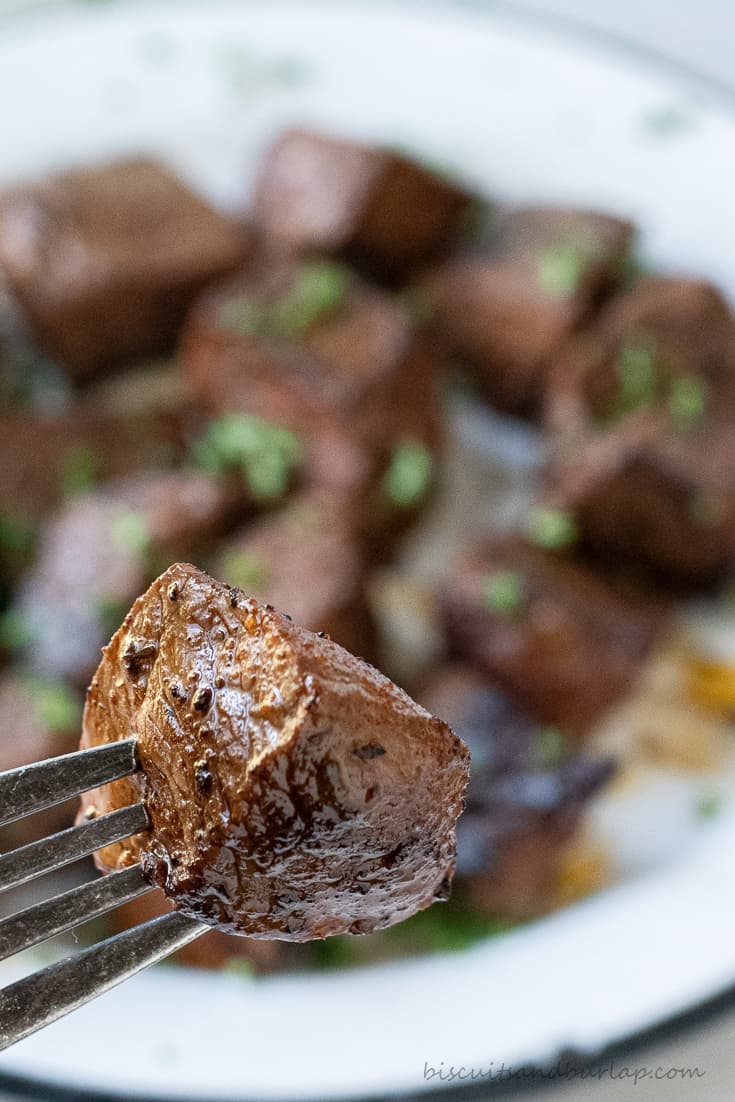 If you're a regular around here you know that our all time favorite seasoning blend is Tony Chachere's Original Creole Seasoning. But, just like in our gumbo, jambalaya recipe, Oven Roasted Cajun Potatoes and shrimp etouffee it adds just flavor if used on its own.
If you love bone-in chicken for roasting or baking like we do be sure to try Cajun Baked Chicken. It's got the "Tony C" and more for seasoning, too.
We love spicy food and almost always recommend a way to kick up the heat if you do too. In the case of these steak bites just add a little cayenne pepper if a spicy kick is your jam.
The best types of beef to use
Naturally, a really excellent cut like tenderloin would be wonderful. However, we usually prefer to cook a high quality steak like that by keeping it super simple with the reversed reverse sear steaks method.
For this recipe the main idea is to end up with steak that's tender after just a couple of minutes on the heat. Sirloin works really well, and is less expensive that many other cuts.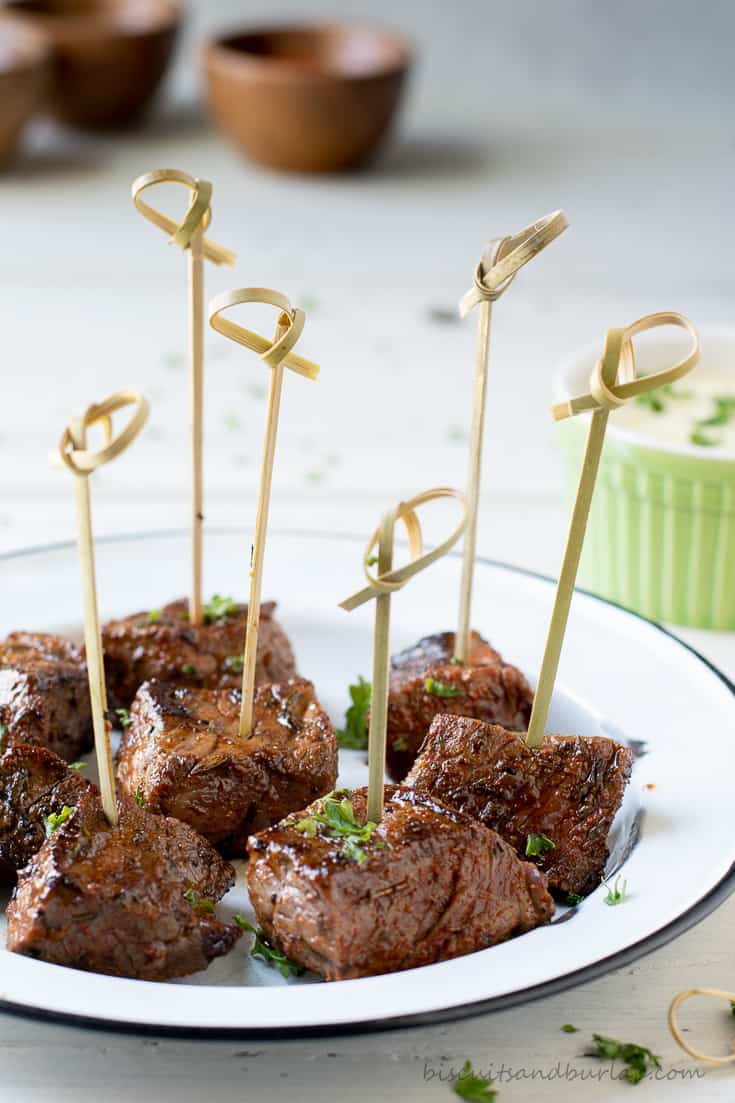 Cooking in a cast iron skillet is recommended
Just like with sweet potato cornbread, skillet potatoes, Cajun gravy and chicken and our favorite pork chop recipe, Cajun Steak Bites are best cooked in a cast iron skillet. It holds the heat, is naturally seasoned and gives a charred sear that highlights the flavor of the meat.
You could also cook them on a good hot grill, or in another type of skillet. We don't recommend using an oven because you want to get a good sear, and they need to be cooked quickly.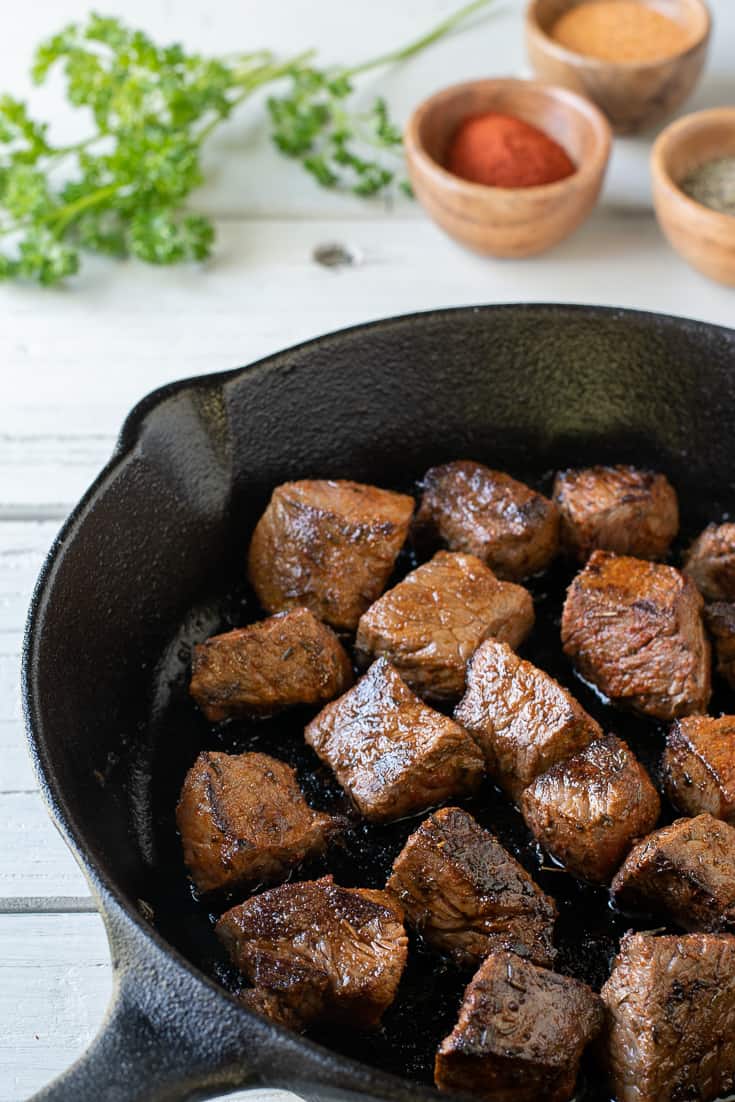 What's a good dipping sauce for the steak bites?
The truth is, they are so good all by themselves you don't really need a sauce. But, if you like to always offer a dipping option, consider these:
a good quality blue cheese dressing
a classic Remoulade Sauce
a bit more Tony C. stirred into some mayo, sour cream, Greek yogurt or any combination of the three
chimichurri sauce would be an excellent choice
if you're adding them to a salad, try it with Cajun Salad Dressing.
Cajun food is just one branch of that cuisine known as Southern Food. If you love it like we do you'll want to check out Southern Food: Then & Now.
Cajun butter is a good thing
We want to be sure y'all understand that we do love it. There's that delicious recipe for Steak Butter plus Grilled Shrimp Skewers and Cajun Grilled Chicken Wings. They're all awesome and we know you'll love them too, and they all involve a Cajun Butter.
But, for the reasons mentioned above, we think these cajun steak bites are best left "butter-less" and we believe you will all agree.
If serving as a main dish you could always complete your meal with Red Beans and Rice. This version is a copycat from Popeyes.
📖 Recipe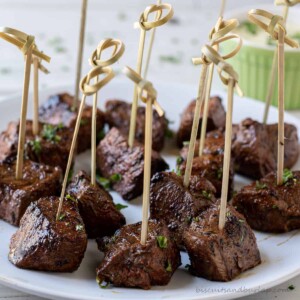 Cajun Steak Bites
Cajun Steak Bites Recipe does not have butter, making it perfect for a buffet or appetizer bar. Just a few ingredients keep it simple and easy!
Ingredients
1

pound

steak

cut into bite sized pieces, about 1 inch each

2

teaspoons

Creole or Cajun seasoning

(we like Tony Chachere's)

1

teaspoon

dried thyme

1

teaspoon

smoked paprika

¼

teaspoon

cayenne pepper

optional, add more if you like it hot

1

Tablespoon

canola oil

or other oil with a high smoke point
Instructions
Mix seasoning blend, paprika, thyme and optional cayenne

Toss steak bites into seasoning blend, coating all sides.

Heat oil in cast iron skillet over medium heat until a drop of water sizzle and "dances" on the surface

Add steak bites to skillet, being careful not to crowd. Cook for 1-1.5 minutes and then turn cooking an additional 1-1.5 minutes, depending on your desired steak temperature and thickness of steak.
Notes
Don't add any salt unless you are using a salt-free Cajun/Creole Seasoning.
Cooking time will vary with the thickness of the steak and the amount of doneness you desire. 

More recipes with a Creole or Cajun Twist: