Sweet Potato Cornbread has subtle hints of sweetness and cinnamon making it perfect for your fall and winter meals.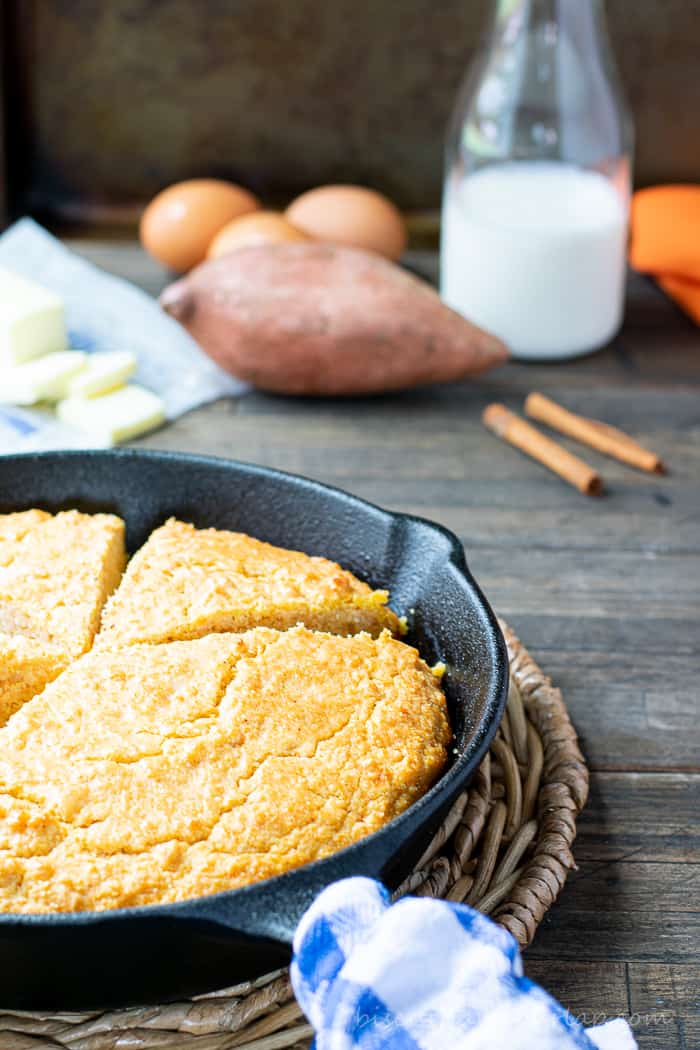 Sweet Potato Cornbread is a delicious twist on the classic making it perfect to go with a bowl of soup or stew, or any other traditional cool-weather dish. It's easy to make, and is a great way to use up leftover baked sweet potatoes.
An idea is born
Funny story: Some time back a friend was telling me about a restaurant she loves in a favorite beach town. "They have sweet potato biscuits that are just the best", she said - or so I thought. Thinking that sounded great, I set about crafting a recipe for sweet potato biscuits.
As sometimes happens when developing a recipe it took a few tries to perfect. About the time I finished, I saw the friend and told her about it. "No," she said, "it was sweet potato cornbread." Duh!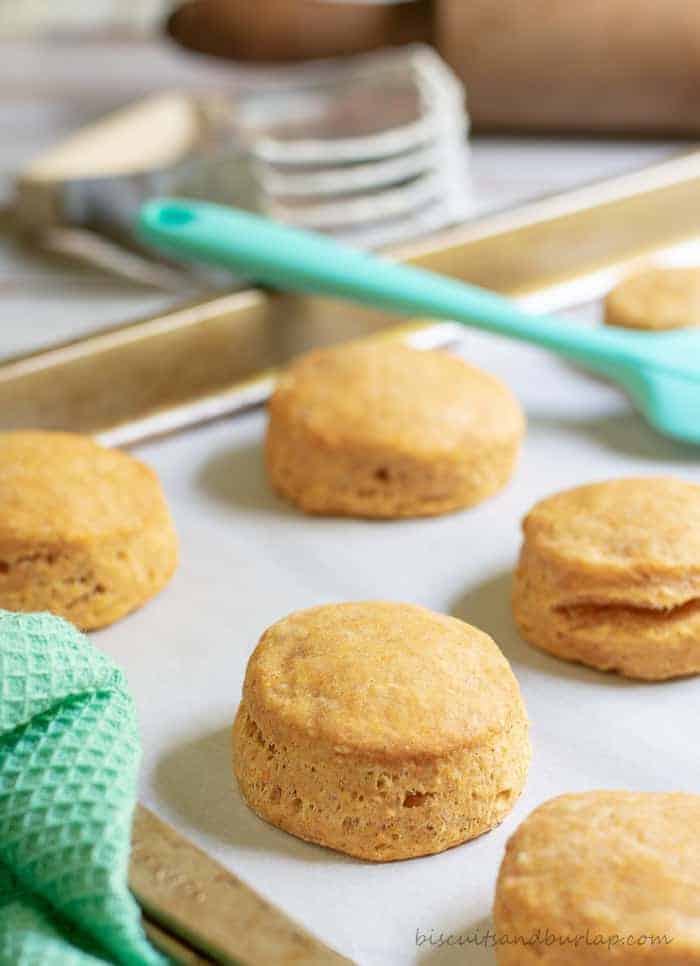 Being about ready to post the Sweet Potato Biscuit recipe I went ahead with it. And, I must say, the biscuits are really good. We had them with our Thanksgiving dinner last year and they were definitely a hit. They also freeze beautifully, making a great addition to our post Make Ahead Recipes for Holiday Meals.
At any rate, I filed the idea of Sweet Potato Cornbread away in my mind and it's now a reality. I think you'll love it too. Personally, I can't think of anything I'd rather have with a nice big serving of collard greens. (Now that's southern food! More info on southern recipes here. )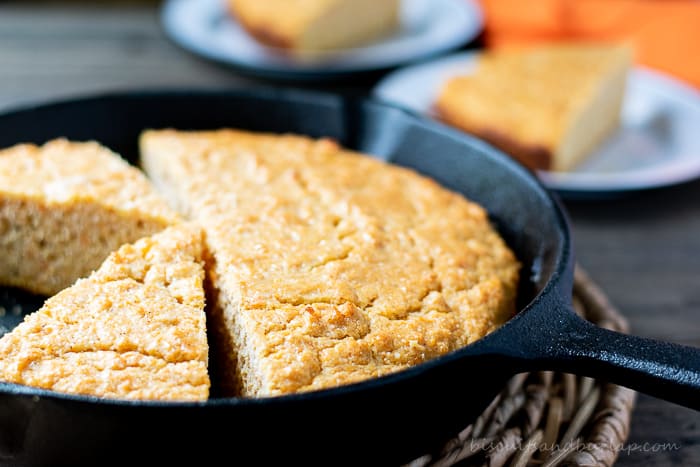 Of course, this sweet potato cornbread is good any time of year. Going back to the source of the idea - it's served year round in a seafood restaurant at the beach. So... whenever you have a hankering, go for it!
How to cook Sweet Potato Cornbread
This post contains affiliate links. Click here for our full disclosure and privacy policy.
A few tips to keep in mind, but overall this is a simple, straightforward recipe:
How to eat Sweet Potato Cornbread
It's so good hot from the oven you can eat it absolutely plain. But, it is most definitely delicious with a good drizzle of honey.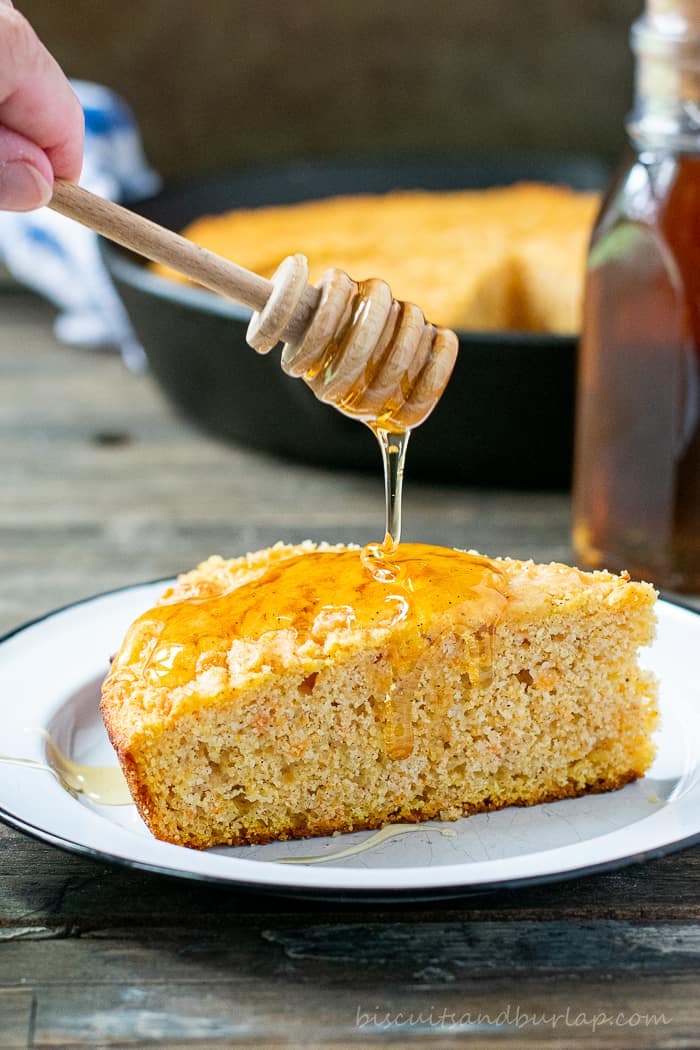 Better yet, how about honey and a good, big pat of butter?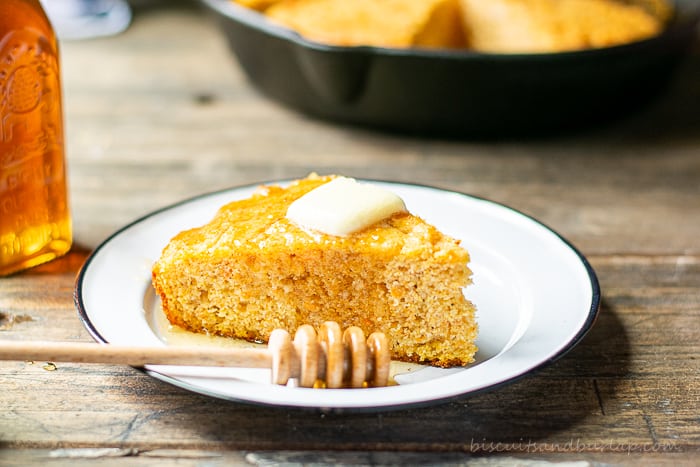 For a sweet potato breakfast or brunch bread be sure to check out this easy recipe. Sweet Potato Muffins with Crumble Topping have an optional praline glaze. It also makes a great side for Carrot Pumpkin Soup with Brown Butter.
📖 Recipe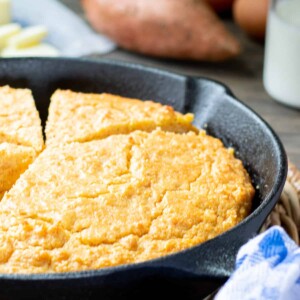 Sweet Potato Cornbread
This Sweet Potato Cornbread has just a touch of sweetness and a light cinnamon twist. Perfect with all of your fall and winter favorites, or anytime of year.
Instructions
Heat greased10 inch cast iron skillet for 5 minutes in oven which has been preheated to 425 degrees.

Stir all ingredients in bowl just until well blended and put in heated skillet.

Bake for 22-25 minutes or until lightly brown and done in center.
Love sweet potatoes?
This is a super simple recipe that makes a wonderful side dish year round. Only 4 ingredients are in this one and it has humble beginnings in the Gullah culture of the Carolina Lowcountry. Gullah Style Sweet Potato recipe can be found here.
Sweet Potato Butter is divine spread on a fresh Buttermilk Biscuit or toast and it makes a unique hostess gift, too!
Smoked Sweet Potatoes will blow their minds when you serve them fresh and hot off the grill or smoker! If you'd rather not heat up the grill, you'll love these Pan Fried Sweet Potatoes.
Be sure to tag us on Facebook and Instagram with a photo of your Sweet Potato Cornbread. We love seeing your versions of our recipes.
And don't forget to sign up here for a new recipe each week.

More Recipes You'll Want to Try: