This quick and easy roasted asparagus recipe combines lemon and garlic for a simple side dish that complements any main course.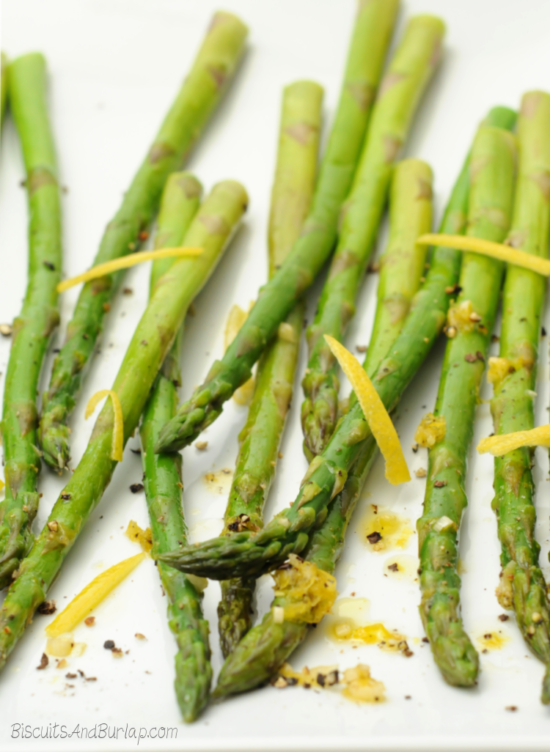 Spring is asparagus season and roasting asparagus is the best way to bring out all the earthy flavors of this vegetable. The best part is, it can be easily tossed together and can be roasting while your main dish is finishing up on the stove or grill.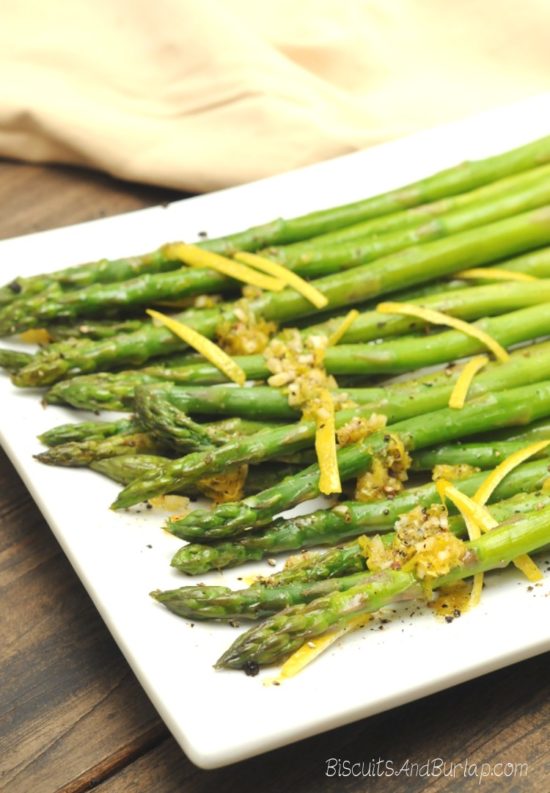 This recipe couldn't be more simple, using just a few basic ingredients you already have around the house. Zest a lemon, mince up some garlic, and combine them with olive oil, salt, and pepper, and you have everything you need to make this beautiful roasted asparagus!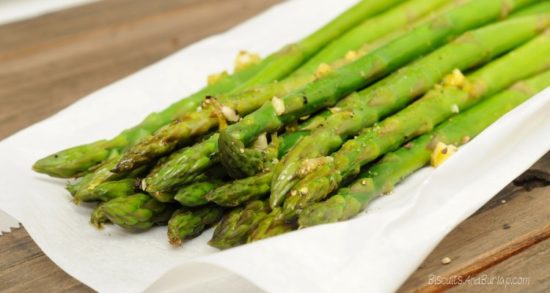 To make our roasted asparagus, preheat the oven to 450 degrees and trim an inch or two off the end of your asparagus (just the white, woody part is all you need to worry about). Combine the other ingredients in a small bowl and drizzle over the asparagus, tossing to coat it well.
Roast it all until just tender. Don't forget it will cook a little when you take it out, so be careful not to overcook! Then drizzle any of the juices that remain on the pan over the asparagus just before serving. If you're feeling fancy, add a little more lemon zest or a few lemon curls over the top to serve it up.
For a classic steakhouse style meal just add a reverse seared steak to your plate along with some sauteed mushrooms and onions. Boom! Delicious and made at home.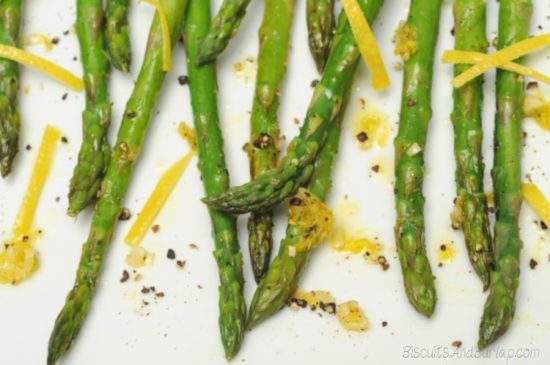 If you love roasted vegetables you'll also want to check out Roasted Brussels Sprouts with Carrots & Dried Cherries and another super-simple recipe is the one for Lemony Roasted Cauliflower.
Another equally simple take on the same veggie is Pasta Salad with Asparagus. It's super simple using a bottled dressing that gets dressed up! If you're like us and you're looking for any excuse to use the air fryer, then you're going to love Air Fryer Asparagus Parmesan.
And then for a meal in one dish check out Cajun Chicken and Asparagus Quiche. It's great any time of day, but makes an especially impressive brunch. If you're still looking for something different, you'll want to try Quick Pickled Asparagus.
Don't forget to tag us on Facebook and Instagram if you make this or any other recipe of ours and be sure to comment below and tell us what you think!

📖 Recipe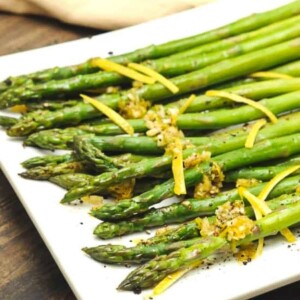 Roasted Asparagus with Lemon and Garlic
This quick and easy roasted asparagus recipe combines lemon and garlic for a simple side dish that complements just about any main course. 
Ingredients
1

bunch

asparagus

3

T

olive oil

2

garlic cloves

minced

zest of ½ lemon

plus more for garnish

½

t

freshly ground black pepper

½

t

sea salt
Instructions
Preheat oven to 450

In a small bowl, combine olive oil, garlic, lemon zest, salt, and pepper.

Trim 1 inch off ends of asparagus. Arrange on parchment paper. Drizzle with olive oil mixture and toss well to coat.

Roast until asparagus is just tender, 6-12 minutes, depending on thickness.

Serve drizzled with pan juices and topped with fresh lemon zest.
Looking for main dishes that would go great with our roasted asparagus?