This method changes up the way to reverse sear steaks and yields perfect results every time. It will revolutionize the way you cook steaks.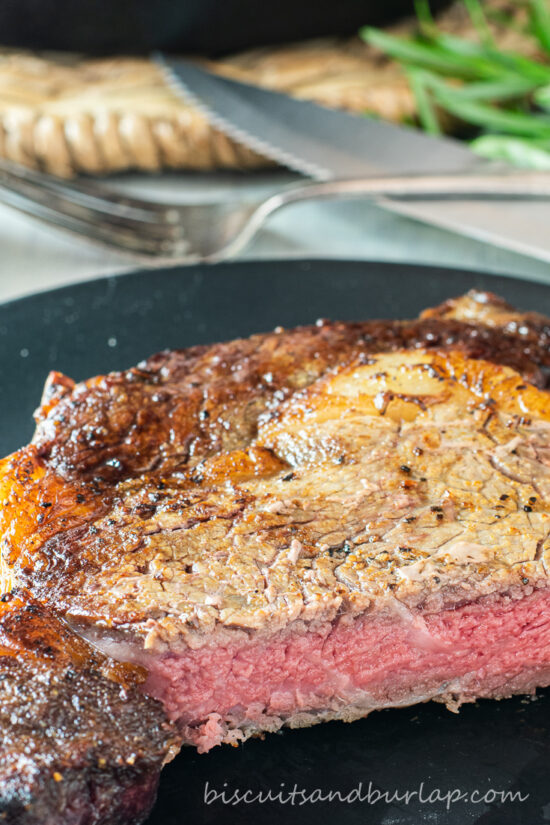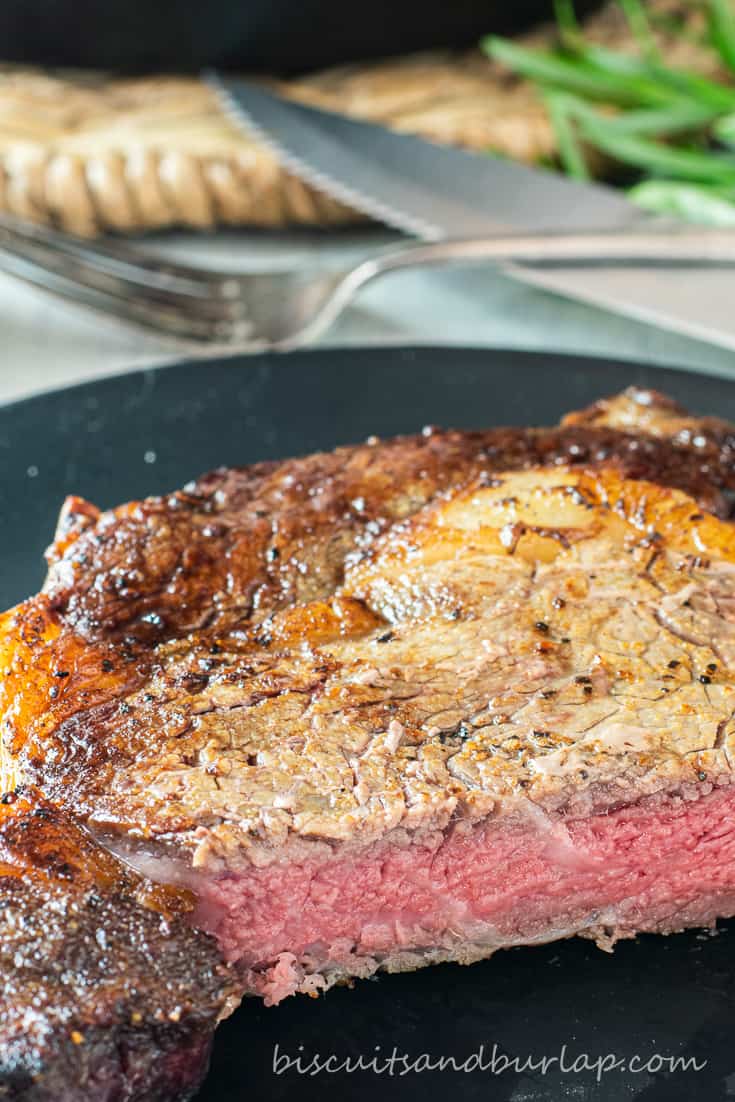 Let's get this straight: We've reversed the method for reverse sear steaks
Yes. That's right. When we discovered how to reverse sear steaks we loved the whole idea. We still do. We have just taken that technique and changed the order, resulting in perfectly cooked steaks. Every. Single. Time.
Let's go back to the beginning.
The old school way of cooking steaks
For many years most of us have cook steaks over relatively high heat, whether it's grilled, in a skillet on the stove top, or under a broiler.
A lot of times steak cooked this way comes out great. The problem is, a lot of times it doesn't.
The reason for the failures is the high heat. You want that high heat to get a nice firm sear on the surface of the steak. But that same heat means the steak is cooking so quickly it is really a gamble getting it pulled off the heat at the exact temperature you want.
Enter the reverse sear method
We first started experimenting with this method when we created our Creole Steak Butter recipe. We liked that it gives you greater control by widening the window of time the steak reaches optimum temperature.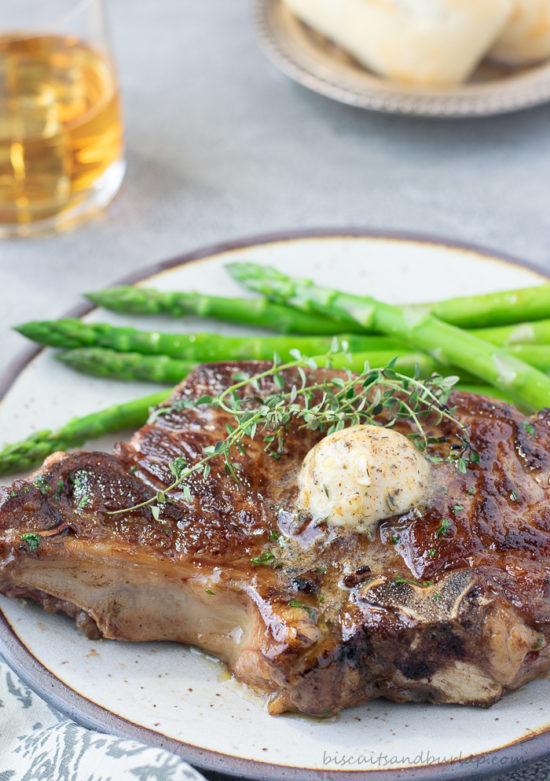 Here's out it works: The steak is cooked long and slow at lower temperatures monitoring the temperature with a thermometer. Ideally a probe for a digital thermometer is inserted into the side of a thick (1" or more) steak.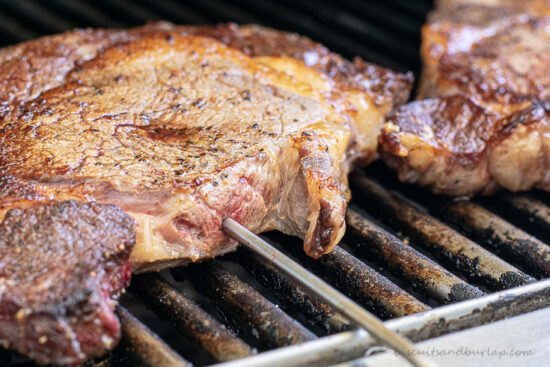 When the thermometer reads about 10-15 degrees below the desired temperature it's removed and placed over high heat for that tasty sear on the outside. In a perfect world, the middle of the steak reaches the ideal temperature at the same time the sear becomes perfect.
This way of cooking steaks does give perfect results more often than the old traditional way. But, there's still that bit of guesswork - how much time to sear and get it right.
Reverse the reverse technique
Remember, you heard it here first!
Sear the steaks first, then cook low and slow until they are the exact temperature you want. That's it. No more guesswork.
When that thermometer has the reading you want, pull the steak off the heat, allow it to rest a few minutes and dive in.
By the time we made our Filet Mignon Sauce with Bourbon and Peppercorns we had perfected this. However, we felt a full post on the subject with greater details was called for.
This post contains affiliate links, which means if you click on an affiliate link and buy something, we may receive a very small commission.  It does NOT result in additional charges to you or cost you anything extra. Click here for our full privacy and disclosure policy. As an Amazon associate we earn from qualifying purchases.
You can cook by this method on the grill, or stove top/oven combination. Our favorite way is to sear our steaks in a cast iron skillet and then cook over a low heat charcoal grill. But, if you don't have a grill you can certainly finish them up in an oven.
Cooked completely in a cast iron skillet are Cajun Steak Bites. We also love using this method for our Steak Crostini. They're a perfect addition to an appetizer board when you've got beef lovers around.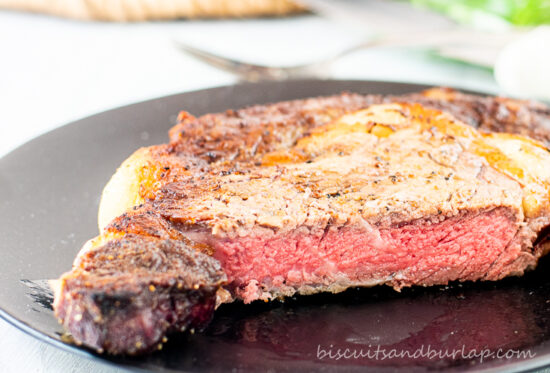 FAQ's about reversing the method for reverse sear steaks
Q: How thick should my steak be?
A: This method is best with a thick steak. Ideally a 1 inch or thicker steak, though we've had success with steaks as thin as ¾ inch.
Q: Do I need a meat thermometer?
A: Yes! We highly recommend a digital probe type thermometer. It stays in the steak so you can monitor the progress and see when your steak is about done.
Q: How long will it take to cook my steak by this method?
A: This one is going to vary according to how well done you like them, and how thick they are. A rule of thumb is about 45 minutes, but again, it can vary greatly.
Q: What do I need to make sure my steaks are perfect?
A: The two main tools we recommend are a cast iron skillet for searing (though this can be done on a grill with high heat) and a digital probe thermometer.
How do you like your steak cooked?
Most everyone knows how they like their steaks cooked, though not everyone knows how to describe it, or what temperature it should be. A little trial and error is often the best method, but once you get it right, you'll know. Just make a note of that temperature and remember it.
What follows below is a general guide to get you started: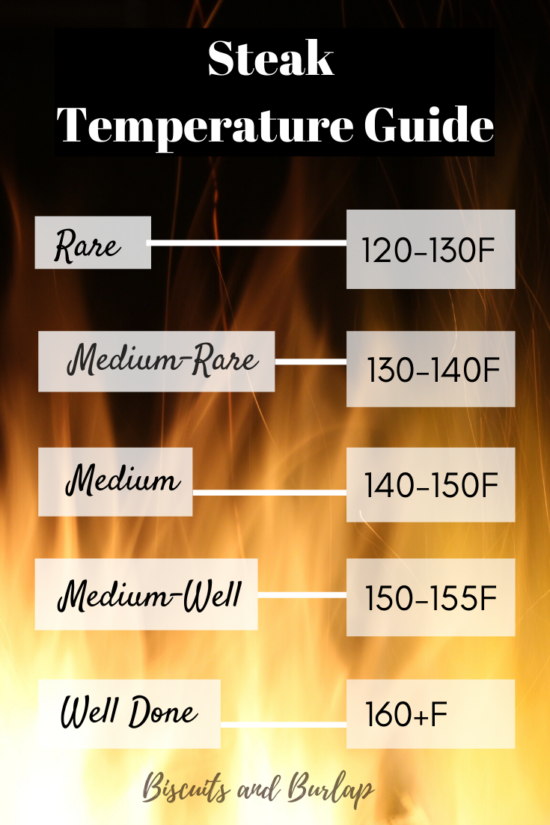 The traditional steak side dish in restaurants and at home is Sauteed Mushrooms and Onions. We've taken the guesswork out of making them with this easy recipe.
📖 Recipe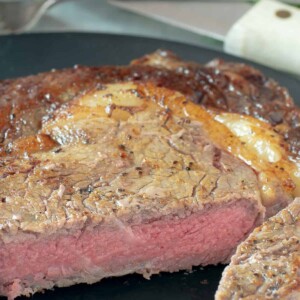 Reverse Sear Steaks: The Reverse Method
The reverse sear method of cooking steaks is switched up, resulting in a perfect steak every time.
Ingredients
6-12

ounce

steak

good quality, at least 1" thick

1

Tablespoon

oil

use a high smoke point oil such as canola or pecan

1

teaspoon

salt

or to taste

1

teaspoon

freshly cracked black pepper

or to taste
Instructions
Season steak with salt and pepper on both sides.

If time allows leave seasoned steak uncovered in refrigerator for 1-5 hours.

Heat oil in skillet to medium high heat. If cooking on grill, brush grates with oil and heat to medium high.

Cook steak on both sides for 1-1½ minutes or until desired sear is achieved then remove.

Insert digital thermometer probe into middle of steak from the side and set for desired temperature.

Cook steak over low heat (225 to 250 degrees) until desired temperature is reached.

Allow to rest about 5 minutes before serving.
If you make any of our recipes we'd love for you to leave us a comment and star rating. If you're into sharing your creations, snap a photo and tag us when you post it to Facebook or Instagram.

More recipes you'll love: