Simple instructions for flavorful and tender smoked beef short ribs include a rub recipe. Here you'll also find lots of ways to use your tasty meat.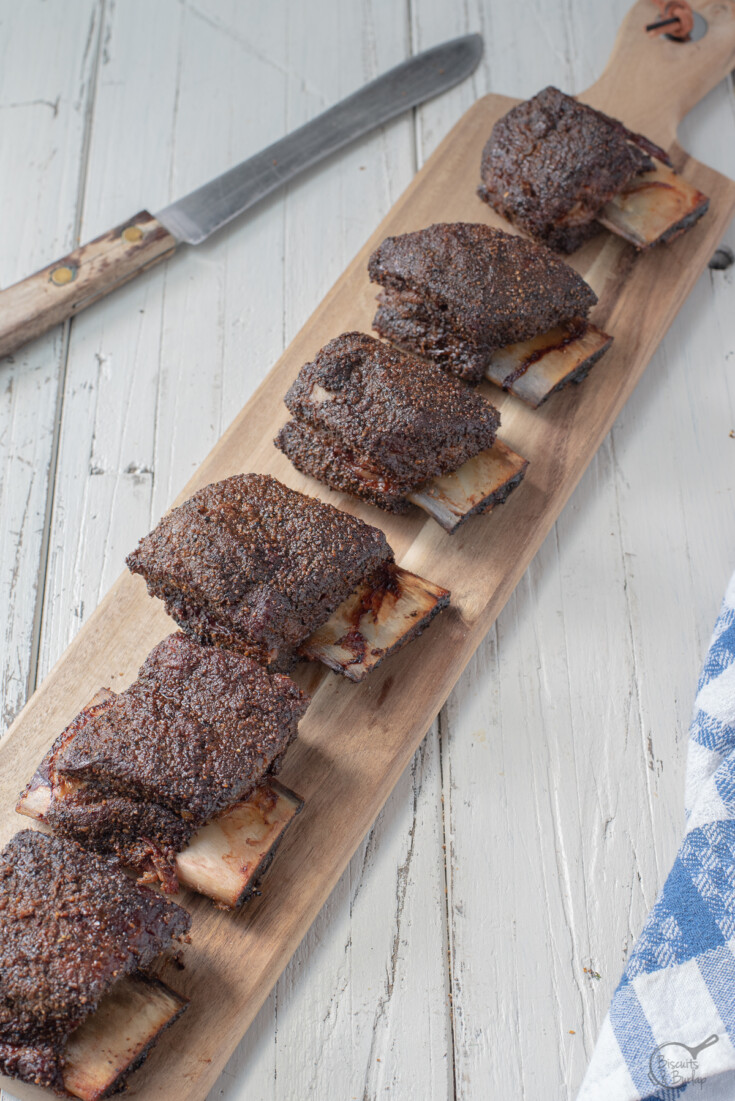 We first became interested in learning to smoke beef short ribs back in February 2020. I know y'all remember what was going on then. The world was on the verge of a total shut down.
Biscuits and Burlap had a team entered into a local chili cookoff. We knew we wanted the meat in our chili to be something special, so we hit on the idea of smoked beef short ribs.
About 80% of our chili (gallons and gallons) was made and in the freezer when the cookoff was cancelled. We're still closely guarding our chili recipe because we're hopeful the cookoff will be back in 2022 and we can enter - and WIN!
But, after all of that experience we did finally decide to share the techniques and rub recipe for our short ribs with y'all.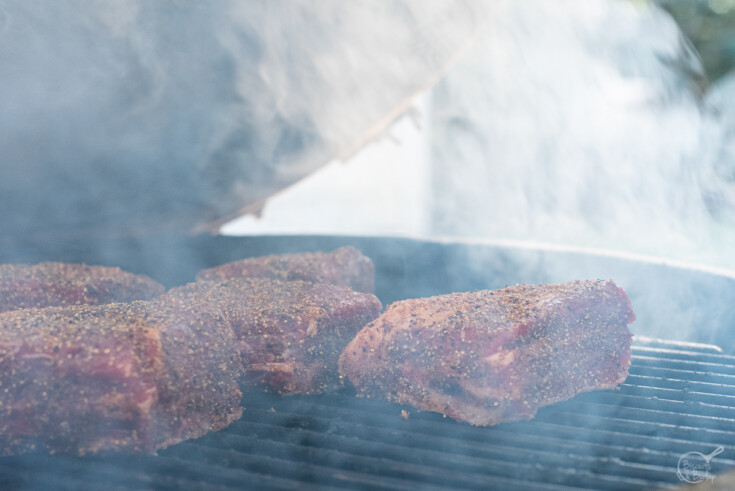 Start with good quality short ribs
We're big fans of using a local butcher and this is an occasion when we highly recommend it. Those helpful guys at your meat market will cut the ribs into individual pieces for best smoke flavor. They'll also trim off that pesky silver skin or connective tissue.
If you don't get it done before you bring the ribs home you'll need to do the trimming yourself. It's the membrane on the top (meat side) of the ribs. You can get it off by getting under the edge with a sharp knife and then pull slowly.
The silver skin on the bone side of the ribs can be left on. That's what attaches the meat to the rib.
How many short ribs do I buy?
There is a lot of shrinkage when smoking short ribs. Of course, there is also a lot of bone weight.
For every three pounds of ribs you can expect between a pound and a pound and a half of meat. That would be 3-4 servings, depending on the size of your people and appetites.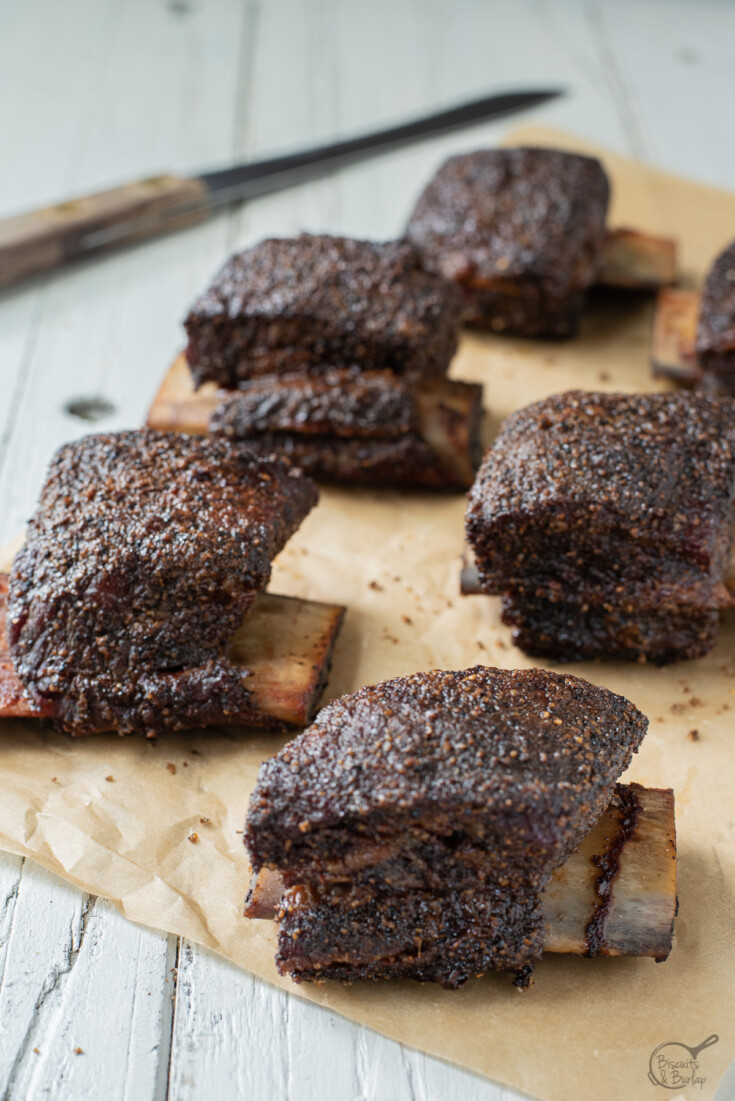 How to smoke beef short ribs
This post contains affiliate links, which means if you click on an affiliate link and buy something, we may receive a very small commission.  It does NOT result in additional charges to you or cost you anything extra. Click here for our full privacy and disclosure policy. As an Amazon associate we earn from qualifying purchases.
If you have time we recommend an overnight dry brine. Simply put you will lightly sprinkle coarse kosher salt over all sides of the ribs. Cover and refrigerate until time to cook.
Mix up the rub. Recipe is in the recipe card below. You can leave out or cut back on the cayenne if you've got folks who don't like any heat.
Soak your wood at least 20-30 minutes. We like apple wood, but you can certainly change that up if you like.
Sprinkle the rub over all surfaces of the ribs.
Lay the ribs with space between each on the smoker at 225 degrees. As closely as you can maintain that heat throughout the smoking time. Some people like to spray the ribs occasionally with apple cider vinegar or beef broth, but we find that unnecessary.
The ribs are ready when you hit an internal temperature of 200-205 degrees. This is our favorite probe thermometer. It's pretty cool with an app for your phone so you can monitor the progress from anywhere.
Once the ribs are done, cover loosely and let them rest 20-30 minutes before serving.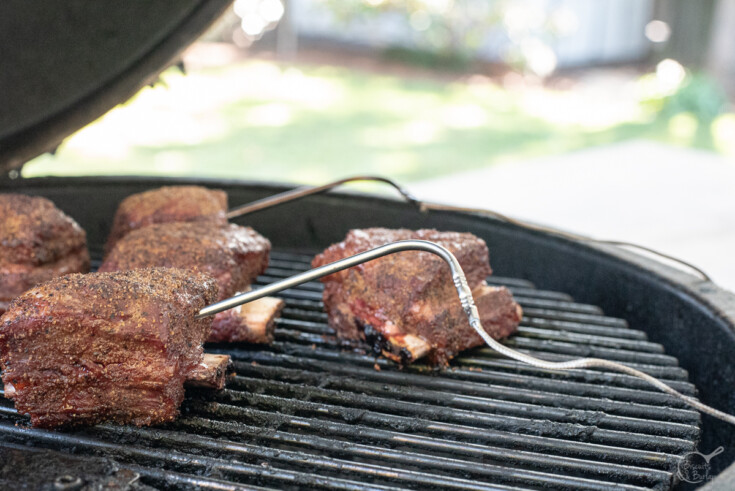 How long will it take to smoke the short ribs?
Let's put it like this. This is not a project you want to do if you're in a hurry.
Pick a day when you can hang out. Invite some buds over to watch football and throw back a few beers. You're going to be around a while.
A minimum amount of time I would say to plan on is 5 hours. It can take up to 7 or 8, depending on the size of your ribs and the temperature you maintain in the smoker.
Keeping it low is key to getting the meat tenderized and not dried out. That's why we recommend as close to 225 degrees as you can manage.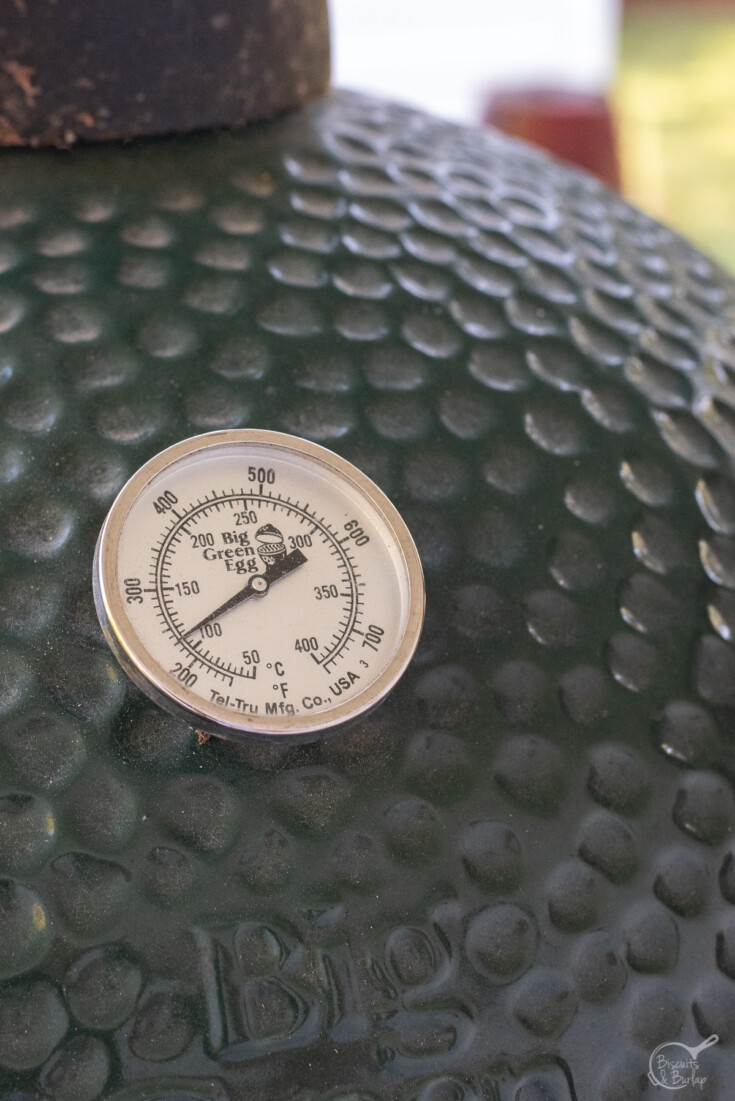 If you've been around here long you know that we do love our Big Green Egg. One of our most visited posts is our Ham on the Big Green Egg.
We're also known to smoke vegetables and even make Smoked Mac and Cheese and Smoked Sweet Potatoes. For those we also give you instructions for smoking with a wood box for your charcoal or gas grill.
For smoking beef short ribs, though, we would only use our true smoker. And if you've got extra room on your smoker add a piece of fish. It won't take long and you'll be able to use it for smoked fish dip!
Ways to use the meat from your smoked ribs
Besides eating it straight off the bone, here are some fabulous ideas:
As we mentioned above, it makes outstanding chili
Any type of Mexican or southwest style dish, like nachos, tacos, burritos, etc.
Shred it up, add some barbecue sauce and make a sandwich
Add it to any soup or stew
Get creative. What else can you come up with?
📖 Recipe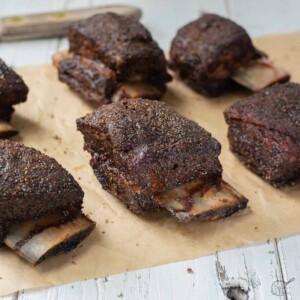 Smoked Beef Short Ribs
Simple instructions for flavorful and tender smoked beef short ribs include a rub recipe. Here you'll also find tons of ways to use your tasty meat.
Ingredients
For the Ribs
2.5

pounds

beef short ribs

silver skin trimmed from the top (meat side)

2-3

Tablespoons

coarse kosher salt
For the Rub
3

Tablespoons

coarse black pepper

1

Tablespoon

brown sugar

1

Tablespoon

onion powder

2

teaspoons

garlic powder

2

teaspoons

dry mustard

2

teaspoons

chili powder

1

teaspoon

cayenne pepper

optional
Instructions
Sprinkle ribs all over with kosher salt and refrigerate (covered) overnight.

Mix all rub ingredients and sprinkle over all surfaces of ribs.

Cook ribs in a smoker at 225 degrees until internal temperature of 200-205 degrees is reached, 5-7 hours.

Let rest, covered loosely for 20-30 minutes before serving.
Notes
The amount of ribs and rub are for 2.5 pounds of ribs, which will yield approximately just less than 1 pound of meat. If smoking more increase accordingly.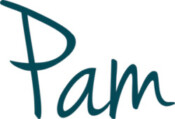 More favorites for cooking outdoors