Not just whole sweet potatoes cooked on a smoker, these are diced before smoking to get that amazing smoky flavor throughout every bite.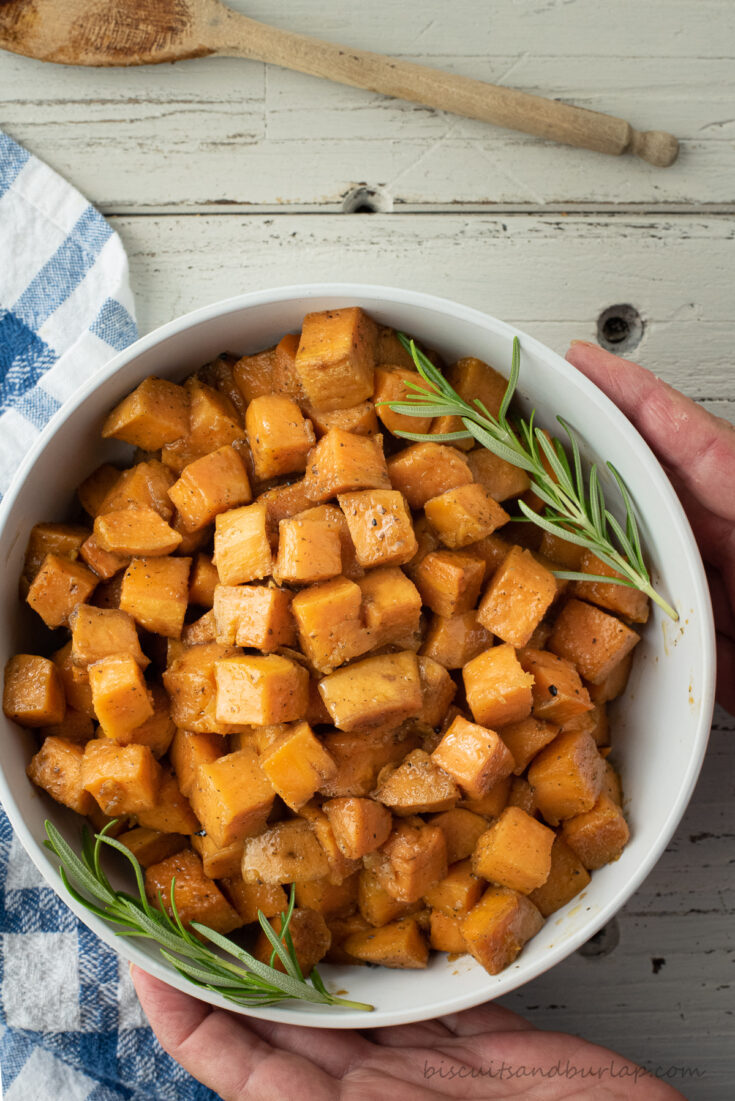 Smoked Sweet Potatoes make the perfect side dish to cook on your smoker along side any poultry, pork or ham. They are so good, though, that it's worth the effort to crank up the smoker just for the sweet potatoes.
Got a corner of that smoker rack open? Add some fish and make Smoked Fish Dip. It's an eternally popular appetizer.
Do I have to use a smoker?
No! We do have one and we use it often. In fact, our Smoked Ham on the Big Green Egg is one of our top recipes around here, and it is important to make your Smoked Beef Short Ribs on a true smoker.
But just like we showed you in the Smoked Vegetables, Smoked Baked Beans, and the Smoked Mac & Cheese recipes you can actually get that great smoke flavor on a regular charcoal grill or even a gas grill.
This post contains affiliate links, which means if you click on an affiliate link and buy something, we may receive a very small commission. It does NOT result in additional charges to you or cost you anything extra. Click here for our full privacy and disclosure policy. As an Amazon associate we earn from qualifying purchases.
Just use a box for your wood chips like this one. We recommended a milder flavored variety of wood chips like apple.
The best way to peel the sweet potatoes and cut into cubes.
Peeling is by far easier with a vegetable peeler than a knife.
Now, I'm going to be honest here. Raw sweet potatoes are hard. I mean, really hard. It reminded us of when we've made Butternut Squash with Bacon and Bourbon. The process of cutting them up is similar though.
You want to keep two things in mind: You need a really good, sturdy, sharp knife like a chef's knife.
Secondly, you want to stabilize your sweet potato on the cutting surface. In other words, it shouldn't be rolling around. You can accomplish this easily by slicing just a thin slice off to give you a flat side to lay on the cutting board.
From there just cut off each end and then slice the whole thing into ½ inch slices. Each slice can then be cut into ½ inch cubes.
Cutting the sweet potato into cubes rather than wedges ensures that there is more surface to absorb that divine smokiness. Once they're cut up, there is minimal prep time for your smoked sweet potatoes.
Easiest of all would be to find sweet potatoes already diced at your market. I just saw these in the produce section of mine a few days ago, so it is definitely worth a look. They were relatively inexpensive and diced up to just the right size.
The best dish for smoking sweet potatoes
Hands down we recommend cast iron cookware. It withstands the heat and the smoke like a champ.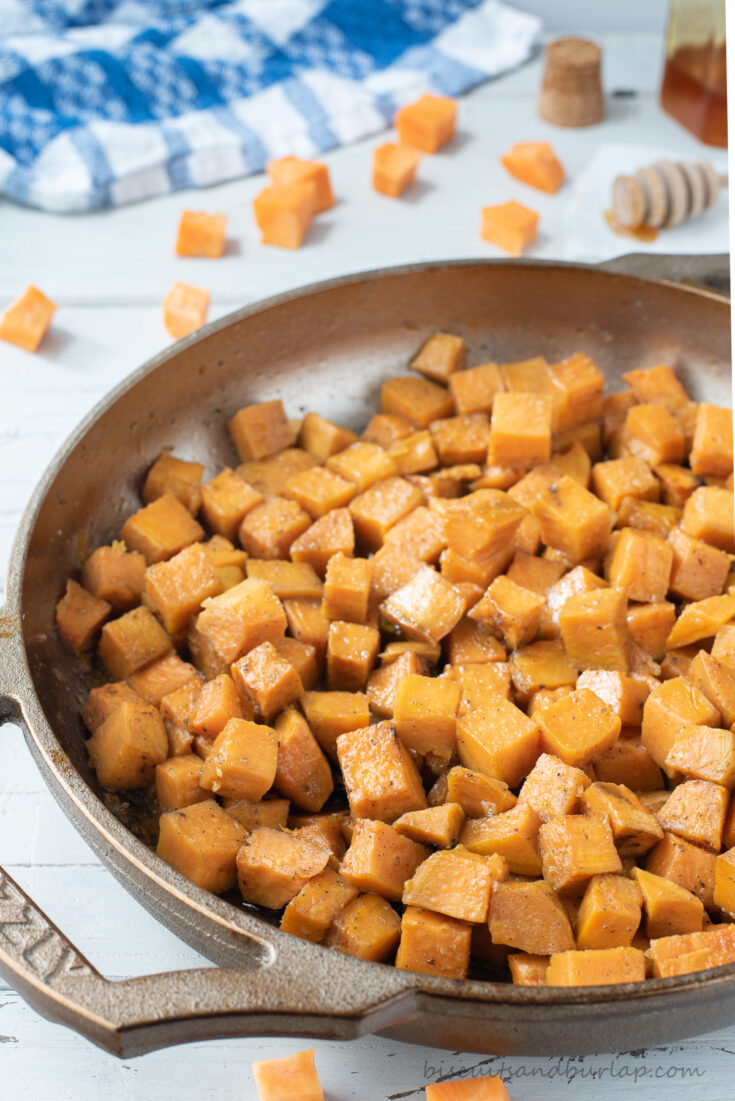 In the photos you see here we used our Grizzly 10 inch Casserole. This nickel plated cookware is an absolute workhorse. It's a bit of a splurge but well worth it.
For more affordable options we're linking you here to more choices, all on Amazon with 4 star or above ratings.
Versatility in flavor, cooking times and temperature
Just like with the Smoked Vegetables you can adjust the time and temperature of your sweet potatoes if needed. If you've got something else on the smoker that needs to cook at higher or lower temperatures (like fish for smoked fish dip) than called for here, just add or subtract time.
You'll definitely want to keep an eye on the sweet potatoes and check them occasionally for tenderness. When a fork goes through a cube without resistance, they're done!
For flavor options we chose to sweeten with honey, but brown sugar is definitely a good match for this dish. Sage was our choice of herbs with a garnish of rosemary or parsley, but thyme would be excellent as well. Smoked Sweet Potatoes are the perfect dish to make your own!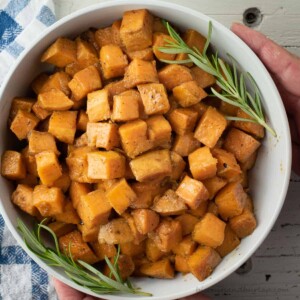 Smoked Sweet Potatoes
Not just whole sweet potatoes cooked on a smoker, these are diced before smoking to get that amazing flavor throughout every bite.
Ingredients
Instructions
Melt butter over medium low heat in small sauce pan.

Add additional ingredients and stir to blend.

Place cubed sweet potatoes in a 10" cast iron skillet and top with butter mixture, stirring.

Cook in smoker or grill with wood chips in box at approximately 275° for 2+/- hours, stirring every 20 minutes. Remove and from heat when a fork pierces a cube without resistance.
Notes
Additional herb options are rosemary or thyme.
Honey can be substituted with brown sugar.
Cooking times and temperature can vary if cooking with additional items at a different temperature. Check for doneness each time the sweet potatoes are stirred.
Nutrition
Sodium:
752
mg
Calcium:
74
mg
Vitamin C:
5
mg
Vitamin A:
32351
IU
Sugar:
18
g
Fiber:
7
g
Potassium:
776
mg
Cholesterol:
15
mg
Calories:
282
kcal
Trans Fat:
1
g
Monounsaturated Fat:
1
g
Polyunsaturated Fat:
1
g
Saturated Fat:
4
g
Fat:
6
g
Protein:
4
g
Carbohydrates:
55
g
Iron:
1
mg

More sweet potatoes and other fall dishes