Smoked Vegetables are a super versatile side dish. You can easily make them with any number of vegetables, at low or higher heat, and in a smoker or on a grill.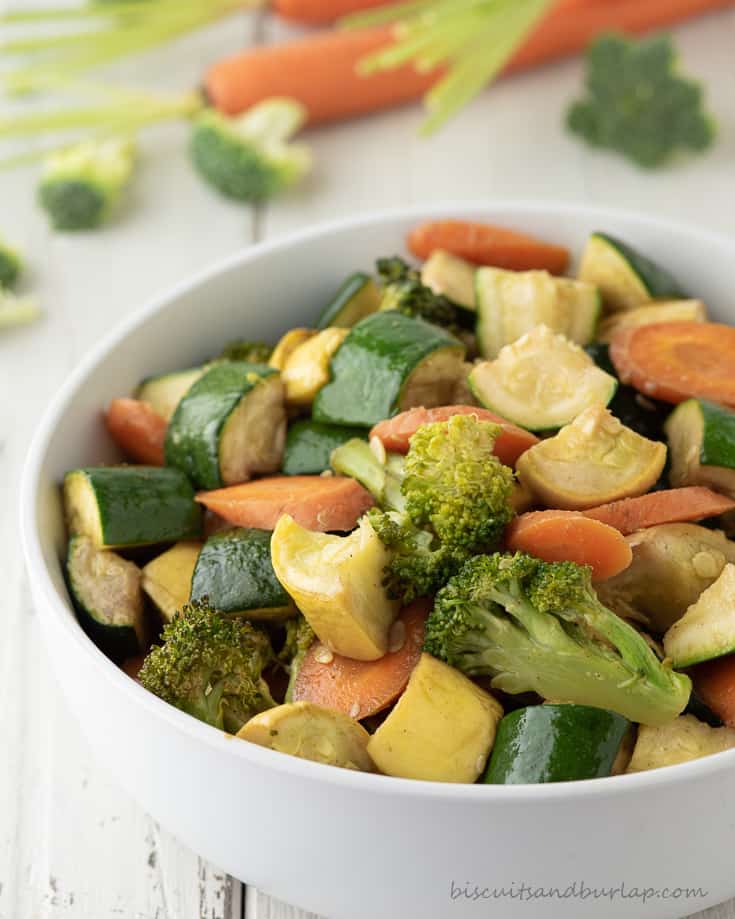 Jump to:
Why you'll love them
They're healthy, of course. Minimal seasoning is needed because the vegetables themselves, and that infusion of smoky flavor, are the real stars.
They're unique. This is not the same old salad or casserole you've made and served hundreds of times. They make the perfect addition to your Backyard BBQ Menu (the post has full menu plans, timelines and tips).
They can be cooked alongside the meat you're smoking, whether it's a Grilled Chuck Roast, Boston Butt for pulled pork, Grilled Chicken Leg Quarters, or a Smoked Ham on the Big Green Egg. Hand over the veggies to the grill master and stay out of the kitchen.
Versatility is the middle name of this dish. Use whatever you like or have on hand. Cook them quickly or slowly, depending on what else you're cooking and the temperature needed for that. You don't have to mix the vegetables. For instance, if you just want smoked broccoli, this recipe works just fine.
A fun presentation is smoked vegetable kebabs. Thread on metal skewers or wooden ones that have been soaked.
Prep time is minimal. Cut up the veggies and toss with a little extra virgin olive oil, salt and freshly ground black pepper. That's it!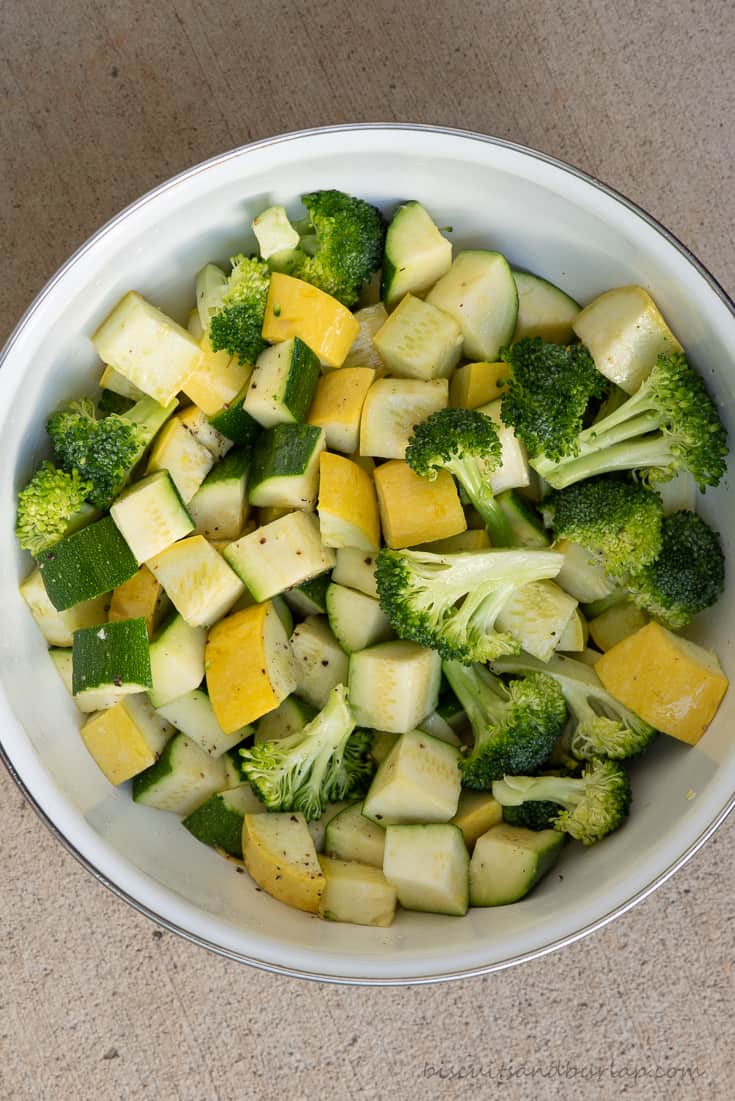 Cook them on a grill or in a smoker
This post contains affiliate links, which means if you click on an affiliate link and buy something, we may receive a very small commission.  It does NOT result in additional charges to you or cost you anything extra. Click here for our full privacy and disclosure policy. As an Amazon associate we earn from qualifying purchases.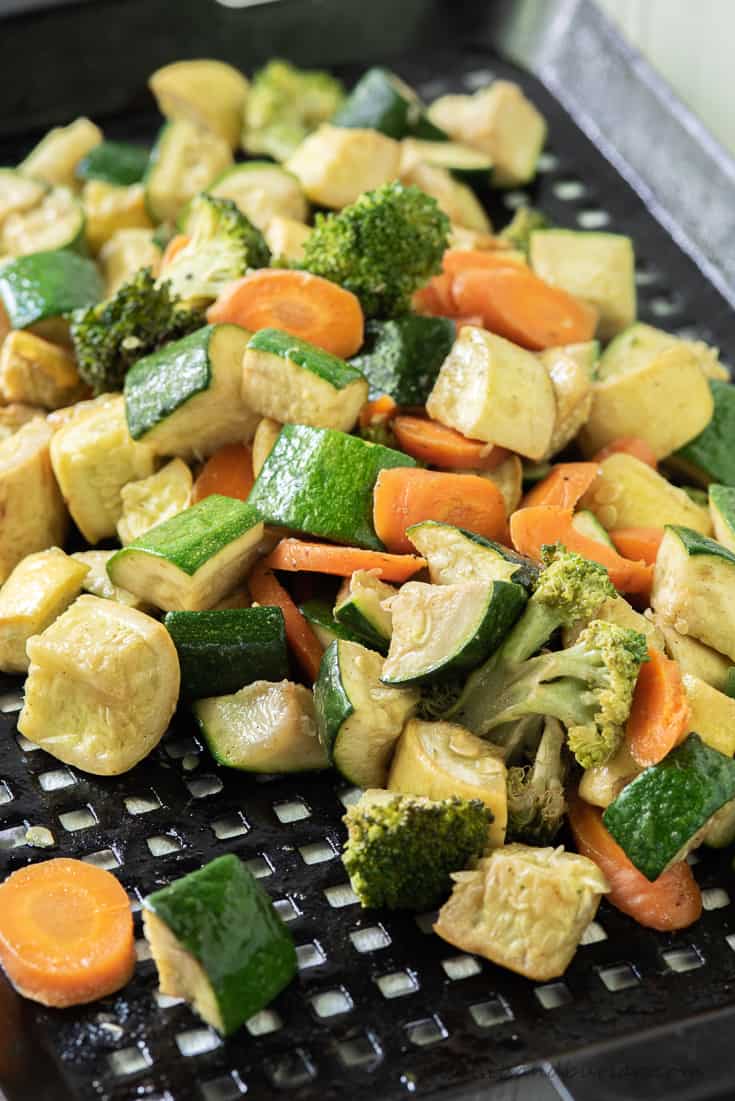 Our favorite method is to put our veggies in a grill basket like this one and we cook them on indirect heat in our Big Green Egg during the last hour or so our meat is cooking. If you use another kind of smoker that would work fine too.
If you don't have a grill basket you can use a cast iron skillet. They hold up well to the heat of a smoker or grill and you can get the smoke flavor throughout the veggies since you'll stir them a couple of times during the cooking process.
If you use a gas grill you can still make smoked vegetables without a smoker! Just put your wood chips in a smoker box like this one.
Veggie foil packs on the grill like this recipe are certainly a fun, easy, and mess-free way to go. But, do keep in mind that these are not smoked vegetables since they are sealed up tightly in aluminum foil.
Still, if you're in a hurry and don't want to be bothered with using wood chips or pellets for smoke it's a great alternative.
Ingredient notes
Vegetables - Use a combination of any or choose just one. Choose what your family likes and what you have available.
Olive Oil - We always recommend extra virgin olive oil.
Salt and Pepper - Just your basics, though you can use seasoning salt or add in any other type seasoning or herbs that you like.
Instructions: Smoke low and slow or hot and fast
First wash and cut up your vegetables. The cooking time will vary according to the actual vegetables you use. It will also vary with the way the veggies are cut up. Cutting them in different sized pieces is a good way to mix vegetables that cook more quickly with those that are slower.
Now sprinkle the olive oil over and then stir to coat. Then add the salt and pepper and again, stir.
Add your veggies to the smoker (or grill). You'll have to keep an eye on them, especially if your grill or smoker is hot and you're cooking the veggies quickly. For the best amount of smoke flavor we like to keep the temperature at about 225-250 and, for most vegetables, the cooking time will average 45 minutes to an hour, with a couple of stirs along the way.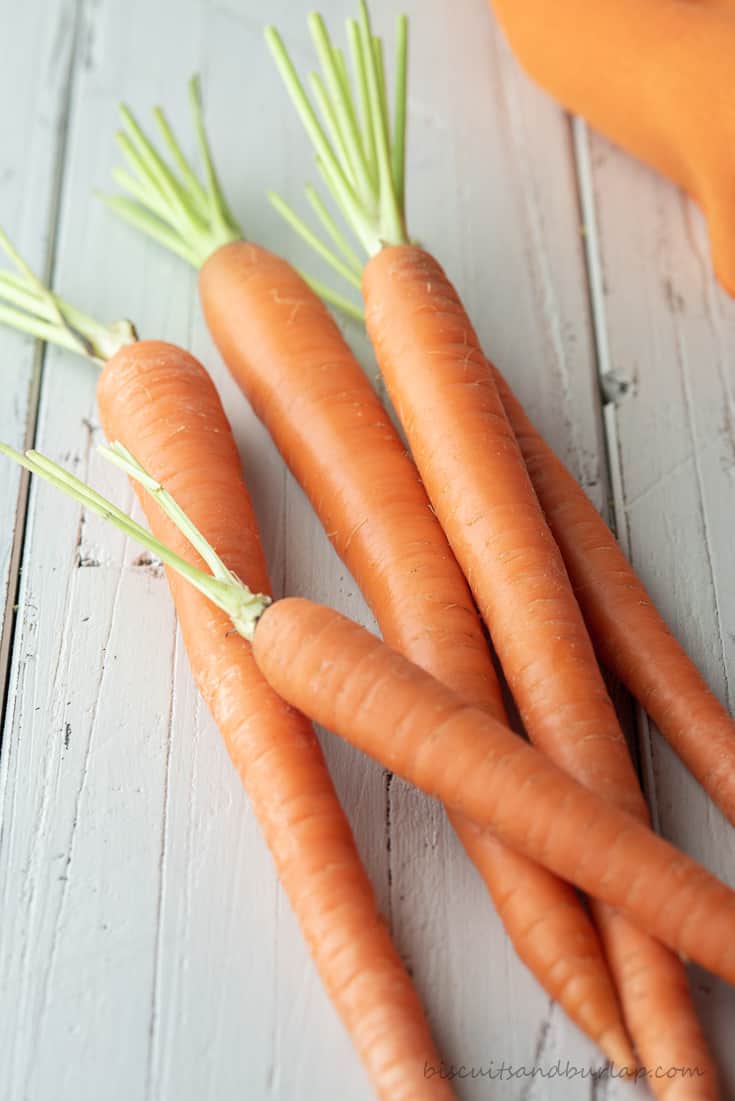 We had these beautiful carrots and wanted to add some in with our squash and broccoli on the smoker. Since carrots cook a good bit more slowly than the others we just sliced them quite thinly.
While you've got that smoker going add a piece of fish. It doesn't take long and makes delicious Smoked Fish Dip.
Recipe FAQ's
What are the best vegetables to smoke?
You can really use any kind you like or have on hand. Great options would be these: Yellow squash, zucchini squash, onions (especially firm larger ones), bell pepper (these can be red, yellow or green), brussels sprouts, asparagus, broccoli, green beans
How do you know when smoked vegetables are done?
The easiest way to tell is the same way you check vegetables cooked by any other method. Generally you'll use the "fork test" and pierce the vegetable pieces. Once the fork glides easily through with no resistance it's done.
How to cook mixed vegetables that get done at different times?
You can add your vegetables to the heat source in order of how long it takes to cook them. The ones that take the longest (like carrots and beets) you'll add first. Follow that up with veggies that take less time and finally with ones that cook very quickly. As mentioned above, cutting them in different sizes according to how long it takes to cook them is another option.
If you're here you must love smoked foods, so you'll want to learn how to make Smoked Sweet Potatoes and Smoked Baked Beans as well. It's the perfect fall or Thanksgiving side dish prepared outside and Smoked Beef Short Ribs are divine in chili, tacos and much more!
If you've got a little space left on the smoker add a piece of fish. It makes the most divine Smoked Fish Dip you've ever tasted.
If you still need a vegetable, but you don't have any room on the grill, you'll want to try our Vegetable Au Gratin. It works with whatever veggies you have and once you try that cheese sauce you won't be able to get enough.
For a quick and fun look at this recipe check out the web story!
📖 Recipe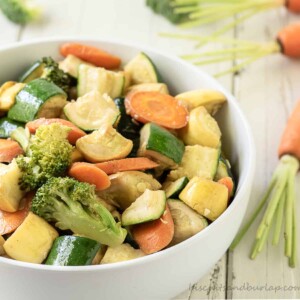 Smoked Vegetables on a Grill or Smoker
Smoked Vegetables are a versatile dish that can be made with a number of vegetables, at low or higher heat, and in a smoker or on a grill.
Ingredients
5-6

cups

vegetables, cut into bite sized pieces

2

Tablespoons

Extra virgin olive oil

1½-2

teaspoons

salt

can use seasoning salt

1

teaspoon

freshly ground black pepper
Instructions
Toss vegetables in a bowl with olive oil, then sprinkle with salt and pepper.

Put vegetables in a grill basket or cast iron skillet and place on 225°-250° (see notes) pre-heated smoker or grill.

Cook, for 45 minutes to 1 hour, or until desired degree of doneness, stirring at 15-20 minute intervals.*
Notes
Vegetables can be cooked at higher (or lower) temperatures and cooking time and stirring intervals adjusted accordingly. 
Additional seasonings can be added according to preference. Suggestions are seasoning salt, garlic powder and onion powder. 
Nutrition
Calories:
139
kcal
Carbohydrates:
21
g
Protein:
5
g
Fat:
5
g
Saturated Fat:
1
g
Polyunsaturated Fat:
1
g
Monounsaturated Fat:
3
g
Sodium:
653
mg
Potassium:
326
mg
Fiber:
6
g
Sugar:
1
g
Vitamin A:
7703
IU
Vitamin C:
16
mg
Calcium:
40
mg
Iron:
2
mg