Easy to make smoked baked beans are infused throughout with rich, wood smoke flavor. Cook alongside other dishes on the smoker or alone.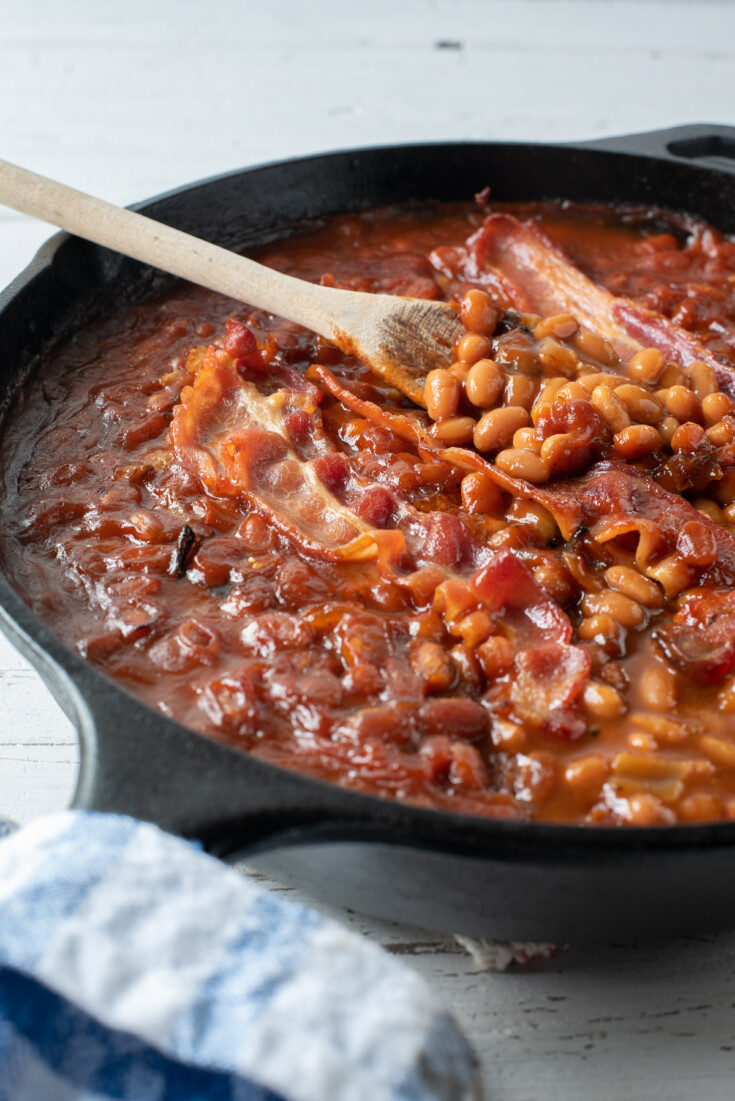 Everyone will love these smoked beans and they stir up in just minutes. They're super versatile and can cook at lower or higher temperatures depending on what else you've got on the smoker.
How to get that smoky flavor throughout
This is the same method we use with our Smoked Mac & Cheese and Smoked Vegetables as well as Smoked Sweet Potatoes. The idea is to stir occasionally as the dish is cooking on the smoker.
If you just placed the dish on the smoker and let it cook like we do with our traditional Baked Beans recipe you'll get smoke flavor just on the surface. There's nothing wrong with that, but for beans that are truly permeated with smoky goodness you'll need to stir.
Stirring brings different beans and sauce to the surface allowing more of the dish to be exposed to the smoke.
How to make it
We generally follow the same steps as in our Baked Beans that cook in the oven, which are:
Cook bacon that has been cut into small pieces in a cast iron skillet. In the case of these smoked beans we usually like to partially cook 3 full slices of bacon to go on the top too, but you can skip that if you like. They'll go on the beans after the last stirring on the smoker.
Cook diced onions in the bacon grease until limp and transluscent.
Stir everything else in the skillet right on top of the stove.
Place the skillet on the smoker at a temperature anywhere from 225 degrees to 375 degrees.
Stir occasionally, but at least every 20 minutes. If cooking at higher temps you'll want to stir more often - like every 10 minutes.
When the beans are nearly the consistency you like (a little "wetter") lay the bacon strips on top and smoke for the final 10-20 minutes.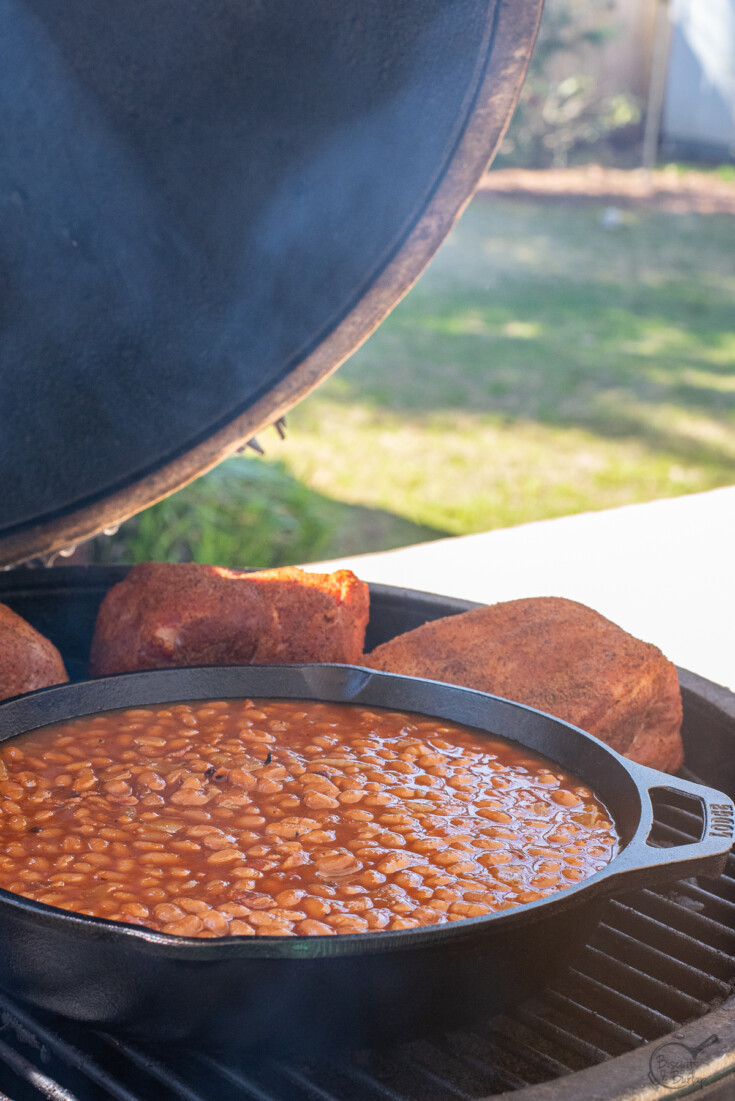 These beans had gone on the smoker at the same time as the bbq pork which was cut into small pieces to get more outside "bark".
Tips and Tricks
If you're short on time you can skip the bacon-cooking step and use bacon recipe pieces that you've bought. We prefer those over the "bits" because they're just too small.
Make sure your cast iron skillet is well seasoned since this is a somewhat acidic dish. It won't hurt to wipe it with oil first, but if you cook the bacon in it you'll be fine.
Any wood that you're using to smoke other food is fine. Our favorites are apple and pecan.
A cast iron skillet holds up best to the heat and smoke, but you can use disposable aluminum pans. Just keep in mind that they're uninsulated and the beans will cook faster.
Like a really bold smoke flavor? You can always add a few drops of liquid smoke, but use it sparingly. That stuff is strong!
This post contains affiliate links, which means if you click on an affiliate link and buy something, we may receive a very small commission.  It does NOT result in additional charges to you or cost you anything extra. Click here for our full privacy and disclosure policy. As an Amazon associate we earn from qualifying purchases.
Items you may need
As mentioned above we highly recommend using a cast iron skillet. This 10 inch Lodge pan is the one we have.
Apple wood chips or pecan wood chips are our favorites.
That's about it really. This recipe for your soon-to-be-favorite smoked side dish is easy and straightforward.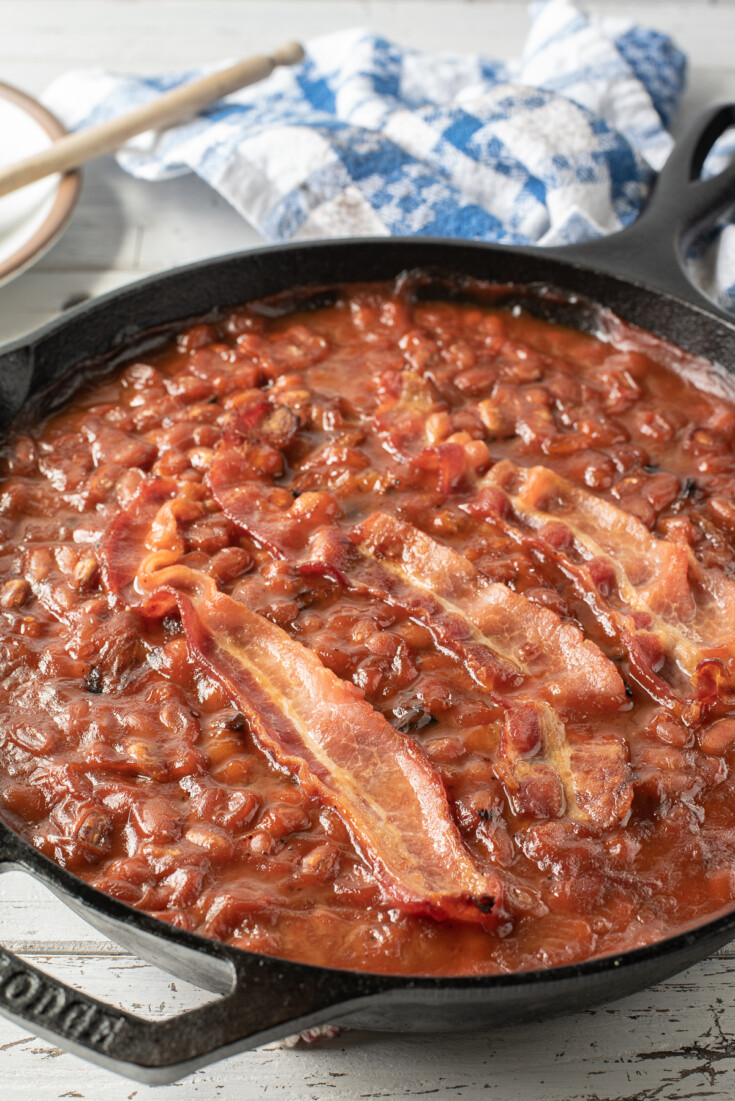 What to serve your beans with
A favorite of ours is to have them with ham. This Smoked Ham on the Big Green Egg is one of our most popular posts and the beans can cook alongside it perfectly!
It just goes without saying that any self respecting southerner is going to serve baked beans with barbeque pork, right? Just add some Mustard BBQ Sauce and you've got yourself a delicious southern meal. Of course, they're also perfect with burgers and any type of grilled chicken. Head over here to check out all of our Grilled Favorites.
📖 Recipe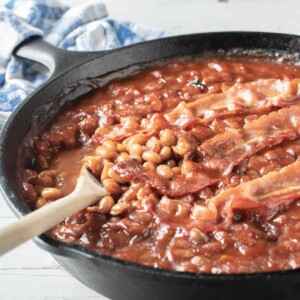 Smoked Baked Beans
Ingredients
6

strips

bacon

3 strips cut into small pieces

1

small-medium

onion

diced

2

28 ounce

cans Bush's Best Homestyle or Original Baked Beans

drain off about half of liquid.

1

Tablespoon

yellow mustard

1

Tablespoon

worcestershire sauce

¼

cup

brown sugar

2-3

Tablespoons

barbecue sauce

½-1

teaspoon

black pepper

¼

teaspoon

cayenne pepper

optional
Instructions
Cook chopped bacon in skillet over medium heat until done and crisp. Remove with a slotted spoon leaving baon grease in 10 inch cast iron skillet. Bacon slices can be cooked along with pieces, but removed when almost done.

Cook diced onion in bacon grease until transluscent and limp, about 8-10 minutes.

Stir remaining ingredients (including bacon pieces) into skillet and mix well.

Cook on smoker at 225 - 375 degrees, stirring gently every 10-20 minutes. When mixture is slightly more liquid than desired top with bacon and cook for last 10-20 minutes period or until desired consistency.
Notes
Store bought bacon recipe pieces can be substituted for freshly cooked bacon and the 3 strips left off the top if desired. If bacon is not cooked you can cook the onions in 1-2 teaspoons of cooking oil instead.
Beans can be smoked at higher, lower or mid-range temperature depending on what else is on your smoker. Adjust stirring intervals and total time accordingly and cooking only until desired consistency is reached. 
Nutrition
Calories:
203
kcal
Carbohydrates:
39
g
Protein:
8
g
Fat:
3
g
Saturated Fat:
1
g
Polyunsaturated Fat:
1
g
Monounsaturated Fat:
1
g
Cholesterol:
12
mg
Sodium:
734
mg
Potassium:
524
mg
Fiber:
9
g
Sugar:
7
g
Vitamin A:
32
IU
Vitamin C:
3
mg
Calcium:
93
mg
Iron:
3
mg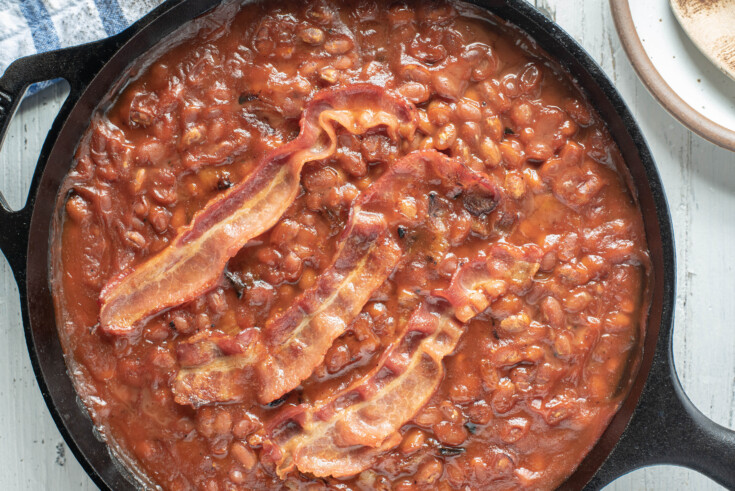 More outdoor cooking recipes to make!