Leg Quarters are the most succulent cut of chicken and they're ideal for grilling. These are well seasoned and sauced or not, as you choose.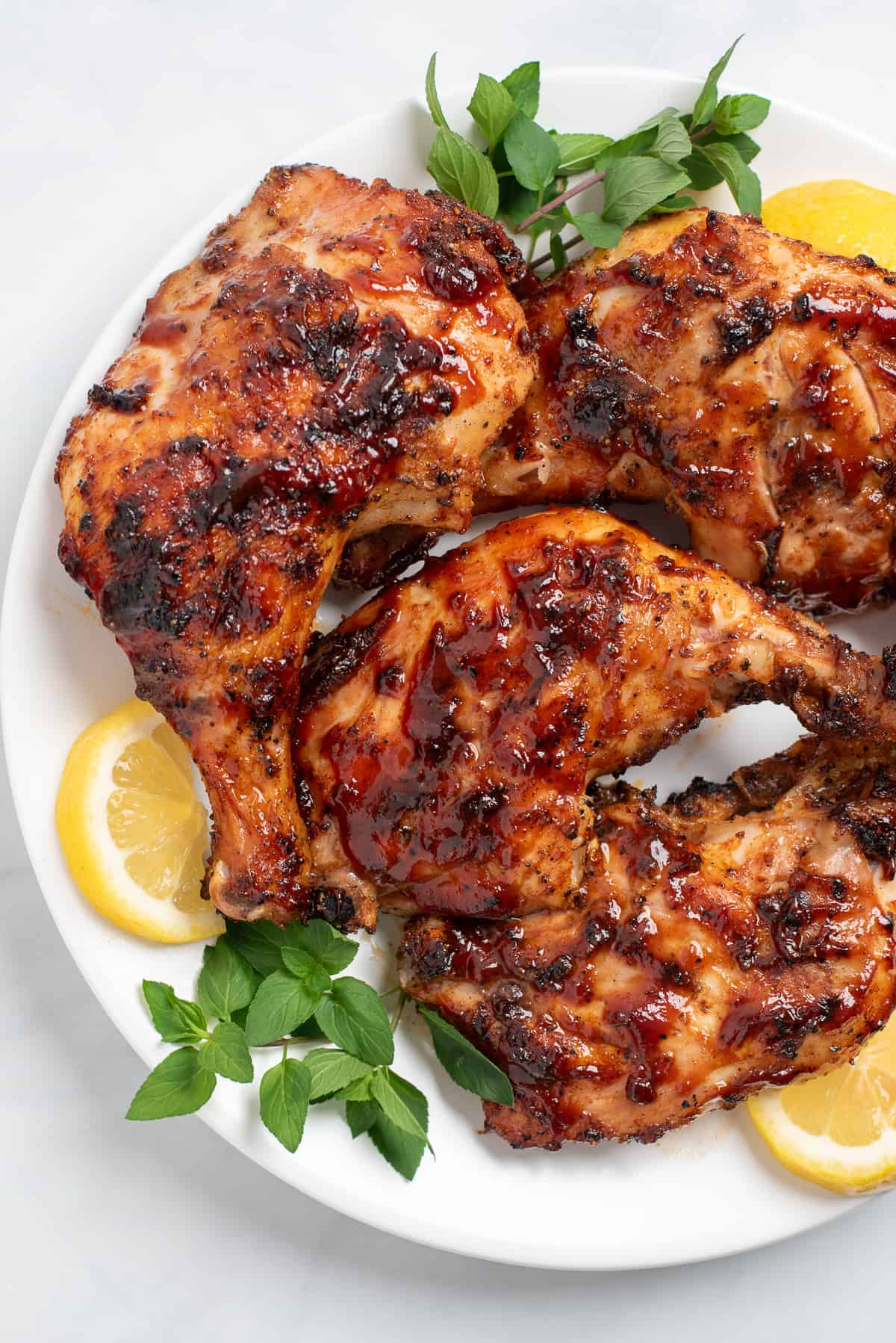 Jump to:
Grilling leg quarters can be done on a gas grill or charcoal grill and they're inexpensive, quick to cook, and delicious! When there's time we always recommend brining chicken, but if you're in a hurry they'll still be outstanding!
When they're almost done you can baste with a bbq sauce or leave them as is. We recommend this Georgia Mustard BBQ Sauce, but you can even use your favorite bottled sauce.
What's to love about leg quarters on the grill?
Everyone loves them!
They're inexpensive. Leg quarters are frequently on special at the market, but they're quite affordable any time.
They're so easy to make. Just a hands-off brine if you have time, season and grill.
They can be cooked on a gas grill or charcoal, and at higher or lower temperatures if you've got something else on the grill.
They're customizable - change up the seasoning if you like, add sauce or not.
Ingredient Notes
We recommend a simple salt and brown sugar brine and directions for that are in the recipe card below. Otherwise, a you'll just need a little oil to brush on the chicken and rub on your grill grates, and the seasoning blend shown below.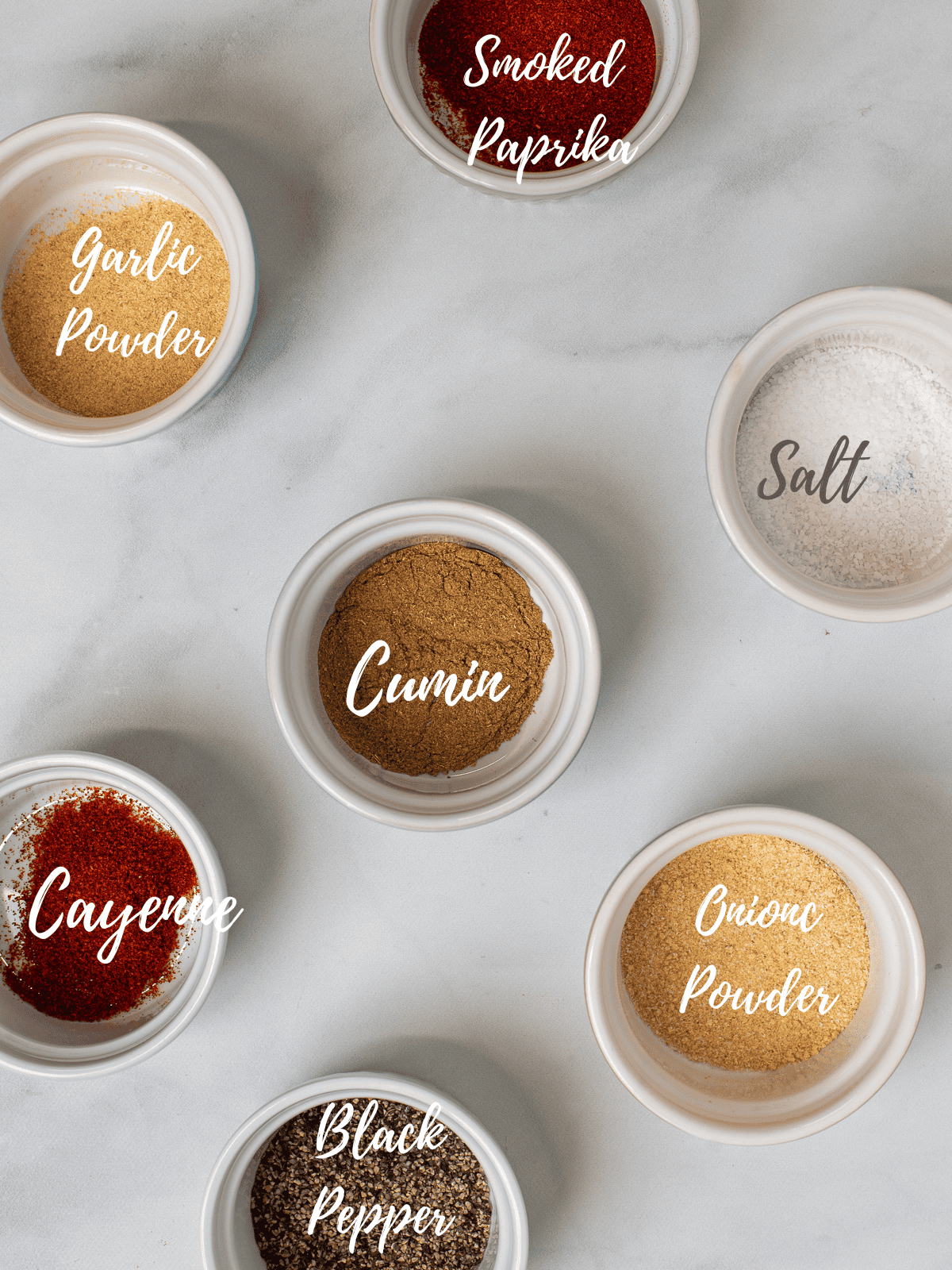 See recipe card for full ingredient list and quantities.
How to make BBQ chicken quarters
If there's time, mix up the brine solution and allow the chicken to sit, fully submerged, for at least 2 hours and up to 24 hours. Refrigerate the brine/chicken the entire time.
Mix the dry ingredients for the seasoning blend.
Remove the chicken from the brine and pat it dry with paper towels.
Brush the quarters with vegetable oil and sprinkle all over with the seasoning.
Rub or brush your grill grates with oil to prevent sticking and then heat the grill to about 375 to 400 degrees.
Put the chicken on the hot grill for 2-3 minutes per side to get a nice char or grill marks.
Reduce the grill temperature to around 300-325 degrees, or if you're cooking over charcoal you can move the leg quarters to indirect heat. Monitor the internal temperature with a thermometer inserted into the thickest portion of the thigh (not touching bone).
When the internal temperature reaches about 155 you can start brushing with sauce on both sides, if desired.
Remove when the chicken is at 175 to 185 degrees. This does not result in overcooked chicken. See below.
The total time will depend on many factors such as how big your quarter chickens are, the temperature of your grill and the distance of your grill from the heat source. In general you should plan on about 40-45 minutes total cooking time.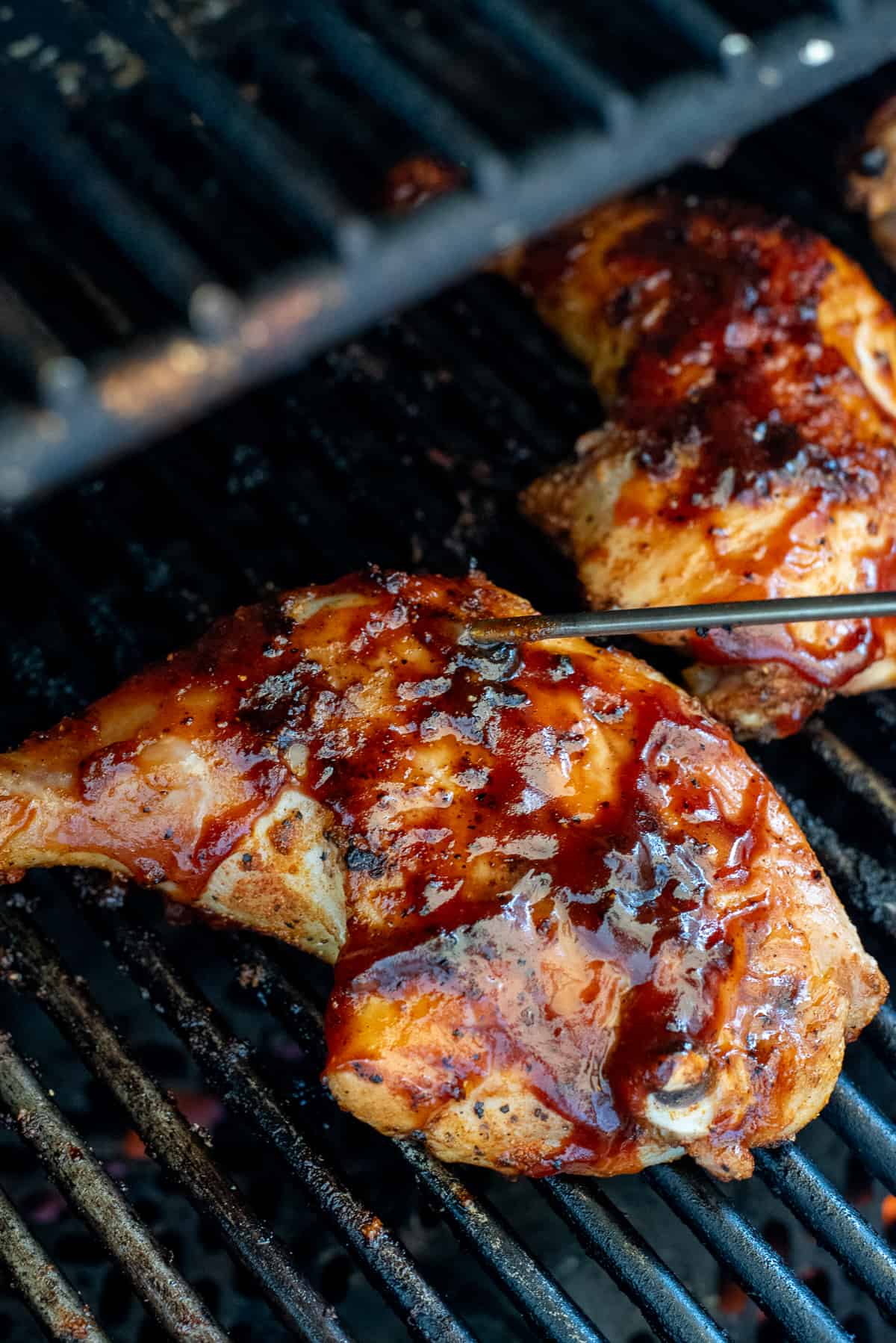 About brining first
Why should you brine chicken? The brine infuses flavor and tenderness throughout the meat – not just on the surface.
A friend of ours who is a well trained chef says that she absolutely always brines chicken before cooking. It's a good practice, though we admit to not always having the time.
That being said, if you're short of time you can make these leg quarters without the brining process and they'll still be outstanding. But, if you can, the brine will give a light taste of salt and an extra bit of tenderness to your meat.
You can also add herbs and/or fruit to the brine for extra flavor if you like. It's certainly not necessary though.
This post contains affiliate links, which means if you click on an affiliate link and buy something, we may receive a very small commission.  It does NOT result in additional charges to you or cost you anything extra. Click here for our full privacy and disclosure policy. As an Amazon associate we earn from qualifying purchases.
Expert Tips
Dark chicken will be safe to eat at an internal temperature of 165 degrees. However, the meat of chicken thighs and legs is actually the most succulent and tender if cooked until it reaches 175 to 185 degrees. This does not result in overcooked chicken.
Monitoring the internal temperature is essential. Many people like to use an instant read thermometer like this one. We actually like the type of thermometer with multiple probes so you can have a probe inserted in smaller and larger pieces. They connect wirelessly to your phone with an app, and you can monitor the progess of your meat from wherever you are.
If your chicken tends to float in the brine solution you can weigh it down with a heavy plate.
Brushing your grill grates is helpful to prevent sticking, especially when cooking at higher temperatures.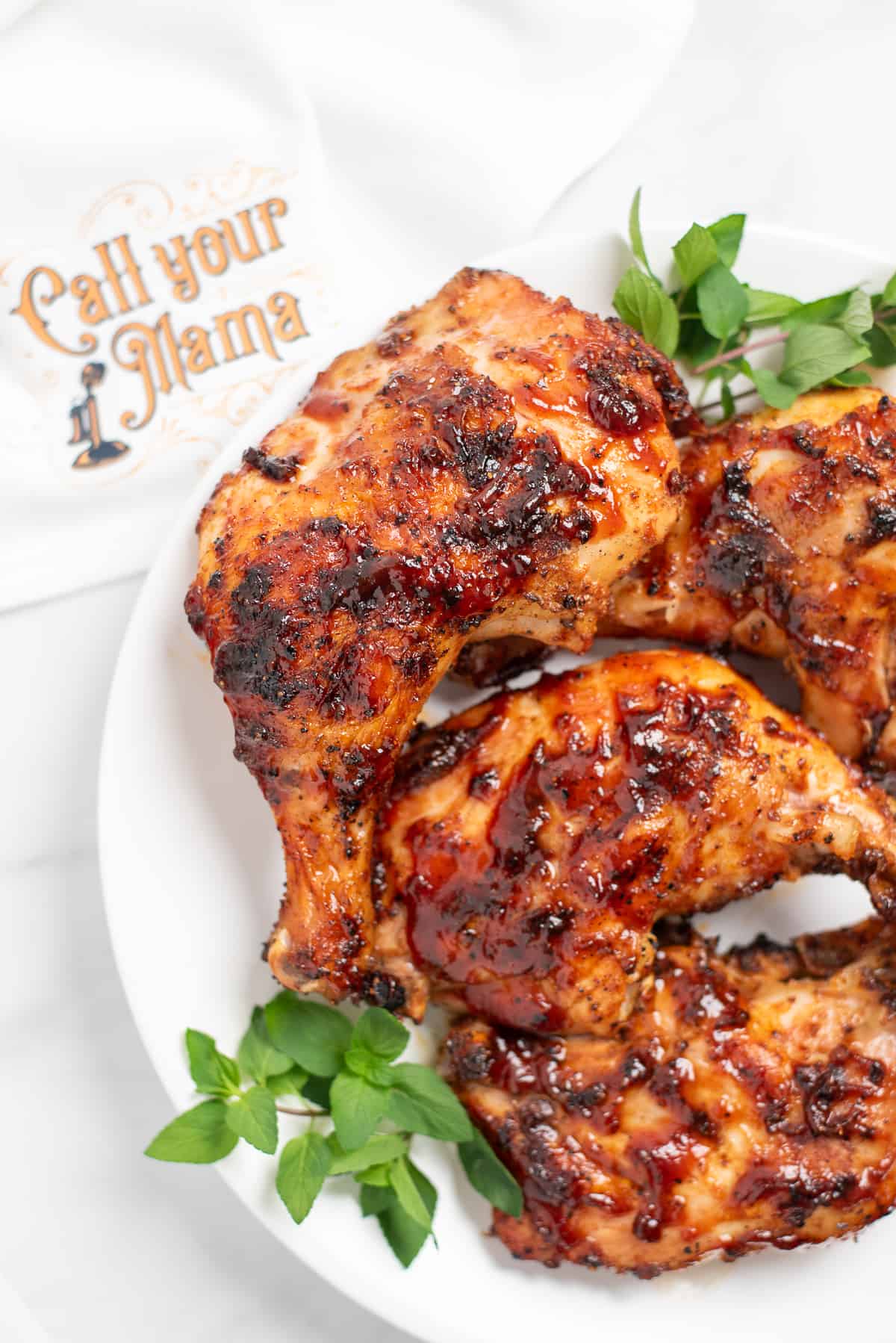 FAQ's about grilling chicken leg quarters
At what temperature are chicken leg quarters done?
They are done and safe to eat at 165 degrees. However, bringing the temperature to 175 to 185 degrees results in the most amazing flavor and succulent texture.
How long to grill chicken leg quarters at 350 degrees/400 degrees?
400 degrees is really too hot for this cut of meat. You would likely get the outside burned before the inside is done. A quick char at this temperature is good but then you'd want to reduce the heat to about 300-325. Figure on a total time of 35-45 minutes.
Should I let chicken leg quarters rest before serving?
Yes! A rest of 5-10 minutes allows the flavors to blend and the meat to recover from those high temperatures.
How long can I keep leftover leg quarters?
They will be fine, tightly covered and refrigerated for about 5 days. Allow them to sit out for about 30 minutes and then reheat in a 350 degree oven, uncovered for 10-12 minutes.
Can this recipe be used to make smoked chicken leg quarters?
Yes, the brining instructions and seasoning blend are the same that we use on smoked chicken thighs. You would want to refer to that recipe for time and temperature guidance when smoking.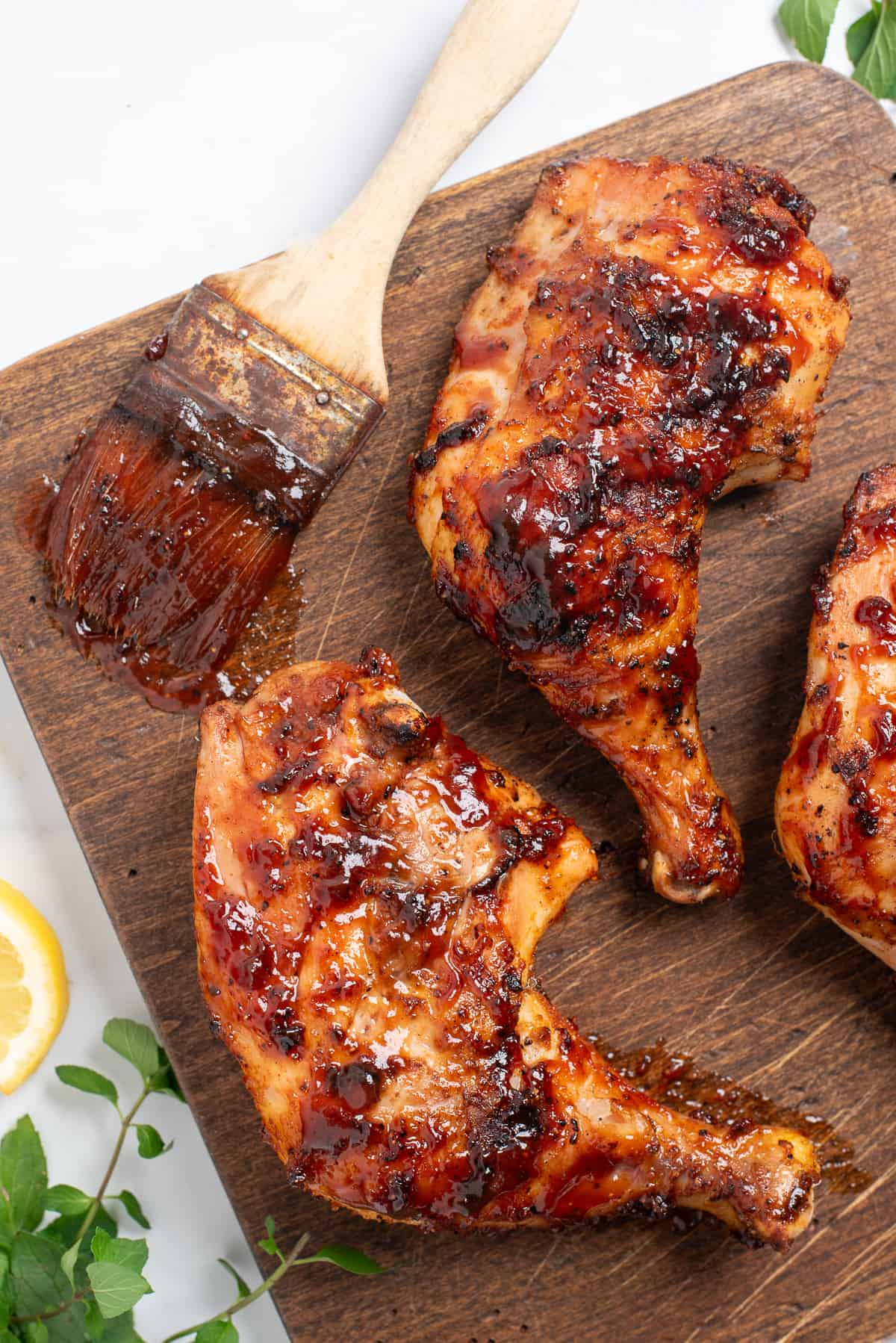 Side dishes to serve with BBQ Chicken Quarters:
For a fun and quick look at this recipe check out the Google Web Story.
📖 Recipe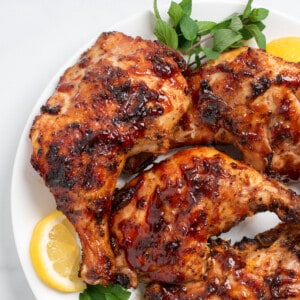 Grilled Chicken Leg Quarters
Leg Quarters are the most succulent cut of chicken and they're ideal for grilling. These are well seasoned and sauced or not, as you choose.
Ingredients
4

Chicken Leg Quarters

2

Tablespoons

Vegetable Oil, divided

for brushing chicken and grill grates

6

cups

water

for brine

6

Tablespoons

salt

for brine

¾

teaspoon

salt

for seasoning

1½

teaspoon

garlic powder

1½

teaspoon

onion powder

1½

teaspoon

black pepper

recommend coarsley ground

1½

teaspoon

smoked paprika

¾

teaspoon

cumin

¾

teaspoon

cayenne pepper

optional, but recommeded
Instructions
Make the brine by dissolving the 6 Tablespoons of salt and the brown sugar in water.

Submerge the chicken in the brine. If needed a heavy plate can be set on top of the chicken to keep it totally submerged.

Refrigerate for 2-24 hours.

Mix the remaining ingredients to make the seasoning blend.

When the chicken has brined, removed it and pat dry. Brush both sides with oil. Coat on both sides with the seasoning blend.

Brush the grill grates with oil and heat grill to 375-400 degrees.

Add chicken to grill for 2-3 minutes per side and then lower heat to about 300-325 degrees or move chicken to indirect heat.

Cook an additional 30-35 minutes monitoring the internal temperature. If sauce is desired starting brushing it on chicken at about 155-160 degrees.

Remove chicken when the internal temperature reaches 175-185 degrees. Allow to rest for 5-10 minutes before serving.
Notes
Brining is an optional but recommended step.
If additional brine is needed it can be added with the proportions of 1 Tablespoon of salt per every cup of water.
Times and temperatures can be adjusted as needed as long as the internal temperature of the chicken is monitored.
Nutrition
Calories:
389
kcal
Carbohydrates:
3
g
Protein:
24
g
Fat:
31
g
Saturated Fat:
8
g
Polyunsaturated Fat:
9
g
Monounsaturated Fat:
12
g
Trans Fat:
0.2
g
Cholesterol:
142
mg
Sodium:
11032
mg
Potassium:
361
mg
Fiber:
1
g
Sugar:
0.2
g
Vitamin A:
647
IU
Vitamin C:
1
mg
Calcium:
42
mg
Iron:
2
mg