The tenderest and most flavorful part of the chicken gets infused with smoke flavor. Here you'll find the full recipe for brining and smoking chicken thighs.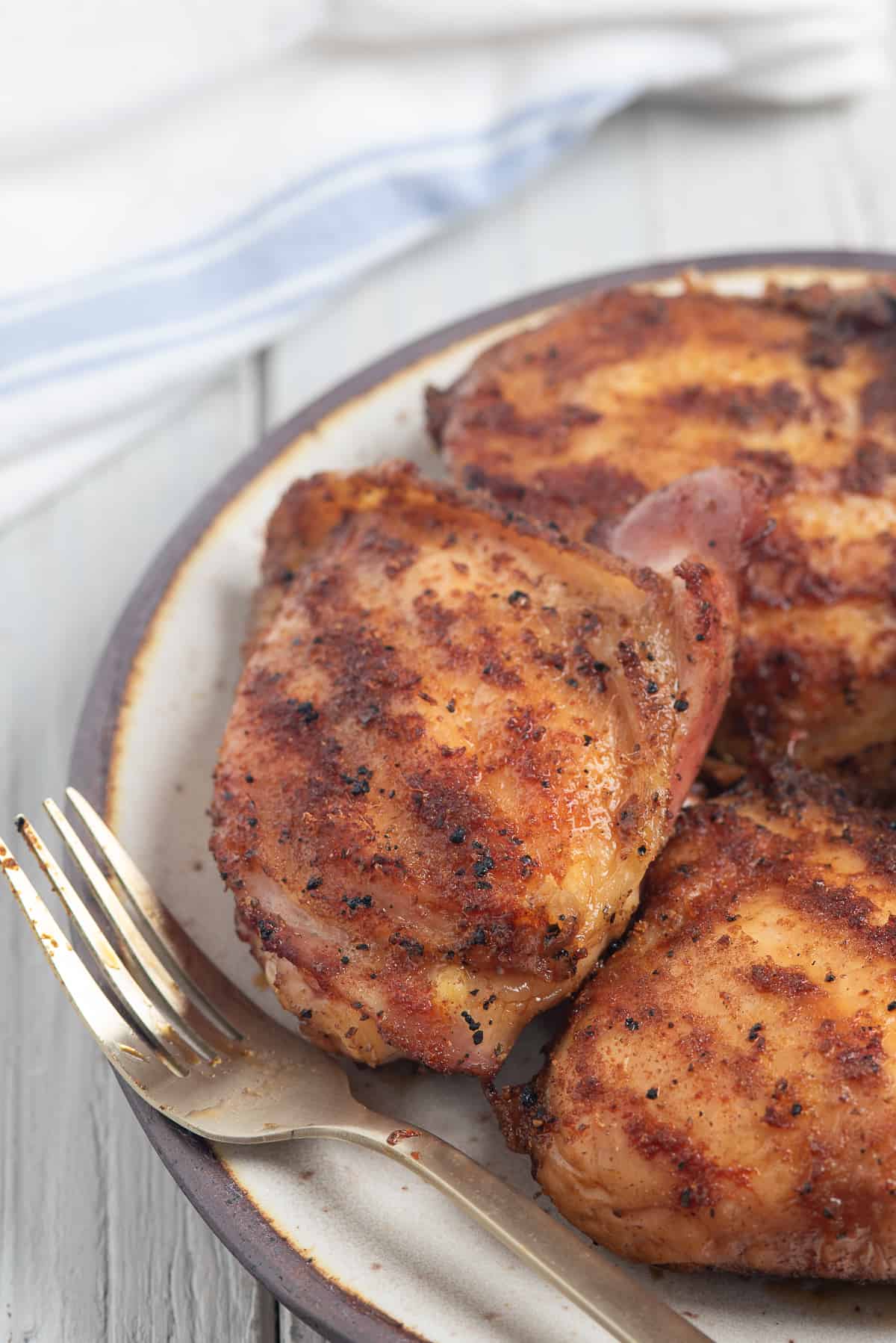 Jump to:
For the most moist and tender chicken dishes, you want to choose skin-on, bone-in chicken. Chicken thighs are the part of the chicken with the most flavor.
Cajun Baked Chicken is a recipe that is specifically written for bone-in chicken and it calls for a variety of pieces. You could certainly substitute all thighs in that recipe, too.
Now we know that y'all love your boneless chicken breast. No doubt it's the leanest, most low fat option out there. Various recipes like Preacher Chicken and Grilled Blackened Chicken make it as flavorful as possible with marinades and seasonings.
But, for real melt-in-your-mouth chicken goodness, you can't beat thighs that have been brined and smoked. Read on for full instructions and the spice blend.
About brining first
Why should you brine chicken? The brine infuses flavor and tenderness throughout the meat - not just on the surface.
A friend of ours who is a well trained chef says that she absolutely always brines chicken before cooking. It's a good practice, though we admit to not always having the time.
That being said, if you're short of time you can make these smoked chicken thighs without the brining process and they'll still be outstanding. But, if you can, the brine will give a light taste of salt and an extra bit of tenderness to your meat.
Ingredients and Substitutions
Chicken thighs (skin on and bone in)
Salt (for the brine and the seasoning)
Water
Brown sugar for the brine - light or dark brown sugar is fine
Garlic powder
Onion powder
Smoked paprika
Black pepper - we recommend coarse ground, but any is fine
Cumin
Cayenne pepper (optional, but we always like to add it)
(see recipe card for quantities)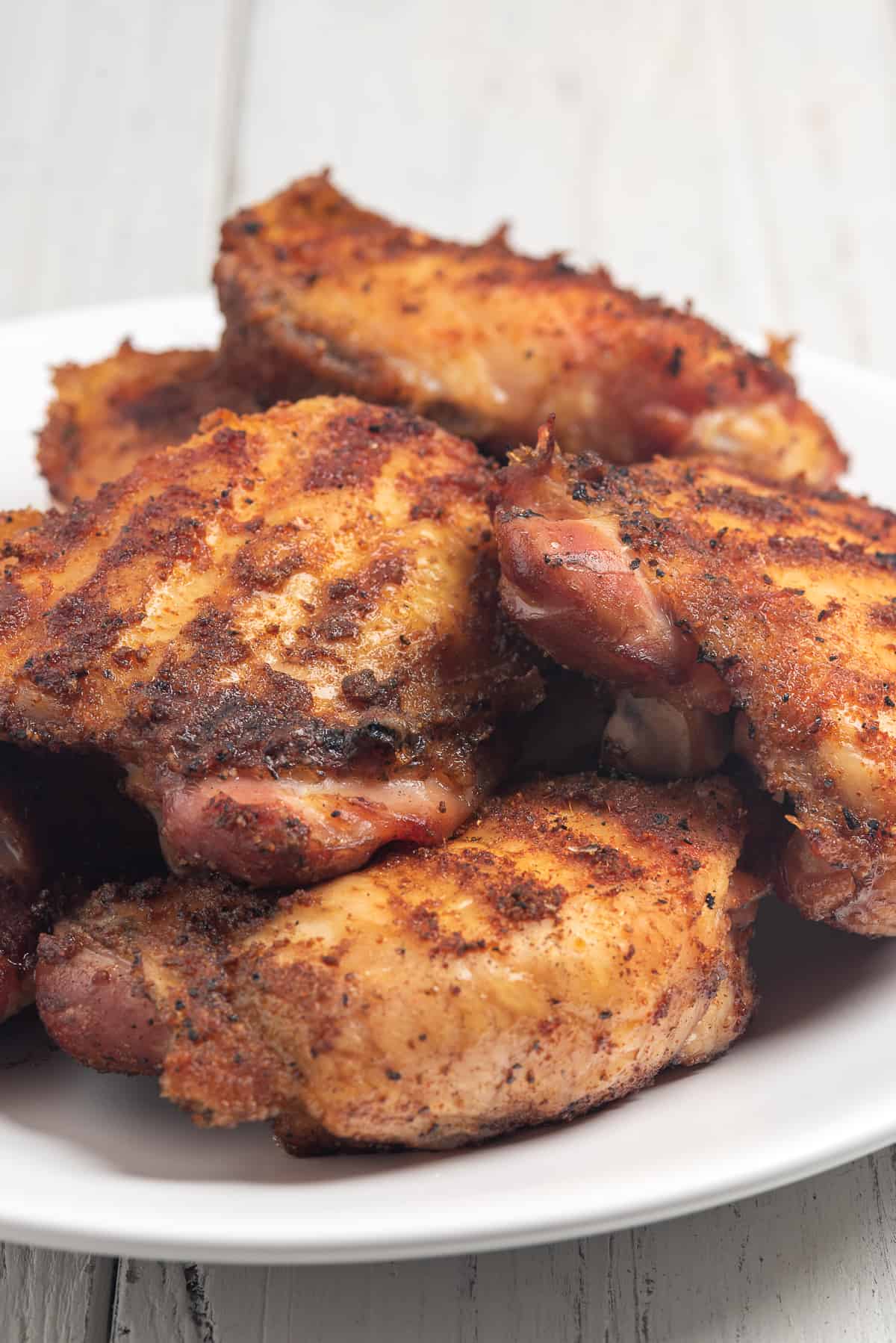 The steps for making it
First you'll make the brine. Stir the salt and brown sugar into the water to dissolve. You can bring it to a boil and that will make the salt and sugar easier to dissolve, but if you do so you'll need to cool the brine before using it.
Put the chicken in a container that you can completely cover it with the brine. If it floats up you can use a heavy plate on top to weigh it down. Refrigerate for 8-24 hours.
Mix the remaining ingredients to make the seasoning blend.
Pull the thighs out of the brine and pat them dry.
Coat on all sides with the seasoning.
Smoke in a Big Green Egg or other smoker for about 2 to 2 and a half hours. Use a flavorful wood for smoking. Our favorites are hickory and applewood, but choose whatever you like. Maintain the heat in your smoker as closely as possible to 225 degrees.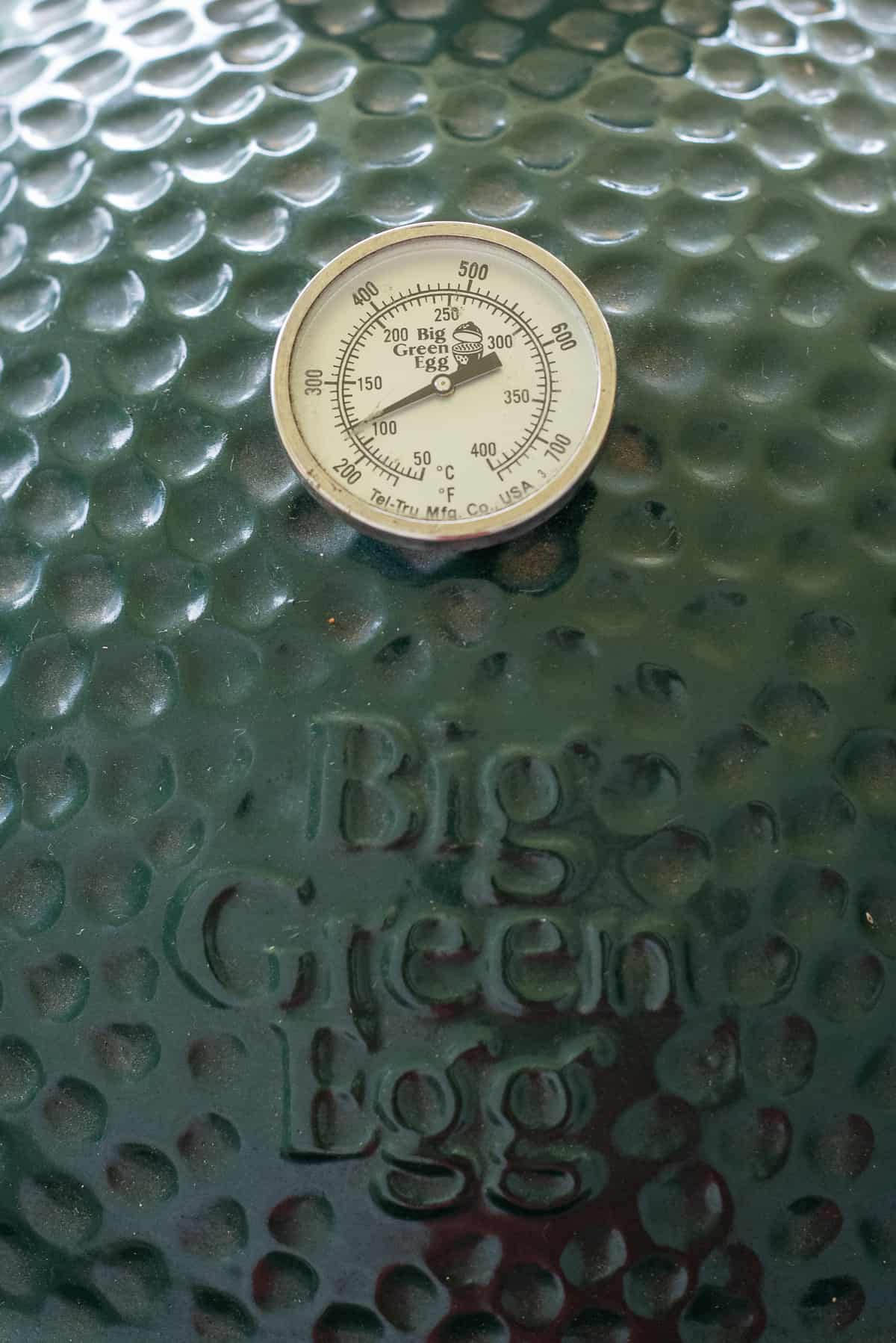 What internal temperature is best for chicken thighs?
They will be safe to eat at an internal temperature of 165 degrees. However, the dark meat of chicken thighs is actually the most succulent and tender if cooked until it reaches 175 to 185 degrees. This does not result in overcooked chicken.
This post contains affiliate links, which means if you click on an affiliate link and buy something, we may receive a very small commission.  It does NOT result in additional charges to you or cost you anything extra. Click here for our full privacy and disclosure policy. As an Amazon associate we earn from qualifying purchases.
A thermometer is essential to properly cooking your chicken. Many people love to use instant read thermometers like this one.
We actually like the type of thermometer with multiple probes so you can have a probe inserted in smaller and larger pieces. They connect wirelessly to your phone with an app and you can monitor the progess of your meat from wherever you are.
This is especially helpful when slowly smoking a dish that will take hours. It can cut back on times running back and forth to the smoker. Also, each time you open the lid on the smoker, it takes time for the temperature to recover.
These probes stay in the meat with the lid down until ready to take it off the heat.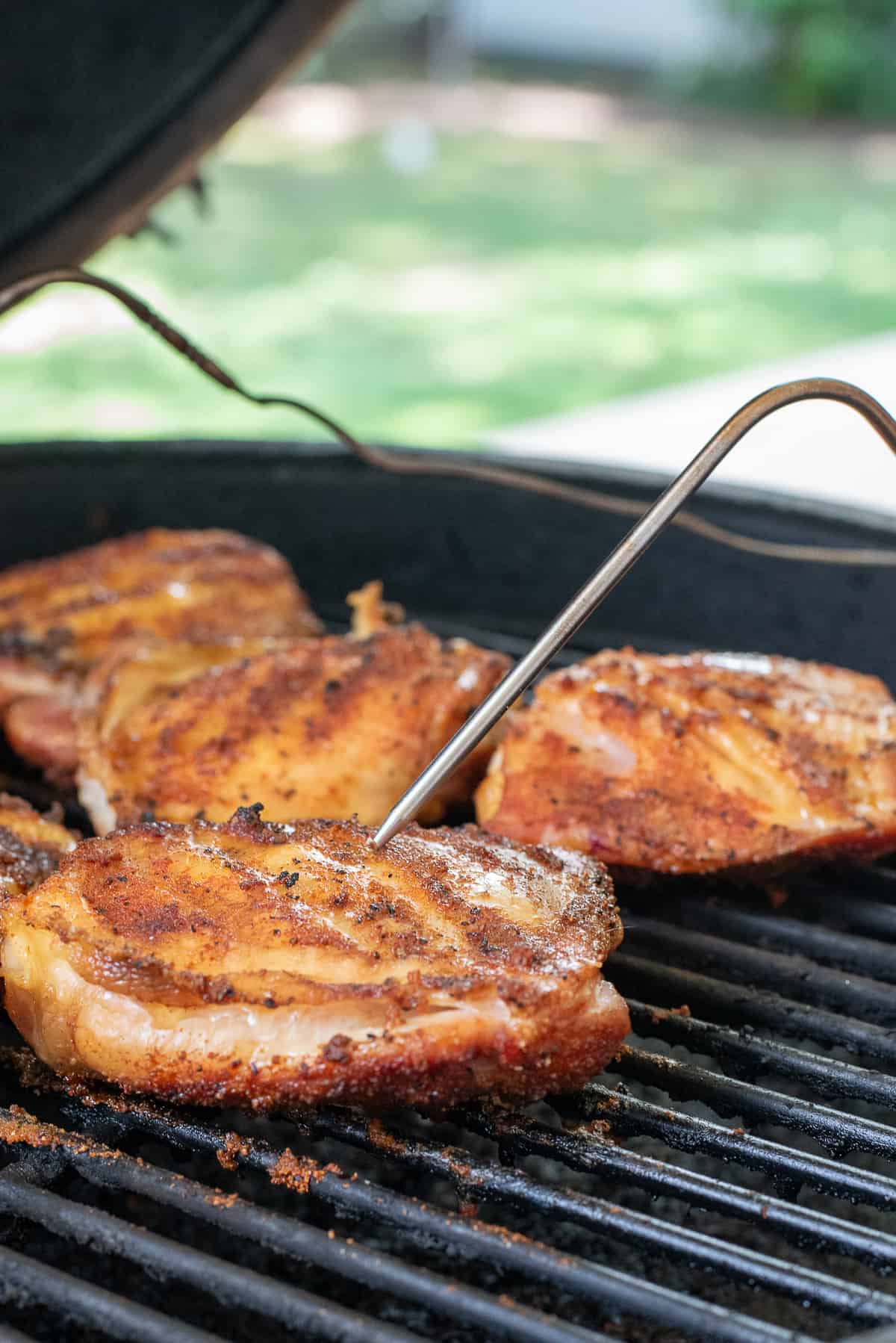 What sauce is good with smoked chicken?
The truth is that this chicken is perfectly delightful without a sauce at all. But, if you prefer to serve a sauce alongside we have two that we would recommend.
First is Georgia Mustard BBQ Sauce. It's a staple in our refrigerator so there's always a container of it around. We just set it out for a little while before serving so it's not ice cold.
A completely different option is this Yogurt Sauce for Chicken. It's going to give a tangy, but cool complementing flavor to your meat. Both are very easy to make.
Saving chicken thighs for later
As long as you cover them tightly, you can store your smoked chicken in the refrigerator for up to 5 or 6 days.
In fact, a day or two in the fridge will actually give a little more intensity to the smoke flavor and we see that as a good thing! We have not tested freezing this recipe.
For a quick and fun look at this recipe check out the Google Web Story.
📖 Recipe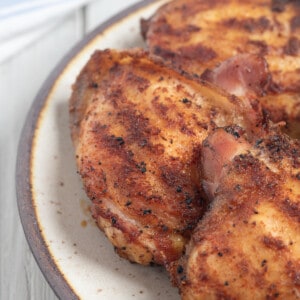 Smoked Chicken Thighs
The tenderest and most flavorful part of the chicken gets infused with smoke flavor. Here you'll find the full recipe for brining and smoking chicken thighs.
Ingredients
2½

pounds

chicken thighs

skin on and bone in

6

cups

water

6

Tablespoons

salt

for the brine

4

Tablespoons

brown sugar

light or dark brown

½

teaspoon

salt

for the seasoning

1

teaspoon

garlic powder

1

teaspoon

onion powder

1

teaspoon

black pepper

recommend coarsley ground

1

teaspoon

smoked paprika

½

teaspoon

cumin

½

teaspoon

cayenne pepper

optional, but recommended
Instructions
Make the brine by dissolving the 6 Tablespoons salt and the brown sugar in water.

Submerge the chicken in the brine. If needed a heavy plate can be set on top of the chicken to keep it totally submerged.

Refrigerate for 8-24 hours.

Mix the remaining ingredients to make the seasoning blend.

When the chicken has brined removed it and pat dry. Coat on both sides with the seasoning blend.

Cook on a smoker for two to two and a half hours, maintaining the heat of the smoker to as close to 225 degrees as possible. Remove chicken when internal temperature is between 175 and 185 degrees. Let rest 5-10 minutes before serving.
Notes
Fragrant wood such as apple or hickory should be used in smoker for optimal smoke flavor. 
This recipe will work for between 2 and 3 pounds of chicken thighs.
More dishes to cook on the smoker