Cajun Baked Chicken is best made with bone-in chicken pieces. For maximum tenderness it's brined and then baked in a flavorful Cajun spice blend.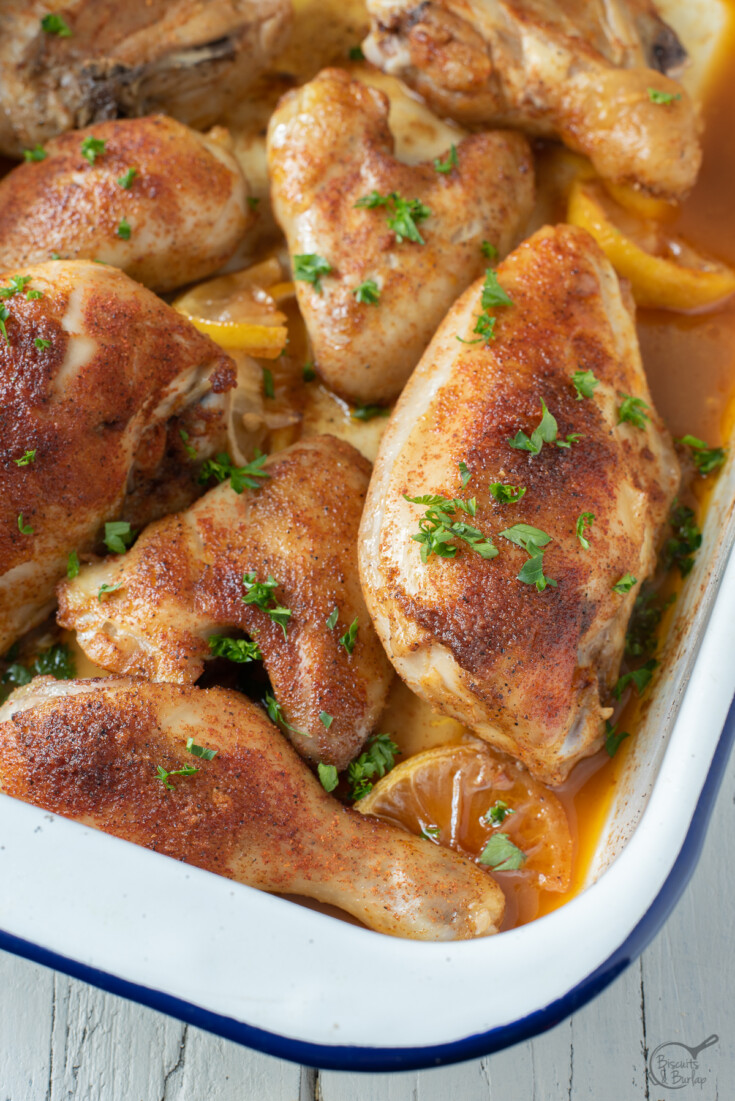 When baking or roasting chicken we prefer to always use bone in chicken, either individual pieces or the whole chicken. Baking boneless skinless chicken tends to dry it out.
We go into more details in our Southern Style Fried Chicken post, but the bottomline is this: You will get the absolute best quality chicken by going to your local butcher. I like to have them cut up a whole chicken for me. That's what this recipe was written for, and it gives a variety of pieces to please everyone.
If you're unable to get to a butcher shop the next best thing is to have the butcher at your grocery store cut up a whole chicken for you.
When we do cook boneless chicken we usually grill it like with our Grilled Blackened Chicken, Smoked Chicken Thighs and "Preacher Chicken" or cook it in a skillet like the Chicken Sandwich with Cilantro Yogurt Sauce.
Jump to:
Why you'll love this Cajun roasted chicken
It's easy. Like seriously easy. Brine the pieces for a few hours (which just means letting it sit in salted water). Then just dry it off, spray or rub it with oil, sprinkle on your seasoning and in the oven it goes.
It's so full of flavor you'll never make plain old baked chicken again.
This chicken recipe is perfect for cool or cold weather. It's just plain comfort food.
It's low carb without making any alterations to the recipe.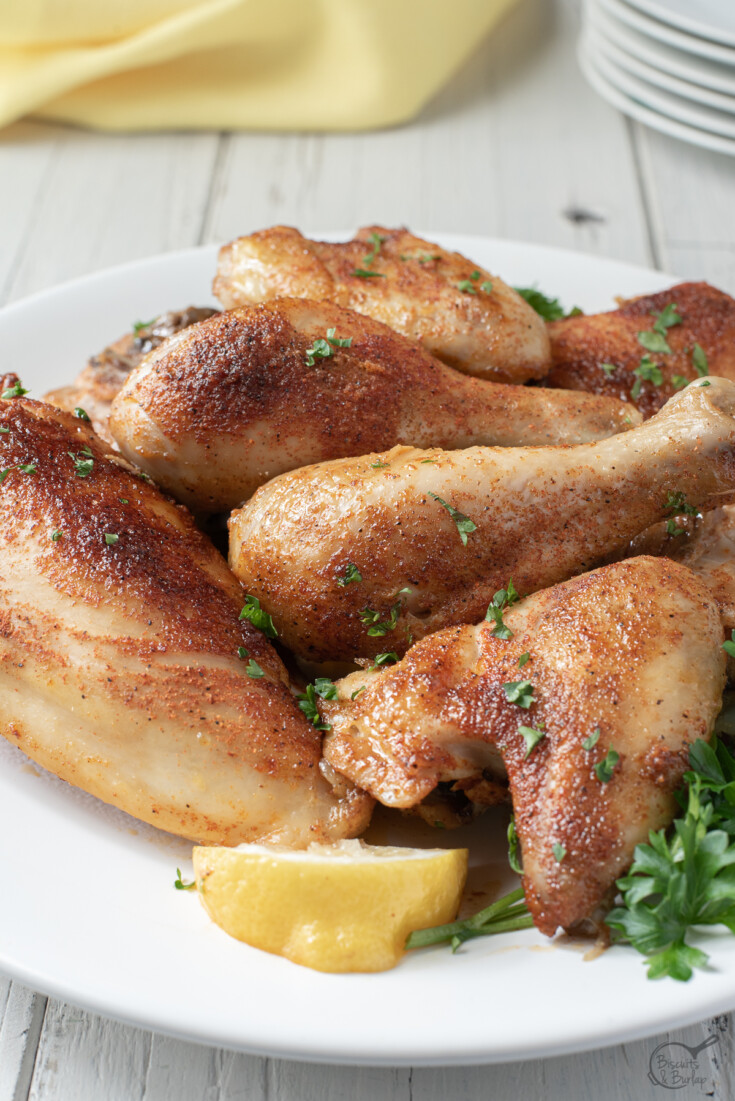 Ingredients for Cajun Baked Chicken
Bone-in chicken
Brown sugar
Cajun or Creole seasoning- We recommend Tony Chachere's!
Smoked Paprika- Regular will do, but the smoked version will give it a unique flavor.
Lemon
Vegetable oil- We recommend an oil with a high smoke point like canola or avocado.
See recipe card for quantities.
About brining the chicken
As we mentioned above brining just means the chicken pieces are submerged in a salt water solution and refrigerated before they're cooked.
The general rule of thumb is 1 Tablespoon of salt to every cup of water and 1 hour of brining per every pound of meat. If you need to brine it longer (like overnight) just cut back on the salt accordingly.
Brining flavors and tenderizes the chicken throughout the meat, not just on the surface. You can add spices, fruit and sugar if you like for additional flavor. In this case we're keeping it to a simple salt water solution.
What can you make with Cajun or Creole seasoning?
We do love our original Tony Chachere Creole Seasoning and use it often. Just a few of the recipes you'll find with it here:
We've used here with just a couple of additions. Like we said, this recipe is being kept very simple.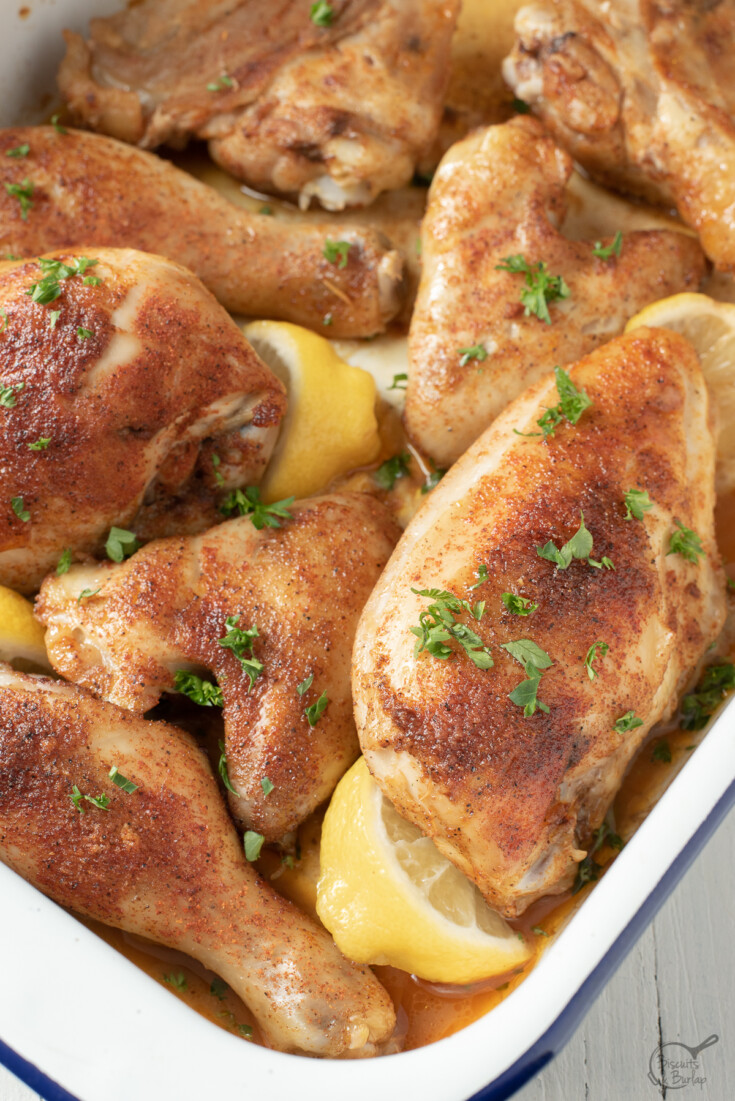 This post contains affiliate links, which means if you click on an affiliate link and buy something, we may receive a very small commission.  It does NOT result in additional charges to you or cost you anything extra. Click here for our full privacy and disclosure policy. As an Amazon associate we earn from qualifying purchases.
Expert Tips
Start with good quality chicken raised without hormones or antibiotics
After the chicken comes out of the brine pat it dry with paper towels and let it sit for about 15 minutes so it's not going in the oven ice cold.
Brush or spray it with a high smoke point oil. We like to use non-propellant spray oils like this one. This is what we always use when we air fry.
Toss a cut up lemon in the pan if you have one. If not, it's still going to be delicious.
For tender, juicy chicken cook just until the juices run clear when a fork or knife is inserted deeply into the meat. You can also test for doneness with a meat thermometer inserted into the meatiest portion. 165 degrees is what you're looking for.
When it comes out of the oven let it sit in the juices for about 10 minutes before serving. The chicken is going to further absorb those great flavors.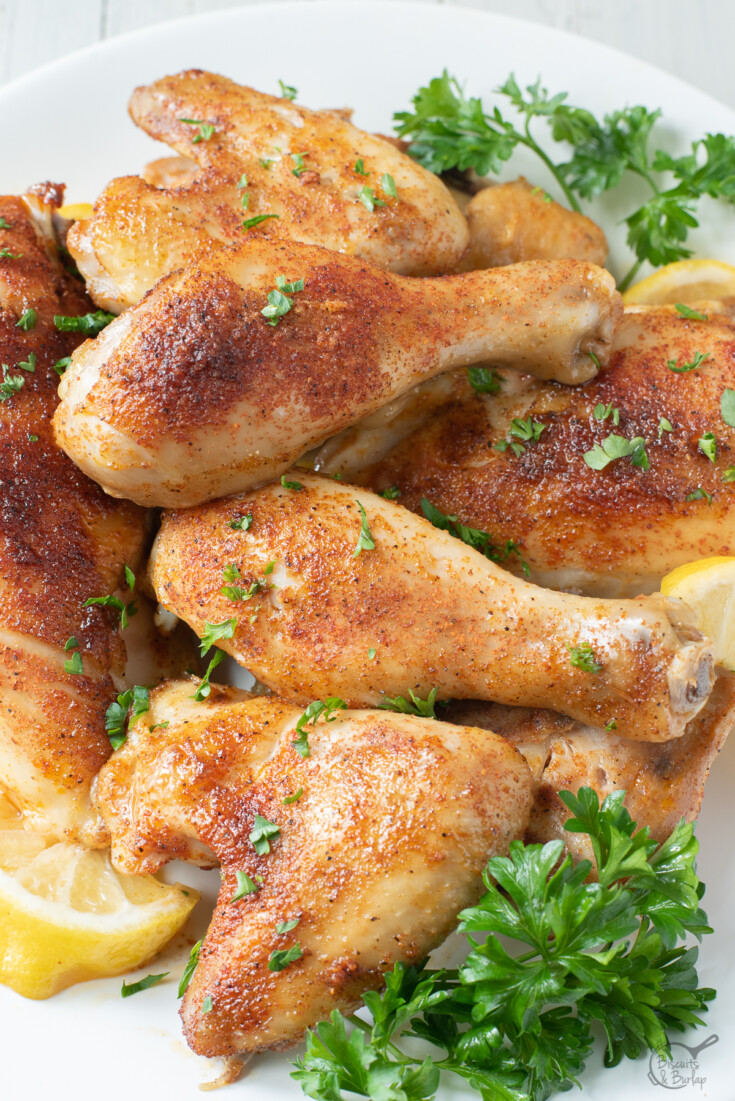 Are all vegetable oils the same?
For this recipe we recommend an oil with a high smoke point like canola or avocado.
Can you make this recipe with boneless chicken?
The seasoning can be used on boneless chicken, but the chicken will not be as juicy and the cooking time may be affected.
Can I skip the brining step?
You can, but again it will make the chicken less juicy.
Will any Cajun or Creole seasoning work?
Yep! We always recommend Tony Chachere's, though.
📖 Recipe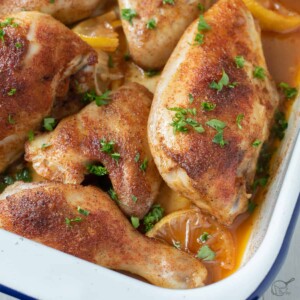 Cajun Baked Chicken with Bone in Chicken
Cajun Baked Chicken is made with bone-in chicken pieces. For maximum tenderness it's brined and then baked in flavorful Cajun spices.
Ingredients
3-4

pounds

chicken pieces, bone in

2

Tablespoons

brown sugar

2

Tablespoons

Cajun or Creole Seasoning

we recommend Tony Chachere's

2

teaspoons

smoked paprika

½-1

lemon

cut up into slices or wedges (optional)

1-2

Tablespoons

vegetable oil or spray

see notes below
Instructions
Brine chicken pieces in enough salted water to cover chicken for approximately 1 hour per pound. See notes below.

Remove chicken from brine and pat dry. Let sit at room temperature for 15-20 minutes.

Combine brown sugar, seasoning and paprika.

Sprinkle chicken pieces with seasoning blend.

Bake at 425 degrees for 15 minutes and then reduce heat to 350 degrees. Cook for about 20-30 additional minutes or until juices run clear when pierced with fork or knife. You can also test for doneness by inserting a meat thermometer into meatiest portion. Remove from oven at 165 degrees.

If time allows let chicken sit in pan juices for 10 minutes before serving.
Notes
For brining dissolve 1 Tablespoon salt per every cup of water and make enough to cover chicken. Cover with lid or plastic wrap and refrigerate for approximately 1 hour per pound of chicken.
We recommend a high smoke point oil like canola or avocado.
If cooking more chicken than called for here simply increase the amount of seasonings and oil accordingly.