One little scoop of this butter with creole seasoning and herbs will elevate your steak from great to completely amazing!
This butter for steak with Creole seasonings and herbs takes just a few minutes to make and can be made a day or two ahead. In fact, it may be even better after the flavors have had time to "get friendly" in the butter.
To learn more about southern foods - the flavors, origins and recipes be sure to read this.
We know you love a good quality steak cooked perfectly and seasoned very simply with just salt and pepper. We do too. But, sometimes you want to give your steak a little extra zing and this seasoned butter is just perfect for that occasion.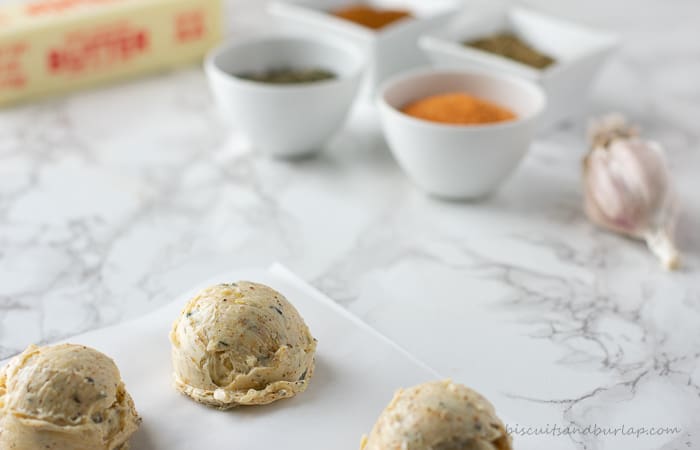 If you're putting together an appetizer buffet or board, why not consider adding steak? Cajun Steak Bites make it so easy!
Cooking the steak - the reverse sear method
This post contains affiliate links, which means if you click on an affiliate link and buy something, we may receive a very small commission.  It does NOT result in additional charges to you or cost you anything extra. Click here for our full privacy and disclosure policy. As an Amazon associate we earn from qualifying purchases.
The basic theory behind the reverse sear method is this:
Start with a good thick steak - at least 1 inch, and up to 2 inches is great.
Cook at low temperature, slowly. If grilling use indirect heat, or in an oven, keep the temperature at about 225 degrees.
Use a good digital thermometer inserted into the center of the thickest part and pull the steak off the heat about 20 degrees before it reaches your desired doneness.
Crank the heat up high on your grill or in a skillet, preferably cast iron.
Sear both sides of the steak about two minutes.
We had good success inserting the thermometer (or probe) in from the side of the steak like in this photo. That way you can be sure you've got it right in the center.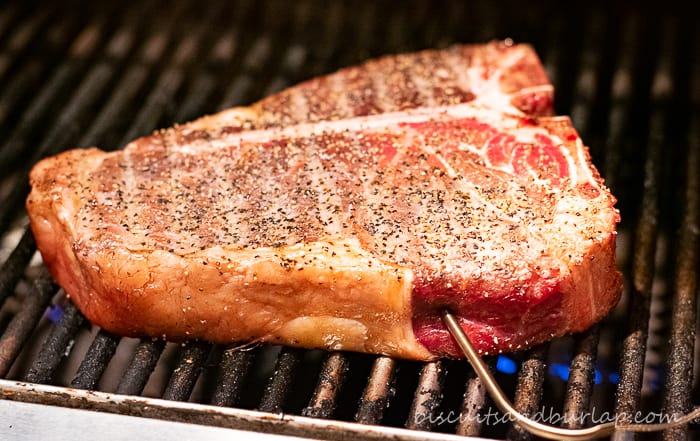 A good source for more details on the reverse sear method is the blog, Complete Carnivore. He has a post on Reverse Searing a Steak on a Gas Grill and Reverse Searing a Steak on a Charcoal Grill.
We've also had great success with our method, that we like to call reverse-reverse sear, and you can find out about that in this recipe: Filet Mignon Sauce with Bourbon and Peppercorns.
A full post dedicated to Reverse Reverse Sear Steaks gives all the details, and we believe it is hands down the best way to get steaks cooked perfectly every time.
How to form the Steak Butter after it's mixed
We chilled our mixed butter a little while and then scooped it with a medium sized cookie scoop like this one. We were cooking large steaks so that amount was just right. For a smaller steak you could use a small cookie scoop.
You could also let the steak butter chill a while and then form it into a log shape and wrap with plastic wrap. Then, when ready to use cut whatever size you want off the log.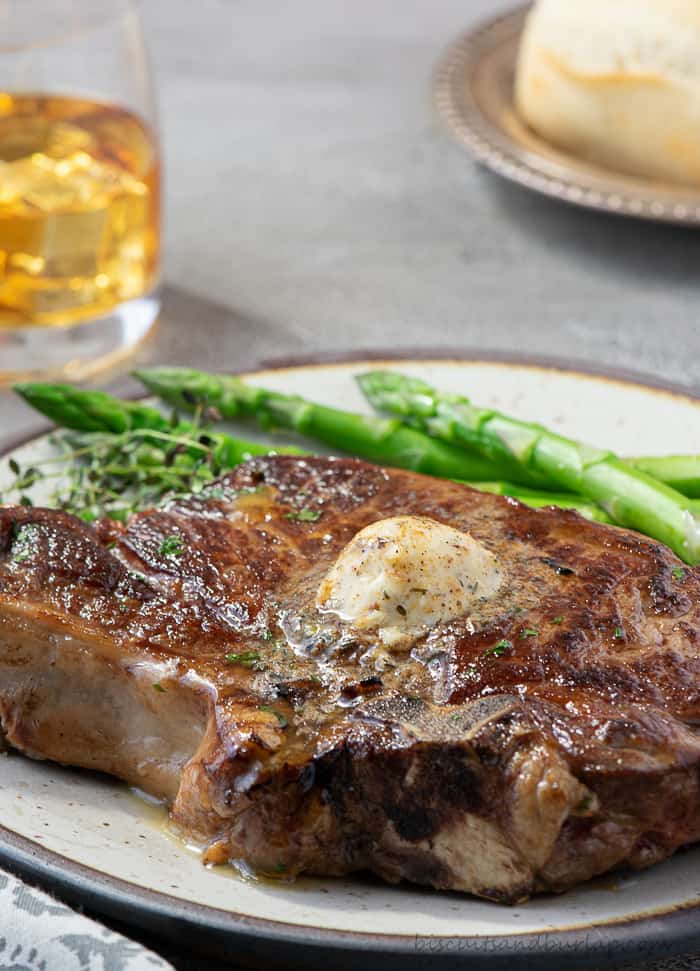 Recap of items to keep handy when cooking steaks with Steak Butter
For an absolutely dynamite side dish to serve with your steak try Easy Dirty Rice. You'll have an entire meal of Creole favorites! If steakhouse style is more your thing you can add a side of Sauteed Mushrooms and Onions.
For a fun and quick look at this recipe check out the Google Web Story.
📖 Recipe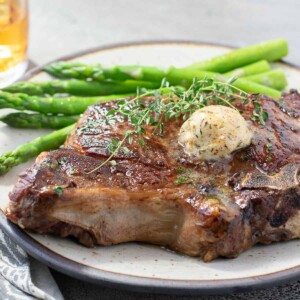 Creole Butter Recipe
An easy to make Steak Butter that will elevate the flavor of your steaks!
Instructions
Stir all ingredients together until well blended.

Place desired amount on hot steak soon after it's cooked to desired temperature.
A classic Hurricane cocktail would be a most appropriate way to start your delta-themed dinner. They're easy to make!
Be sure to tag us on Facebook and Instagram with a shot of your steak cooked with our Steak Butter recipe.
And don't forget that you can sign up here for updates. A new recipe comes out each week.

More recipes you'll love