Cheesy Roasted Poblano Pepper Soup is easy to make and full of flavor. Chicken can be added to make it extra hearty, but it's perfection in a bowl as a vegetarian dish.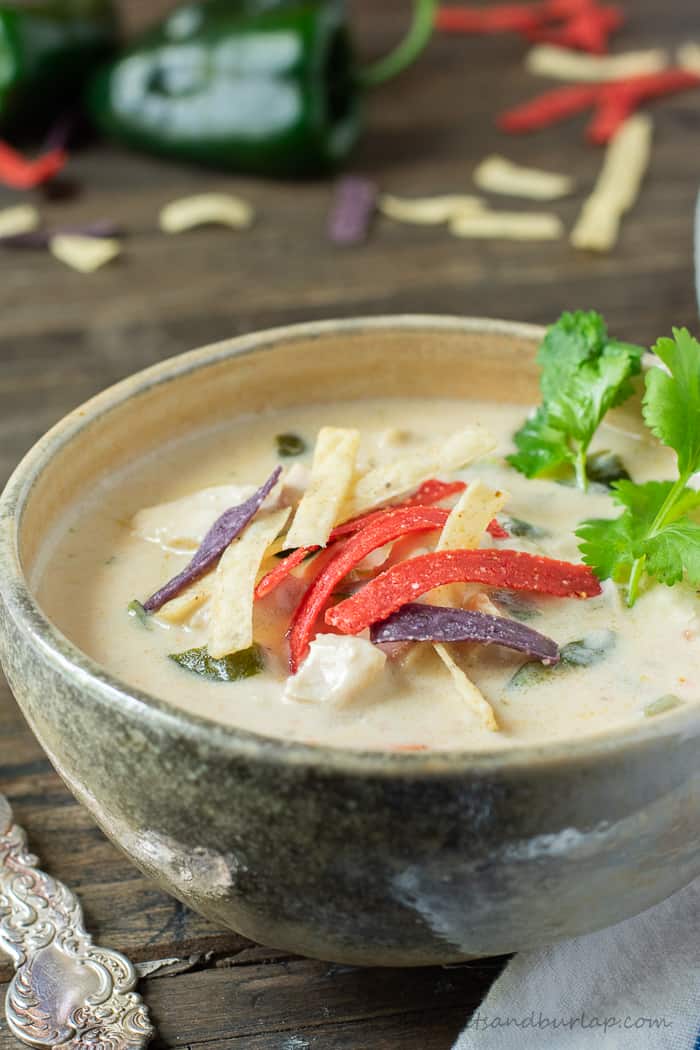 This poblano cheese soup stirs up in just minutes and is a meal in itself whether you add chicken or make the vegetarian version. Serve it in smaller portions as a first course for any meal - especially those with a southwestern flair.
Everyone seems to enjoy hearing where recipe inspiration originates, so here's the story on this soup: In 2017 I accompanied Buddy (hubs) on a business-related trip to Arizona.
We attended a rodeo-type event for Caterpillar equipment (those huge yellow trucks and tractors) and yes, I got to drive a bulldozer!
More important to this story, though, they served us the most delicious poblano pepper soup. Now we have a Roasted Poblano & Corn Chowder on the blog already and it's just great, but it has potatoes, lime and corn. The new soup I had was cheesy - really cheesy. Yum!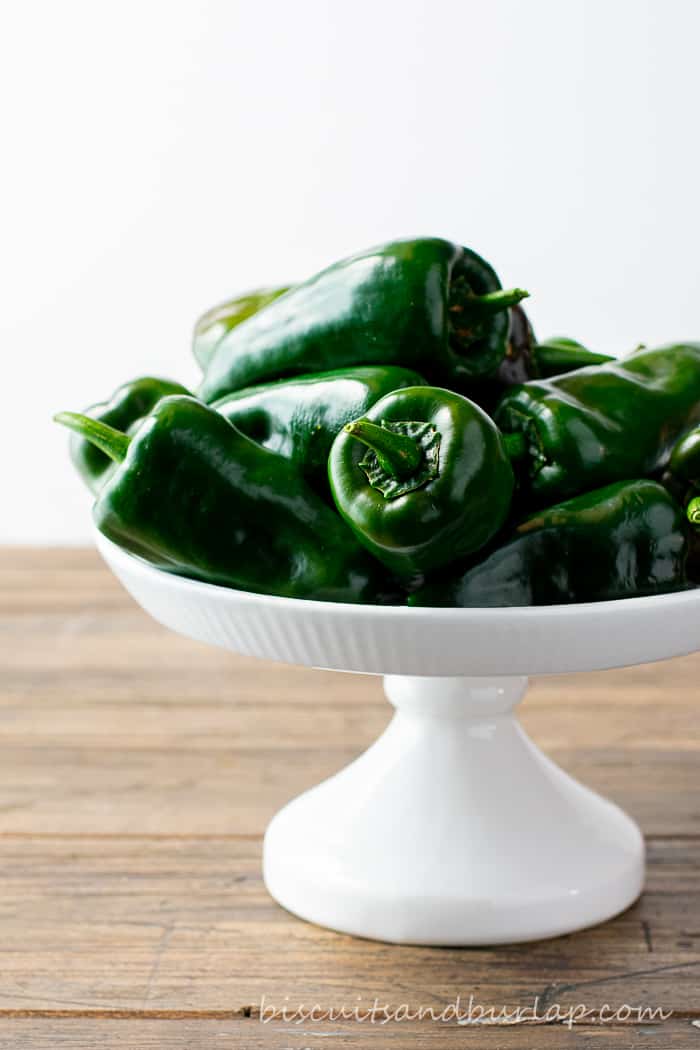 Enter this year's bumper crop of poblanos. We roasted, stuffed and diced those peppers and still had more in the garden. And then I remembered that cheesy soup and got to work recreating it.
Roasted Poblano Pepper Soup is so versatile!
Like so many of our recipes this one can be tweaked lots of different ways according to what you have on hand or your family's preferences.
When making this poblano soup I had a tomato, so I diced it up and added it, but it's totally optional. I also had some cooked chicken. I wanted this to be a meal in a bowl, so I chopped up the chicken and tossed it in.
If you want to keep it lighter or vegetarian, leave the chicken out and use vegetable broth instead of the stock. The same goes for Butternut Squash Soup with roasted red peppers and that one is super light.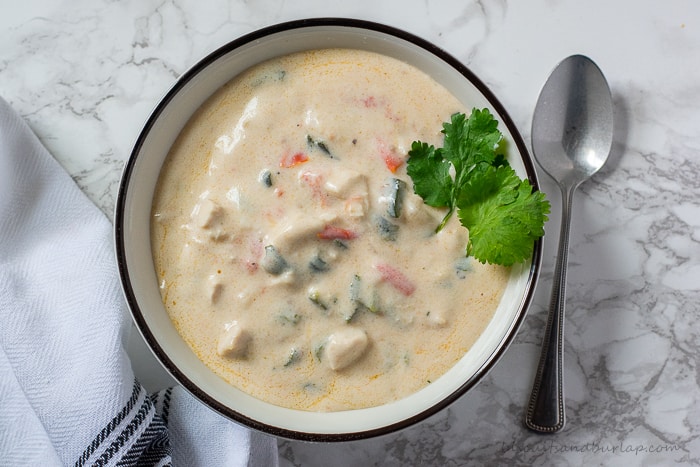 I remembered the original soup having white cheddar cheese, so that's what I used, but you could certainly use yellow cheddar, or monterey jack. The world is your soup pot!
Roasting Poblano Peppers
The skin of these peppers can be a bit thick and tough, so for most recipes I will roast the peppers first. It's easy to do, and I've given you step by step instructions below:
Preheat broiler or grill to medium-high to high heat.
Roast whole peppers until charred and blistered, turning with tongs to roast other side.
Remove from heat and place in plastic bag or covered bowl for 10-15 minutes.
Cut slit down one side of pepper. Skin should peel off easily.
Scoop seeds out with spoon.
The photo below will show you about how the peppers should look after roasting. They could even be charred a bit more if desired. If you're a fan of poblano peppers, try Creamy Poblano Sauce and Chicken Stuffed Poblano Peppers.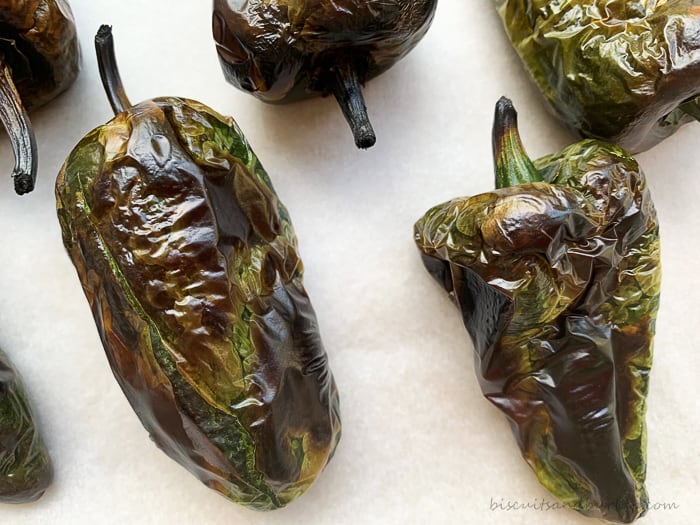 Garnish ideas for Cheesy Roasted Poblano Pepper Soup
This post contains affiliate links. Click here for our full disclosure and privacy policy.
Tortilla strips - we were so excited to find these Fresh Gourmet Tortilla Strips. Order from Amazon here.
Fresh cilantro
More grated cheese
Additional poblano pepper, either diced or cut into strips
Try some jalapeno peppers for some extra kick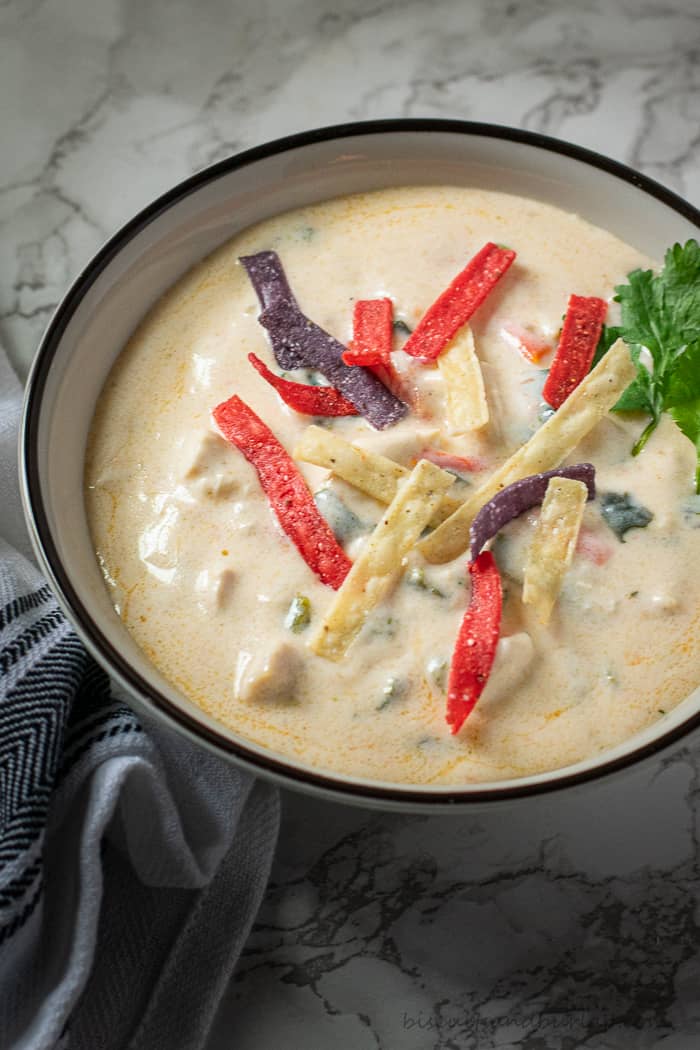 For a fun and quick look at this recipe check out the Google Web Story.
📖 Recipe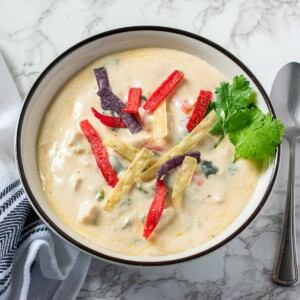 White Cheddar Poblano Soup
A hearty soup that comes together in just minutes. It can be made with chicken or without for a vegetarian version.
Ingredients
2

Tablespoons

butter

½

medium onion, diced

1

clove

garlic, minced

1-½

cups

cooked chicken, diced

optional

1

medium tomato, diced

optional

1

teaspoon

cumin

1

cup

chicken stock

use vegetable broth for vegetarian

1

teaspoon

salt

¼

cup

all purpose flour

2

cups

half and half

2-3

medium poblano peppers, roasted and diced

pepper

to taste

5

ounces

sharp white cheddar cheese

shredded
Instructions
Melt butter in medium sauce pan over medium heat.

Add onions and cook 8-10 minutes, or until tender.

Add garlic and cook 1-2 minutes, or until fragrant.

Add tomato, chicken, cumin, salt, pepper, poblano peppers and stock and simmer for 8-10 minutes.

Whisk flour into half and half and add slowly to pan, stirring constantly until thickened.

Add cheese and stir until melted and incorporated.

Garnish individual servings as desired with tortilla strips, cilantro, additional grated cheese and poblano pepper.
Be sure to tag us on Facebook and Instagram with a shot of your soup when you make it!
If you're not getting our weekly newsletter you'll want to sign up here. A new recipe comes out each week.

More Recipes You'll Love: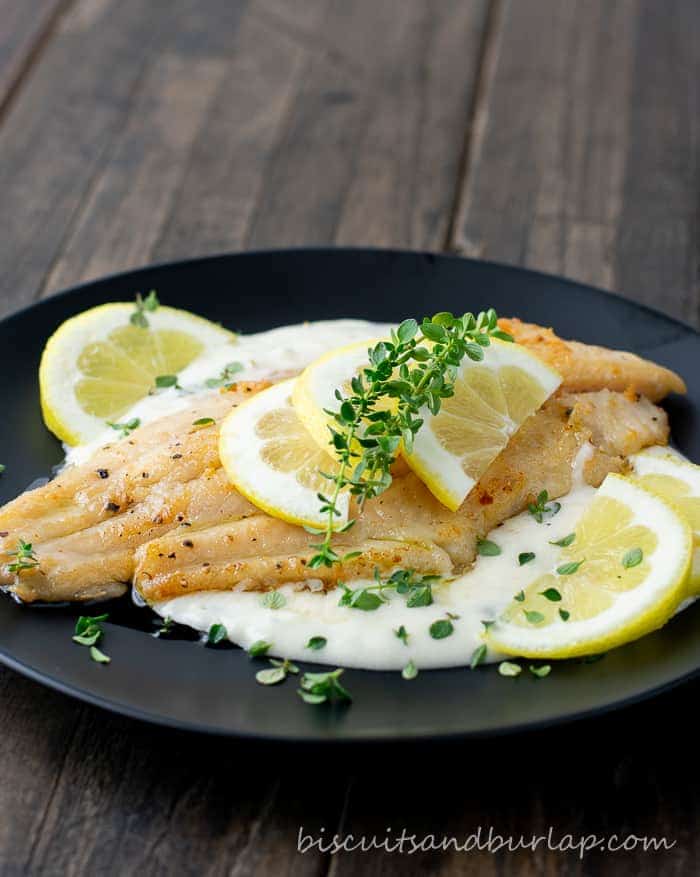 More recipe sources we recommend: