When you have more jalapenos peppers than you can use this quick guide for freezing is all you need.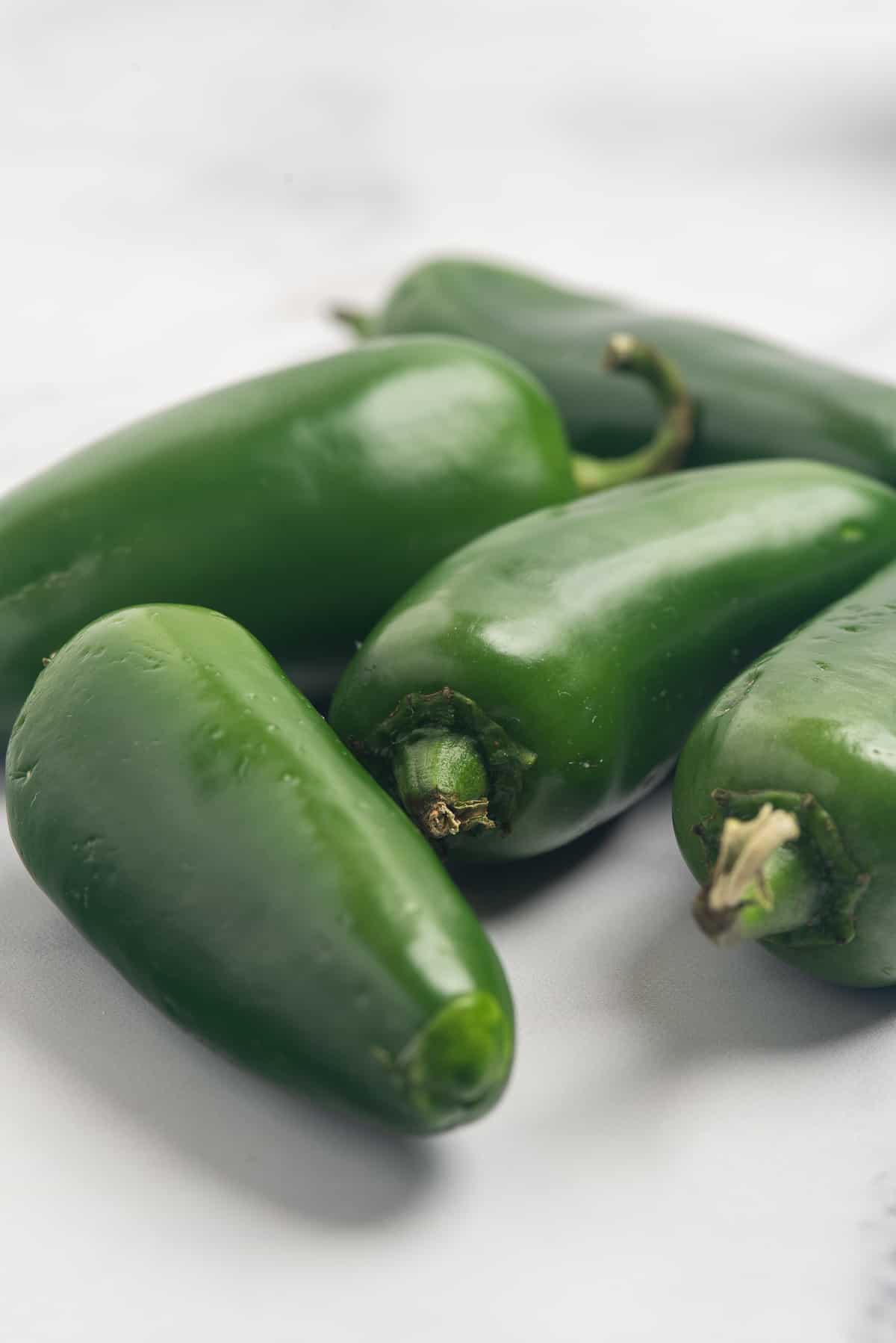 Jump to:
You've got to love all of the fresh vegetables of summer, but what can you do with too many at one time? In many cases freezing is a quick and easy option and works especially well for jalapeno peppers (or any other variety of pepper).
You'll only need to devote a few minutes to preserving your peppers and you'll be able to use some anytime you like.
Always start with washing and thoroughly drying your peppers.
The first method is dicing
This works so great because you can just bag up your diced jalapenos and pop them in the freezer. Anytime you need some for stews, soups, sauces, etc. just break off a chunk and add them into whatever you're cooking frozen.
They'll thaw in just a couple of minutes in your hot dish and you've got a great addition with lots of flavor.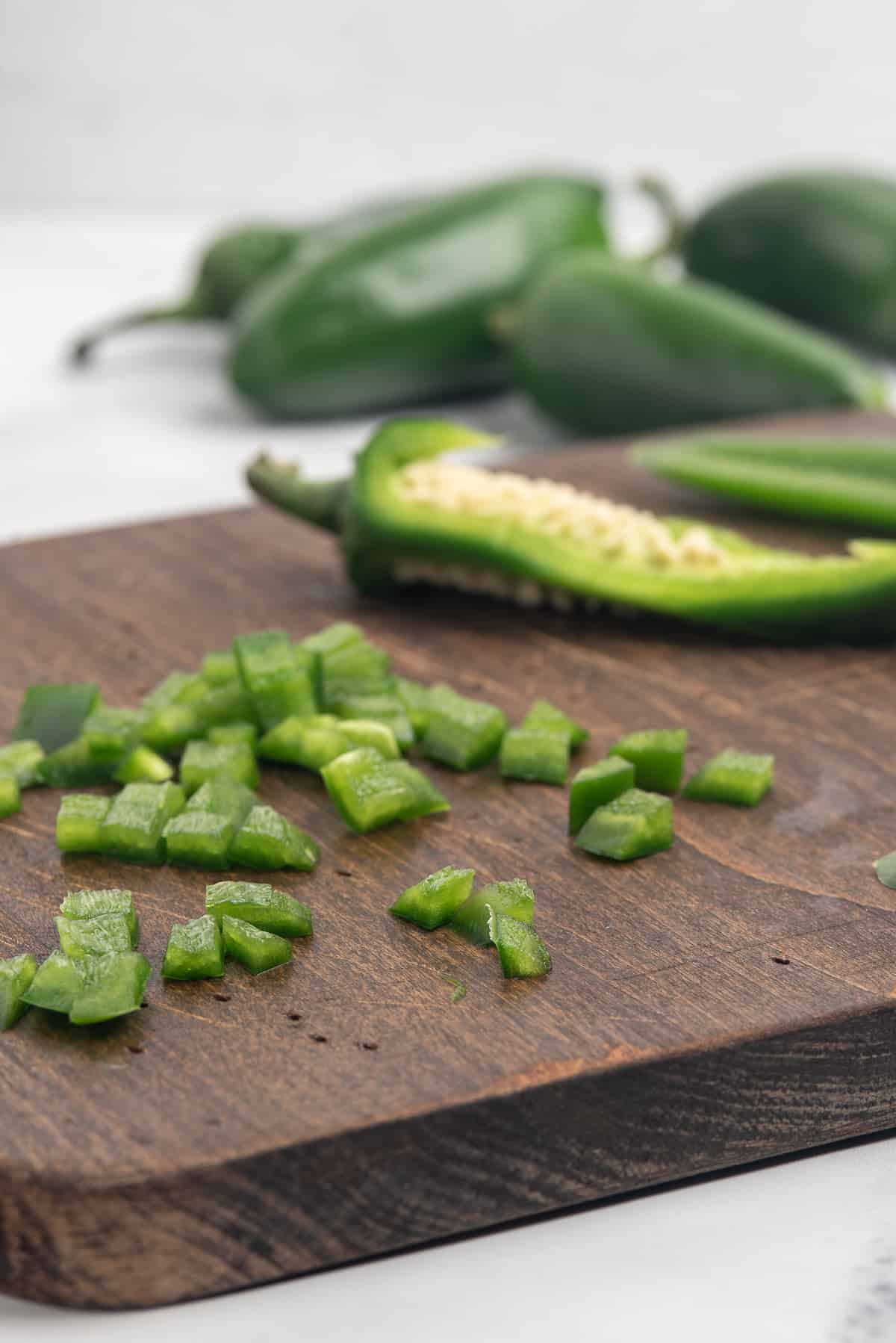 With this method you'll cut the flesh of the pepper away from the ribs and seeds before dicing. They are what adds most of the heat, so you're just left with tasty bits of pepper.
Be sure to use a bag especially made for freezing because they're the thickest and seal up tightly. Get as much air out as possible. I like to roll the bag up before it goes in the freezer.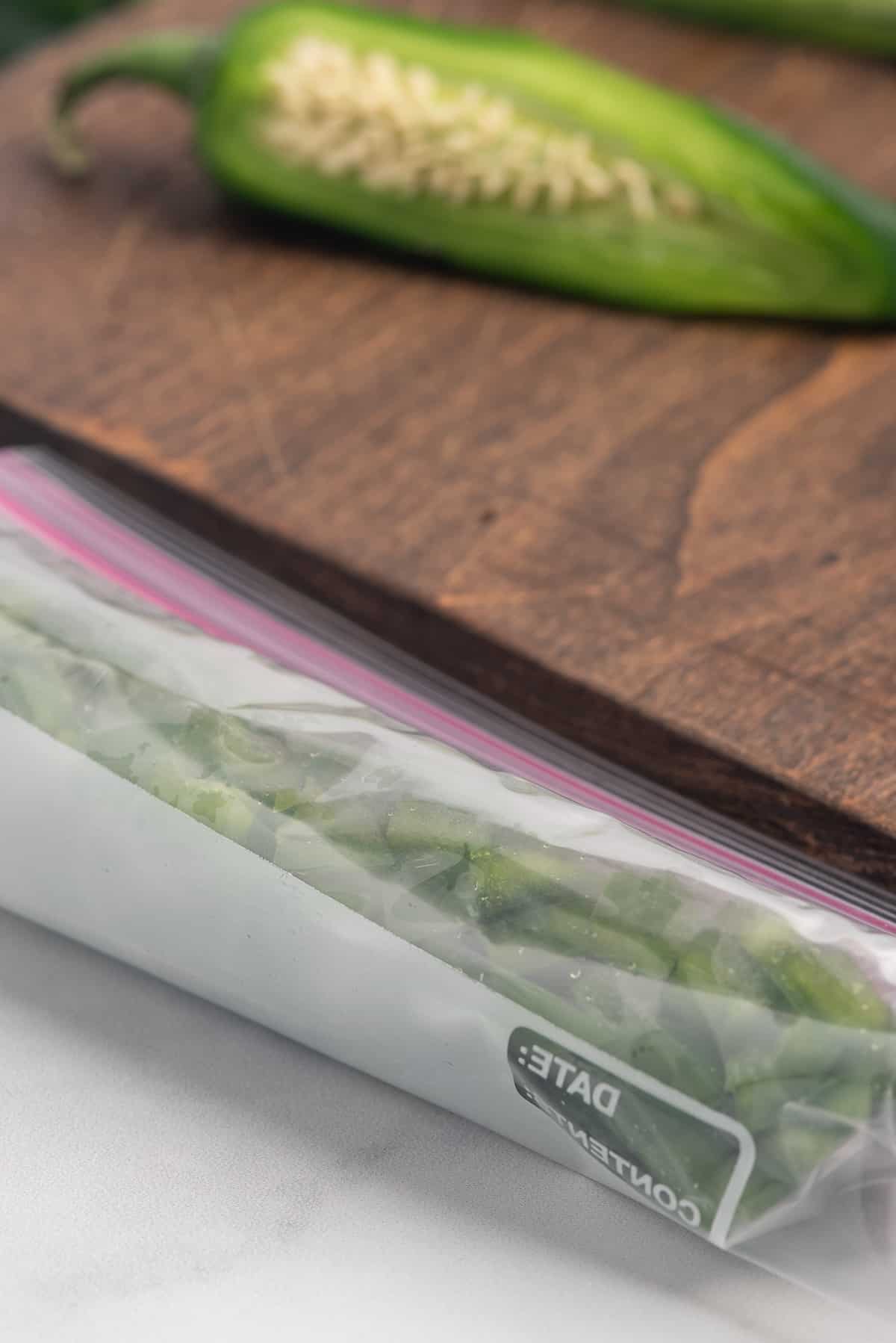 The second method is freezing sliced jalapenos
In this case you'll have the seeds and the ribs, so the pepper will retain more of the heat. Do it this way if you want to be able to see the little "rings" of pepper slices in your recipes.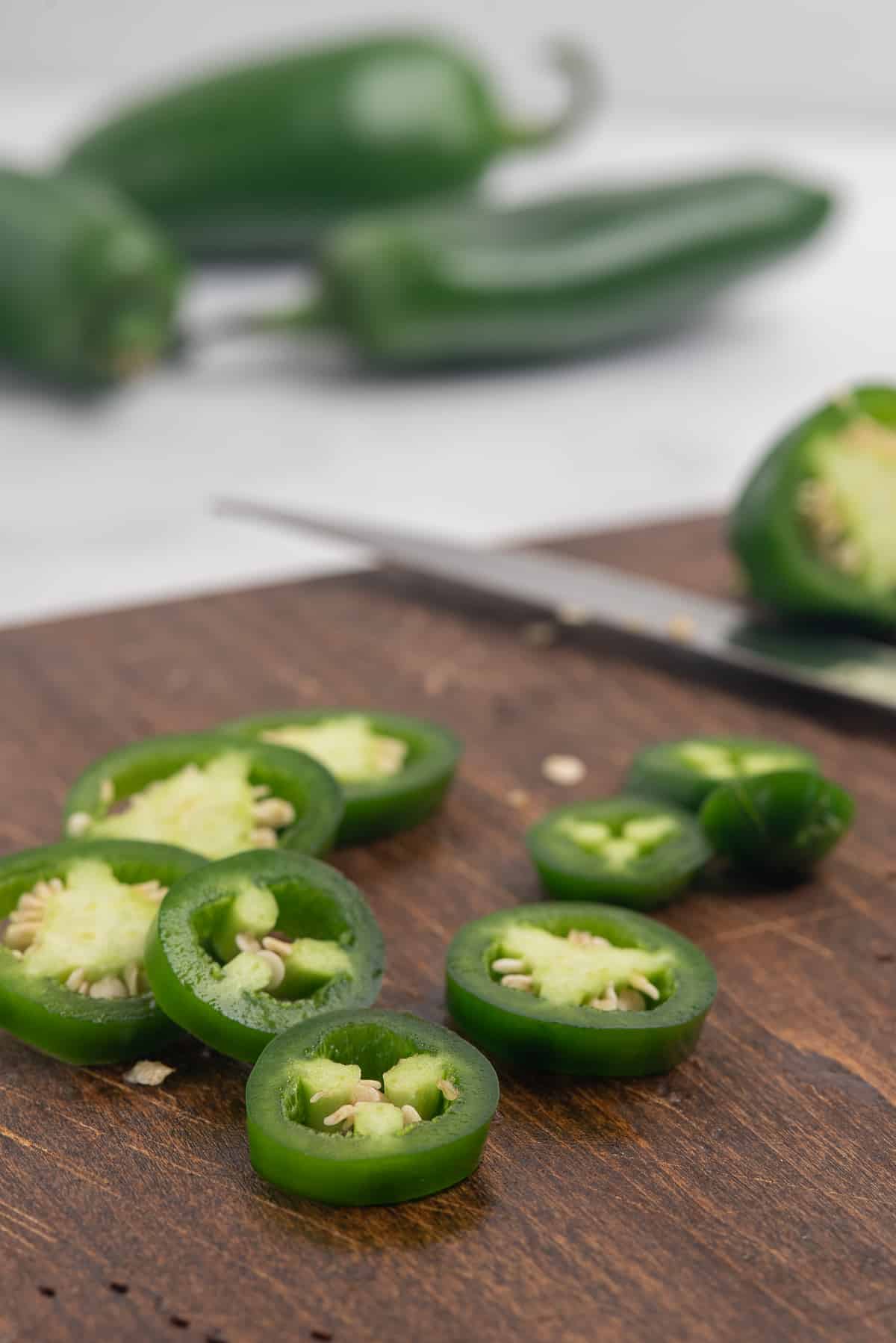 For best results lay the pepper slices out so they're not touching in a single layer and freeze them first. We use parchment paper on a baking sheet, but waxed paper should work just fine too.
Freezing the slices first before you bag them up means they won't stick together. That would make it more difficult to get the amount you need for each recipe.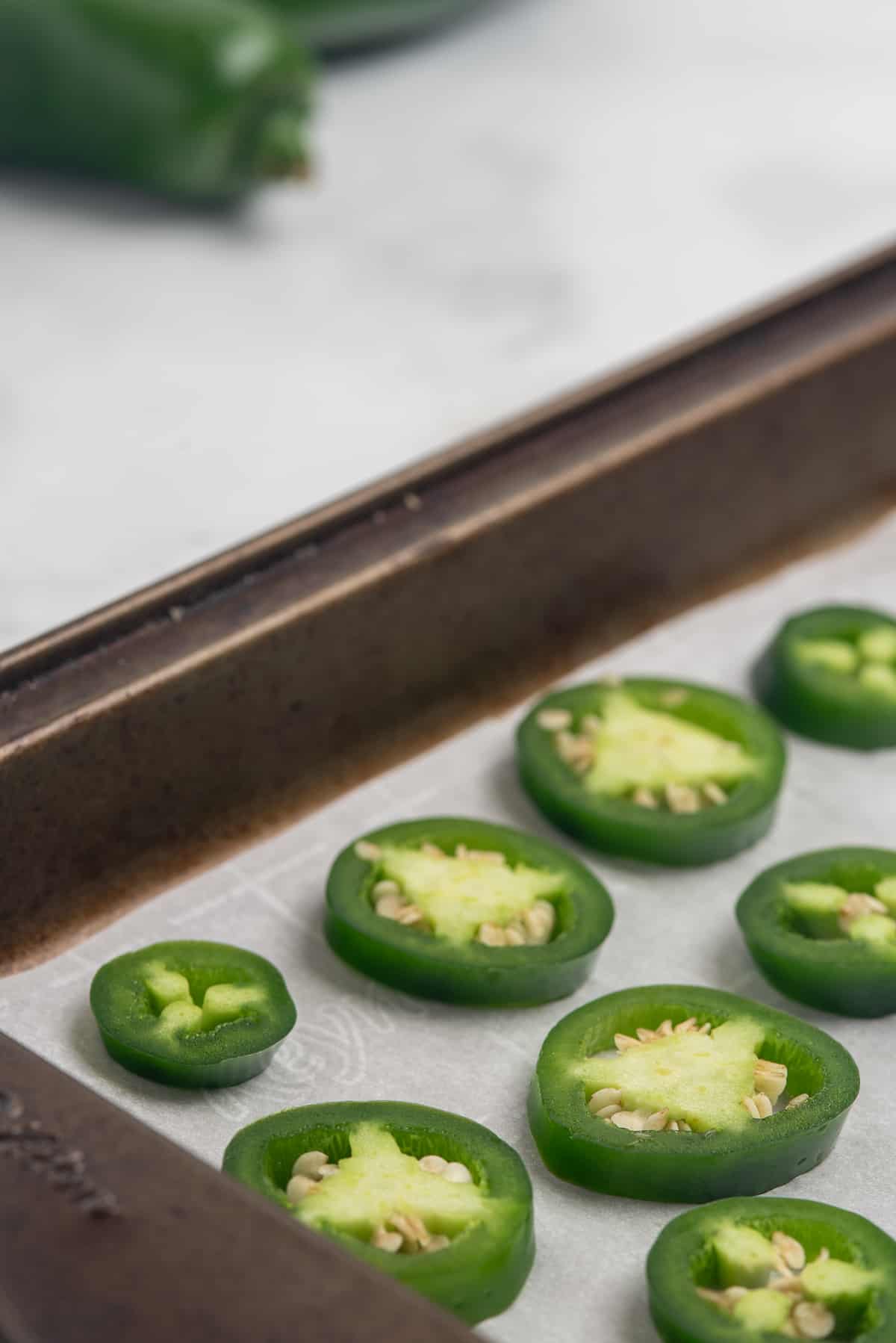 Once they're completely frozen (which won't take more than an hour) you can toss the slices in a freezer bag. Roll it up to get out as much air as possible, just like you did with the diced peppers.
Put the bag back in the freezer and get them out as needed for cooking. You will notice a change in the texture. The slices will be softer and the seeds may have turned brown.
This won't affect the flavor, and you won't notice the texture unless you use them in a recipe that doesn't get cooked. For this reason we don't recommend using the slices in cold, uncooked recipes.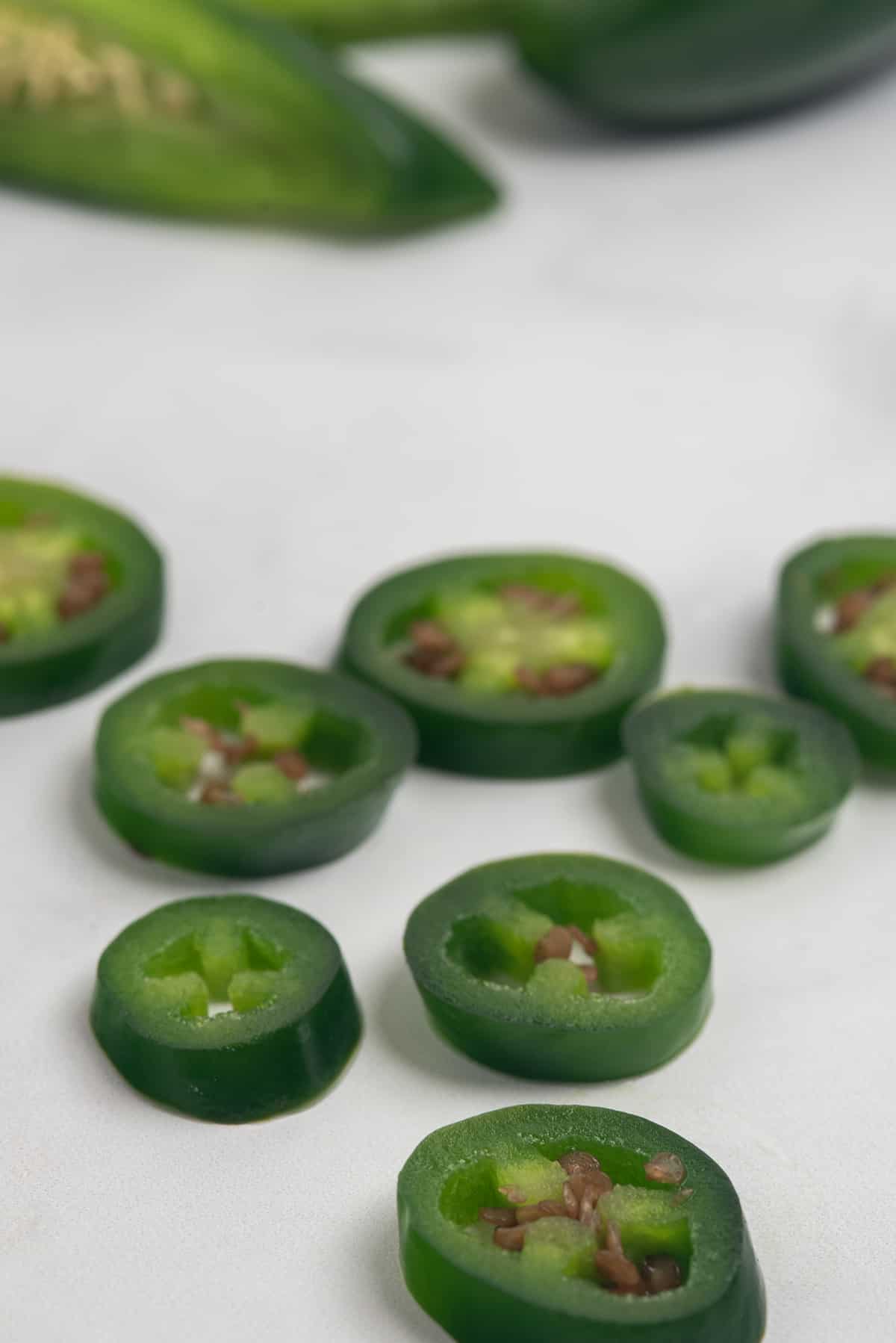 Method number 3 is freezing whole jalapenos
This is the way to go if you have practically no time, but just can't bear the thought of throwing away perfectly good peppers.
Just like with the slices, the whole peppers will be soft after you thaw them, but you can still easily dice or slice and toss them in any soups, stews or sauces that you like.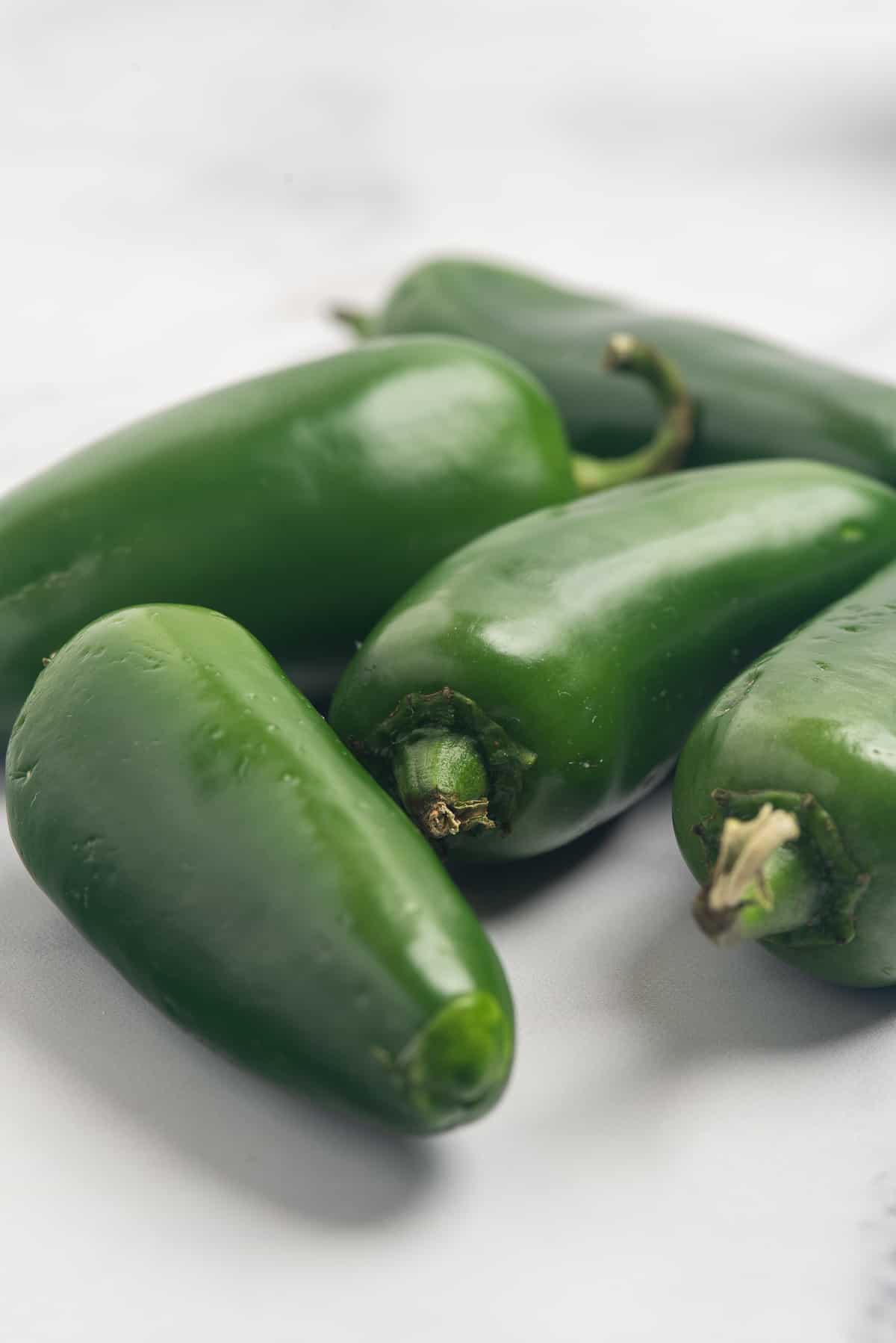 Just be sure you've thoroughly washed and dried the peppers and toss them in a freezer bag. You can get them out as needed, one at the time, or all at once.
For a quick and fun look at this guide be sure to check out the Google Web Story.
FAQ'S about freezing jalapenos
Can you freeze jalapeno peppers without blanching them? Absolutely! There is no need to blanch them or any type pepper before freezing.
How long can you freeze jalapenos? For best results use your frozen peppers in 6 months or less.
Does freezing jalapenos make them hotter? No. The heat level is affected more by the seeds and ribs (as mentioned above) than the process of freezing them
How can I use my frozen jalapenos?
Toss them in a soup. This White Cheddar Poblano Soup does call for just poblano peppers, but a few jalapenos would absolutely be delicious!
Add them to a sauce. Likewise with Creamy Poblano Sauce. Some jalapenos would just add a new level of flavor.
Add them to quiche like Crustless Breakfast Quiche or vegetable pie. Squash Pie is one of our top recipes and it would absolutely benefit from the zing of a few peppers.
The list goes on - omelettes, a dutch baby, or a Vegetable Au Gratin. Come up with your own ideas and let us know about them in the comments. We love that!