These Mexican Style Biscuits come together easily with just a few ingredients. Think Mexican Cornbread, but in biscuit form. So much prettier than a drop biscuit they are rolled and then cut into the size of your choice.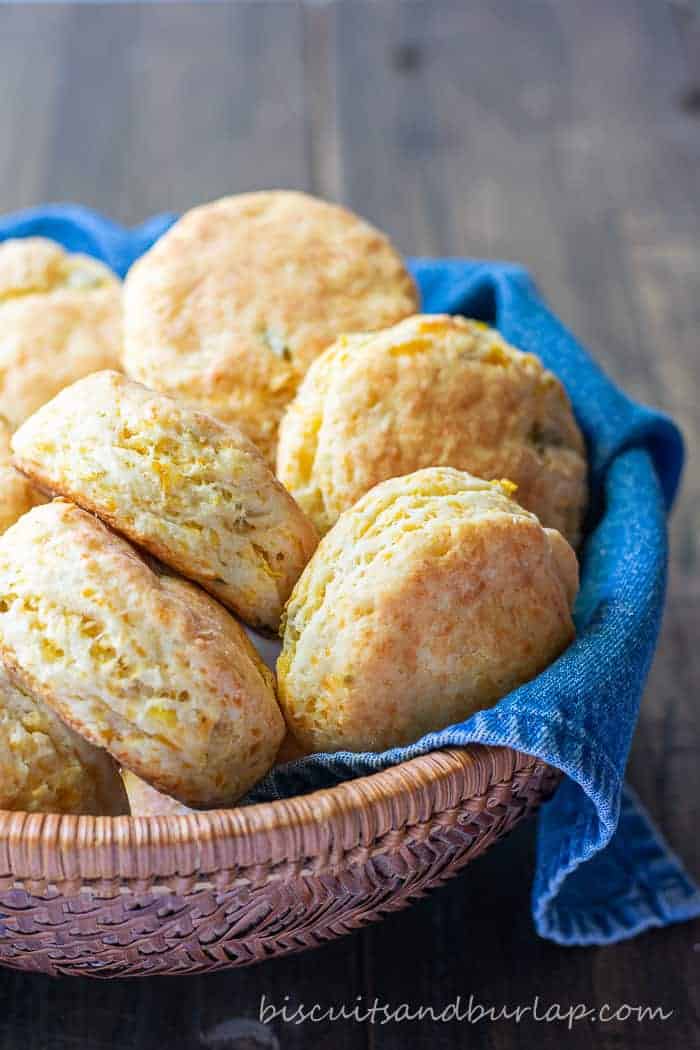 We do love Mexican Cornbread and, in fact, have a family recipe for it right here on Biscuits and Burlap from our early days. But, we don't always want cornbread when we've got a taste for those hearty and bold flavors.
Jalapenos, cheese, corn and garlic are just as good (maybe even better) when added to biscuit dough, and by doing that our Mexican Style Biscuits were born.
Are you getting our weekly updates? You can sign up here.
The basic biscuit dough has just two ingredients
We told y'all about this a while back when we made Asiago Cheese and Black Pepper Biscuits. We use these same two ingredients for our Cinnamon Biscuits as well. We decided to put Nathalie Dupree's claim to the test that good biscuits could be made with just self-rising flour and heavy cream.
We wanted ours to be more interesting than plain biscuits, so we amped up the flavor with the Asiago cheese and black pepper. Lo and behold, they turned out awesome!
This time we thought "why not use those same two basic ingredients and add different flavors?" We know a lot of y'all love your Mexican Cornbread so we are really taking on a challenge to come up with a biscuit with those flavors that you'll love too. We think we knocked it out of the park, and hope you do too!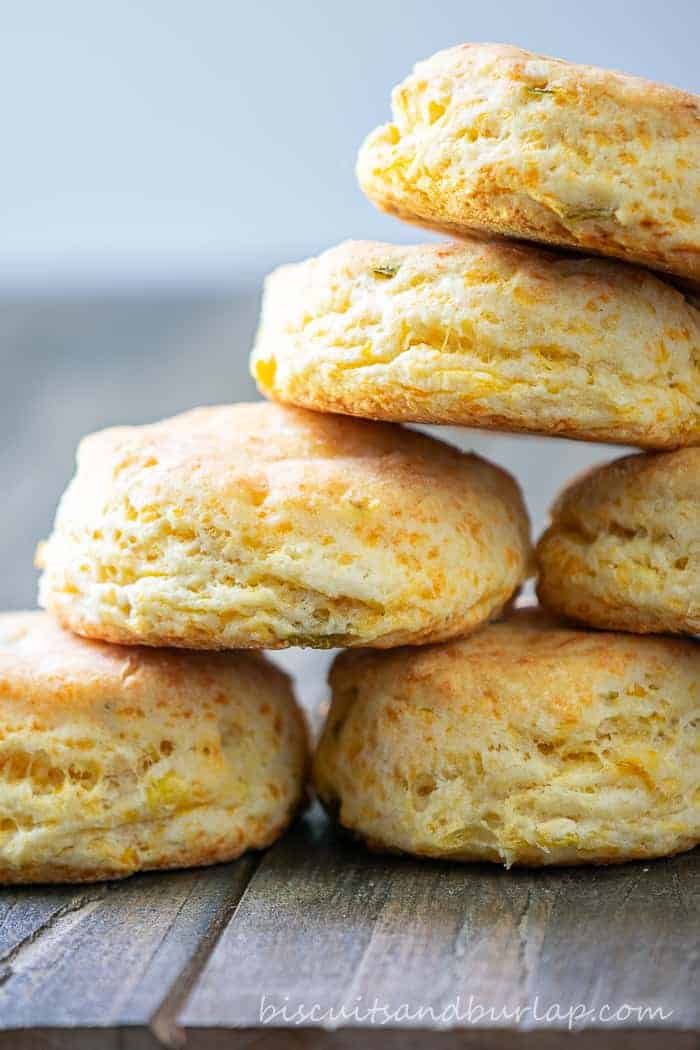 Rolled and cut biscuits are so pretty
There is nothing wrong with a drop biscuit, but when you've saved time by starting with such basic ingredients why not take the extra few minutes to roll your biscuits and cut them into uniform circles?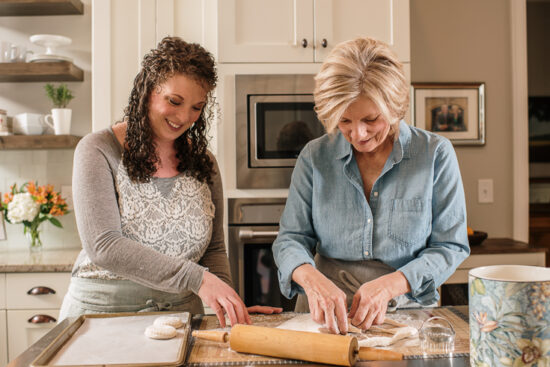 Even with that and grating my cheese I invested about 25 minutes total to getting these Mexican biscuits ready to go in the oven.
A few notes and tips about making Mexican Biscuits:
Grate the cheese yourself. It does have superior flavor when freshly grated.
Push straight down and up with the biscuit cutter for cleaner edges - no twisting!
Pickled jalapeno slices pack the most heat. If you and yours don't like as much spice use fresh jalapeno pepper with the seeds and ribs removed.
Parchment paper always makes for no-stick biscuits and easy clean up.
This and Mexican Cornbread are the only times I advocate using canned cream corn. For eating creamed corn on its own, check out our old-school southern method for making and cooking creamed corn.
To use of as much of the dough as possible you'll need to re-roll the dough once and cut a few more. Only do this one time though, as the dough will start to dry out. (For more info on cooking with what you have and reducing waste, read this piece on Southern Food).
For a fun, quick look at this recipe watch the Google Web Story.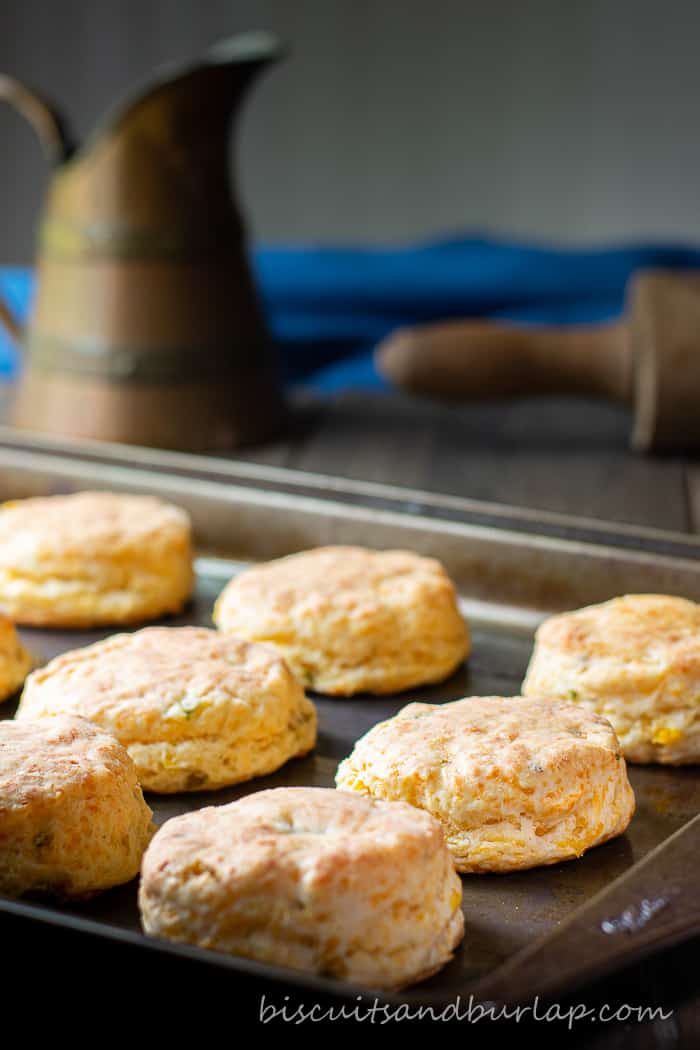 This post contains affiliate links. Please click here for our full disclosure and privacy policy.
A few items you'll need for making Mexican Style Biscuits: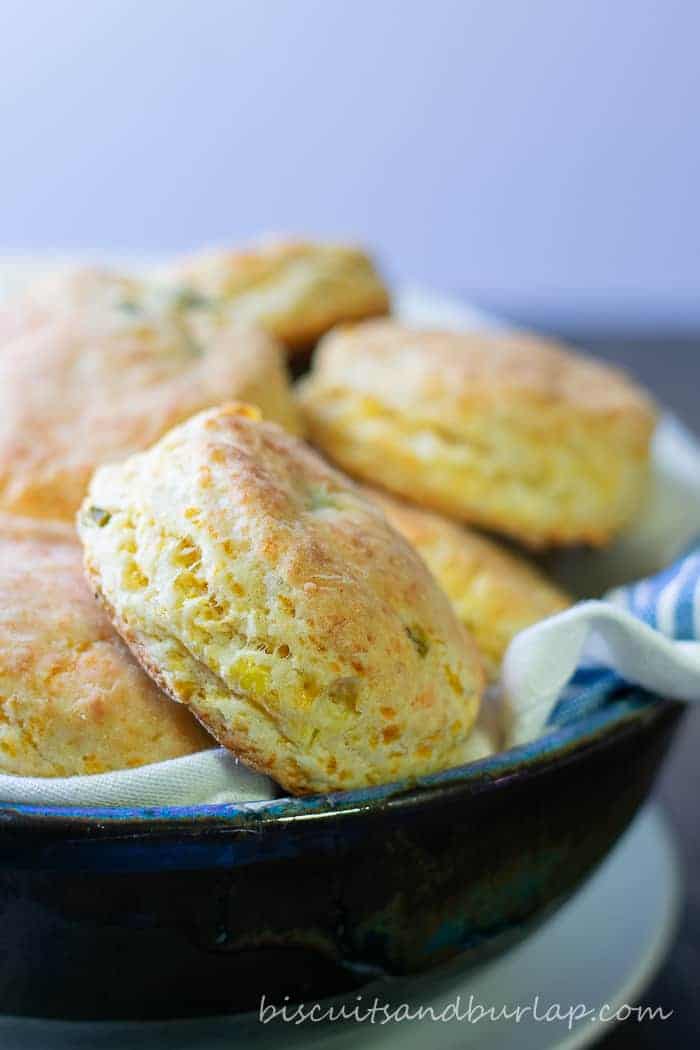 How many biscuits does this recipe make?
It will all depend on the size of your biscuit cutter. For the Asiago Cheese and Black Pepper Biscuits we use a 2 inch cutter and get 16-18 biscuits. With our "almost" famous Sweet Potato Biscuits we like a more substantial size and use the 2-½ inch cutter for 12-14 biscuits.
So, you can go either route with these Mexican Biscuits. I like to make the decision based on what else I'm serving. If you're just making a pot of soup and biscuits - go big. If you've got lots of other dishes make smaller biscuits. If you just don't have the time to make biscuits from scratch, try these Biscuit From a Mix with the ingredients from this recipe.
For an equally versatile recipe that you can make in your slow cooker, try Mexican style shredded beef. It can be used on tacos, burritos, enchiladas and more! And you could start out that Tex-Mex meal with Hot Corn Dip with Cream Cheese. It's sooo.... good!
📖 Recipe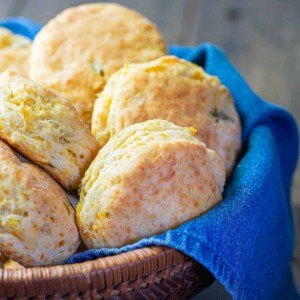 Mexican Style Biscuits
An easy biscuit recipe with all the flavors of Mexican Cornbread.
Ingredients
1-¾

cups

self-rising flour

plus more for rolling

3

ounces

sharp cheddar cheese

grated

½

cup

creamed corn

¾

cup

heavy cream

½

teaspoon

granulated garlic

7-8

slices

picked jalapenos

finely diced

1-2

Tablespoons

butter, melted

optional
Instructions
Add cream, corn and garlic until well blended.

Roll on floured surface to about ¾ inch thickness, using a floured rolling pin and lightly dusting the surface of the dough with flour.

Cut with biscuit cutter, using straight down and up motion.

Place on baking sheet lined with parchment paper very closely together, but not touching.

Bake at 425 degrees 12-15 minutes, or until light golden color.

Brush with melted butter after removing from oven, if desired.
For a basic and easy 3 ingredient biscuit you'll want to check out this easy three ingredient recipe. They come out perfectly flaky every time! Another take on that same recipe is ultra-Southern Pimento Cheese Biscuits.
We hope you love these biscuits and will take a photo of yours and tag us on Facebook and Instagram.
And don't forget to sign up here for a new recipe to be delivered to your Inbox every Friday!

More great recipes for you to try: