Only 4 ingredients plus salt and pepper are needed for this restaurant quality side dish. Sauteed mushrooms and onions are the classic topping for steak or any other beef dish.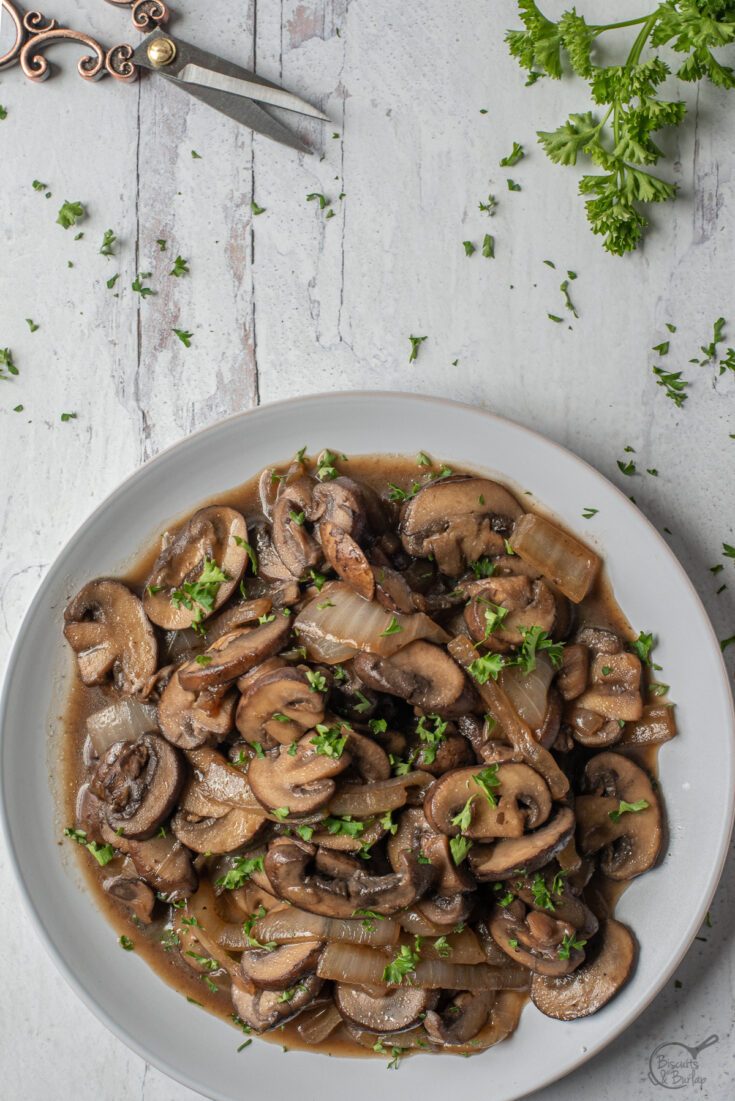 Funny how you can make a dish for so many years you just take it for granted. That's how it was with these onions and mushrooms.
It hadn't really occurred to us until recently that this would even be considered a recipe. We've made it lots of different ways, too. Sometimes we've added a splash of red wine, but most often we keep it simple like we've done here.
Very basic ingredients of butter, salt and pepper are always the foundation, but the one flavor enhancer we would never skip is worcestershire sauce. The flavor blends just perfectly with the earthiness of the mushrooms and the sweetness of the onions.
You will find garlic added to a lot of recipes out there, but that's one ingredient we don't use. If you love garlic in everything feel free to toss some in towards the end of cooking, but my personal opinion is that it's a bit overpowering.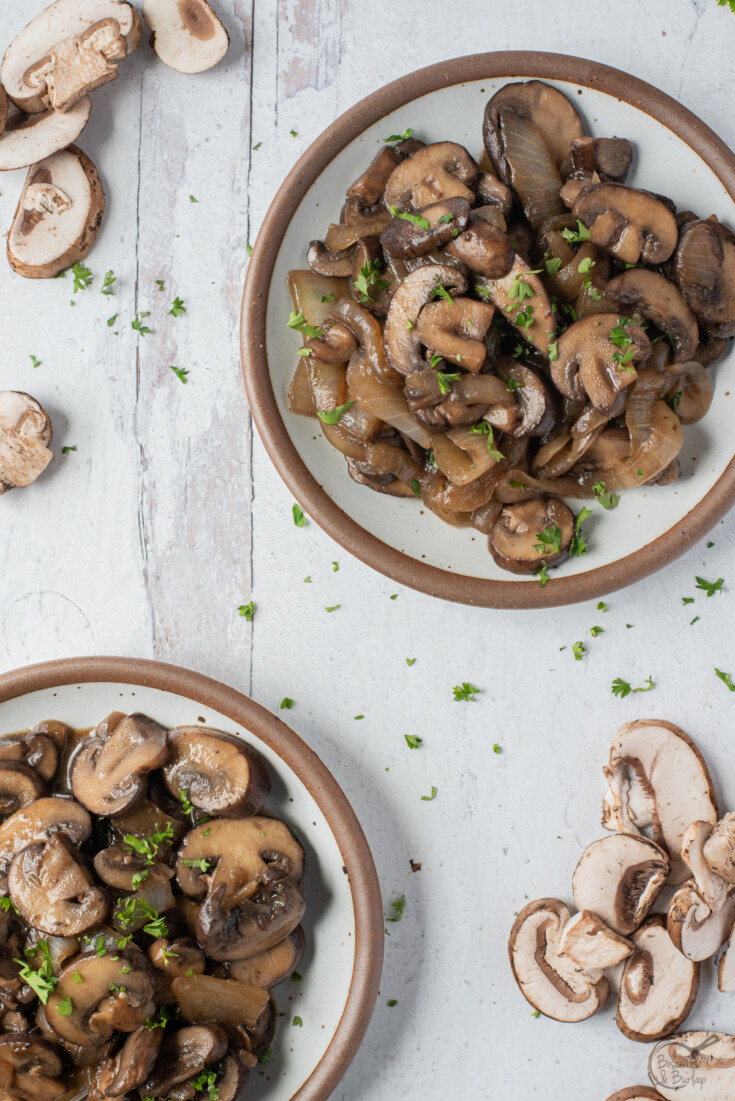 The best mushrooms to use
Our theme around here is to make use of what's available and that's true here, too. That being said, still the very best choice if you have them are the baby bella variety. However, simple white (button) mushrooms are still delicious.
We've never made this dish with portobello mushrooms, but they would be great. Since they're so large you would need to slice them up.
The best onions to use
Hands down, the first choice is our own Georgia-grown Vidalia onions. They are the sweetest onions we know of due to the low sulfur content in the soil in which they're grown.
If you can get your hands on some, use them! We've got a special Barbecued Shrimp Salad that calls for them and we make it every year when they're in season.
Sadly, though, these special onions are only available in mid-late spring to mid summer. Any other time (or if Vidalias are not available in your area) just be sure to use a sweet onion of any variety. Red onions would not be good in this recipe.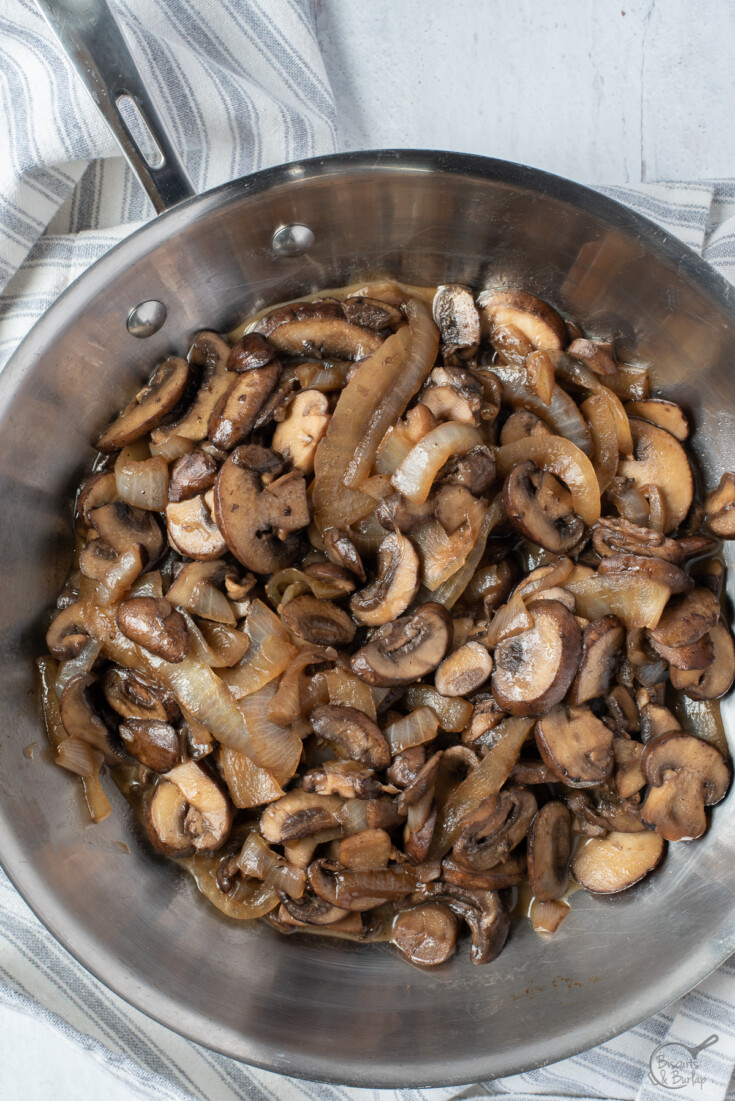 How to clean mushrooms
This is a subject open to debate. Some purists will argue that you should only wipe a mushroom clean. The theory behind this is that mushrooms will retain water and get soggy.
The truth is that will only happen if you soak them in water. Mushrooms can be quite dirty and we do wash them, but quickly. The best method is to put them in a colander so the water drains off immediately.
Then take them out of the colander and dry them on paper towels. With this method you'll get clean mushrooms that are not waterlogged.
What takes longer to cook – mushrooms or onions?
Another debate! So many arguments over such a simple recipe, y'all! But it's true that many people ask the question "should you saute the mushrooms or onions first?"
Well, the definitive answer is "it depends". I know that's not really definitive, but the truth is that it's a matter of personal preference. I like my onions cooked to the point that they're nearly caramelized.
If you're like me then you'll want to cook the onions for just a few minutes before putting in the mushrooms. If you prefer your onions with a little crunch left in them you may want to start the mushrooms first and then add the onions after 3-4 minutes.
The other factor that makes this an argument is the size of your mushrooms. Are they small button mushrooms? Are they larger? Are they larger, but you sliced them? All of this will factor in to how long it takes to cook the mushrooms.
The truth is that sauteed mushrooms and onions are a very forgiving recipe. Unless you just way overcook them they're going to be good. Just tweak the time and temperature and what goes in the pan first and find that sweet spot for you and your family.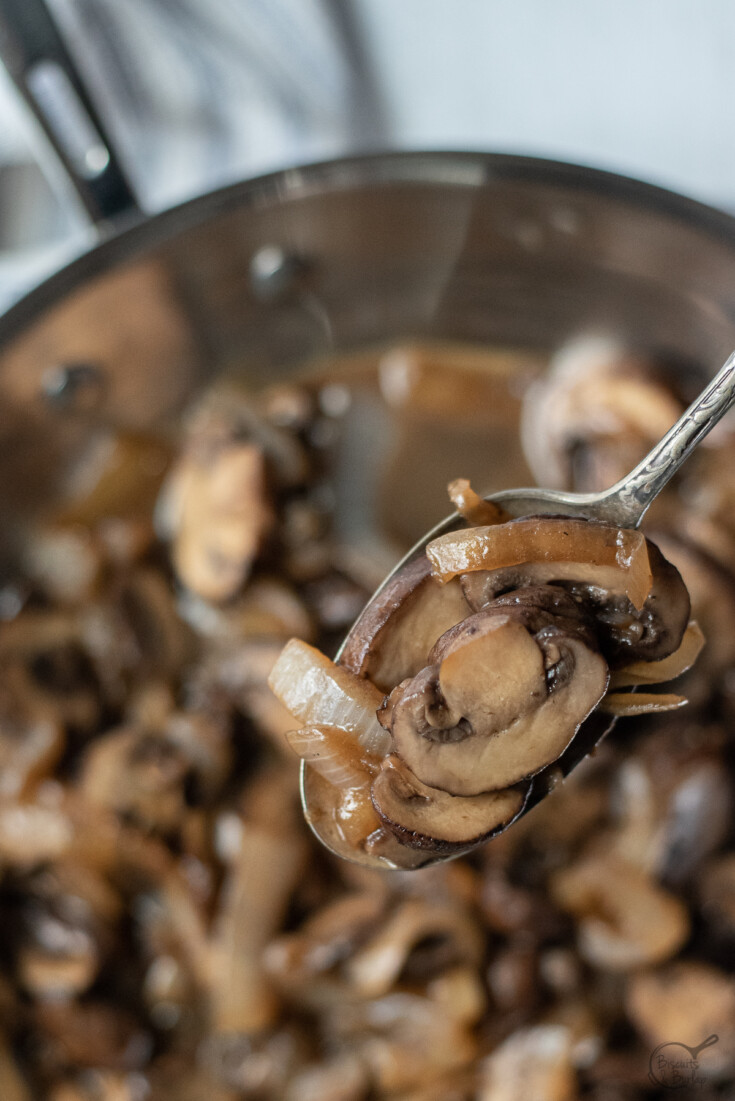 Some of the best ways to serve sauteed onions and mushrooms: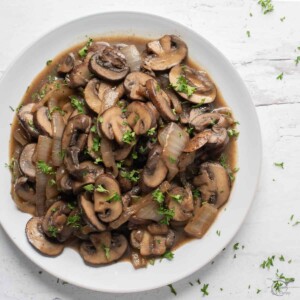 Sauteed Mushrooms and Onions
Only 4 ingredients plus salt and pepper are needed for this restaurant quality side dish. Sauteed mushrooms and onions are the classic topping for steak or any other beef dish.
Ingredients
1

pound

mushrooms

whole if small, sliced if larger

1

large sweet onion

sliced

3

Tablespoons

butter

salted or unsalted, adjust added salt accordingly

3

Tablespoons

worcestershire sauce

salt

to taste

freshly ground black pepper

to taste
Instructions
Melt butter in skillet over medium high heat taking care to not let your butter start to brown.

Add sliced onions and worcestershire sauce and cook, stirring occasionally for 3-4 minutes or until edges start to get a little brown.

Add mushrooms and cook additional 5-8 minutes depending on the size of the mushrooms and your preference for doneness. Whole mushrooms will take the longest.

Salt and pepper to taste.
Nutrition
Serving:
4
g
Calories:
121
kcal
Carbohydrates:
9
g
Protein:
4
g
Fat:
9
g
Saturated Fat:
5
g
Polyunsaturated Fat:
1
g
Monounsaturated Fat:
2
g
Trans Fat:
1
g
Cholesterol:
23
mg
Sodium:
207
mg
Potassium:
505
mg
Fiber:
2
g
Sugar:
5
g
Vitamin A:
273
IU
Vitamin C:
6
mg
Calcium:
26
mg
Iron:
1
mg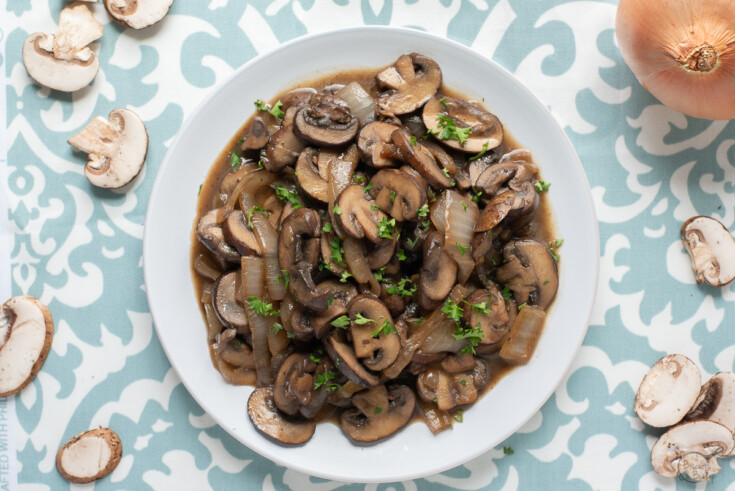 More side dishes to make: