This barbecue salad dressing is a sweet and tangy vinaigrette that makes your salad the perfect side dish for the cookout.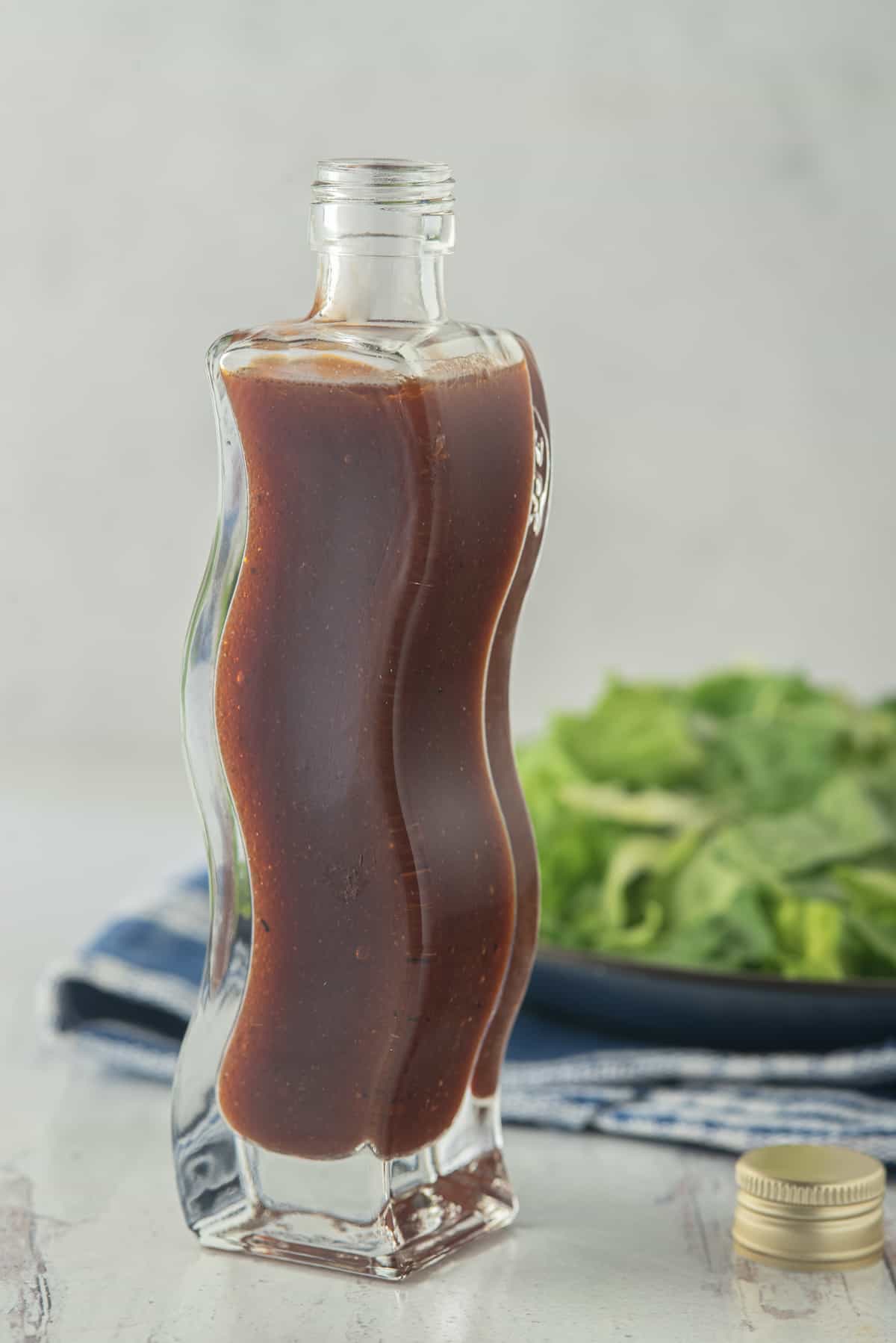 This is seriously the easiest salad dressing you will ever make and yet it's so unique! I love to use it when I'm grilling the meat or veggies that are going on the salad to give it a real backyard barbecue feel.
If you're thinking this recipe looks familiar, you're not wrong! We originally created this bbq vinaigrette specifically for another recipe- Barbecue Shrimp Salad with Grilled Corn and Vidalia Onions. In that recipe we used it not only as a dressing for the salad, but also as a marinade for the shrimp and vidalia onions!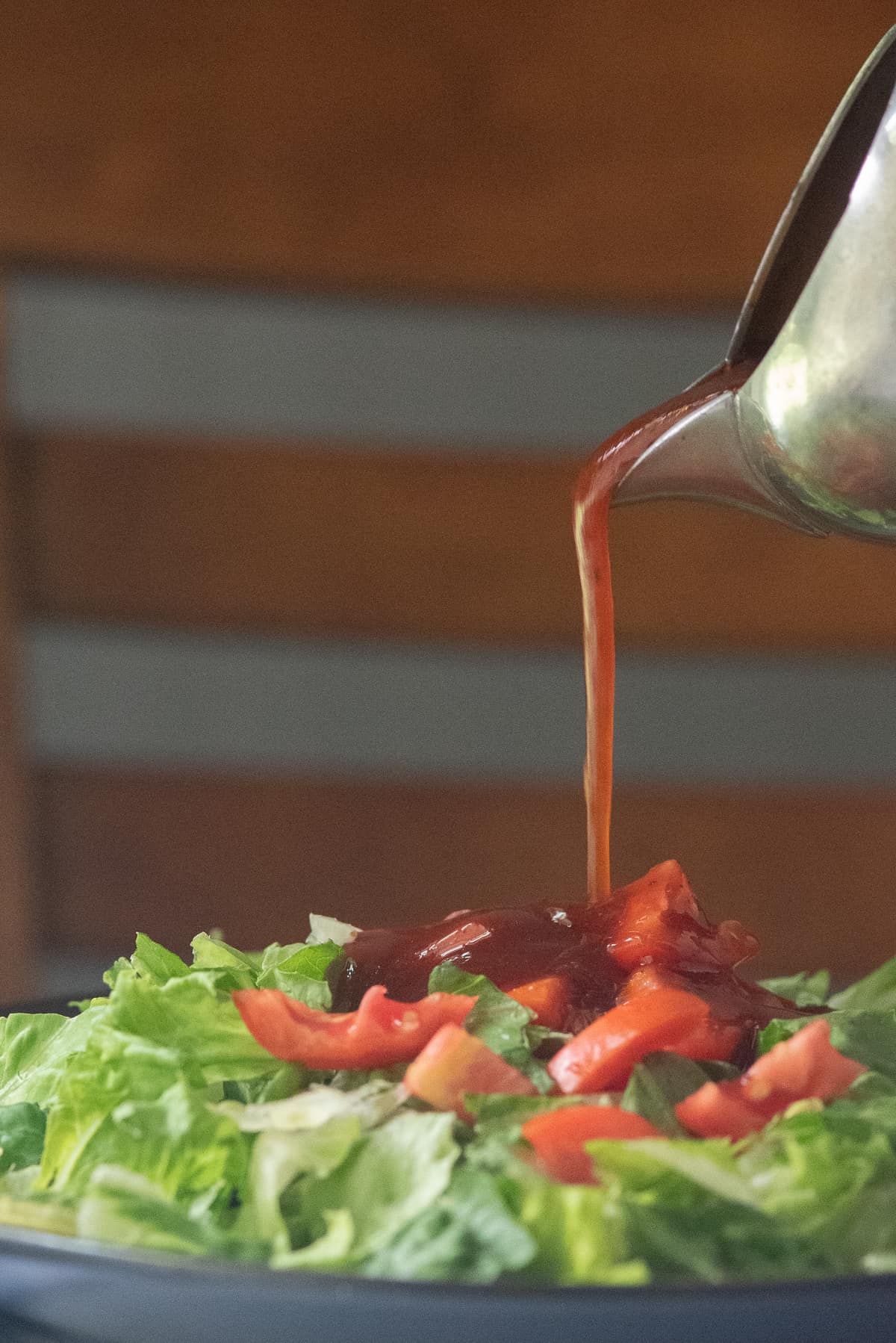 What kind of barbecue sauce should I use in the dressing?
This post contains affiliate links, which means if you click on an affiliate link and buy something, we may receive a very small commission.  It does NOT result in additional charges to you or cost you anything extra. Click here for our full privacy and disclosure policy. As an Amazon associate we earn from qualifying purchases.
We are firm believers that when you're smoking a Boston butt you should always make a homemade barbecue sauce (our Boston butt recipe includes our family's favorite homemade sauce), but for this recipe the store bought kind is just fine!
When we are buying store bought sauce to use in a recipe like this one, we usually go for Sweet Baby Rays. If you're local to Atlanta, you probably know that Fox Bros. Barbecue Sauce is also a great one! Just make sure whatever you use isn't too vinegary, or else you'll have to cut down on the added vinegar.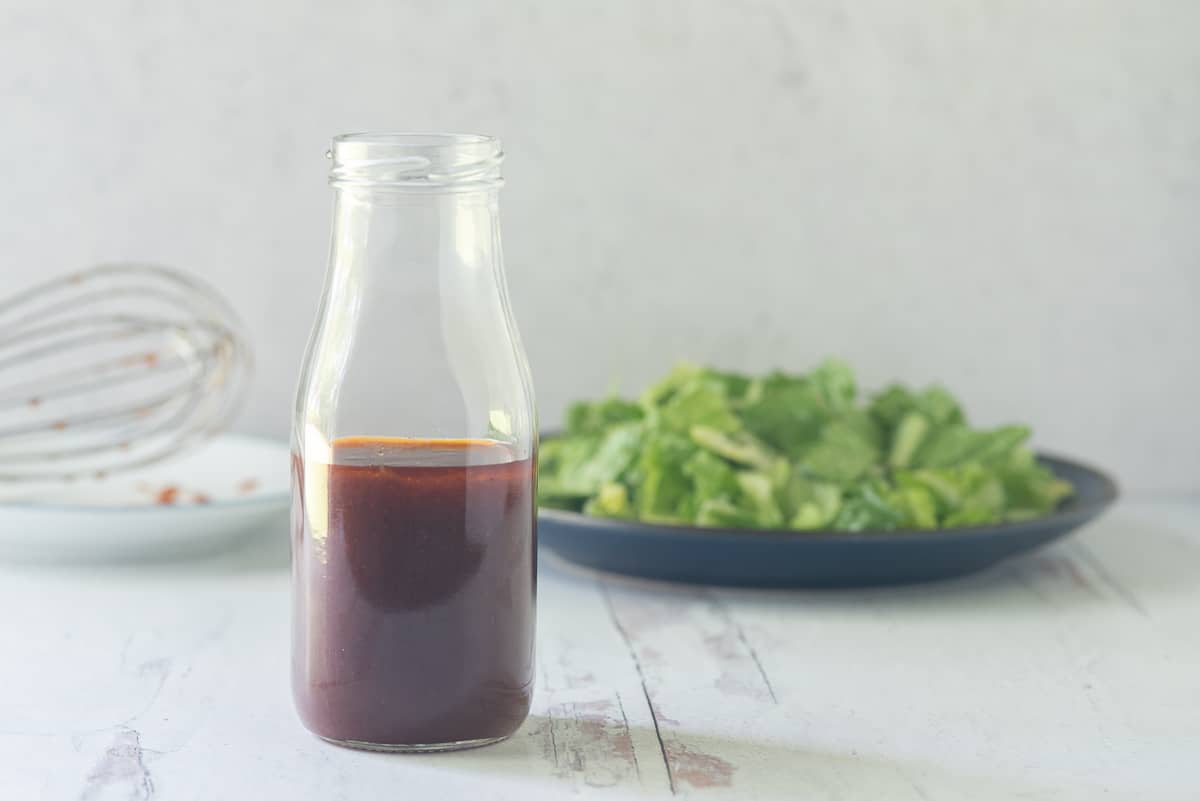 How to make BBQ Dressing
When I say a recipe is easy as can be, I always mean it... But in this case, I REALLY mean it. To make this dressing, just combine all the ingredients in a small bowl, stir them up really well, and cover it in the fridge for an hour, or until you're ready to serve. That's it!
How long will it keep?
Because this is a vinegar based sauce, it should keep for 3-4 weeks in the fridge as long as it's stored in an airtight container!
What ingredients would be good in a salad with this dressing?
Because of the smokey, vinegar flavor, we think it would be great on any salad that has grilled ingredients! We used grilled corn and vidalia onions in our Barbecue Shrimp Salad with this dressing. It would also be perfect on any salad topped with grilled chicken! If you're looking for a creamier option, try this Creamy Gorgonzola Dressing.
📖 Recipe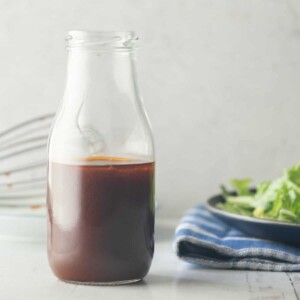 BBQ Salad Dressing
This barbecue salad dressing is a sweet and tangy vinaigrette that makes your salad the perfect side dish for the cookout.
Instructions
Combine all ingredients, cover, and refrigerate at least 1 hour.
Nutrition
Calories:
93
kcal
Carbohydrates:
7
g
Protein:
1
g
Fat:
7
g
Saturated Fat:
1
g
Polyunsaturated Fat:
1
g
Monounsaturated Fat:
5
g
Sodium:
185
mg
Potassium:
48
mg
Fiber:
1
g
Sugar:
6
g
Vitamin A:
42
IU
Vitamin C:
1
mg
Calcium:
8
mg
Iron:
1
mg

More salads and dressings