Asparagus marinated in citrus vinaigrette is the star of this salad with oranges, creamy goat cheese, and toasted pecans.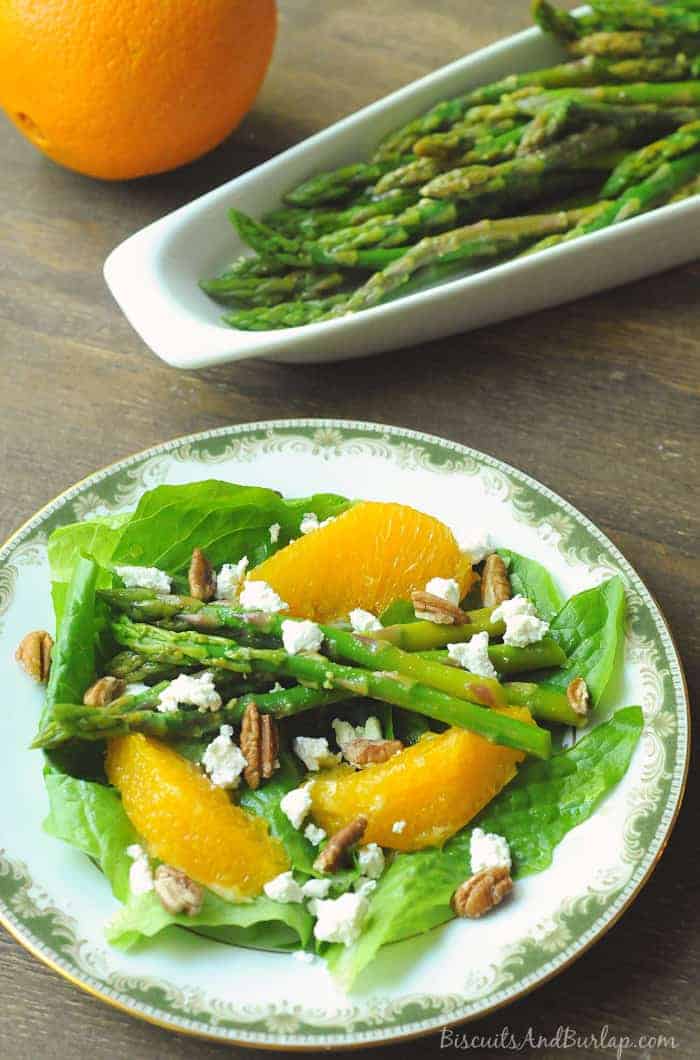 This recipe includes a family favorite of ours: marinated asparagus. I used the simple marinade (a mixture of olive oil, lemon and orange juice, dijon, white wine vinegar, salt and pepper) as a dressing for the spring salad as well, and it couldn't be more perfect.
Just pour enough over the blanched asparagus to coat it and refrigerate for at least 6 hours. Reserve the rest for the dressing.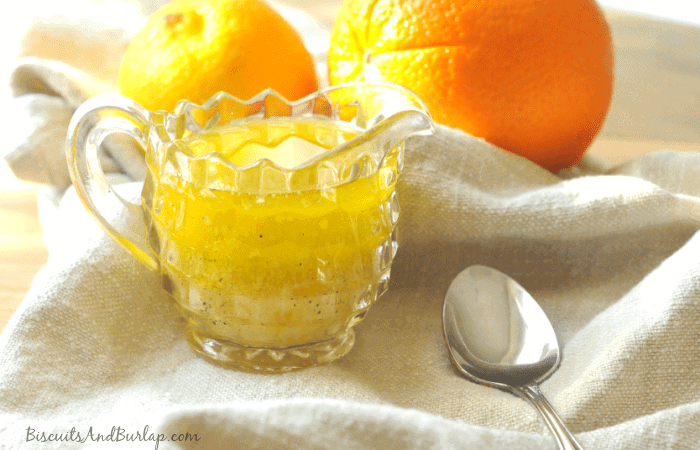 I find that a lot of people are intimidated by cooking asparagus because it's so sensitive. There's really fine line between under- and over-cooked when it comes to asparagus, but blanching  is the easiest way to get it right.
In a pan large enough to put the asparagus in a single layer, add enough water to submerge the asparagus to a boil. While you wait, fill a small casserole dish halfway with ice water.
Add the asparagus to the boiling water and cook 2-3 minutes (depending on the size). As soon as the time is up, grab them out of the hot water and submerge them in the ice bath. This stops the cooking process and leaves you with perfectly cooked asparagus!
We've also had great success with roasted asparagus. This recipe with lemon and garlic uses that method.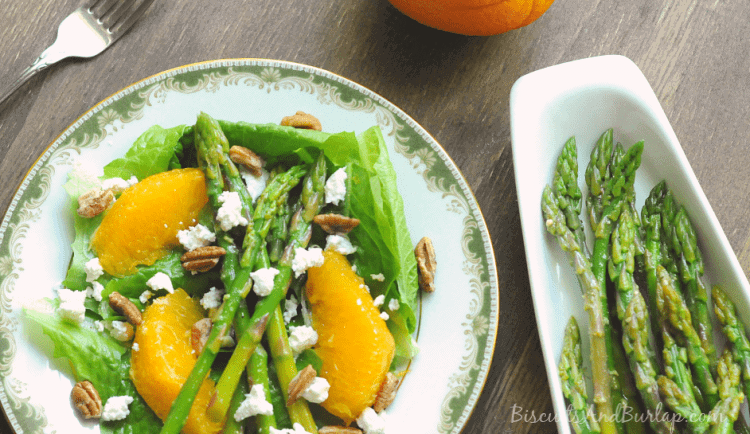 Once the asparagus has been cooked and marinated, you're ready to put this salad together! The addition of the tangy oranges and creamy goat cheese balances the flavors so well (and let's be honest- goat cheese makes everything better), and topping it with toasted pecans brings it all together. Drizzle the dressing over the top and enjoy!
If you're here you must love salads and goat cheese, so you'll want to be sure and check out Goat Cheese with Honey & Black Pepper Spread and Melon & Prosciutto Salad with Goat Cheese. It's another winner!
Our Clementine Salad with Strawberries and Tangy Vinaigrette is another one that uses the fresh citrus to make it amazing as is this Salad with Grapefruit.
Love citrus flavors? This Blood Orange Cocktail has a fun twist with rosemary simple syrup and you will love it! And for a sweet treat be sure to check out Orange Cupcakes. Oh my goodness they are so good!
This recipe was developed by Biscuits and Burlap and first appeared at The House of Wood.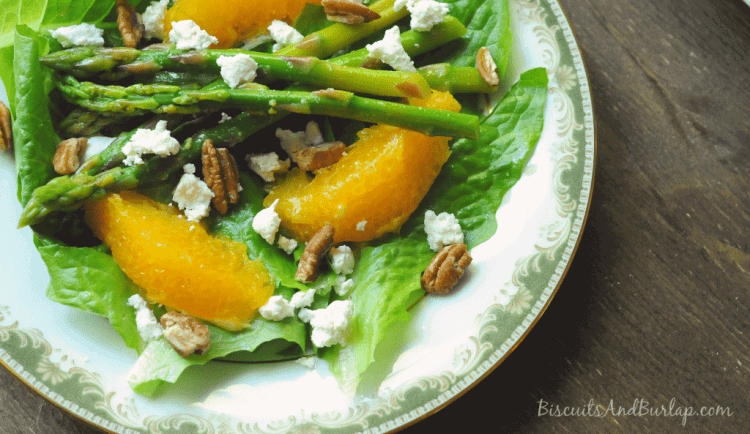 If you're in a bit of a hurry you'll want to check out Pasta Salad with Asparagus. It comes together in just minutes and uses a bottled dressing that has been "dressed up". Quick Pickled Asparagus is another easy recipe that will use up those last few stalks of asparagus.
Don't forget to let us know what you think below and to tag us on Instagram if you try this salad with marinated asparagus.
This post contains affiliate links for your convenience. Click here to view our full privacy and disclosure policy.
A few items you may need to make your salad with marinated asparagus (all are Amazon rated 4 star or above)


📖 Recipe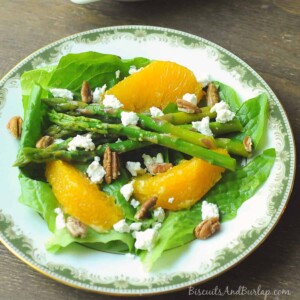 Salad with Oranges, Goat Cheese, and Marinated Asparagus
Asparagus marinated in citrus vinaigrette is the star of this salad with tangy oranges, creamy goat cheese, and toasted pecans.
Ingredients
1

bundle asparagus

⅔

cup

olive oil

2

tablespoon

white wine vinegar

1

tablespoon

lemon juice

1

tablespoon

orange juice

2

teaspoon

dijon mustard

1

teaspoon

lemon zest

1

teaspoon

honey

salt and pepper to taste

favorite salad greens

1

orange

6

oz

goat cheese

½

cup

toasted pecans
Instructions
BLANCHE ASPARAGUS
Trim 1 inch off end of asparagus spears.

Bring water to a boil in a large saucepan (enough to cover asparagus).

Prepare dish half full of ice water to dunk asparagus in as soon as they finish cooking.

Add asparagus to boiling water and boil 2-3 minutes (depending on thickness of spears).

Remove and immediately submerge in ice bath.
PREPARE DRESSING
Mix olive oil, vinegar, lemon juice, orange, juice, dijon, zest, honey, salt, and pepper in a small bowl.

Move asparagus from ice bath and dry with paper towel.

Pour enough of mixture over asparagus to coat, cover, and refrigerate 6-8 hours. Reserve rest of marinade for dressing.

Toss salad with greens on your choice, topped with asparagus, orange sections, crumbles goat cheese, toasted pecans, and dressing.
Looking for more light Southern dishes?
Other Recipe Sources We Recommend: