Including citrus fruit in your diet is a great way to boost the health benefits of your meals. Salad with Grapefruit can be a deliciously nutritious side or main dish when protein is added.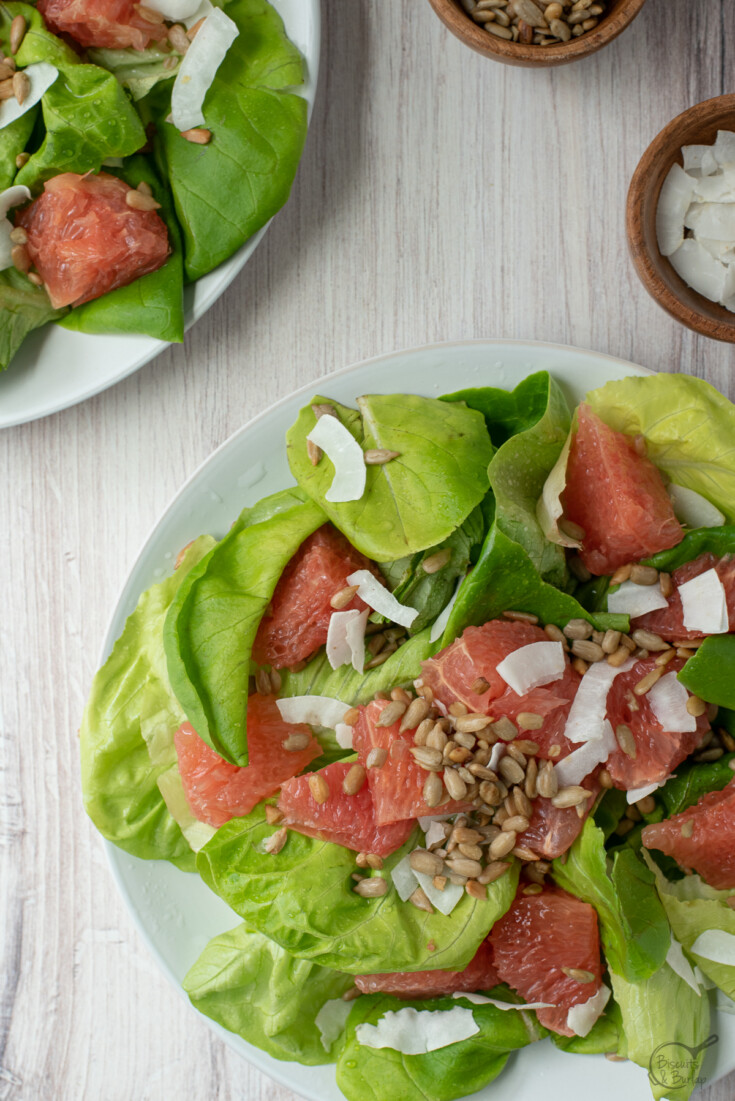 About Grapefruit
The season when grapefruit (and all citrus fruits) are at their peak is late fall to winter. While available in markets year round you will find the largest variety and best flavor at this time of year.
Conveniently, this is a time when other fresh produce is minimal. We always recommend eating what is at its peak for the best flavor and freshness, as well as affordability.
The health benefits of grapefruit are well known, but if you want an even more depth rundown be sure to check this article from WebMD.
For this green salad we prefer a pink grapefruit, but if you have the old fashioned white or the newer Ruby Red grapefruit you'll still love the salad.
The flavors of the grapefruit salad
This post contains affiliate links, which means if you click on an affiliate link and buy something, we may receive a very small commission. It does NOT result in additional charges to you or cost you anything extra. Click here for our full privacy and disclosure policy. As an Amazon associate we earn from qualifying purchases.
As often happens, we consulted our favorite kitchen resource, The Flavor Bible, while creating this recipe. If you'd like a copy of your own you can order it here.
While we used a buttery Bibb lettuce, also known as Butter lettuce, (we highly recommend this for other salads, like this Southwestern Salad) as the base, you could switch that up according to what you have on hand and prefer. The Flavor Bible does recommend arugula with grapefruit. We like it in small doses and think a handful mixed with your lettuce would be great.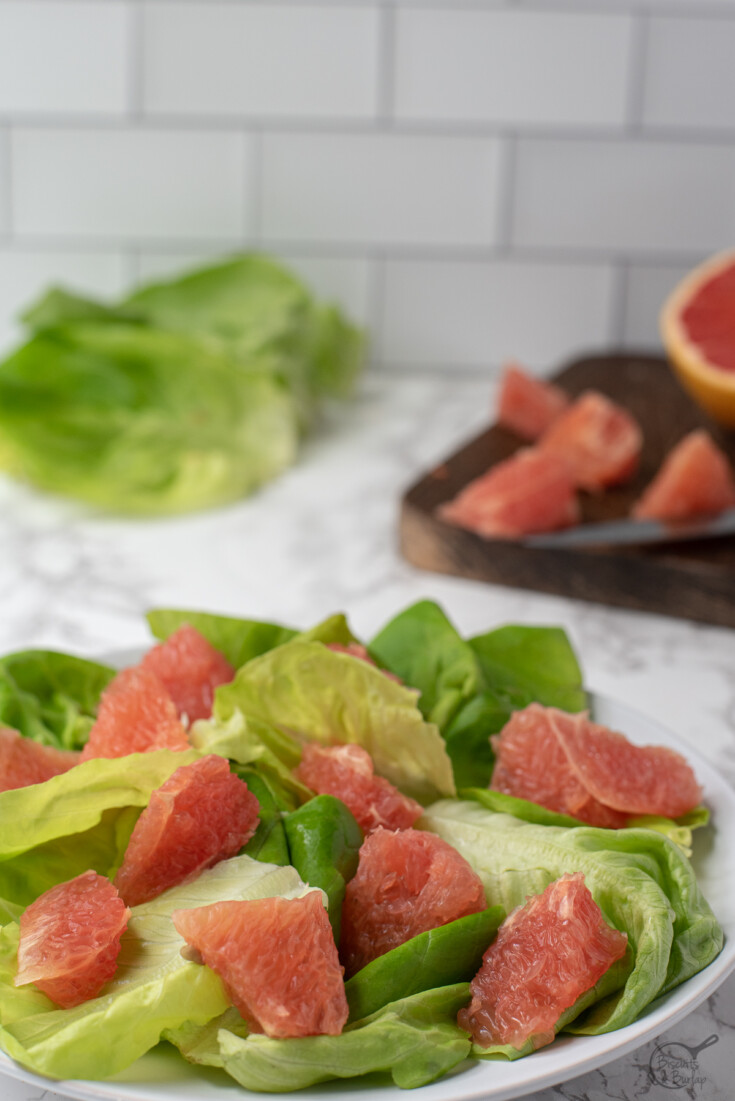 Beyond that unsweetened coconut flakes give a little crispness and further the "tropical" theme of the salad. For a crunchy good topping we've used sunflower seeds, but you could go with a nut or seed of your choosing.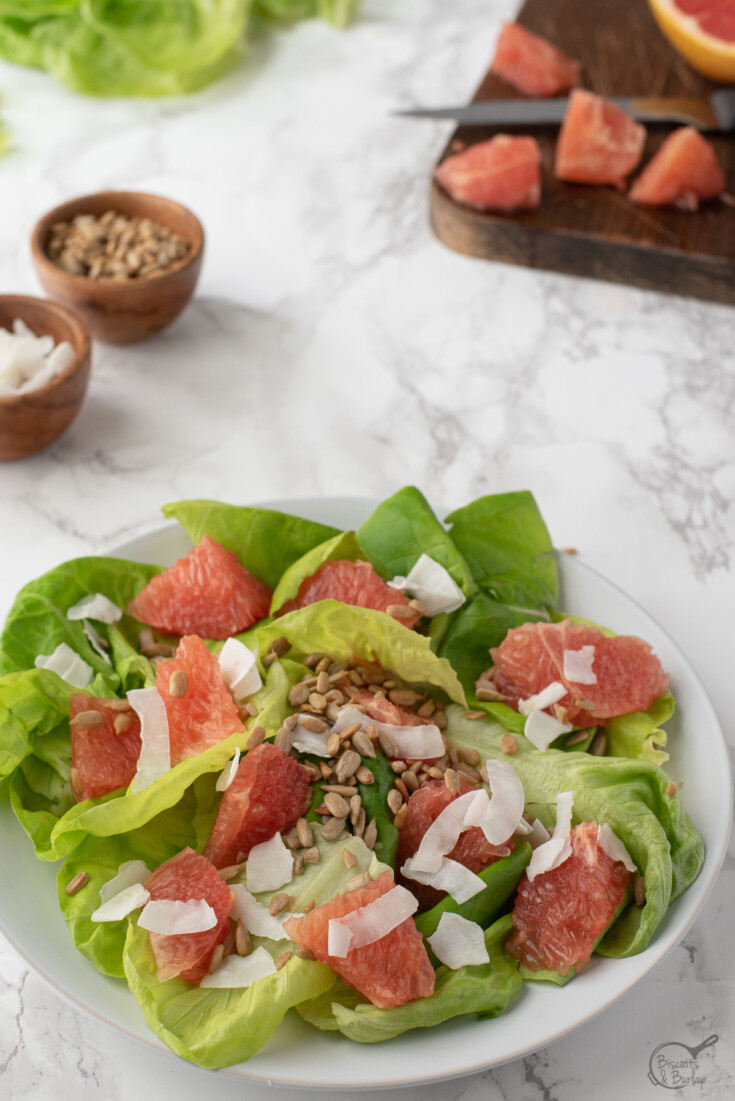 Add protein to turn this side salad into a main dish
Grapefruit salad with seasoned or marinated chicken is a no-brainer, healthy entree that will satisfy you and your nutritional needs. All types of simply prepared seafood would be good on top as well. Check the list below for specific ideas:
Salmon is a favorite and goes amazingly well with grapefruit salad
A scoop of cold crabmeat will make you think you're in Florida no matter where you are
Shrimp that has been grilled, broiled or sauteed would be outstanding
For a special occasion treat pull the meat from a lobster tail and top your salad
Any type of mild fish with simple seasoning
Champagne Vinaigrette Dressing is the way to go for your grapefruit salad
We kept our recipe ultra simple, not wanting to overpower the flavors of the salad.
Champagne vinegar is itself a subtle mild vinegar and mixed with a good quality extra virgin olive oil it makes the ideal dressing here. We only flavored it further with small bits of Dijon mustard, honey and salt and pepper to taste.
You'll love it!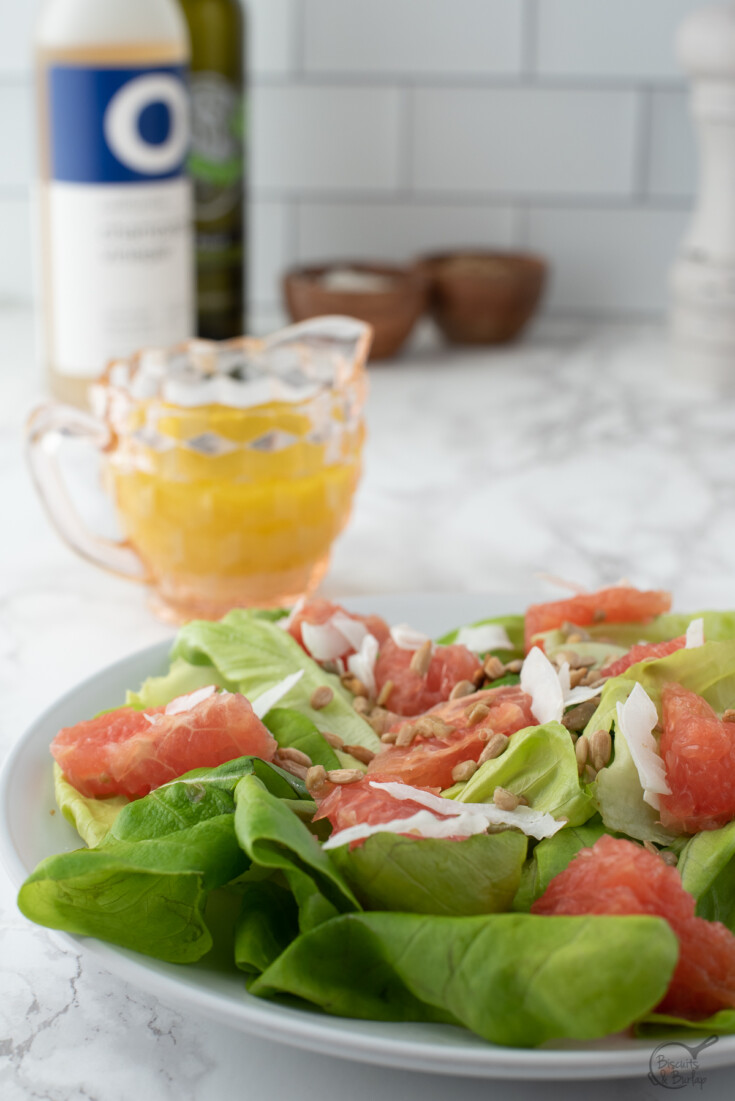 How to cut grapefruit
Before we get to the recipe, we want to cover this. We know a lot of you will question what is the easiest way to cup up grapefruit for the salad.
This simple and short video illustrates how we do it and this is what we recommend.
Sometimes, though, you'll want to sit down to just enjoy half a grapefruit all by itself and we love it that way too.
For those times a grapefruit spoon is the way go. We've been using them our entire lives and that serrated edge makes short work of getting to that fuicy fruit.
Do you consider Florida to be part of the South? We do. Find out about that and more in Southern Food: Then and Now.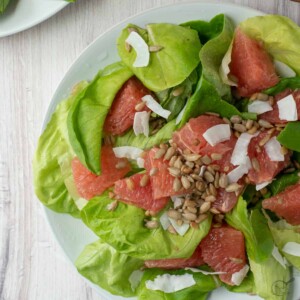 Salad with Grapefruit and Champagne Vinaigrettte
Citrus fruit in your diet has huge benefits. Grapefruit Salad can be a deliciously nutritious side or main dish with protein added.
Ingredients
For the Salad
4-5

ounces

lettuce

torn into bite sized pieces

1-1½

grapefruit

peeled and cut into bite sized pieces

4

Tablespoons

unsweetened coconut flakes

4

Tablespoons

sunflower seeds

roasted and salted
For the Champagne Vinaigrette
¼

cup

champagne vinegar

½

cup

extra virgin olive oil

½

teaspoon

Dijon mustard

½

teaspoon

honey

½

teaspoon

salt

or to taste

¼

teaspoon

black pepper

or to taste
Instructions
For the Salad
Divide lettuce evenly onto 4 salad plates/bowls

Top lettuce with grapefruit pieces.

Add coconut and seeds to each plate/bowl.
For the Champagne Vinaigrette
Add all ingredients to jar or other container that will close tightly.

Shake until all ingredients are incorporated and mixed.

Dress each salad with approximately 2 Tablespoons of dressing.
Notes
This recipe makes enough for 4 side salads or 2 entree salads.
Entree size salads can be topped with 4-6 ounces of protein of choice.
Nutrition
Sodium:
305
mg
Calcium:
38
mg
Vitamin C:
31
mg
Vitamin A:
1252
IU
Sugar:
9
g
Fiber:
4
g
Potassium:
270
mg
Calories:
381
kcal
Monounsaturated Fat:
22
g
Polyunsaturated Fat:
5
g
Saturated Fat:
7
g
Fat:
36
g
Protein:
3
g
Carbohydrates:
15
g
Iron:
1
mg
More salad recipes to try