Melon and prosciutto salad is built on a flavor match made in heaven. You've probably had cantaloupe wrapped in prosciutto and thought it refreshing and different. Here that combination is made into a salad, given a cheesy addition and topped with a special basil vinaigrette or a balsamic drizzle.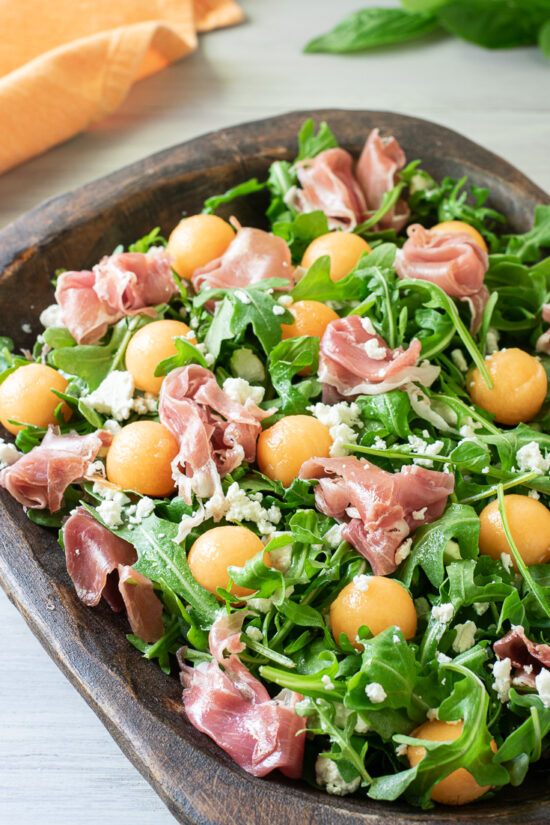 Flavors that celebrate summer
Whoever first came up with the combination of melon and prosciutto should win an award! It's the kind of union that we look through our Flavor Bible and get ideas for.
This post contains affiliate links, which means if you click on an affiliate link and buy something, we may receive a very small commission.  It does NOT result in additional charges to you or cost you anything extra. Click here for our full privacy and disclosure policy. As an Amazon associate we earn from qualifying purchases.
If you don't have a copy of the Flavor Bible you'll want to order one now. It's an amazing cross reference of thousands of flavors. Every one has list of other foods that pair well, and it's a great resource to have in your kitchen.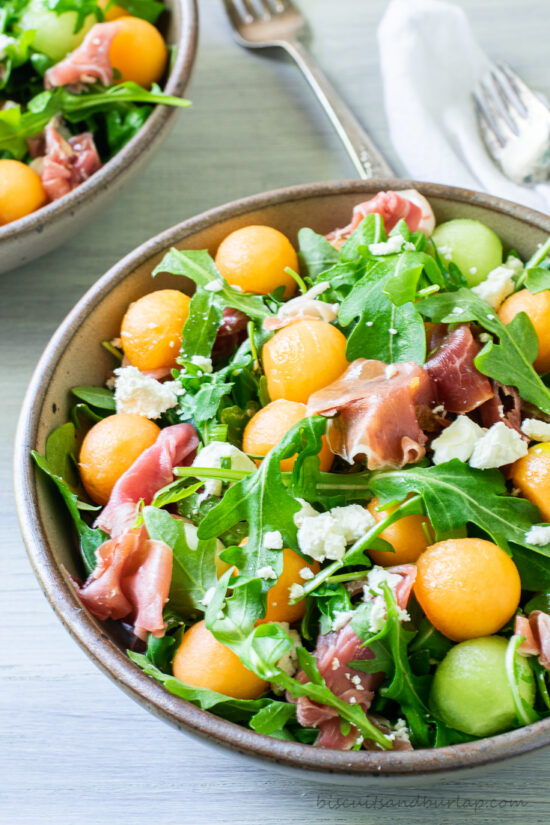 Can this salad be made in advance?
We're big fans of making anything ahead of time that we can. When it's time for a dinner party we like to be with our guests - not in the kitchen. Even for a simple family dinner at home you'll find us more often on the screened porch with a cocktail right before dinner, having already completed most of the cooking.
In fact, we have an entire collection of make ahead holiday dishes that can prepared up to months. We really want to savor that time with the people we love.
That being said, this Melon and Prosciutto Salad is a dish that's best made freshly not long before you want to serve it. If you try to make it more than an hour or so ahead the melon will drain (weep) and the other ingredients will get soggy.
To save time, though, here's what can be done ahead: Crumble the goat cheese, chop the melon into bite sized pieces (or use a melon baller scoop) and cut up the prosciutto. You could also make the dressing and/or balsamic drizzle and have that ready to go.
The one thing I would not prepare ahead is the basil. It is really best freshly chopped or sliced. (Order the herb scissors that we love right here.) For the salad, just leave your ingredients separate and then assemble right before serving.
What type of melon is best for Melon and Prosciutto Salad?
As mentioned before cantaloupe and prosciutto are a natural combination. We like honeydew melon in this salad as well. We find fresh, perfectly ripe honeydew to be much harder to come by. So, if you have some great - if not stick to the cantaloupe.
While we do love watermelon, it doesn't pair as well with the flavors here. If you're looking for a watermelon salad we do have a recipe that you'll love, so be sure to check that out.
What about the cheese?
The cheese you will find paired with melon and prosciutto most often is mozzarella. No doubt that's a great combination, but we love to think outside the box and give you new ideas.
So... our suggestion is goat cheese. You know we love it in salads and more. One of our readers' favorites is Salad with Oranges, Marinated Asparagus and Goat Cheese, but you'll also find goat cheese in the following recipe posts here on Biscuits & Burlap:
Special Tip:
Put your roll of goat cheese in the freezer for 15-20 minutes before crumbling. It will be much easier to handle.
To add greens or not?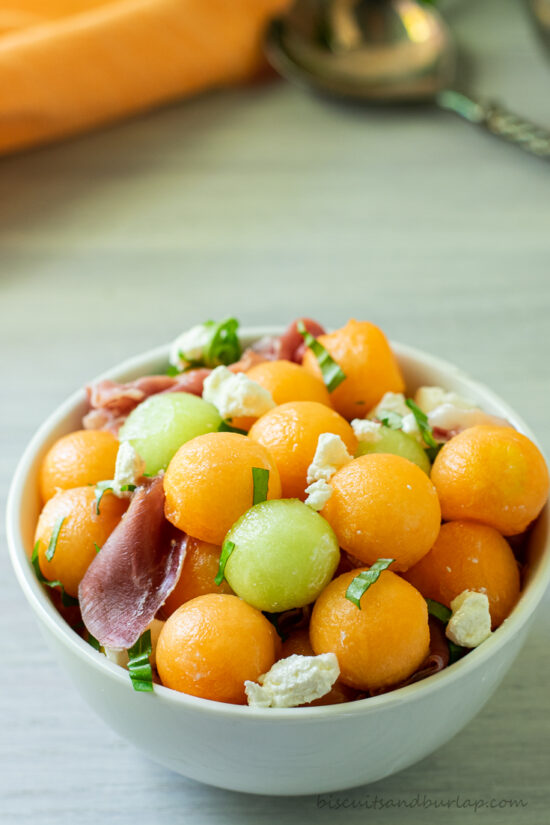 It's really up to you and may depend on what else is on your menu. If you want to put your melon salad on a bed a greens we highly recommend some baby arugula leaves. The peppery taste of the arugula just gives another layer of flavor that is divine.
Any type of greens would be fine though. If you have romaine or bibb lettuce those would be excellent choices. And you can arrange it however you like - toss it all together with your dressing, arrange it all on a board with the dressings on the side, or even make individual servings.
Two perfect toppings for Melon and Prosciutto Salad:
Basil Vinaigrette
We've included the recipe for our basil vinaigrette that was originally developed to go with our "Farmers Market Salad". That salad has fresh peaches, blackberries and pecans.
Balsamic Reduction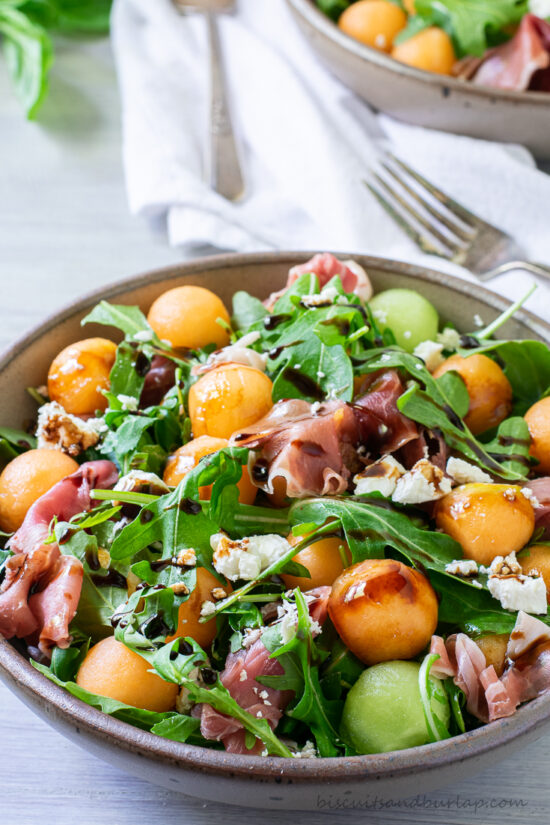 A bit of balsamic reduction drizzled over the Melon Salad is another fine option. If you have a good quality well-aged balsamic you won't need to reduce it. Otherwise, just cook a few spoonfuls of balsamic vinegar over low to medium low heat until it reduces by about half and thickens.
We also love a little bit of Citrus Dressing on this salad.
📖 Recipe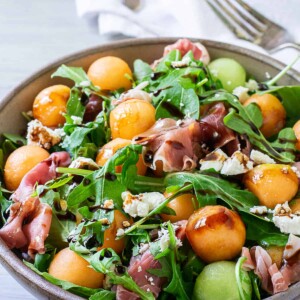 Melon and Prosciutto Salad with Goat Cheese
A refreshing melon and prosciutto salad can be a main dish or a side. It's topped with a basil vinaigrette or a balsamic drizzle.
Ingredients
For the Salad
1

small cantaloupe

cut into bite sized pieces

5-6

ounces

thinly sliced prosciutto

cut into thin strips

4

ounces

goat cheese

crumbled

1-2

Tablespoons

chopped fresh basil leaves

5

ounces

arugula or other greens

3-4

Tablespoons

balsamic reduction

optional topping
Basil Vinaigrette Dressing
⅓

cup

extra virgin olive oil

¼

cup

white balsamic vinegar

½

lemon, juiced

1

Tablespoon

chopped fresh basil leaves

salt and pepper to taste
Instructions
For the Salad
One hour or less before serving arrange or toss salad ingredients together.

Toss with dressing or serve dressing on the side.

Alternatively, salad can be dressed with 2-3 Tablespoons balsamic reduction.
For the Dressing
Mix all ingredients together and shake in a jar or whisk until emulsified.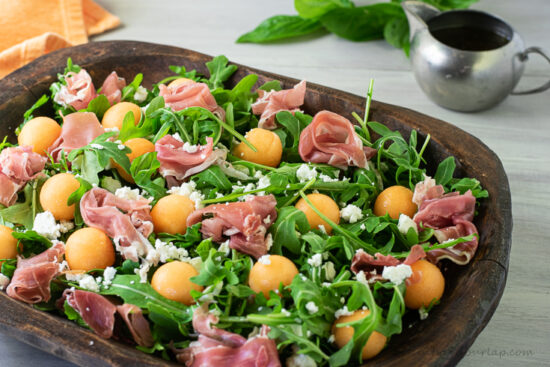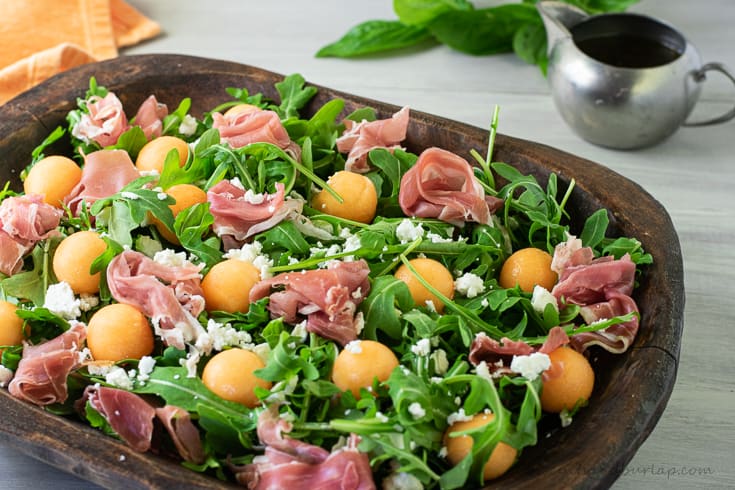 More Southern Recipes You'll Want to Try:
If you make this or any of our recipes we'd love for you to leave us a comment and star rating. If you're into sharing your creations, snap a photo and tag us when you post it to Facebook or Instagram.