The Spicy Southerner brings together our version of two Southern classics: Fried green tomatoes and pimento cheese. Setting the flavors over the top is our original bacon bourbon jam. You can taste the South in every bite!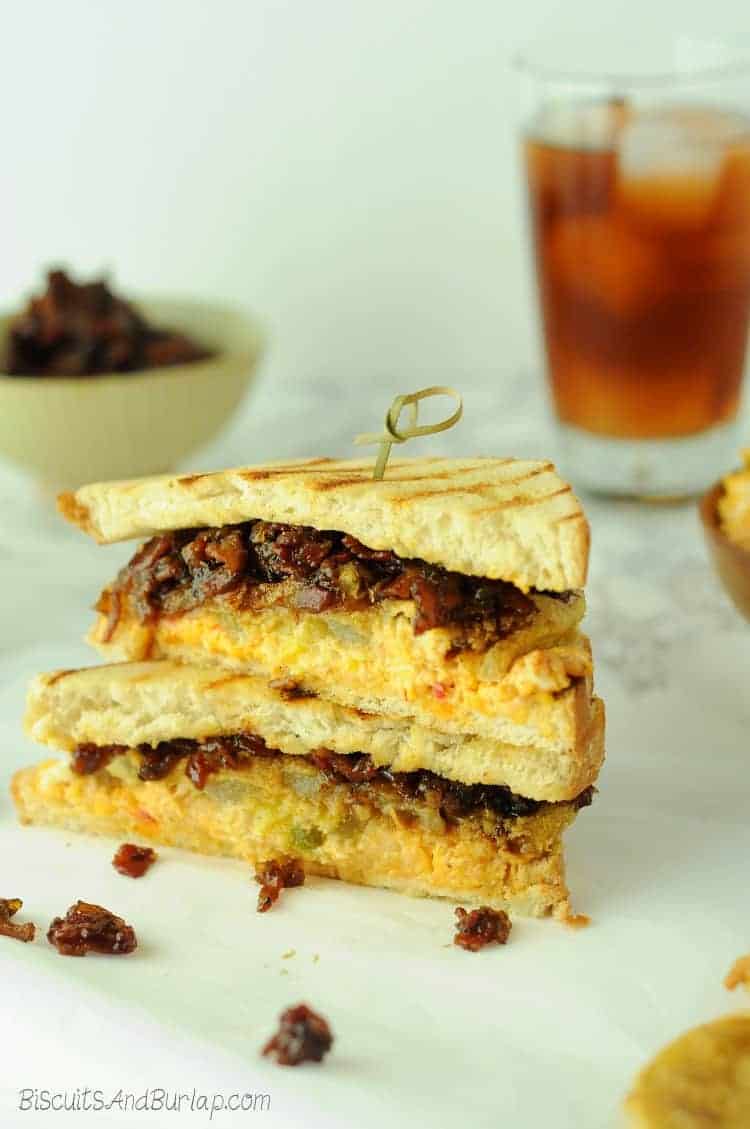 When I tell y'all I had dreams about this sandwich, I mean I had dreams about this sandwich. I thought about making this sandwich over a year before I ever tasted it...
It was last June when I first published the fried green tomatoes recipe and after I took my pictures I enjoyed those tangy tomatoes with some store-bought pimento cheese. Now, there are good pimento cheeses out there like Palmetto in the grocery store, but we knew one day we would have to publish a recipe to show you how real pimento cheese is made.
Obsessed with Southern food? So are we. You should join our family!
After you do that you'll want to read "Southern Food Then & Now".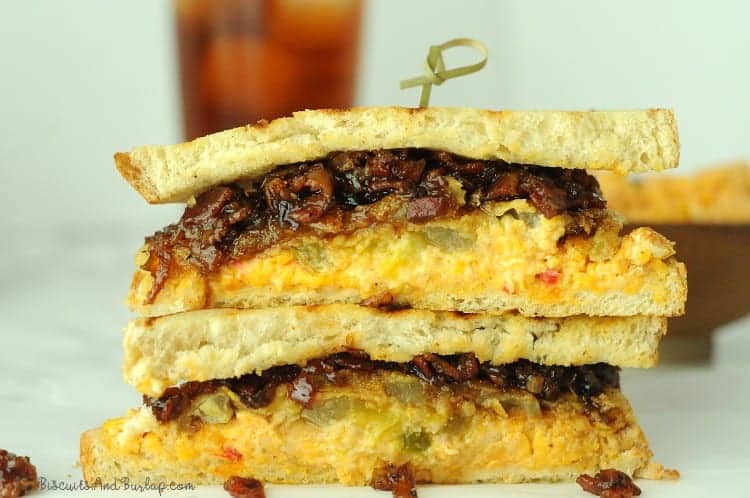 This post contains affiliate links. Please click here for our full disclosure and privacy statement.
In the meantime, I had pimento cheese at Victory Sandwich Bar in the Virginia Highlands neighborhood of Atlanta and theirs was topped with fresh bacon jam. It was incredible!
I just had to figure out how to make it and share it with our readers, and so Bacon Bourbon Jam was born. Again, there are other store-bought bacon jams out there like this one from Stonewall Kitchen, but there is nothing like homemade.
But wait... Pimento cheese, bacon jam, fried green tomatoes. These things totally need to be made into a sandwich! But, before we could do that, we needed to come up with the mother of all pimento cheese recipes and boy did we! Our Spicy & Smoky Pimento Cheese has a kick like none other and the flavors are out of this world.
Now that all the recipes were out there on Biscuits & Burlap, all I needed to do was assemble the sandwich, take pictures, and tell y'all about it, and I am here today to tell you that this sandwich is amazing.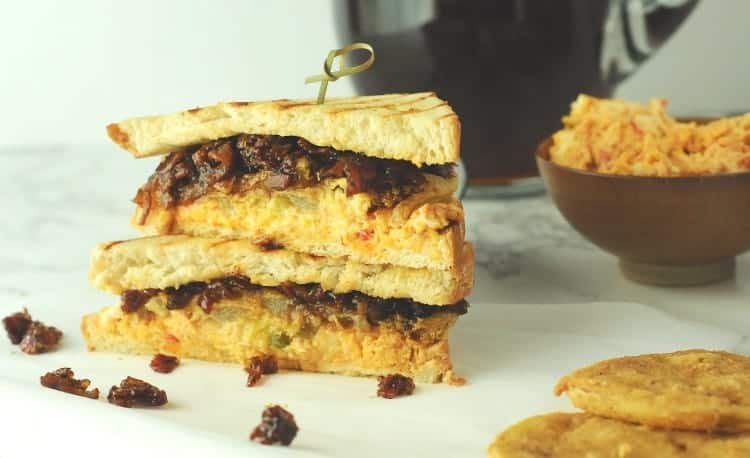 Are you getting our newsletters?
If you're planning on doing it the right way and making all the parts homemade, here is the order I would go with:
Mix up the pimento cheese and put it in the refrigerator- It needs a bit for the flavors to come together. A day or two is best if you have time.
Make the bacon bourbon jam and set it aside so it has time to cool.
Next, make the fried green tomatoes- You'll want them to stay warm when you put the sandwich together.
While the tomatoes are frying, toast the bread. Spread pimento cheese on 4 slices and bacon bourbon jam on the others.
When the tomatoes are done, add 2-3 slices between a slices of bacon jam bread and a slice of pimento cheese bread. Cut in half and enjoy!
Don't forget to snap a picture and tag us on Instagram or Facebook!


📖 Recipe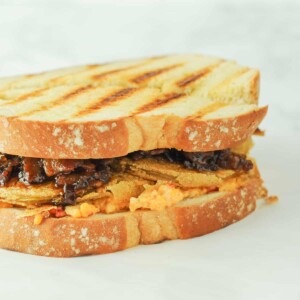 The Spicy Southerner
The Spicy Southerner is a sandwich that combines Cajun fried green tomatoes, spicy, smokey pimento cheese, and bacon bourbon jam for over-the-top Southern flavor in every bite.
Instructions
Prepare each recipe needed for sandwiches (follow links for recipes or find links for store-bought versions above) and assemble.
Notes
Please see article above for suggested plan for making the ingredients needed for this sandwich.
Of course, there is no substitute for homemade, but if you would like to make the recipe super simple, order your pimento cheese and your bacon bourbon jam, then all you need to cook are the fried green tomatoes!
Can't get enough Southern food? Check out these recipes!