These goat cheese appetizers will become a favorite recipe for a great many reasons. They're easy to make yet impressive, universally liked, vegetarian friendly and beautiful.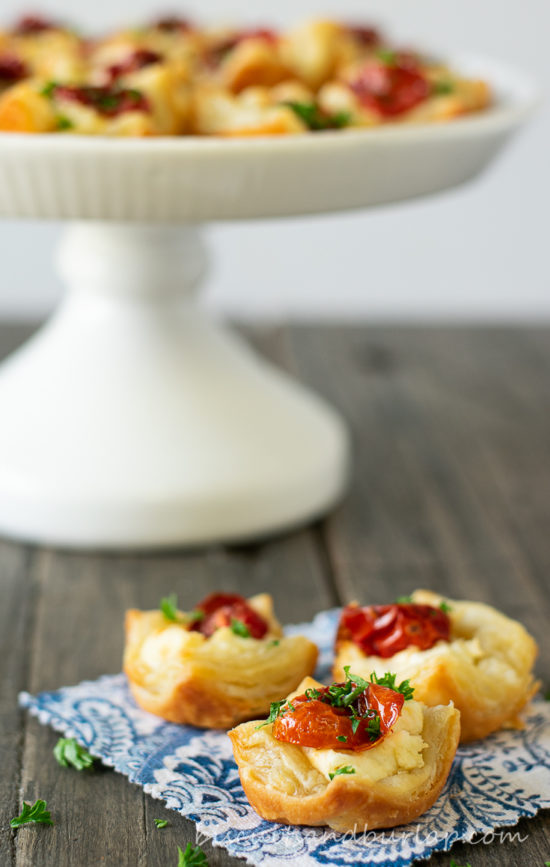 Puff pastry is the base
You've got to love puff pastry. It's a staple that many home cooks keep in their fridge or freezer for its versatility. If you don't, you should start. It can be a delicious starting point for an endless variety of breakfast dishes, appetizers, sides and entrees.
We've rolled our puff pastry to make it smooth and slightly thinner and then cut it into squares. Each square presses nicely into the cup of a mini muffin pan, and then we fill with our other ingredients - a goat cheese mixture and roasted tomatoes.
Be sure to watch the video below for a visual how-to!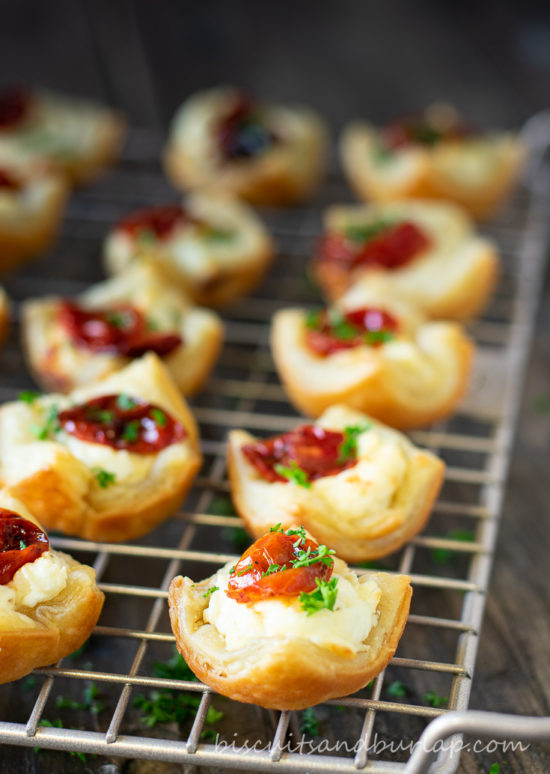 How to make roasted grape tomatoes
Grape tomatoes are the perfect size for using on these goat cheese appetizers because they're small. We make them for our savory Dutch Baby too, but you could probably think of lots of places they would be good.
Cut the tomatoes in half and then toss in olive oil and salt and pepper. Lay them on a baking pan cut side up and roast for about 30 to 40 minutes. It's as easy as that. If you're prepping for a dinner or cocktail party you could easily roast the tomatoes and make the cheese mixture the day before.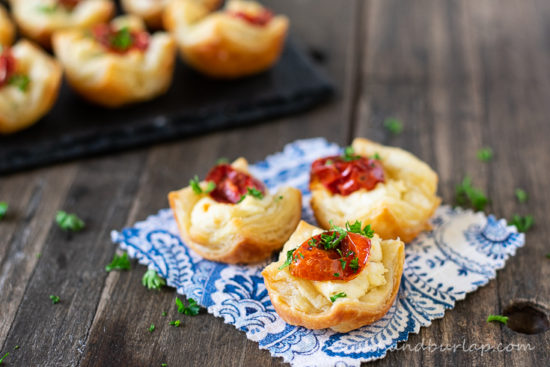 The goat cheese mixture
We like to use pre-crumbled goat cheese but you can certainly crumble your own. A few minutes in the freezer will make that task easier. That technique comes in handy with this go-to recipe, too - Salad with Oranges, Goat Cheese and Marinated Asparagus.
While we're on the subject of goat cheese this Goat Cheese with Honey Spread is also a super versatile dish. Serve it with veggies, fruit or flatbread.
The herbs are a great place to make this dish your own, altering according to your preference. If you use fresh herbs you should always keep in mind that they don't have as powerful a punch as dried herbs. A good rule of thumb is to use three times what you would if it were dried.
Lemon zest is an ingredient that I absolutely would not leave out. That's what gives these appetizers the flavor that makes them special.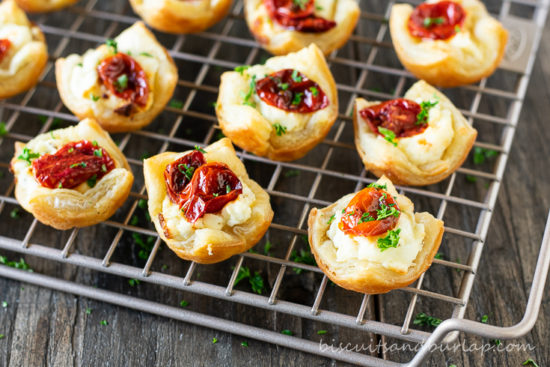 This post contains affiliate links, which means if you click on an affiliate link and buy something, we may receive a very small commission.  It does NOT result in additional charges to you or cost you anything extra. Click here for our full privacy and disclosure policy. As an Amazon associate we earn from qualifying purchases.
A few items you'll need for making these goat cheese appetizers:
📖 Recipe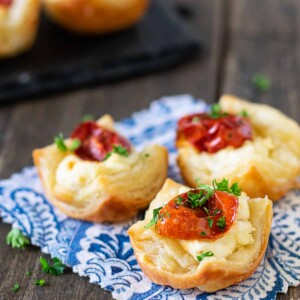 Goat Cheese Appetizers with Roasted Tomatoes
Easy to make and loved by everyone these vegetarian apps are perfect for any occasion.
Ingredients
1

sheet

puff pastry

4

ounces

goat cheese

crumbled

2

Tablespoons

mayonnaise

zest of one-half lemon

½-1

teaspoon

herbs

We like Italian seasoning

½

teaspoon

salt

½-1

clove

garlic

minced

¾

cup

grape tomatoes

1

teaspoon

extra virgin olive oil

½

teaspoon

salt

½

teaspoon

black pepper
Instructions
Cut tomatoes in half and toss with olive oil, ½ teaspoon each of salt and pepper.

Place tomatoes on baking sheet cut side up and roast at 350 degrees for 30-40 minutes. Set aside.

Roll puff pastry on lightly floured surface to smooth and slightly thin.

Cut puff pastry into 24 squares about 1.5 inches, cutting off uneven edges as necessary.

Mix goat cheese, mayonnaise, zest, herbs, garlic, remaining salt until creamy.

Press pastry squares into mini muffin tins and then add about ¾-1 teaspoon cheese mixture to each.

Top with 1 roasted tomato half, and bake at 375 degrees for about 15 minutes.

Garnish with additional herbs if desired.
If you love goat cheese (and you probably do if you're reading this) then you'll want to check out Melon & Prosciutto Salad with Goat Cheese. It's perfect in summer when the melons are at their peak!

More recipes you'll want to try: