This gourmet grilled cheese sandwich is packed with flavor from tangy goat cheese, salty prosciutto, and sweet fig jam.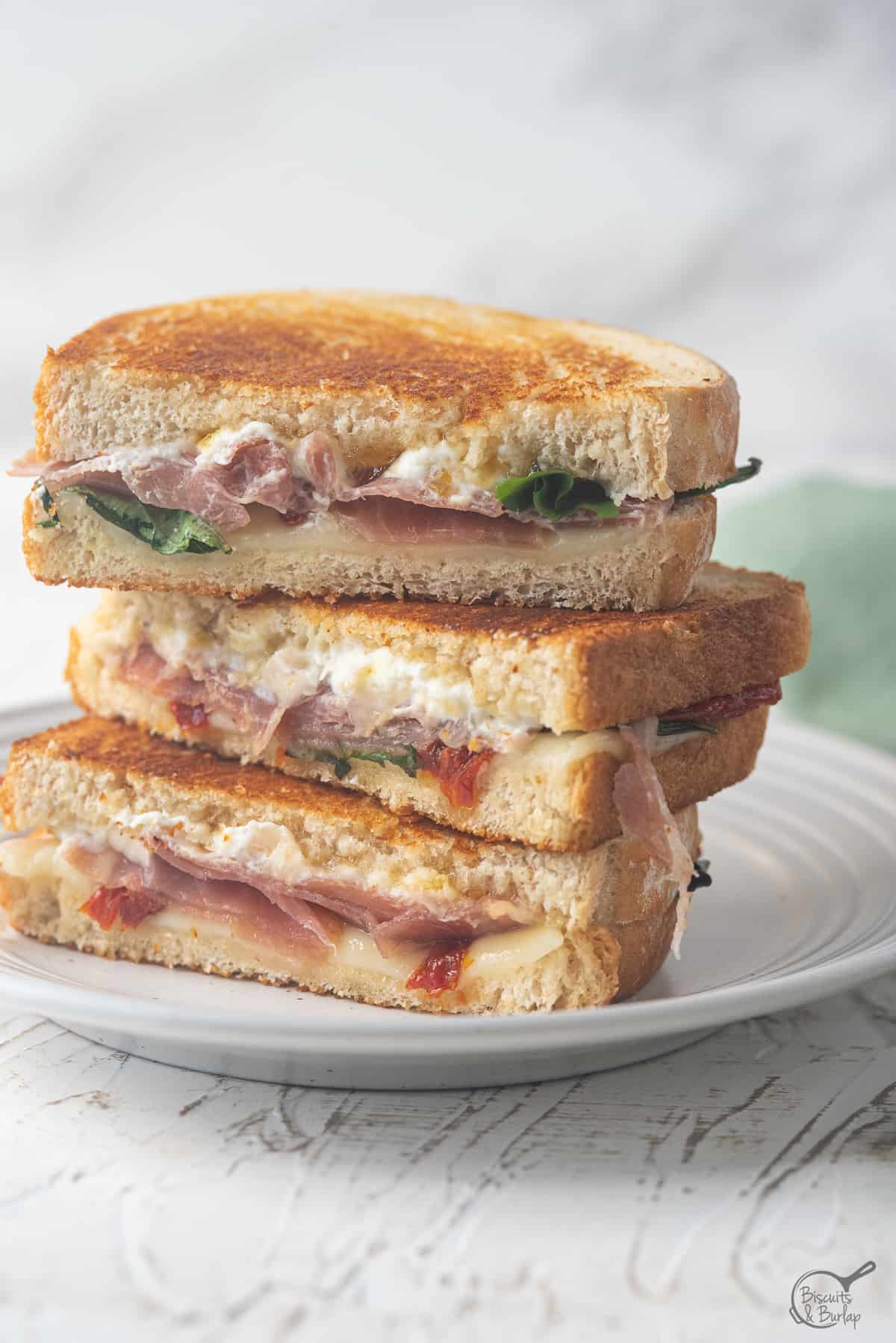 Who doesn't love a grilled cheese sandwich? Honestly, no one I want to know! The beauty of a grilled cheese is that you can literally put whatever your heart desires on it... more about that later.
This post contains affiliate links, which means if you click on an affiliate link and buy something, we may receive a very small commission.  It does NOT result in additional charges to you or cost you anything extra. Click here for our full privacy and disclosure policy. As an Amazon associate we earn from qualifying purchases.
For this recipe, I knew I wanted to get really creative with my grilled cheese. There's nothing like the classic, but you didn't come looking for average- this is the ultimate grilled cheese sandwich.
Whenever I'm looking to combine a variety of ingredients in a balanced way, I always consult The Flavor Bible. This is not a sponsored post, but I truly can't sing the praises of this reference guide enough.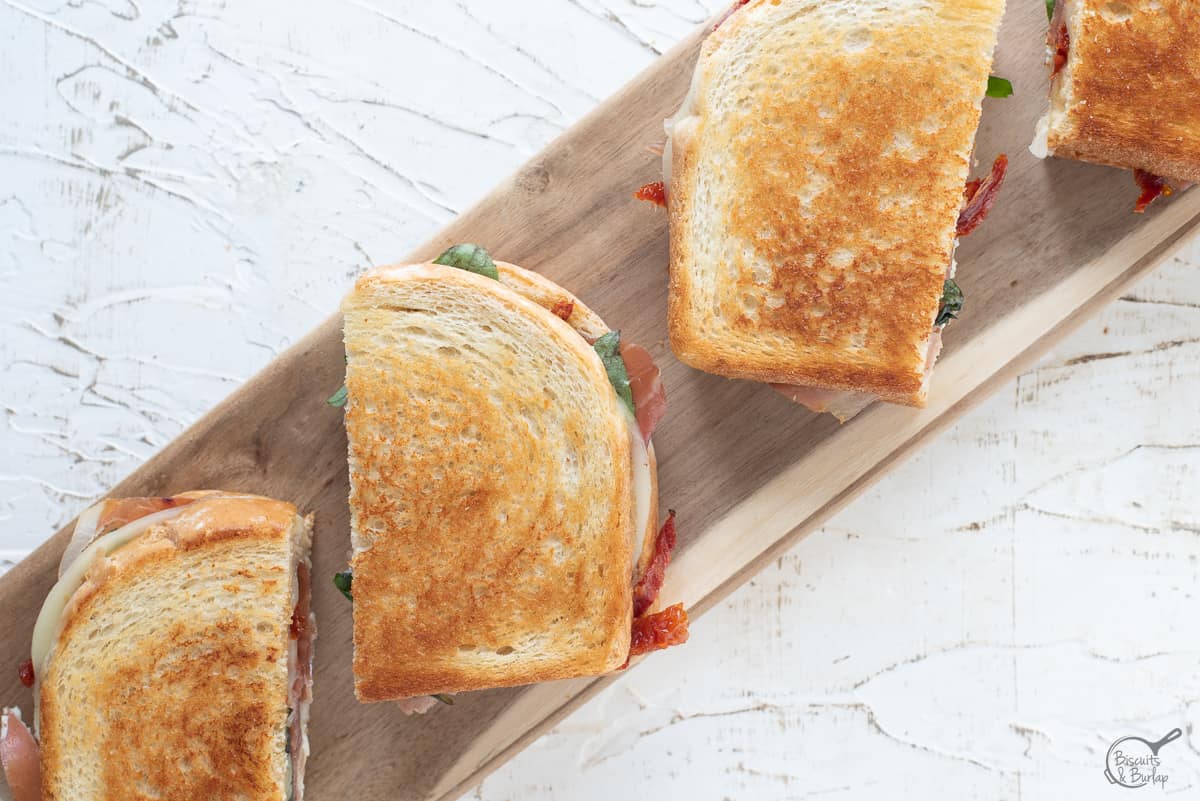 The ingredients I chose from my Flavor Bible to add to this amazing grilled cheese sandwich are provolone, goat cheese, fig jam, prosciutto, basil, and sundried tomatoes. Sound crazy? You literally won't believe how it all comes together
Suggested Substitutions
Now, I know it's possible that you read those ingredients and thought "but I don't really like (fill in the blank)... That's OK! If you have a copy of The Flavor Bible you already know what to do.
If you haven't picked one up yet, you're in luck! Instead of focusing on what you don't like in this sandwich, focus on what you do like and I'll tell you what the book says you should combine it with!
If you love the goat cheese, but not fig jam try incorporating honey, apples, dates, virtually any berry jam, or a balsamic reduction to get the sweetness. If you aren't wild about the basil - thyme, sage, and rosemary would all pair beautifully with the goat cheese as well.
If you love the prosciutto but not goat cheese or provolone, try Fontina, Gruyere, manchego, or mozzarella.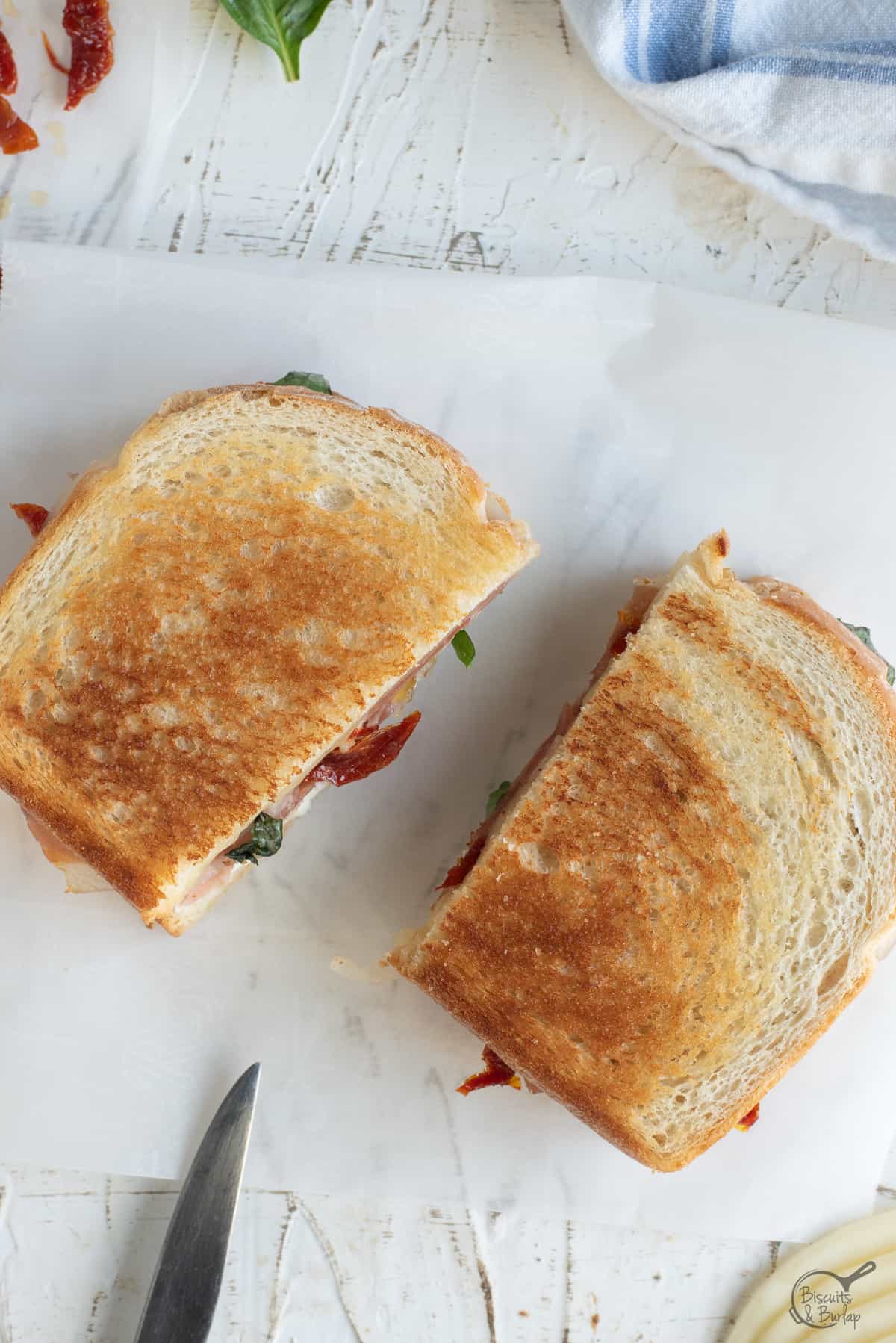 How to make this gourmet grilled cheese
When you are making a classic grilled cheese you know any old bread will do. But when you're making the ultimate grilled cheese, the bread is important. Look for sourdough, brioche, or even ciabatta to set your sandwich apart from the rest.
When you assemble your sandwich, you want to do what you can to ensure that the sticky, melty parts (the cheese and jam) will hold onto the parts that are more likely to slide around (the sundried tomatoes, prosciutto, and basil).
For that reason, I recommend spreading the jam and goat cheese on one slice of bread and layering the provolone on the other slice. Then, pile the prosciutto, basil, and sundried tomatoes in between the cheeses so they can melt over them as they cook.
Melt the butter in a sturdy pan and wait until it's good and hot before you put the sandwich in, pressing down with a spatula as it cooks. This will ensure you get a nice buttery crust on your bread and that the heat gets all the way to the center of the sandwich. When it's golden brown on one side, flip and repeat!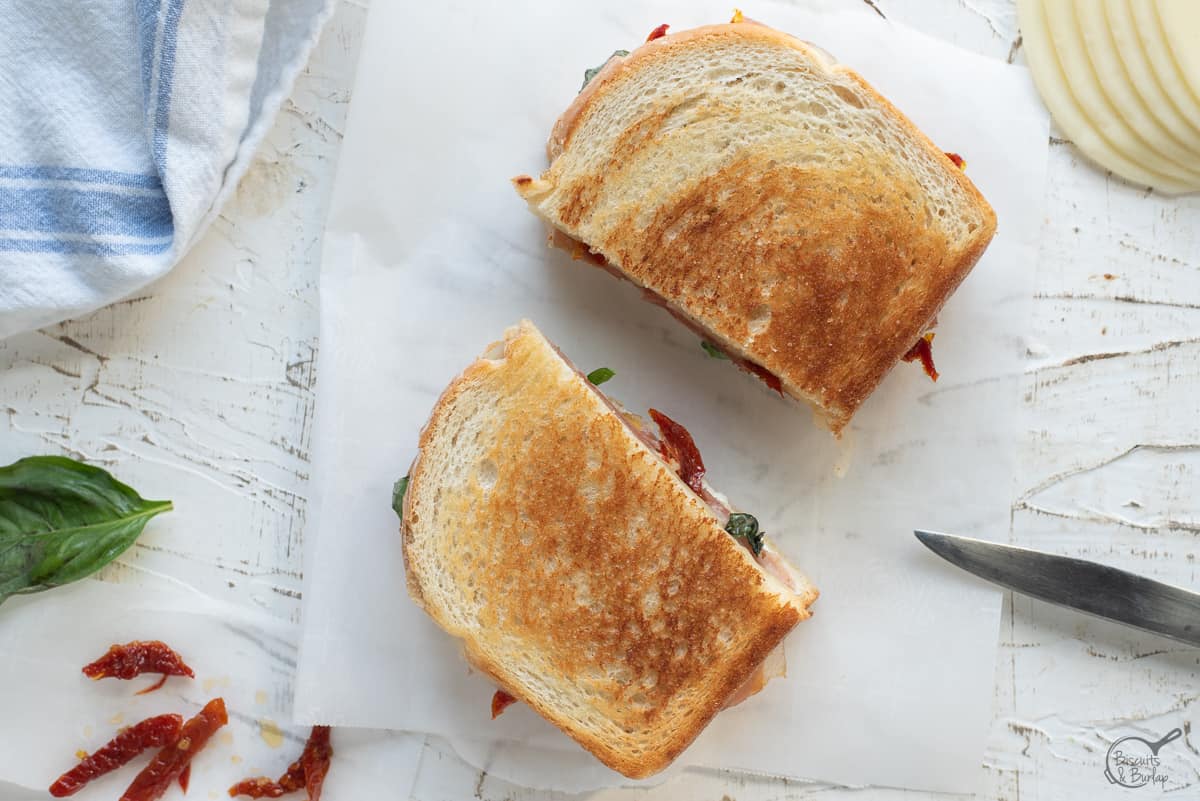 What to serve with a gourmet grilled cheese sandwich
A sandwich is a simple main dish so it requires simple side dishes. Any of these would pair beautifully:
📖 Recipe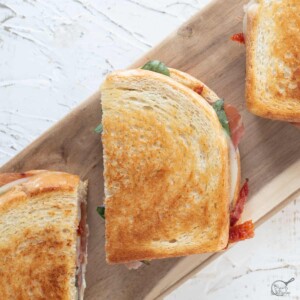 Gourmet Grilled Cheese with Prosciutto and Fig Jam
This gourmet grilled cheese sandwich is packed with flavor from tangy goat cheese, salty prosciutto, and sweet fig jam.
Ingredients
Instructions
Melt butter in a heavy skillet over medium low heat.

Spread fig jam and goat cheese on one slice of bread. Sprinkle the basil and sundried tomatoes on top, then add the prosciutto in "piles." Layer the provolone cheese on top of the prosciutto before adding the last slice of bread.

Put the sandwich in the skillet when it is hot and the butter is melted. Using a spatula, press the sandwich down a bit as it cooks until it is golden brown, about 5 minutes. Flip and repeat.
Nutrition
Calories:
708
kcal
Carbohydrates:
41
g
Protein:
28
g
Fat:
48
g
Saturated Fat:
25
g
Polyunsaturated Fat:
5
g
Monounsaturated Fat:
15
g
Trans Fat:
1
g
Cholesterol:
101
mg
Sodium:
1060
mg
Potassium:
421
mg
Fiber:
3
g
Sugar:
12
g
Vitamin A:
1183
IU
Vitamin C:
4
mg
Calcium:
449
mg
Iron:
4
mg
More sandwiches, tacos, and wraps