This tomato goat cheese galette is a beautiful and tasty appetizer, side dish, or brunch recipe! Its easy to make, but its rustic look makes it unique.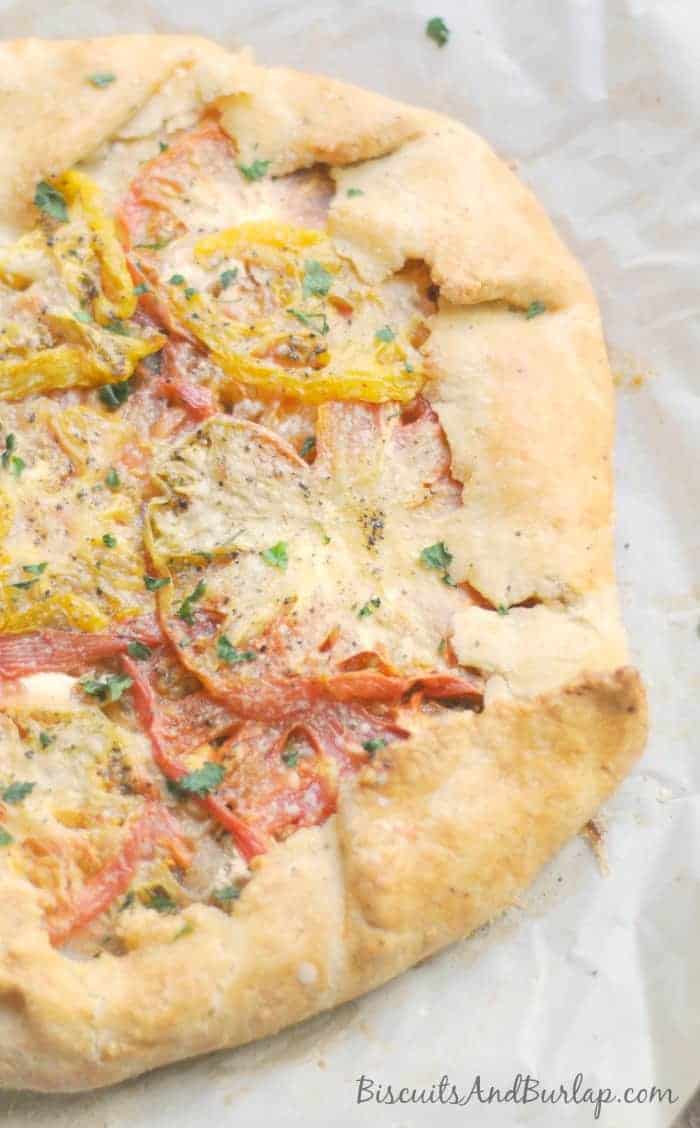 Summer is in full swing and those beautiful heirloom tomatoes are calling my name from the supermarkets and farmers markets. Mixed colors and funky shapes, these tomatoes are amongst my favorite things to cook with. A tomato goat cheese galette is the perfect place to showcase your heirlooms!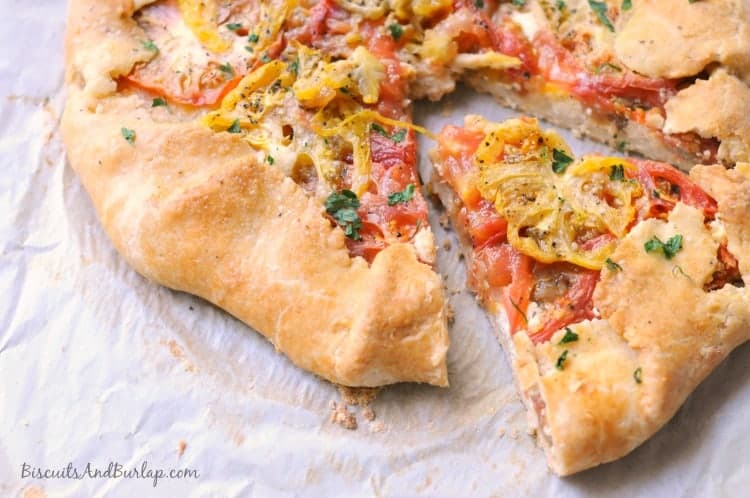 What is a galette?
I thought you'd never ask! Like a pastry, a galette can be filled with savory or sweet fillings and they are delicious at brunch. Unlike many pastries, though, it has this unique rustic look to it that comes from the whimsical way you fold and bend the crust to contain the filling. Do it however you want… the irregular edges are part of its charm! Whether you fill it with berries and cream, fruit and nuts, or vegetables and cheese, slice it up like a pizza and it makes the perfect appetizer, side dish, or dessert for any meal.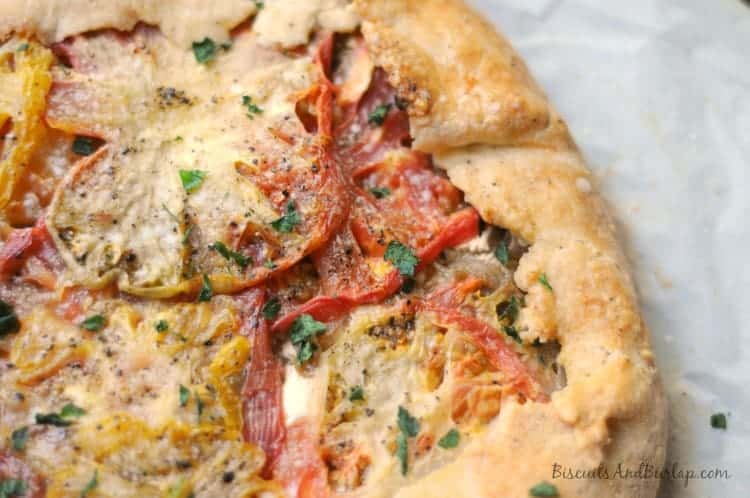 I am not usually a baker (that's an understatement) and I was so excited to call my mom and tell her when I made the galette dough from scratch and it actually turned out exactly like I wanted it. I learned a few new tricks while looking up various galette dough recipes like grating the butter and then freezing it… Apparently this is the key to making a flaky crust. Who knew?!
If you love fresh-from-the-garden goodness like this galette, you'll also love our Fresh Corn with Shrimp, Peppers and Feta. Check it out!
This post contains affiliate links for your convenience. Click here to read our full disclosure policy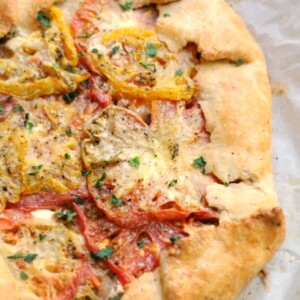 Tomato Goat Cheese Galette
This tomato goat cheese galette is a beautiful and tasty appetizer, side dish, or brunch recipe! Its easy to make, but its rustic look makes it unique.

Ingredients
Instructions
Grate the cold butter and freeze at least 10 minutes.

Combine flour, salt, and sugar. Whisk in butter until flour mixture well coats butter pieces.

Add cold water a little at a time, combining well, until a dough forms. Shape dough into patty (like a large hamburger), wrap in plastic, and refrigerate 45 minutes.

Pour 3 Tablespoons olive oil in a medium skillet. Heat oil over low heat and then add onions. Toss well to coat.

Cook onions over low heat 30-45 minutes, stirring frequently. If onions start to dry out, add water.

Remove onions from heat when caramelized.

Remove dough from refrigerator. On a floured parchment paper, roll dough out until consistently 1/8th-inch thick. Transfer parchment paper and dough to baking sheet.

Leaving a 3-inch space around the edge, top dough with crumbled goat cheese, basil, black pepper, and onions.

Top with sliced tomatoes. Drizzle tomatoes with olive oil and salt & pepper.

Gently fold edges over the sides of the tomatoes.

Brush exposed crust with egg.

Bake 1 hour, or until tomatoes begin to char and crust turns golden brown.
Check out these other recipe from Biscuits & Burlap!
Looking for more Southern inspiration? Be sure to visit Meal Plan Monday.
Even more great recipes can be found at Weekend Potluck.