With just a few ingredients and a special tip you'll have the creamiest Gorgonzola salad dressing to ever pass your lips! A favorite on wedge salads, it's also amazing on any type of green salad.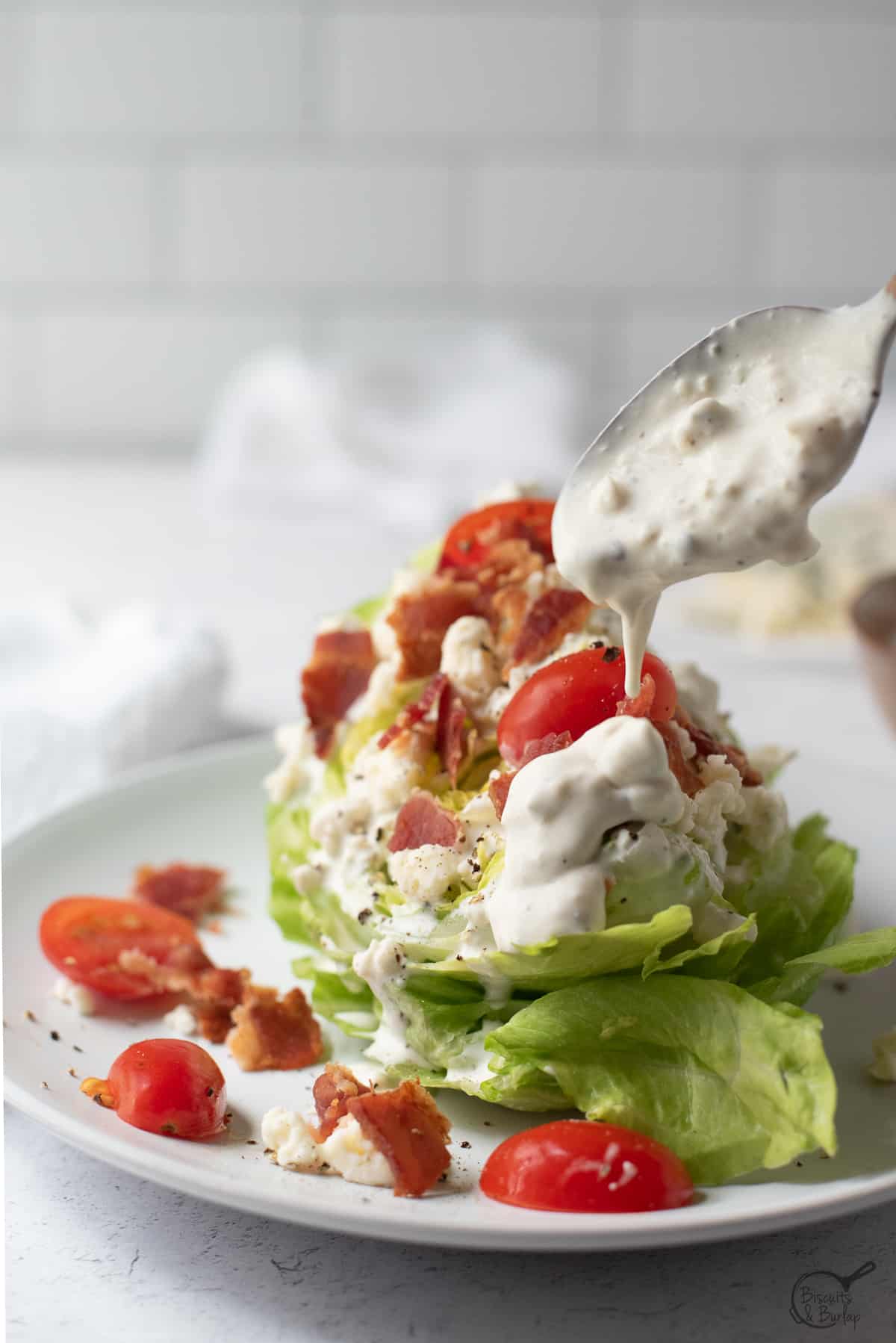 Once you've had homemade Gorgonzola salad dressing you will never go back to store bought. It's so easy you'll wonder why you waited so long to make it yourself. We love the creaminess and flavor of this specific blue cheese, but it's true you can make this dressing with the blue of your choice.
Jump to:
What's so special about this dressing?
The flavor is throughout the dressing as well as in the chunks of cheese. Read on to see how we accomplish this easily.
It features gorgonzola cheese, which is milder and creamier than other blues. Mixed with a few simple ingredients it makes an amazing dressing for any type of green salad, but most especially a lettuce wedge salad.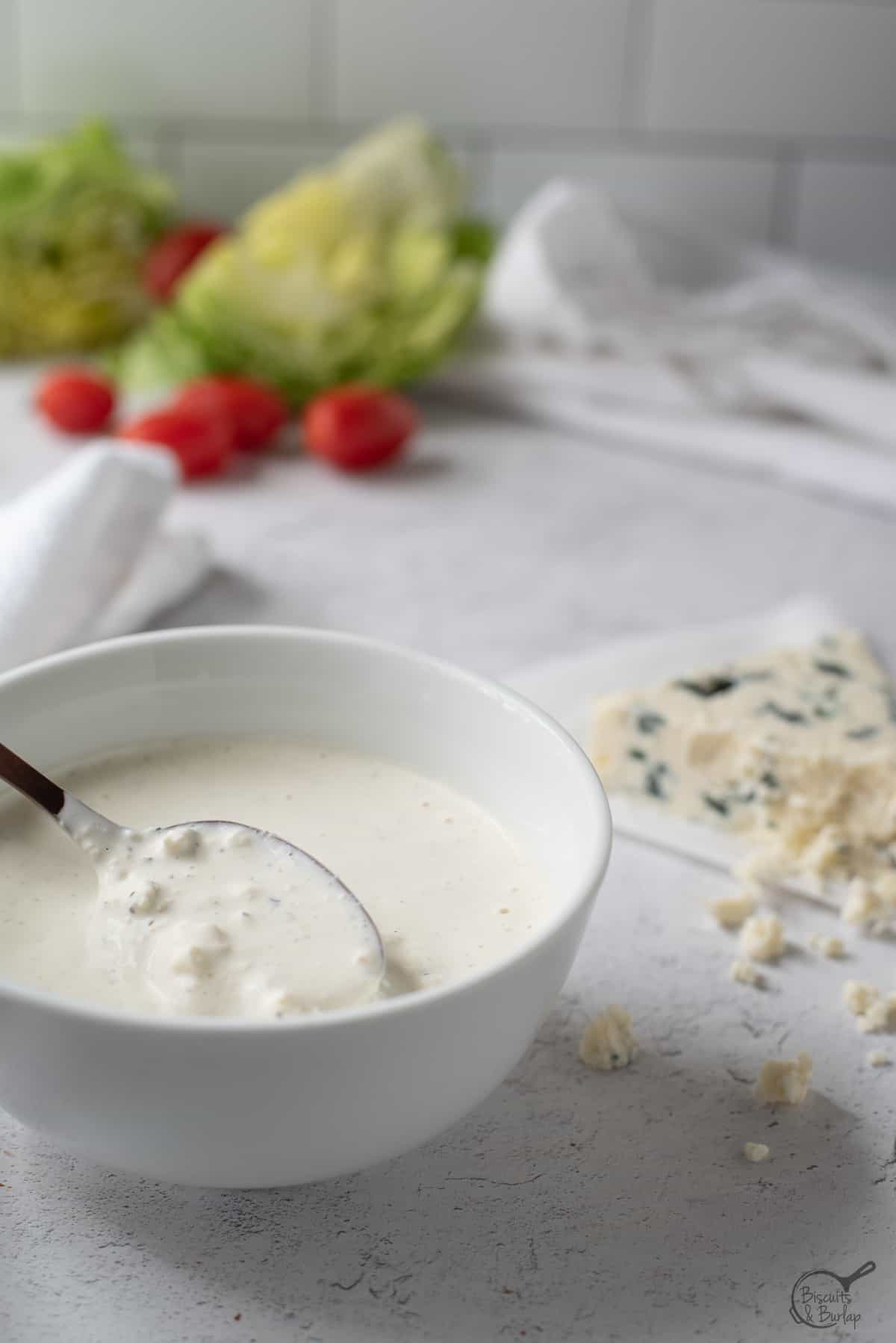 Ingredient and Substitution notes
Gorgonzola Cheese, crumbled. You can sometimes find it already crumbled, but the freshest flavor will come from cheese that you crumble yourself. It just takes a minute or two. As mentioned above, you can use a different kind of blue cheese if you prefer.
Mayonnaise – Here in the south we prefer one of our regional favorites, Dukes or Blue Plate, but you can use the mayo of your choice. Low fat would be fine, but don't substitute no-fat.
Buttermilk – Full fat buttermilk is always richest and best, but if you need to cut back you can do that here.
White wine vinegar – Another vinegar would work, but we recommend this one.
Worcestershire sauce – It's just a dab, but it adds just the right touch of flavor.
Black Pepper – Freshly ground is always best.
Salt – Whatever you have on hand is fine.
Hot sauce – It's optional, but just a dash is really good in this dressing.
See the recipe card below for specific quantities.
How to make it:
First you'll crumble the cheese and add half of it to a small bowl.
Now take a fork and thoroughly mash the cheese in the small bowl.
Add the remaining ingredients and stir well.
Add the other half of the cheese crumbles.
Refrigerate until time to serve, ideally at least 2-3 hours.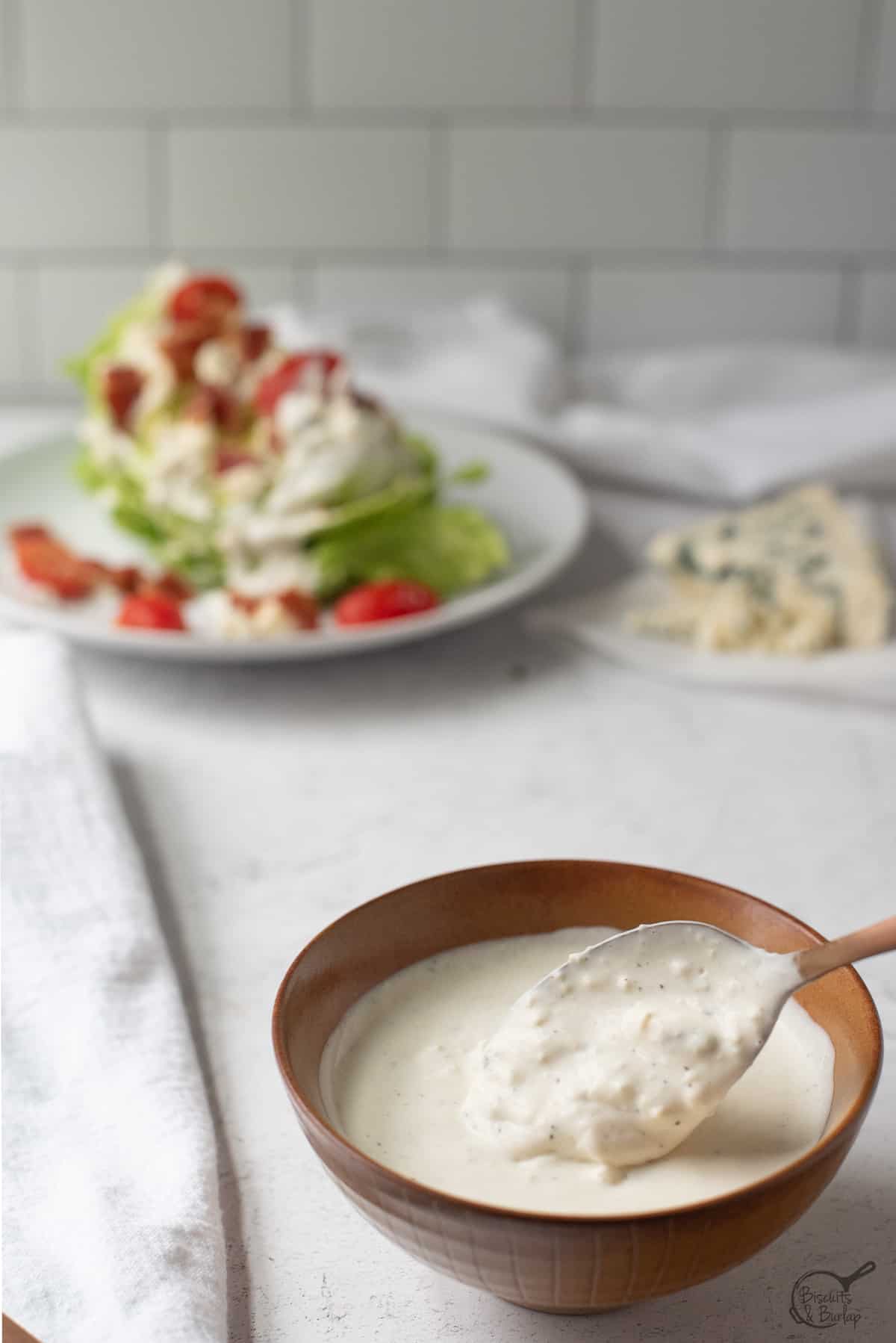 Expert tips
The top tip is described in step 2 above. Mashing half of the gorgonzola cheese means that the flavor is spread throughout the dressing, not just in the chunks.
The second top tip is to refrigerate for a while before serving, if possible. The same is true for any of our salad dressings, like our Southwest Vinaigrette, Cajun Salad Dressing or that unique Barbecue Salad Dressing. Giving it time in the fridge allows those flavors to get "cozy" and blend with each other. If you don't have time it will still be good, but if you do, it really makes a difference!
Storing your dressing
We recommend keeping in the fridge for up to 7 days as long as it's tightly covered.
This makes a fairly small amount (8 servings) and it's so good you won't have any trouble using it up in less than a week. If it's just for you it would be easy enough to half this dressing recipe and make 4 servings.
What to serve your Gorgonzola dressing with:
Besides green salads (use it on our Fall Apple Salad for example), it's just great with chicken wings. You'll love Cajun Chicken Wings and Buffalo Shrimp when an edge is dipped in this dressing!
The classic way to serve it is over a wedge salad. Just quarter a head of iceberg lettuce and top it with halved grape tomatoes, freshly cooked bacon bits and maybe even a few extra blue cheese crumbles. Then drizze the dressing over it all and sprinkle with a little more black pepper. It's magnificent!
FAQ's
Which is stronger – Gorgonzola or blue cheese?
Gorgonzola is actually a type of blue. However, those cheeses labelled simply "blue" will be stronger and less creamy than Gorgonzola.
Where does Gorgonzola get its name?
It's named for the Italian city of Gorgonzola in the Lombardy region.
Is blue cheese dressing just ranch with blue cheese?
No! Ranch dressing is loaded up with seasonings while blue cheese dressings typically allow the cheese itself to be the star flavor.
📖 Recipe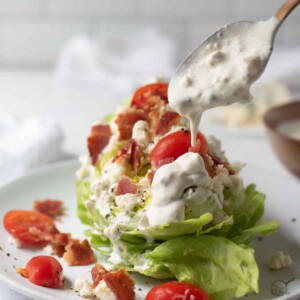 Creamy Gorgonzola Dressing
With just a few ingredients and a special tip you'll have the creamiest Gorgonzola salad dressing to ever pass your lips! A favorite on wedge salads, it's also amazing on any type of green salad.
Instructions
Put half the crumbled cheese in a small mixing bowl.

Mash the cheese with a fork.

Add the remaining ingredients and mix well.

Refrigerate until time to serve, at least 2 hours if possible.
Notes
Other varieties of blue cheese may be substituted for Gorgonzola. 
Full fat or low fat buttermilk may be used.
Full fat or low fat mayonnaise may be used. Non-fat is not recommended. 
Nutrition
Calories:
159
kcal
Carbohydrates:
1
g
Protein:
2
g
Fat:
16
g
Saturated Fat:
4
g
Polyunsaturated Fat:
8
g
Monounsaturated Fat:
4
g
Trans Fat:
1
g
Cholesterol:
14
mg
Sodium:
291
mg
Potassium:
40
mg
Fiber:
1
g
Sugar:
1
g
Vitamin A:
84
IU
Vitamin C:
1
mg
Calcium:
51
mg
Iron:
1
mg