Buffalo Shrimp with all the flavors you love in a healthier version. This one is not breaded or fried, making it the perfect choice for those cutting back.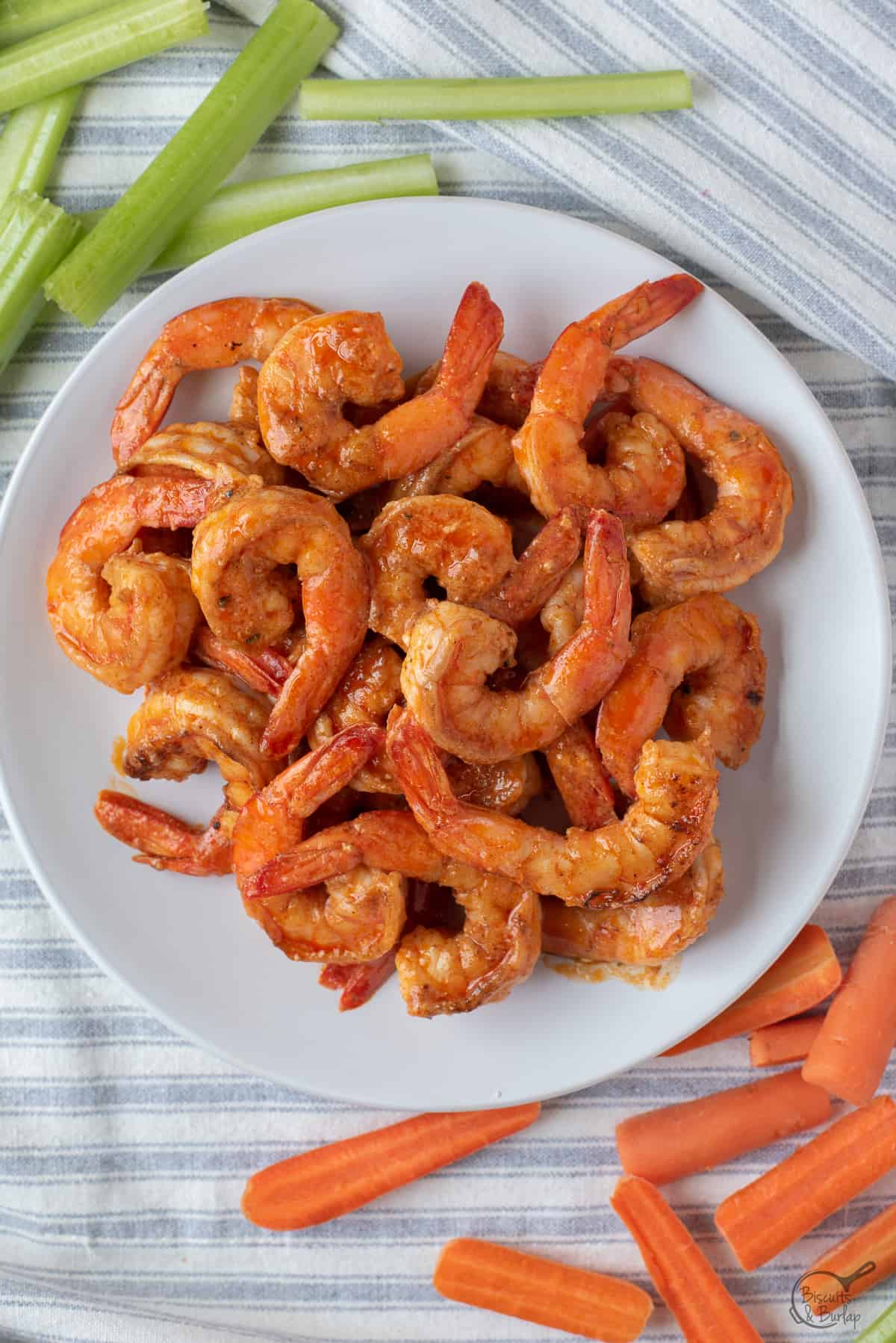 So many people love buffalo sauce! But there are a lot of you out there who avoid it because it typically goes on chicken wings or shrimp that has been breaded and fried.
Now don't get me wrong... We do love our old southern fried favorites around here like country fried steak and fried chicken. But, anywhere we can cut back and not compromise the integrity of a dish we're going to do just that.
This shrimp is one of those recipes! In fact, the flavor of the shrimp is really highlighted by the sauce without being overpowered. You'll love it!
Jump to:
Ingredient and Substitution notes
This post contains affiliate links, which means if you click on an affiliate link and buy something, we may receive a very small commission.  It does NOT result in additional charges to you or cost you anything extra. Click here for our full privacy and disclosure policy. As an Amazon associate we earn from qualifying purchases.
We've kept the list short to make this a really easy and simple recipe.
Shrimp - We always prefer larger shrimp because it's easier to keep from overcooking them. You do still have to watch them very carefully and there's a whole section on that below. For this recipe we like the shrimp peeled, deveined, but with the tails left on. Check out our quick and easy method for Deveining Shrimp.
Smoked paprika - Such a great condiment. You could use plain paprika, but if you don't have the smoked type in your pantry we highly recommend adding it.
Chili powder
Salt - plain old table salt is fine.
Pepper - freshly ground black pepper is always best.
Garlic powder
Butter - you can use salted or unsalted. We try to be flexible.
Frank's Red Hot Original Sauce - this is how you make authentic tasting buffalo sauce. Substitute a different hot sauce if you like, but we cannot guarantee the outcome.
Canola Oil - or any high smokepoint oil. You want to cook the shrimp at a pretty high heat.
(exact measurements are in recipe card below)
Optional additions are a dash or two of a "hotter" hot sauce like Tabasco, if you prefer more kick to your shrimp. And then a good blue cheese dressing (like this Gorgonzola Salad Dressing) for dipping.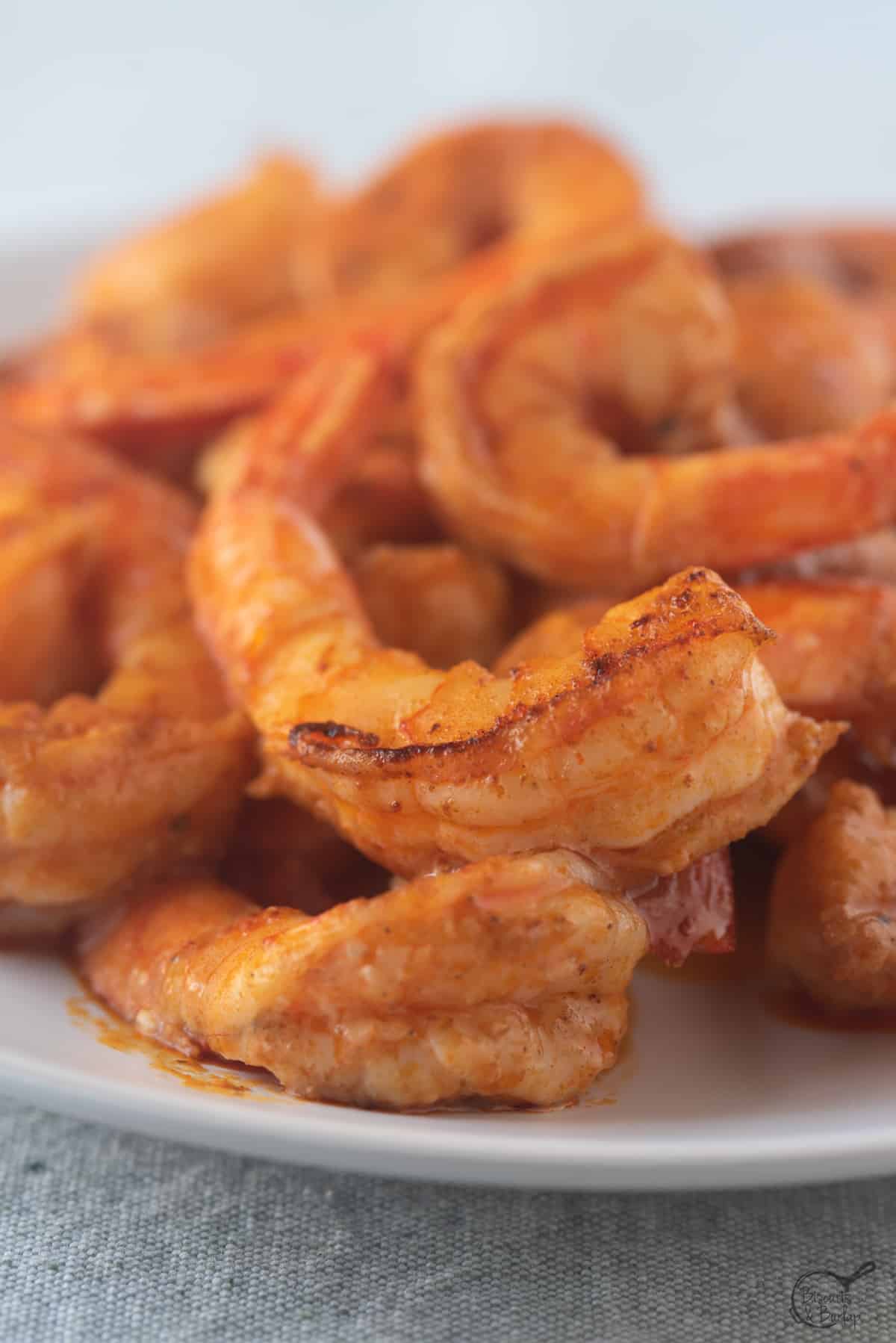 Instructions
First you'll start with the shrimp that has been thawed if they were frozen. They also need to be peeled and deveined. We prefer leaving the tails on, but that's up to you. Do you know the easiest way to peel and devein shrimp?
Dry the cleaned shrimp with paper towels, and then mix all of the seasoning ingredients and sprinkle on both sides.
Heat the oil in a skillet over medium high heat.
Add the shrimp in a single layer and cook for about a 1-2 minutes, depending on the size of the shrimp.
Turn the shrimp and cook just until the translucence in the center turns to opaque. Pull them off the heat immediately!
Now melt the butter and stir in the hot sauce until they're thoroughly blended. You could do this in the skillet you cooked the shrimp in, or a clean one. It's your choice.
When the sauce is good and hot, add the shrimp back in and give them just long enough to heat back up thoroughly before serving.
Is buffalo sauce hot and spicy?
Not necessarily.
It makes us sad to see people miss out on some of life's amazing flavors because they're so afraid it might be spicy.
It happens all the time with two of our favorite sister cuisines - Cajun and Creole. We've known folks to completely avoid any of those great dishes just because they think it's all hot as you-know-what.
The truth is, buffalo sauce, at its most basic level is full of flavor, but very mild in the heat factor. That being said you can certainly kick that factor up as high as you want with some cayenne pepper, or a very hot hot sauce.
But, give it a try with the recipe just as written if you're afraid of heat. You may be surprised!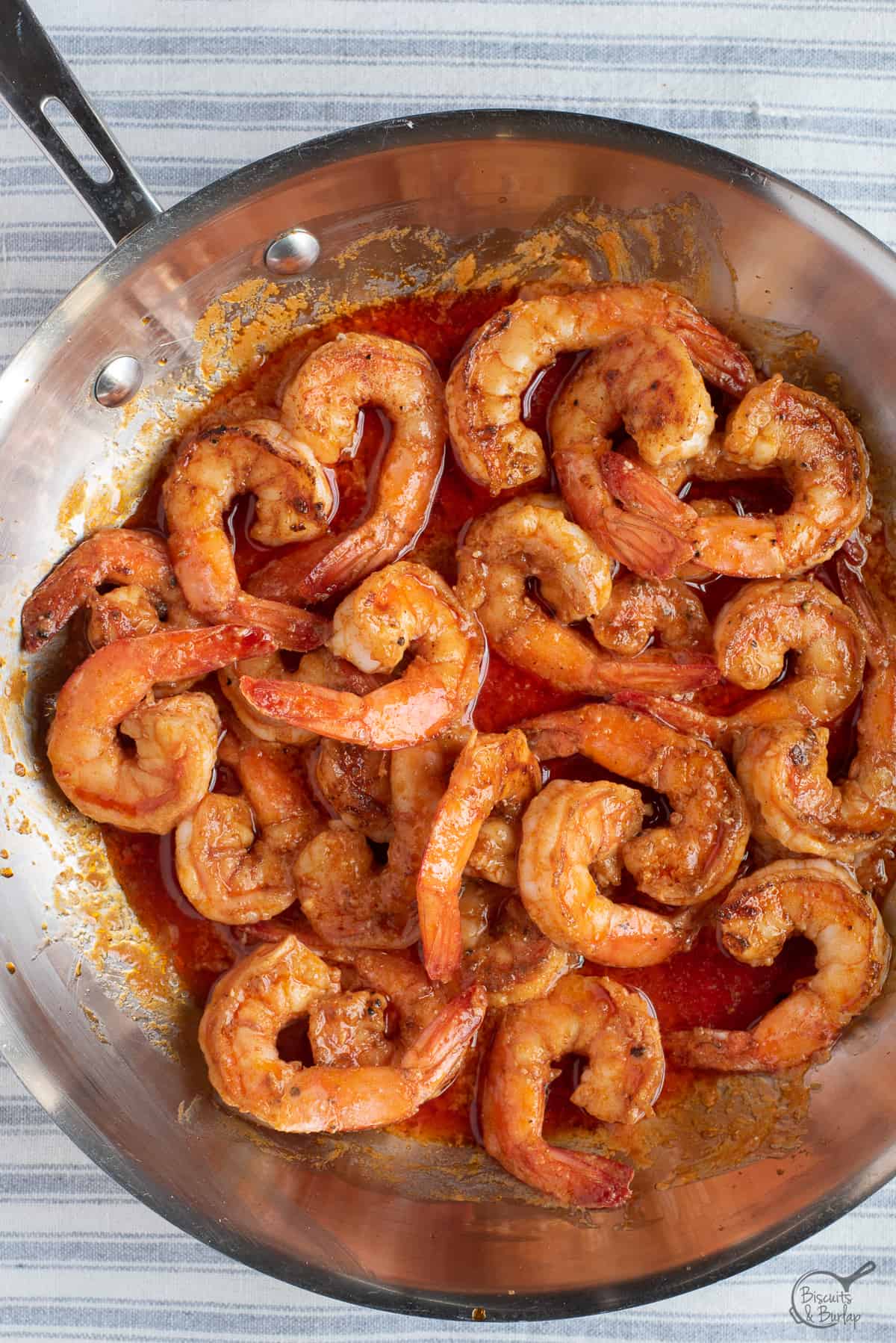 Expert tips on getting your shrimp cooked perfectly
Like we mentioned above we like to cook with large, or even jumbo shrimp because the smaller ones are so easy to overcook. In fact, even the larger ones can be overcooked in just seconds, so we've got a couple of tips for you.
Keep your eye on them! When cooking shrimp don't get distracted. Even one minute can result in rubbery, tough shrimp.
Cook them in a single layer. That way they're all getting the same amount of heat. If you pile them up you'll risk overcooking some while you're trying to get some others done. If in doubt, take them off the heat just before you think they're done. They will cook for a few more seconds just from their internal heat. And sometimes a few seconds is all it takes.
Watch the translucency. As soon as the middle of the shrimp go opaque they're done!
For recipes that call for boiled shrimp they will float as soon as they're done.
How to serve your shrimp and what to serve them with
They're pretty amazing just like they are, for sure.
But, you can definitely serve them with the traditional buffalo additions of celery and carrot sticks, like we've shown. Blue cheese dressing makes a perfect dip for the shrimp and the veggies, and the best recipe for that is linked above.
Making buffalo shrimp tacos are fun too! All we add to them are a little shredded cabbage and a drizze of the blue cheese dressing or ranch.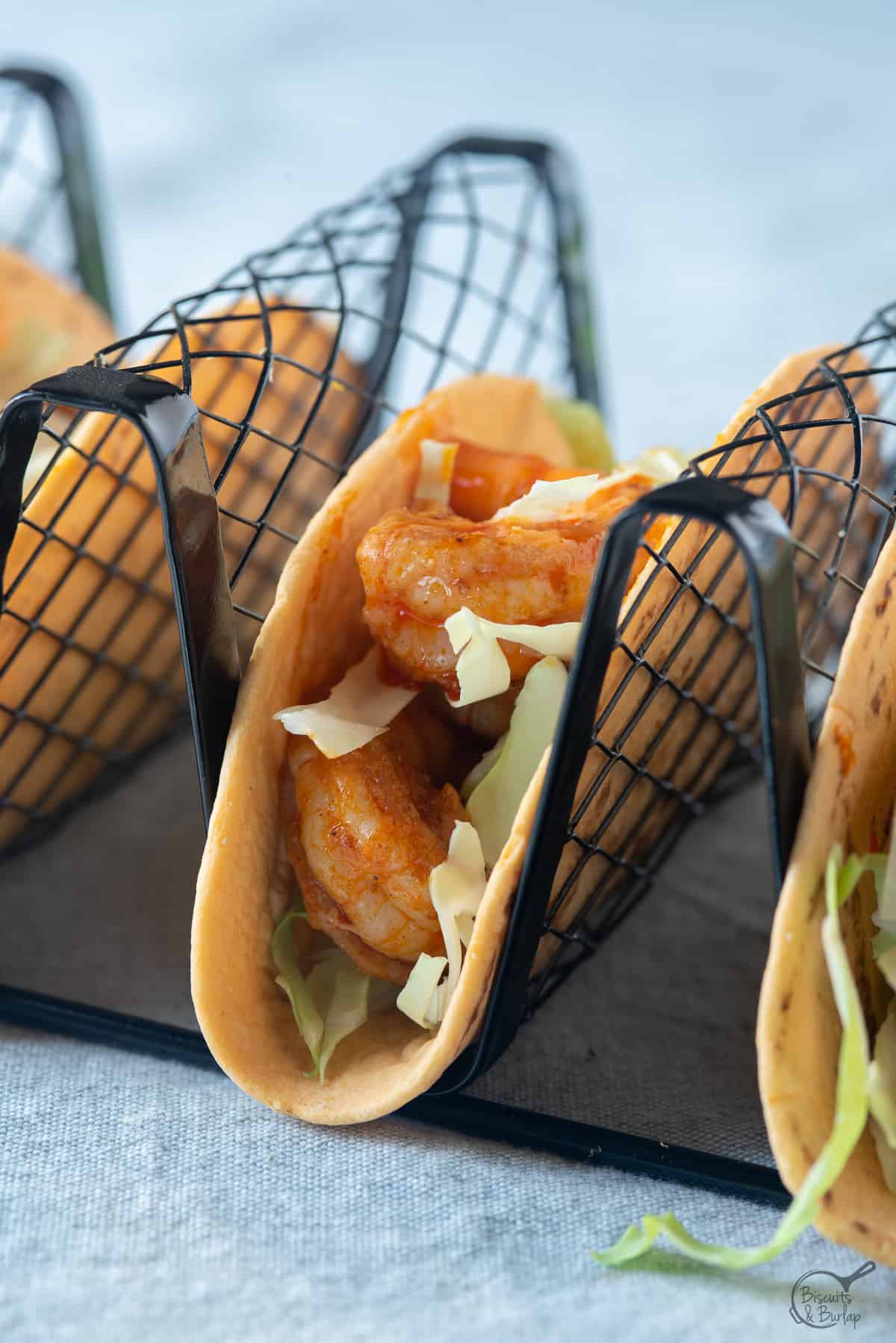 Get creative and comment or hit us up on Facebook or Instagram with your ideas too. We're thinking of developing a buffalo shrimp pizza recipe. Let us know what you think of that idea!
Recipe FAQ's
How long does it take to shrimp on the stove?
Shrimp cook very quickly! The time it takes to cook is going to vary with the size of the shrimp and the level of heat, but even large shrimp over low heat will take only minutes. The key to perfectly cooked shrimp is to only get them to point of being opaque in the center of the thickest part.
Does buffalo shrimp have to be fried?
They do not. A traditional buffalo style recipe is breaded and fried and then topped or tossed with buffalo sauce. But, the breading adds very little in the way or flavor. With shrimp that have been sauteed like these you still get all of that great flavor.
How do I make juicy tender shrimp?
The key to this is to not overcook them. Shrimp can go from being juice and tender to rubbery and tough very quickly. No matter what method of cooking you use key your eye on the shrimp and remove them from the heat as soon as they're done.
📖 Recipe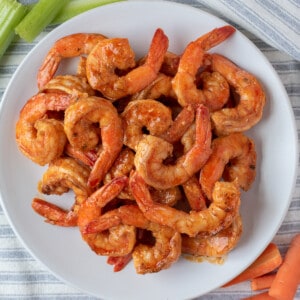 Easiest Buffalo Shrimp
Shrimp with all of the buffalo style flavors you love in a healthier version. This one is not breaded or fried, making it the perfect choice for those cutting back.
Ingredients
Instructions
Dry the shrimp with paper towels.

Combine the dry seasoning ingredients and sprinkle on both sides of the shrimp.

Heat the canola oil in a skillet over medium high heat.

Lay the shrimp in a single layer and cook 1-2 minutes and then turn. Cook additional 1 minute, or until the center is opaque.

Remove the shrimp from heat and melt the butter over medium low heat.

Stir in the hot sauce and blend together. Continue stirring until mixture is thoroughly heated.

Add the shrimp back in just long enough to heat through.
Notes
If there are too many shrimp to cook in a single layer you can set the first batch aside and cook then second. 
Take care to not overcook the shrimp. Additional tips are in the post. 
May be served with Blue Cheese Dressing, carrot and celery sticks, or as a taco. 
Nutrition
Calories:
235
kcal
Carbohydrates:
1
g
Protein:
23
g
Fat:
16
g
Saturated Fat:
8
g
Polyunsaturated Fat:
2
g
Monounsaturated Fat:
5
g
Trans Fat:
1
g
Cholesterol:
213
mg
Sodium:
1054
mg
Potassium:
357
mg
Fiber:
1
g
Sugar:
1
g
Vitamin A:
782
IU
Vitamin C:
15
mg
Calcium:
81
mg
Iron:
1
mg