This fried shrimp recipe is for shrimp with a light, but crispy coating. Using cracker meal or corn meal makes it a southern favorite that everyone loves.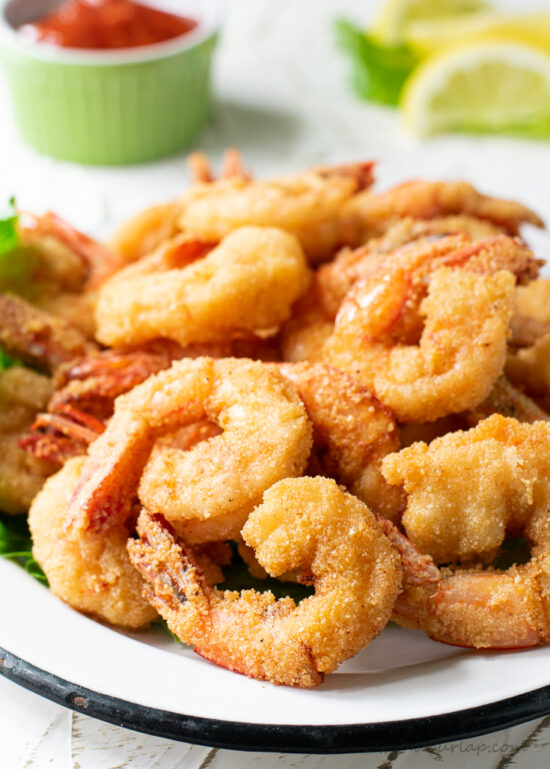 What's different about "southern style" fried shrimp?
To begin with, the breading or coating is thin and light. You won't find a thick "tempura" style batter on fried shrimp anywhere in the south.
And then there are the ingredients used to coat the shrimp. Our favorite is cracker meal, but corn meal is good too, and both are commonly used to make fried shrimp anywhere in the region.
Many times you'll find a little Cajun or Creole type seasoning added as well. Our favorite is Tony Chachere's Original Creole Seasoning and we usually add it for a bit of extra flavor.
But, delicious fried shrimp can be made with no seasoning other than salt and pepper. A lot of people add a bit of Old Bay and that's awesome too.
If you love learing about southern food culture you'll want to read Southern Food: Then & Now.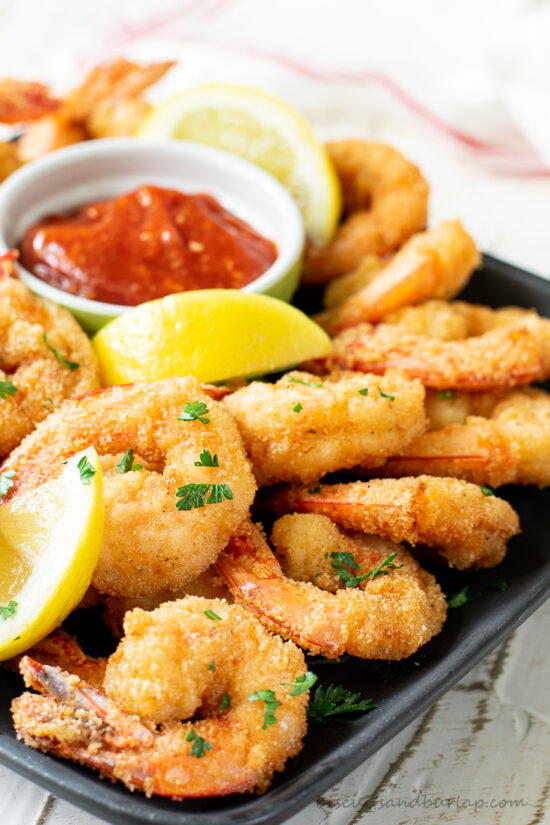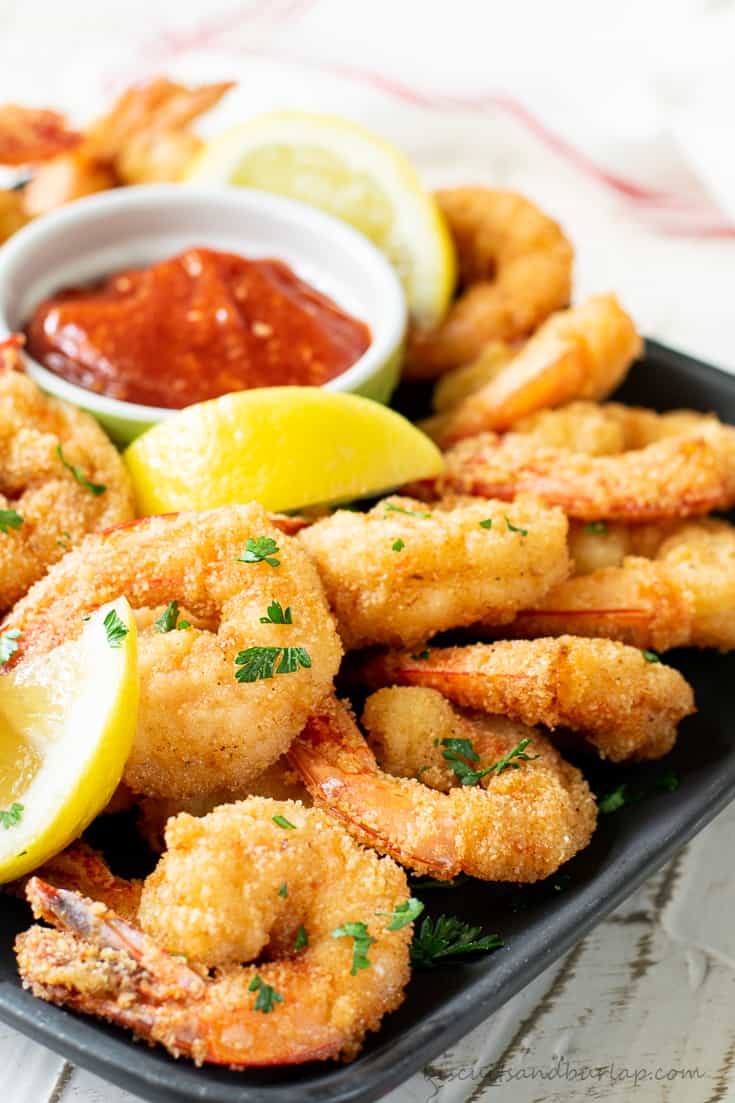 Exactly what is cracker meal?
Never heard of it? You're probably not alone, but it is just what it sounds like. Crackers have been crushed to make a meal. It's most commonly used for breading seafood, but can be used on chicken or pork, or like any other bread crumbs – as a topping for casseroles and more.
This post contains affiliate links, which means if you click on an affiliate link and buy something, we may receive a very small commission. It does NOT result in additional charges to you or cost you anything extra. Click here for our full privacy and disclosure policy. As an Amazon associate we earn from qualifying purchases.
We've been using this cracker meal made by McCormicks, but Ritz makes one also, and it's as good as you might imagine.
I've never made my own, but you can certainly do that. Just give your crackers a spin in the blender or food processor, being sure not to let them get too fine.
THIS RECIPE MADE OUR "BEST OF THE YEAR" LIST! CHECK OUT THE OTHERS HERE.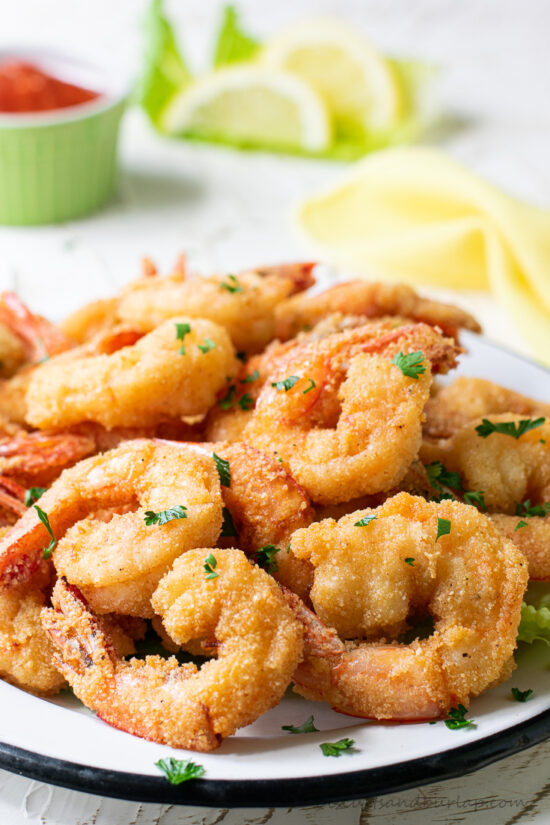 A versatile fried shrimp recipe:
We know y'all love making a recipe your own, and this is the perfect opportunity to do that.
We made ours with cracker meal, but you can use corn meal or a combination of the two. A bit of flour could be added to either as well.
Our fried oyster recipe uses all cornmeal, but it's also a traditional southern coastal seafood dish that you'll love.
As mentioned before you can adjust the seasonings to your taste. Maybe you have your own combination that you love – just add a spoonful of it to the cracker meal or cornmeal.
Leave the shrimp tails on or remove them when cleaning and deveining the shrimp. Leaving them on gives a little "handle" to hold the shrimp by when dipping in sauce. If you don't want them to be a finger food you would remove the tails.
Tips for making fried shrimp that everyone will love:
Lightly season the shrimp and let them sit a few minutes absorbing that goodness before you do anything else.
Dip in an egg/milk mixture to assure your meal (cracker or corn) will stick to the shrimp, but let the excess egg drip off first. Otherwise you will have a thick coating.
Make sure your oil is hot (about 350 degrees) before adding the shrimp and then add them slowly so they don't stick together. This also gives the temperature of the oil time to recover.
To cut down on the mess cook your shrimp in a dutch oven or other pan with deep sides. Better yet, cook outside in a deep fryer. This is similar to ours.
What dip is best for fried shrimp?
It's entirely a matter of taste. Our favorite is a simple, classic cocktail sauce. This post is all about hosting an oyster roast, but we included an easy recipe for cocktail sauce.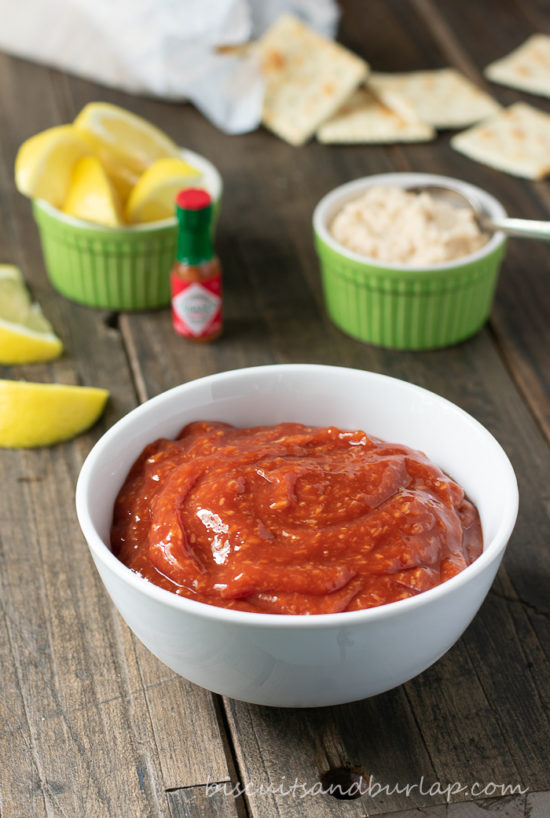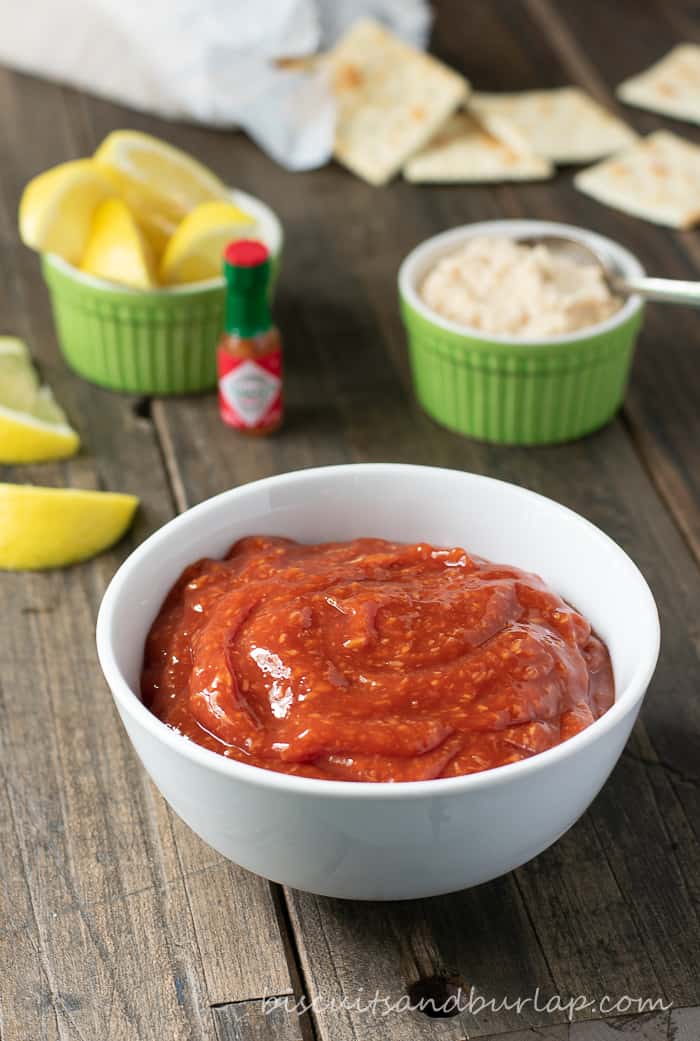 Many people love to eat shrimp with tartar sauce, but our preferred creamy sauce is Remoulade and this is a great recipe.
Of course, you can get all fancy if you want and offer a white wine mignonette sauce. It's a fun alternative to those traditional southern sauces.
A healthier version of "fried" shrimp
We've been creating healthier versions of some of our classic southern fried recipes. Air Fryer Breaded Shrimp and Buffalo Shrimp are great alternatives to this traditional recipe if you're watching your fat intake. Be sure to check them out.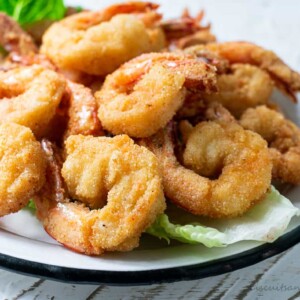 Easy Fried Shrimp Recipe
Southern style fried shrimp with a light, crispy breading.
Ingredients
1

pound

clean & deveined shrimp

1

egg

slightly beaten

¼

cup

milk or buttermilk

1

cup

cracker meal or corn meal

1

teaspoon

seasoning

Cajun, Old Bay, or a combination of salt and pepper).

vegetable oil

enough to be about 1 inch deep in pan of your choice
Instructions
Season shrimp with ½ of your seasoning of choice and set aside for about 10 minutes.

Combine cracker meal or cornmeal and remaining seasoning.

Dip each shrimp in milk mixture and allow to drain for a few seconds before coating in meal. Repeat with all shrimp.

Cook in hot oil heated over medium to medium-high heat or at 350-375 of deep fryer about 2-3 minutes or just until lightly browned.

Drain on absorbent paper before serving.
Notes
Add shrimp to hot oil gradually to allow time for temperature of oil to remain consistently hot.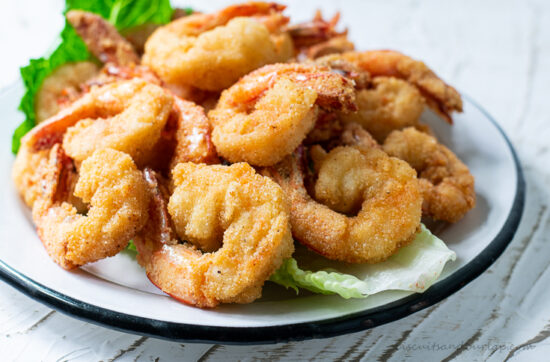 In addition to this fried shrimp recipe you'll want to check these out: