Following this simple recipe for air fryer breaded shrimp results in a delicious, healthier version of that southern favorite. In just minutes you'll be serving crispy, golden brown shrimp without all the oil!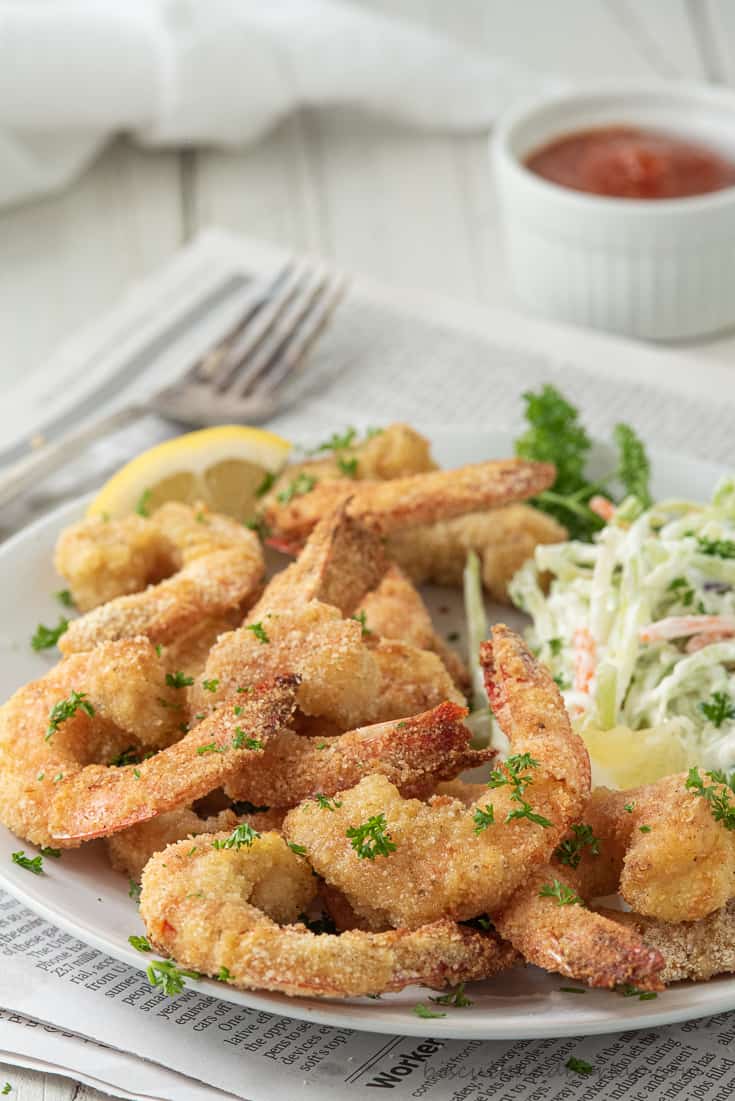 Air Fryers are perfect for making healthier southern recipes
We've said it before and we'll say it again. We do not jump to buy every new small appliance that comes on the market. We tend to stick with those that are tried and true like our slow cooker and stand mixer.
But the air fryer has definitely made its way into both our kitchens and with good reason: Our love of southern fried food is plain to see.
From the old school fried chicken like your grandma made to country fried steak we've covered a lot of those recipes. But, like many of you, we do seek out ways to improve our eating habits, and the air fryer is a huge help.
Already we've got Air Fryer Okra and Air Fryer Catfish as well as Air Fryer Lobster Tails and Air Fryer Home Fries. We're adapting more southern favorites for this awesome little appliance so be sure to stay tuned.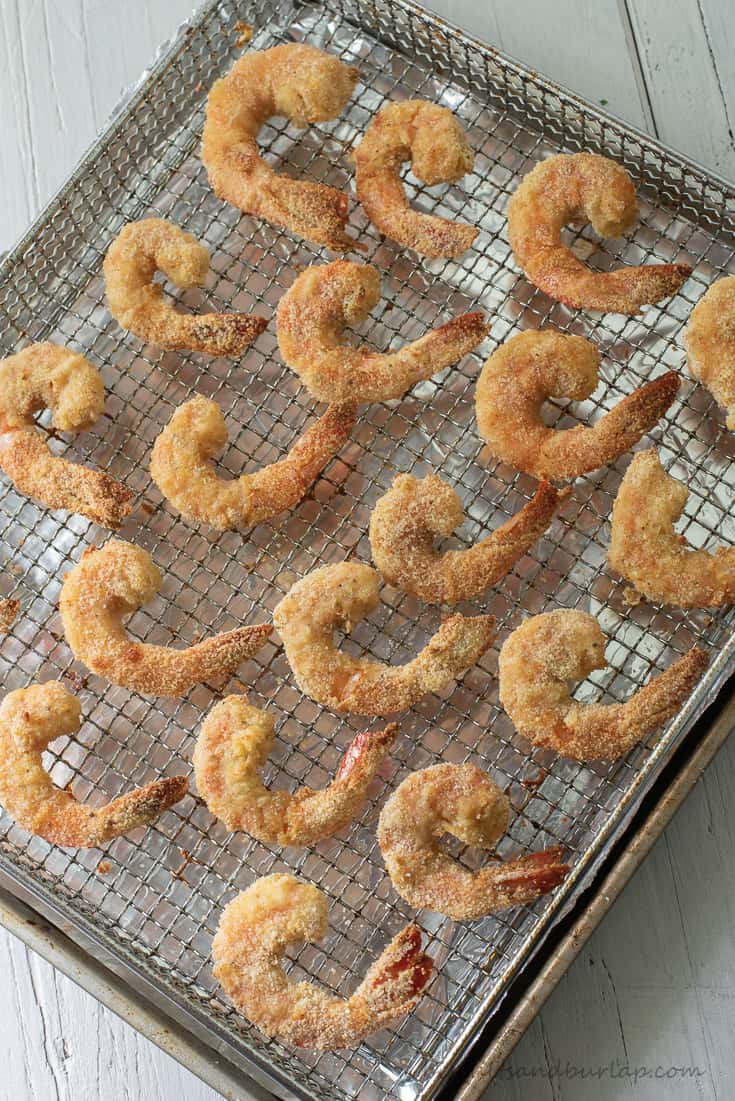 Which air fryers are best?
We haven't tried a lot of different ones, but we do each have one. Both have desirable features, depending on what your needs are.
This post contains affiliate links, which means if you click on an affiliate link and buy something, we may receive a very small commission.  It does NOT result in additional charges to you or cost you anything extra. Click here for our full privacy and disclosure policy. As an Amazon associate we earn from qualifying purchases.
Mine is made by Cuisinart and is the very popular model, TOA-60. It takes up a decent bit of counter space, but the air fryer basket (the one you see in the photo above) holds a good bit. This unit also operates as a toaster oven, traditional and convection oven.
Sara's is a smaller two quart size like you'll find on this page. It has a smaller capacity, but takes up much less space and is easy to stash when not in use. The results are still great!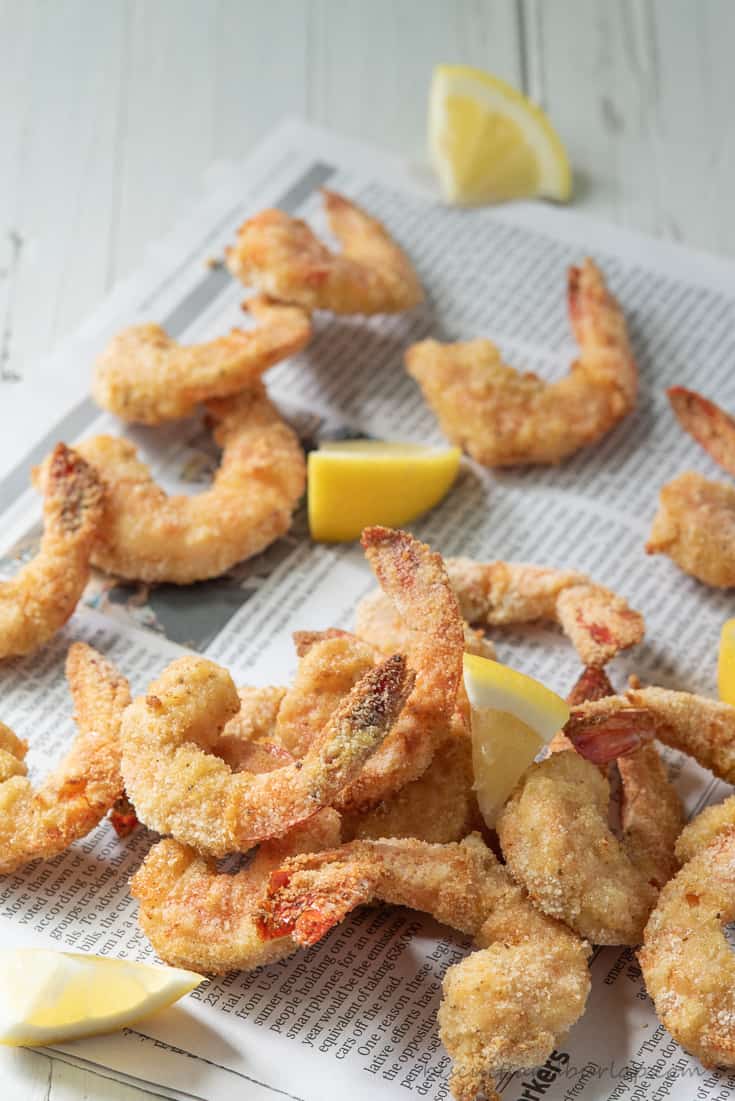 What makes these air fried shrimp southern style?
The breading makes all the difference! You won't find panko breadcrumbs or heavily battered tempura-style fried shrimp in the south. We may use a little flour, but mostly they're breaded with corn meal or cracker meal.
Never heard of cracker meal? That's the way we make our traditional fried shrimp and is what we used here, but you can use corn meal if you prefer.
And then there are the dipping sauces traditionally served in the south. Our personal favorite is a simple cocktail sauce and you can find our recipe on the article about hosting an oyster roast.
Many people like their fried shrimp with a traditional, old school tartar sauce. If that's your jam we've linked to Paula Deen's recipe. You know that woman knows her southern food.
Tips for making the best air fryer breaded shrimp
We like to use this little tool for peeling and deveining shrimp. Leave the tails on to use as a "handle" for dipping. Check out our quick deveining method here.
Give a few seconds for the excess egg mixture to drip off each shrimp before breading
Be sure to leave a little space around each shrimp in the air fryer basket
It's VERY IMPORTANT to use the right kind of oil cooking spray. Do not use the type for making pans non-stick as they have additives that can burn. We like this one with avocado oil and this one with canola oil.
Keep an eye on your shrimp. They are delicate and can get overcooked quickly. The time is going to vary according to the size of your shrimp.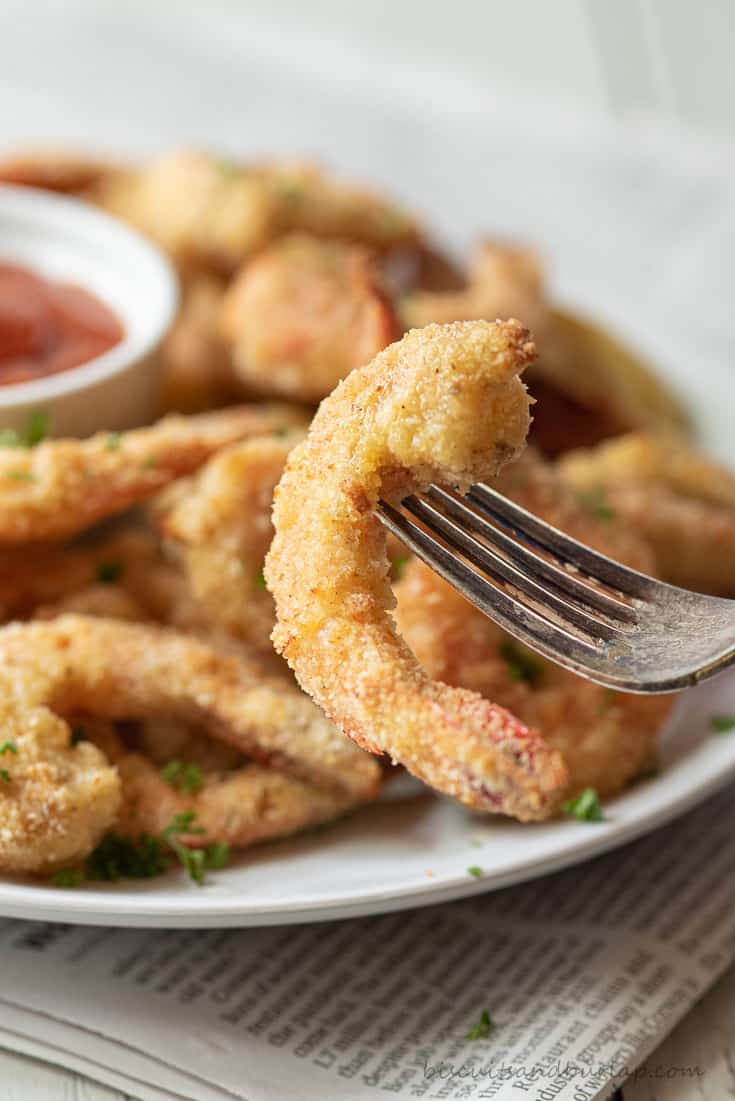 📖 Recipe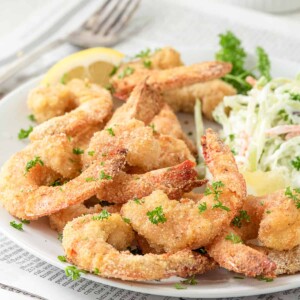 Air Fryer Breaded Shrimp: Southern Style
Following this simple recipe for air fryer breaded shrimp results in a delicious, healthier version of that southern favorite. You'll be serving crispy, golden brown shrimp without all the oil in just minutes!
Ingredients
Instructions
Mix egg and milk in shallow dish.

Mix cracker meal (or cornmeal and flour) with salt in shallow dish.

Dip shrimp in egg mixture 4-5 at a time and drain excess before laying in meal mixture.

Make sure each shrimp is coated in meal mixture and lay out on air fryer basket (which has been sprayed with oil) with space between.

Spray shrimp with light coating of oil.

Cook in air fryer at 350° for 5 minutes and then turn shrimp.

Spray with light coating of oil and cook 2-3 minutes more, watching shrimp for doneness.
Notes
For Gluten Free, use ¾ cup cornmeal and 2 Tablespoons of almond flour to bread shrimp. 
If using a smaller air fryer you will need to cook a pound of shrimp in 2-3 batches. 
Nutrition
Calories:
170
kcal
Carbohydrates:
7
g
Protein:
25
g
Fat:
4
g
Saturated Fat:
1
g
Polyunsaturated Fat:
2
g
Monounsaturated Fat:
1
g
Trans Fat:
1
g
Cholesterol:
224
mg
Sodium:
1123
mg
Potassium:
333
mg
Fiber:
1
g
Sugar:
1
g
Vitamin A:
65
IU
Calcium:
101
mg
Iron:
1
mg
Perfect sides to go with your shrimp