There is nothing more perfect on a cold winter day than a big bowl of homemade vegetable beef soup.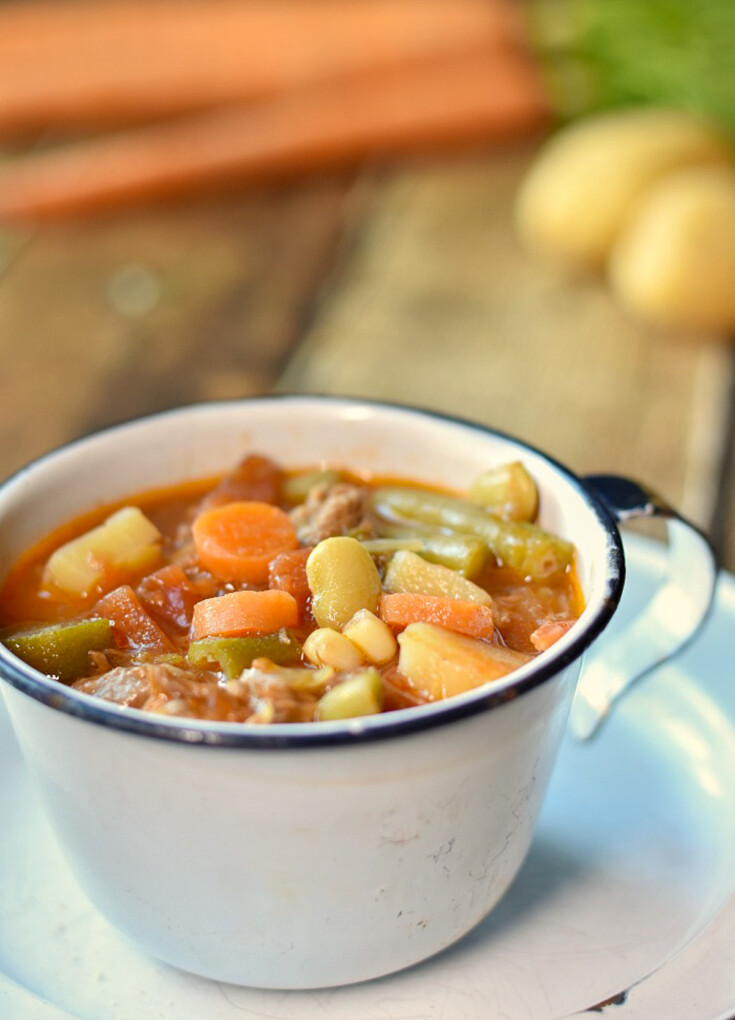 Are you curious what makes this vegetable beef soup southern style? The addition of one particular vegetable makes it special and makes it southern. In case you're not a fan - just hear me out.
Secret #1 for perfect vegetable beef soup
Okra makes a world of difference and I would never make vegetable beef soup without it. When I was a young girl, a friend's mother told me that you just couldn't make good vegetable soup without okra. She said it gave the broth "body".
In other words, if you've ever asked the question "how do you thicken vegetable beef soup?" here's your answer.
Because there are a lot of people who don't love okra I've learned over the years to disguise it, and still get that "body" in the broth of the soup. Here's how.
Just cook it a little longer until it practically falls apart. No one will realize it's actually "okra vegetable soup", but it can still work it's magic.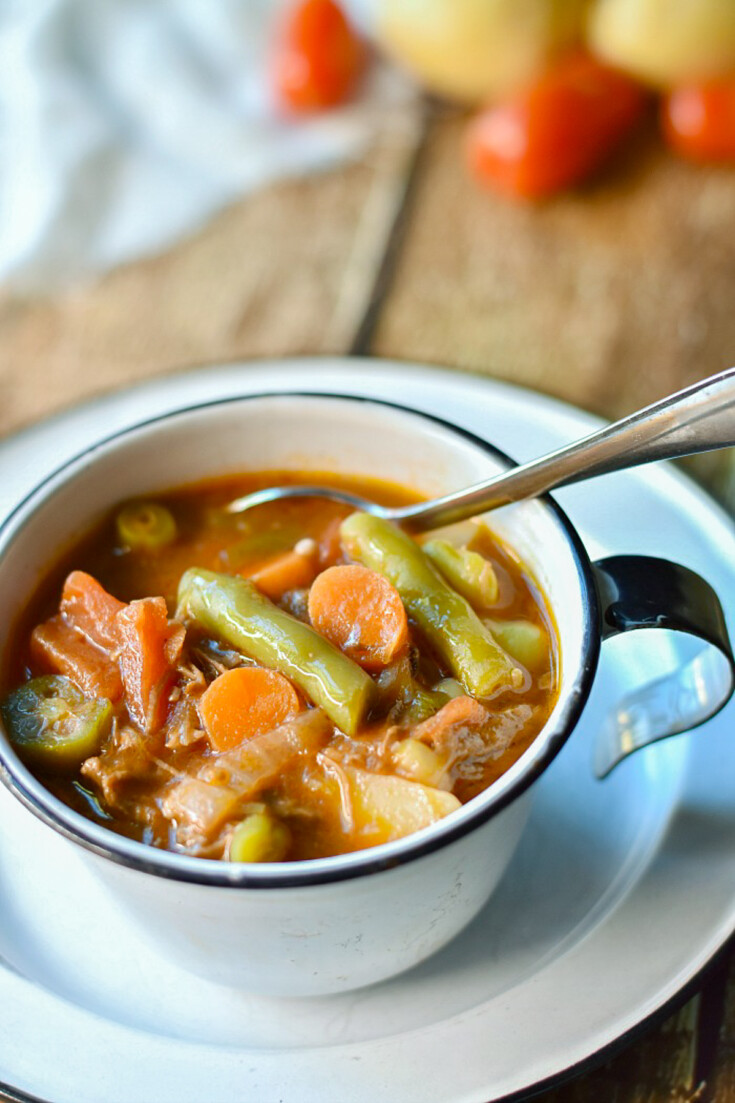 Now, if you love okra, you're thinking what a shame to cook the okra until you don't know it's there. I agree with that. My personal preference is to cook it until it's done and no more, but this secret will work if you got non-okra-lovers in your midst.
On the other hand, if you're a lover of all things southern and all things fried don't miss out on our healthy version: Air Fryer Okra is still crispy and tasty but uses only a fine mist of oil.
If you're a soup lover like we are you'll want to check out our Black Bean Soup with Ham, and easy She-Crab Soup. Italian Sausage Soup is a twist on a vegetable soup and we've given it a couple of fun southern twists.
Hey! Are you getting our weekly updates? Sign up here so you don't miss anything.
Secret #2 for perfect vegetable beef soup
If at all possible use homemade beef stock. It beats anything from a can or carton like a drum. And, it's a great way to use up beef bones and trimmings that would otherwise get thrown away.
We wrote a post a while back that gives detailed instructions on how to make beef stock. Be sure to check that out.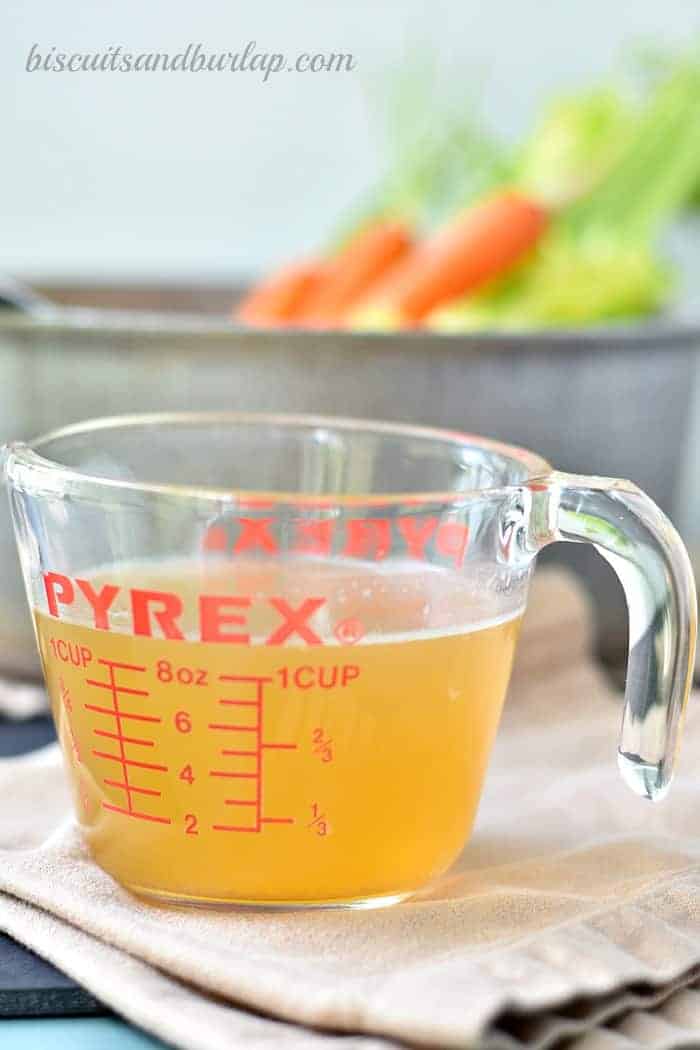 If you don't have time for making stock you can make a really good soup anyway, but do be sure to buy stock instead of broth. Do you know what the difference is between the two? Our previous post explains.
This soup is so versatile
One of the great things about making this soup is that you can use up bits of whatever vegetables you have on hand. There are certain vegetables that I always use, like the okra I mentioned above.
My typical pot of soup will have a combination of fresh, frozen and canned, but these are interchangeable, according to what you have.
I always use these vegetables in my soup:
tomatoes (the recipe calls for canned, but if you have fresh available even better)
okra (I usually have a bag in the freezer, but again, if you have fresh that's awesome)
onions
potatoes give the soup some staying power in your belly
I typically use these vegetables in my soup also:
lima beans
green beans
corn
carrots
Other veggies that would be good to add to soup:
cabbage
collard greens or kale
zucchini
peppers
celery
peas of any kind you like
If you love southern traditions like using bits and pieces to make a wonderful dish you'll want to read Southern Food Then and Now.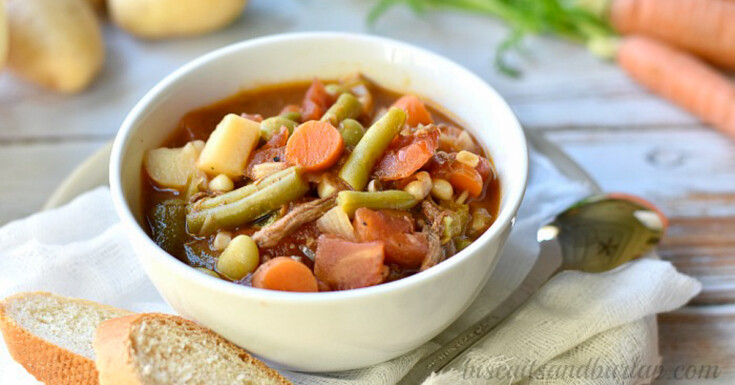 This post contains affiliate links for your convenience. Click here to read our full privacy and disclosure policy.
Easy tips for making the best old fashioned vegetable beef soup ever!
Cooking time for the beef will depend on the size of the beef pieces. If running short of time, the beef can be cut in pretty small pieces and they'll cook more quickly
Add the vegetables in order of how long it takes to cook them so the more tender vegetables don't get overcooked (except in the case of the hidden okra - see above)
The amount of stock is approximate. If needed you can add more, but if you run out and the vegetables aren't quite covered, add a little water. It's still a rich soup, and will be delicious
If beef isn't your thing or you just want a change of pace you can make this equally delicious and easy Chicken Vegetable Soup. It has a secret seasoning blend that makes it even easier. If you have extra vegetables left over, our Vegetable Au Gratin uses whatever you have on hand and has a cheese sauce everyone will love.
Serve it with a delicious bread like Skillet Focaccia Bread. You're not going to believe how quick and easy it is and your house will smell fabulous! Another great bread option is Asiago Cheese & Black Pepper Biscuits.
For something even heartier you'll want to check out this Guiness Beef Stew Recipe.
For a fun and quick look at this recipe check out the Google Web Story.
📖 Recipe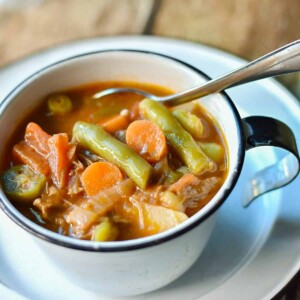 Southern Vegetable Soup with Beef
What could be better on a cold winter day than a steaming bowl of vegetable beef soup?
Ingredients
1

Tablespoon

vegetable oil

1

medium onion

chopped

½-3/4

pound

stew beef

cut into bite sized pieces

32-48

ounces

beef stock

¾

cup

carrots

sliced

1

cup

okra

sliced

¾

cup

baby lima beans

28

ounce

canned tomatoes

¾

cup

corn

frozen, fresh or canned

1

cup

potatoes

diced

8

ounce

can green beans

1

Tablespoon

salt (or to taste)
Instructions
Brown onion in oil over medium heat until soft and translucent, and then set aside.

Brown beef in the same pot and then add beef stock to cover beef.

Cover and and bring to a boil. Reduce to simmer and cover.

Simmer until beef is tender approximately two hours (but can vary according to the size of the beef pieces).

Add carrots and okra and more stock to cover. Bring back to boil. Reduce heat and simmer 10 minutes.

Add onions, lima beans and tomatoes and more stock if needed. Cook additional 10-12 minutes.

Add corn, potatoes and green beans, and more stock if needed. Cook until potatoes are tender.

Taste for saltiness and add salt if needed.
Notes
Stock amount is approximate. If more liquid is needed to cover vegetables you can use water. 
Nutrition
Calories:
238
kcal
Carbohydrates:
34
g
Protein:
18
g
Fat:
5
g
Saturated Fat:
1
g
Polyunsaturated Fat:
2
g
Monounsaturated Fat:
2
g
Trans Fat:
1
g
Cholesterol:
23
mg
Sodium:
1767
mg
Potassium:
1314
mg
Fiber:
7
g
Sugar:
10
g
Vitamin A:
3202
IU
Vitamin C:
36
mg
Calcium:
101
mg
Iron:
6
mg
If you enjoyed this recipe check these out too. You'll find something else you love.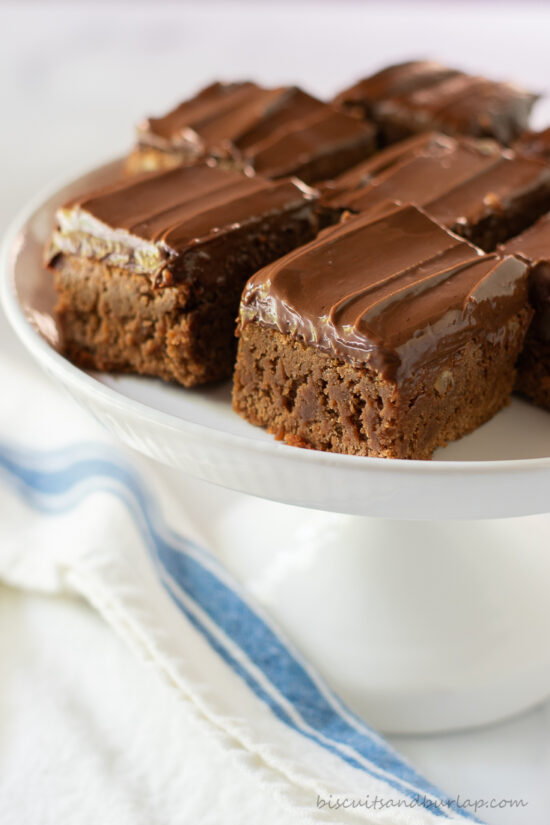 Don't forget to sign up for your weekly updates so you don't miss any recipes. You can do that here.
See y'all next time!