Do you know the difference between beef stock and broth? The short and sweet version is that stock is made with bones and broth is not.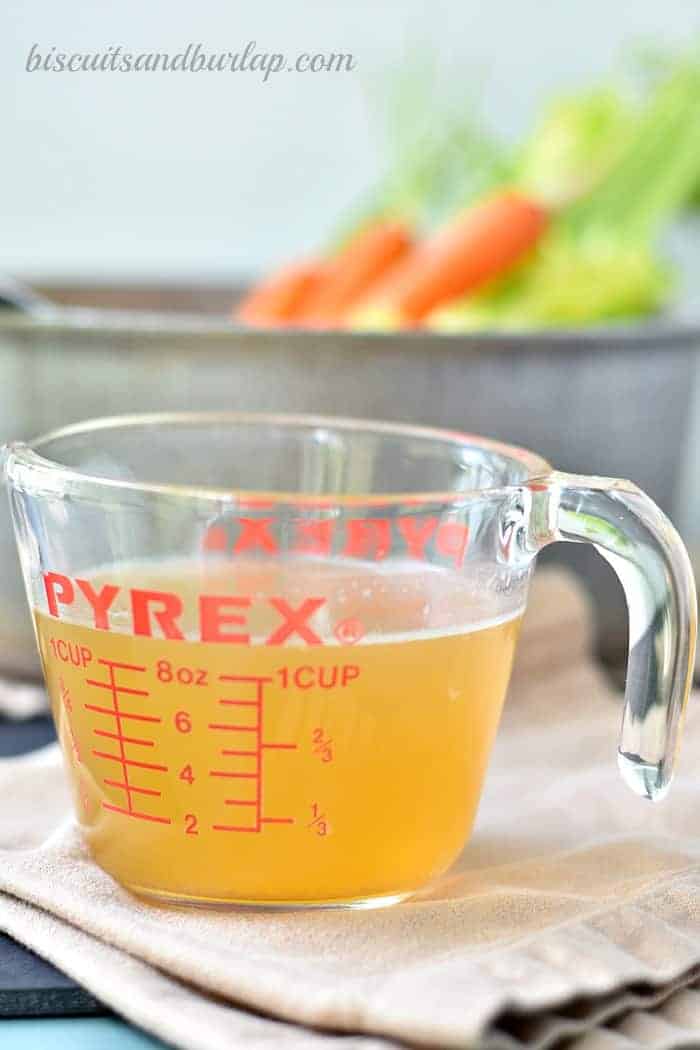 When to Use Beef Stock
That being said stock and broth can be used interchangeably and either is always better than plain water. In fact, my Daddy used to say that you should substitute stock or broth in any savory recipe that calls for water. I'm not sure that's 100% true, but I'd definitely give it consideration anytime I can. Soup that calls for water? Definitely use stock or broth. Gravy? Yup. Stews? Absolutely. Our Southern Vegetable Soup with Beef is a perfect example.
How to Make Beef Stock
The bones in the stock give it a richer, heartier flavor and more body. Also, we use vegetables when making homemade stock giving it even more richness.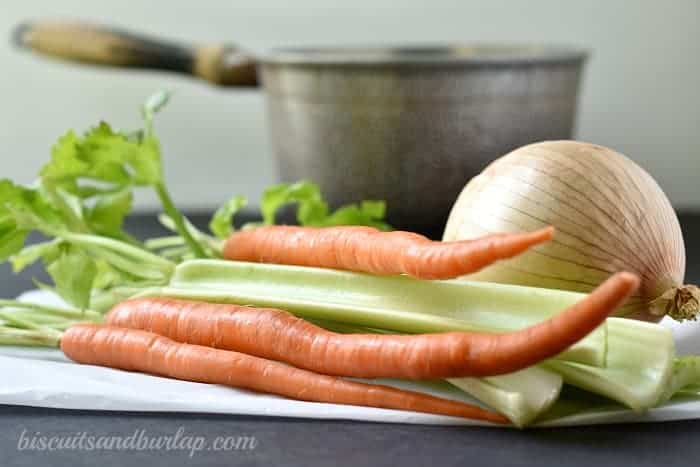 You will be surprised that making beef stock takes so little hands-on time. It's literally something you can throw in the pot and let simmer a few hours and it's done. In fact, I've seen some instructions on making it in a slow cooker. I haven't tried that, but I'm sure it would be good done that way — it would just slow cook all day.
Are you getting our weekly updates? That's the easiest way to make sure you never miss a post. Sign up here.
Where to Get the Bones
For this batch of stock we used rib bones trimmed off a standing rib roast, but any bones will do. Don't throw those bones away! You will end up with something better than anything you can get out of a can or carton and you'll be amazed at how delicious your soups, stews and gravies are made with your own homemade beef stock.
You can also ask your butcher to save you the bones he trims. Can you imagine how many bones get thrown away in the meat department at your grocery store? It's just sinful!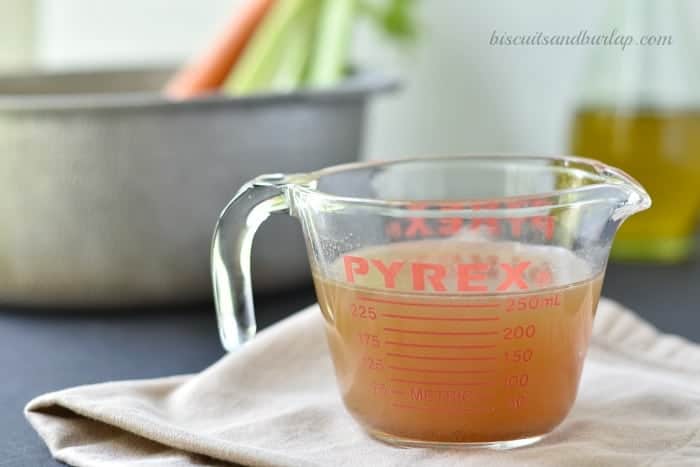 What About Chicken Stock?
It's the same basic principle, of course. Though I have to admit that anytime I boil chicken for a recipe I save the the "broth". Whether the chicken had bones in it or not I call it broth, and I guess technically it's stock, right? That being said, if it's not simmered for a long time with vegetables added maybe it's not? We could make up a new name for it — "brock?" or how about "stoth?"
I did find a recipe/tutorial for you on making Chicken Stock. You can check it out here.
As you see, the lines can be blurred between stock and broth. But the bottom line is that it will take you very little time, effort and money to end up with stock that will enhance the flavor of so many dishes you make.
📖 Recipe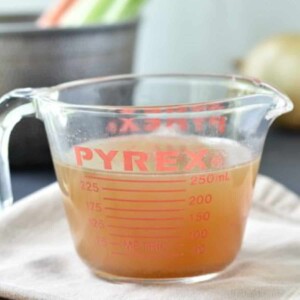 Homemade Beef Stock
So much better than anything out of a carton or can.
Ingredients
Beef Bones

1

Tablespoon

olive oil

2

stalks

celery, cut into 3 or 4 pieces

1

onion, quartered

1

teaspoon

freshly ground black pepper
Instructions
Brown the bones in olive oil over medium high heat in dutch oven.

Remove bones from pot and set aside.

Pour in 2 quarters of water or until dutch oven is ½ to ⅔ full.

Scrape browned bits from bottom of pot.

Reduce heat to low and add vegetables and pepper.

Return bones to pot and cook over very low heat 2.5 to 3 hours, skimming impurities from surface occasionally.

Strain through fine mesh strainer or cheese cloth.

Refrigerate until cool and then skim any fat off the surface.

Freeze in airtight container or refrigerate for up to 10 days before using.
Don't forget to sign up for our updates right here.

Other Recipes You Will Love!