This chewie recipe is for those delectable treats also known as Charleston Chewies or Pecan Chewies. Whatever name they're called, these simple sweet bars are well loved for their buttery pecan goodness and pure, simple ingredients.
What is a Pecan Chewie?
Simple ingredients found in most pantries are what you find in a Charleston Chewie. They're made into golden brown bars that pair so well with a cup of coffee or a glass of milk. The predominant flavors are butter, pecans and brown sugar.
Some sources in the lowcountry give the Gullah community credit for these treats. We couldn't argue that case one way or the other, but we do love learning about the Gullah culture, and even have a Gullah Red Rice recipe and one for Sweet Potatoes here on our site.
In developing our chewie recipe I read the details of many others. The one thing I found in common is that the butter is melted before stirring the ingredients together.
All have brown sugar, though some do have a combination of brown and plain granulated sugar. I chose to use all brown sugar in this chewie recipe to give it a rich flavor.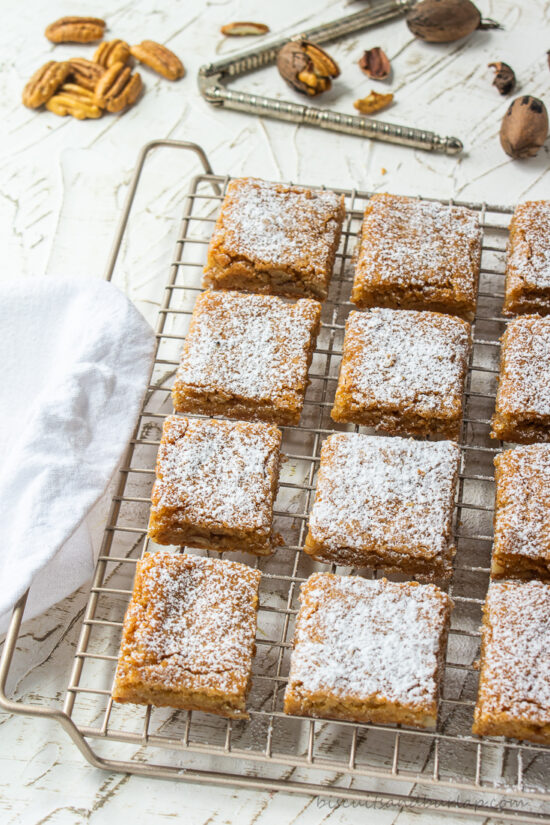 Dust with powdered sugar or not?
That's entirely up to you. They're delicious either way, but a dusting of confectioners (or powdered) sugar does dress up lots of sweet treats and gives them a polished look.
Skillet Hot Fudge Pudding Cake is one of our most popular recipes and it is similar to this chewie recipe in that it is made with pantry ingredients. Chocolate lovers are crazy about it no matter what, but it does look especially appealing with that dusting on top.
See what I mean? Good looking enough to dive right into, but these pecan chewies are just a little prettier with that white sprinkle.
Pecans make the chewie recipe what it is
If you don't love pecans, but do love walnuts you could certainly substitute them, but what you end up with wouldn't be a "Pecan Chewie". I'm sure it would be tasty, but here in Georgia, and in South Carolina where this recipe originated, pecans are the king of nuts!
We love pecans so much and have so many recipes for them that we finally rounded them all up in one place. Just remember – they're not just for desserts. Pecans are wonderful on salads, in breads, and even as a breading for protein. Our collection of pecan recipes can be found here.
For a really special treat serve your chewies with a cup of White Chocolate Mocha. It's an easy Starbucks copycat that you're going to love!
For a more detailed look at our favorite cuisine be sure to check out Southern Food: Then & Now.
On to the Charleston chewie recipe…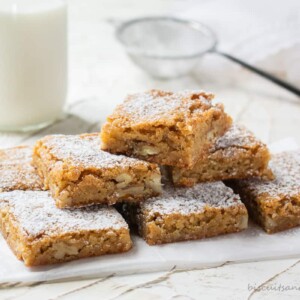 Charleston Pecan Chewie Recipe
Made from simple ingredients like brown sugar, butter and pecans, these chewies stir up in just minutes and will become a family favorite.
Ingredients
Instructions
Line a 9×13 inch baking pan with parchment paper or spray with non-stick spray.

Melt butter over medium low heat.

Mix brown sugar and flour in large mixing bowl.

Pour melted butter into the large mixing bowl and combine. Add vanilla, eggs and pecans, stirring until well combined.

Bake in prepared pan at 325 degrees for 30-35 minutes. Cool completely before dusting with confectioners sugar and cutting into bars.
Notes
If self rising flour is unavailable, you can substitute according to the directions on our Buttermilk Biscuit post. 

More sweet treats to try