An amazingly simple recipe for chocolate covered pecans uses just 4 ingredients. They make the perfect from-the-heart gifts for any occasion or no occasion at all!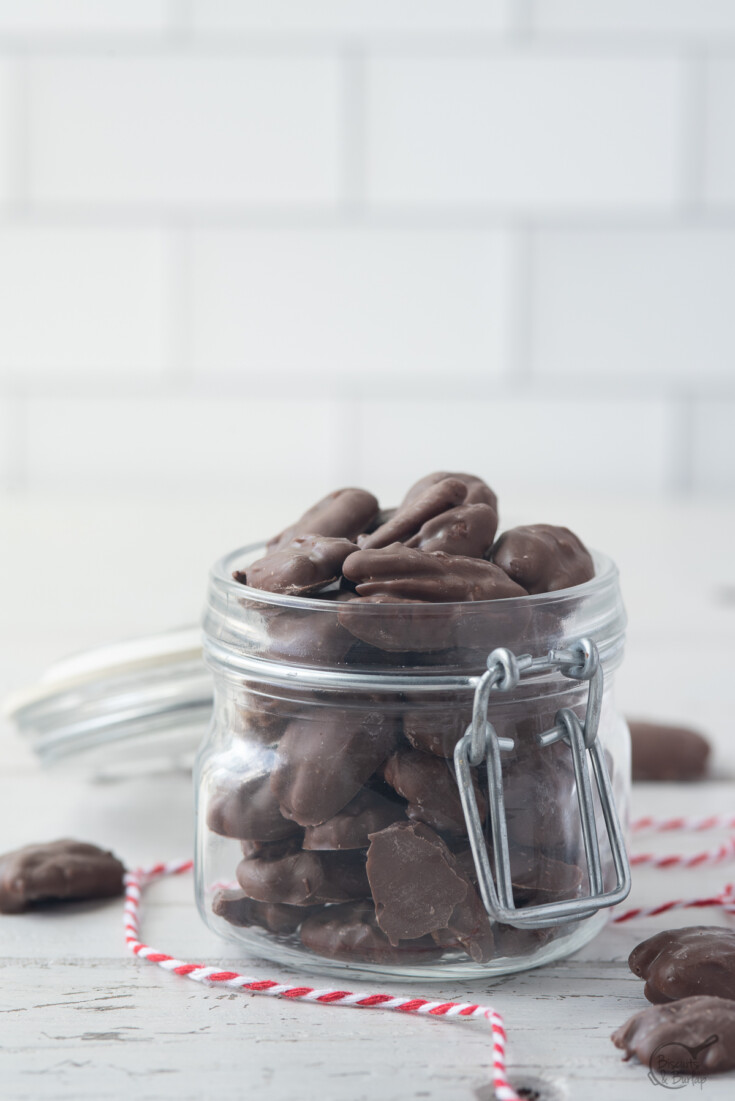 Jump to:
Why you'll love this recipe
It's easy! There is no tempering of the chocolate required, no fancy equipment and no long list of ingredients.
It's fun to make. I mean, really - who do you know that makes homemade chocolate covered nuts? You'll have a blast and everyone will think you're a rock star!
You'll end up with a delicious snack to serve or give as gifts (more food gift ideas here) and it's made from your heart. Everyone appreciates an effort like that, and they don't have to know how little effort it really took.
These nuts are mind-blowingly delicious!
The key ingredient
You don't want nuts that melt in your hand as soon as you pick them up. You also don't want to end up with that white "bloom" on your chocolate. The way to get the best gourmet type candy coated nuts is to start with the right kind of chocolate.
There are products specifically designed for melting and dipping or coating and that's what we recommend you use. Our favorite is made by Ghiradelli and they know their chocolate!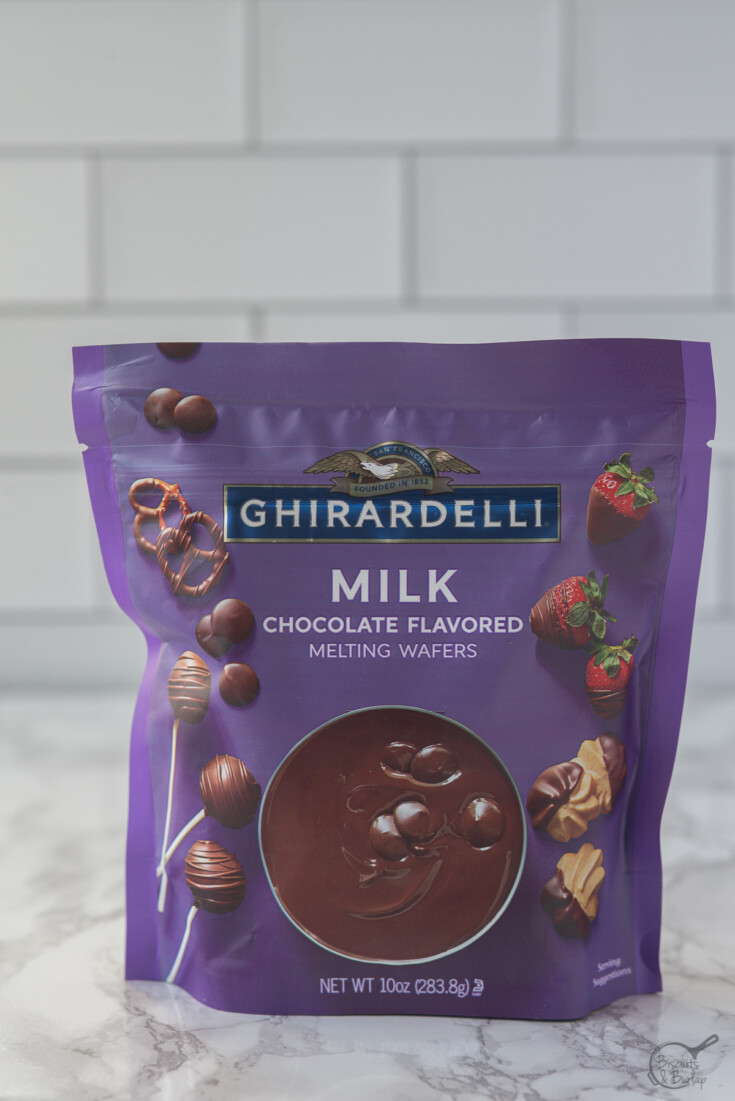 This post contains affiliate links, which means if you click on an affiliate link and buy something, we may receive a very small commission.  It does NOT result in additional charges to you or cost you anything extra. Click here for our full privacy and disclosure policy. As an Amazon associate we earn from qualifying purchases.
Ghiradelli calls theirs melting wafers. You may wonder "Are melting wafers the same things as candy coats?" The answer is yes. They both refer to candy formulated especially for this and you should be fine with any of the brands.
Can I use other flavors of chocolate?
Why, yes, of course. You know we always like to encourage versatility with our recipes and this is no exception.
We've made ours that you see in these photos with milk chocolate, but you could also use dark chocolate or white chocolate and Ghiradelli makes their melting wafers in all three flavors. Click the links above to go straight to Amazon for ordering.
Can I use other nuts?
Well, sure you can. Being Georgia girls, pecans are king around here. We make recipes like classic Southern pecan pie, Brown Butter Pecan Cookies, and Charleston Chewies, but we're also known to toss pecans on a green fall salad and stir them in chicken salad with apples.
You can certainly buy your pecans at your neighborhood grocery store and that would be fine. However, when we know we want nice pecan halves with great flavor like this recipe and the one for Ritz Carlton Spiced Pecans we have a recommended source.
Georgia is the state producing the most pecans and there's a reason for that. Our pecan farms generate crops with amazing quality.
Two that we have personally used and recommend are Pearson Farm and Schermer Pecans and they both offer mail ordering for consumers. We are not affiliated with either in any way except that we know and love their pecans!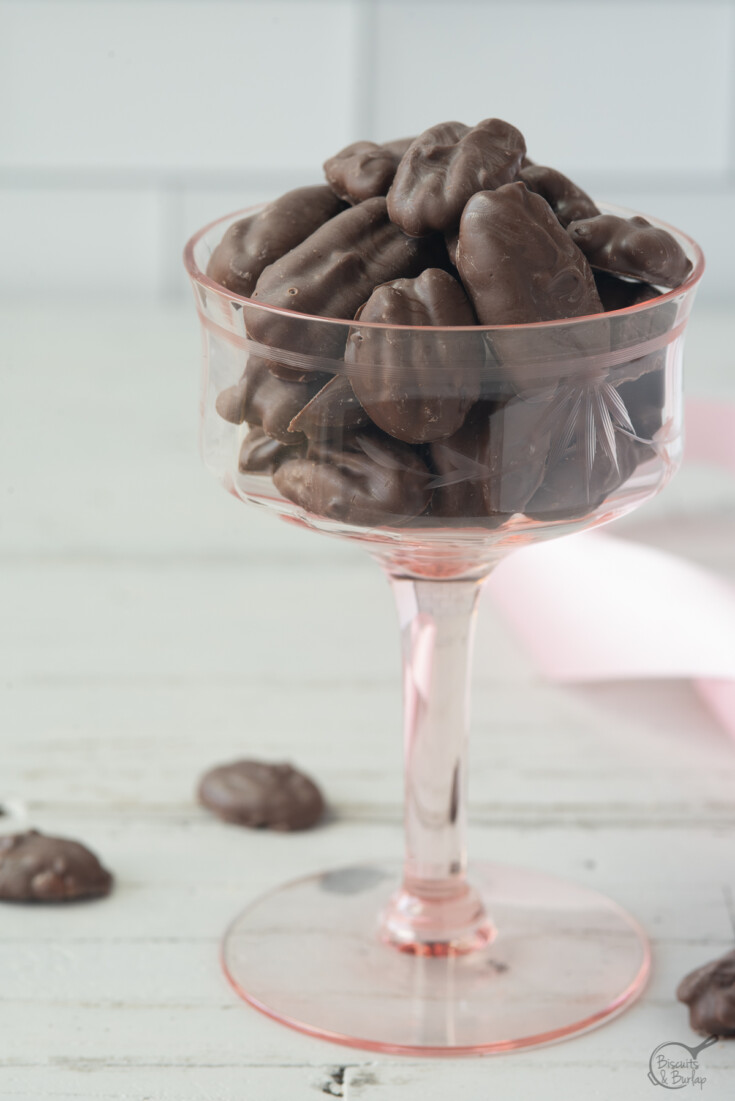 After saying all of that, the answers is still yes - you can make chocolate covered walnuts, almonds or cashews with this recipe. The smaller nuts like almonds or cashews would be a bit different to handle than the ones like pecans and walnuts with large halves. You may even want to make them into small clusters, but they would be wonderful.
How to make chocolate covered pecans (video below)
Start out by lightly toasting the pecan halves. You'll lay them on parchment paper on a baking sheet with a little butter. They go into the oven just long enough to melt the butter and then toss to coat with the butter. Sprinkle with salt, toss again, and then toast according to the recipe.
Let the pecans cool completely.
Melt the chocolate wafers according to the package directions (we do 30 seconds at a time at half power in the microwave, stirring after each interval).
Drop your pecans a few at the time into the melted chocolate, stirring to completely coat.
Remove and lay separated on a new sheet of parchment. For easiest removal from the chocolate we like to use kitchen forceps/tweezers or a clean pair of needlenose pliers.
To make your nuts look pretty you can trim around the edges with a knife after they're completely cooled and the chocolate is set.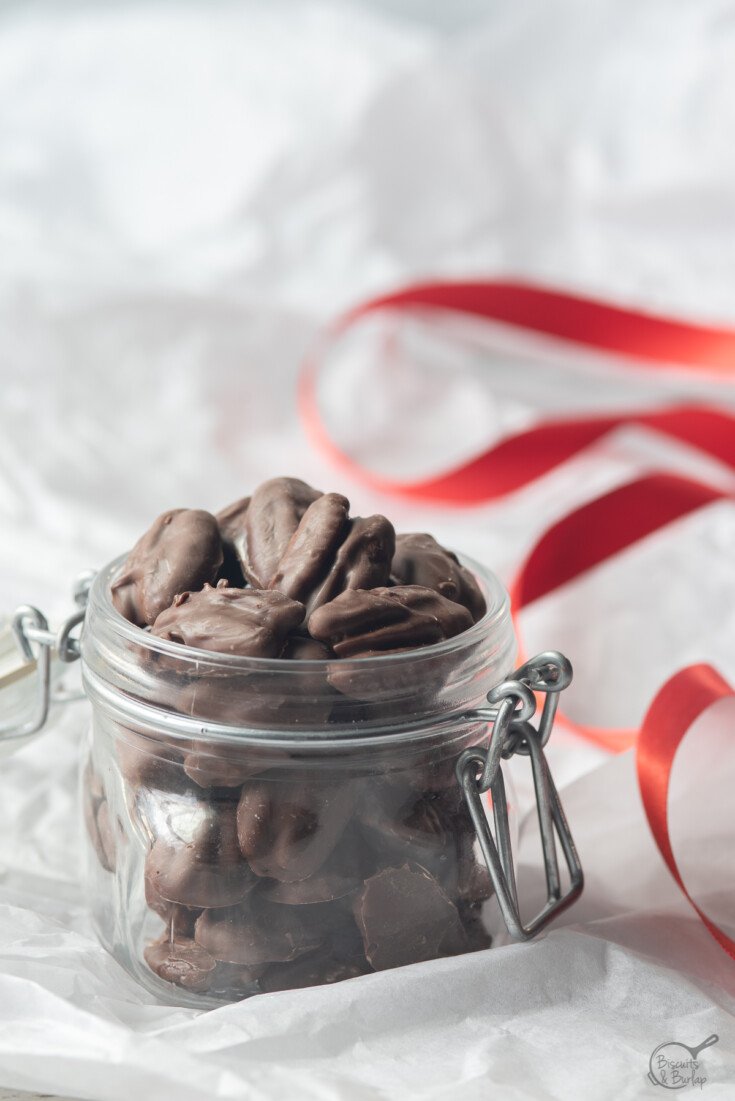 How long will your chocolate pecans keep?
We've kept them on the counter at room temperature for 5-7 days with no loss in quality. If you want to give them packaged up as gifts for Christmas or Valentines Day that's good to know.
For longer storage, keep them in the refrigerator, covered tightly. They should be fine for two to three weeks at least.
We have not tested freezing our chocolate pecans.
For a quick and fun look at this recipe check out the Google Web Story.
📖 Recipe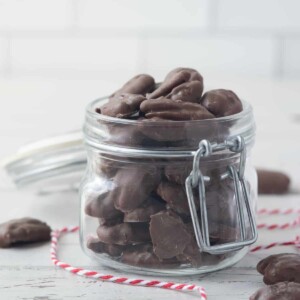 Chocolate Covered Pecans
An amazingly simple recipe for chocolate covered pecans uses just 4 ingredients. They make the perfect from-the-heart gifts for any occasion!
Ingredients
½

pound

pecan halves

4

teaspoons

butter

½

teaspoon

salt

10

ounces

chocolate melting wafers
Instructions
Place pecan halves on baking sheet on parchment paper with butter cut into small pieces.

Put baking sheet in 350 degree oven just until butter melts and then remove.

Toss pecans with butter to coat and then sprinkle with salt. Toss again to coat with salt.

Toast pecans at 350 degrees for 5 minutes and then toss again. Toast additional 3-5 minutes or until fragrant. Remove from oven and cool completely.

Melt chocolate melting wafers according to package directions - usually in 30 second intervals at 50% power, stirring after each interval until melted and smooth.

Drop pecans in chocolate a few at the time, stirring to completely coat and then removing with forceps or needlenose pliers.

Allow excess chocolate to drain off for 2-3 seconds each and then lay flat on clean parchment paper until chocolate is firm and set.

If desired excess chocolate can be trim from around edges of pecan halves with sharp knife.
Notes
Milk chocolate, dark chocolate or white chocolate can be used.