These brown butter cookies with coconut and chocolate chips are taken to the next level by adding brown butter and sea salt.
Like a lot of you, we've been going nuts lately for brown butter anything. These cookies with coconut and chocolate chips go beyond your typical recipe.
The brown butter gives a subtle twist that only brown butter can add. A light finish with sea salt creates that complex sweet and salty marriage of flavors that everyone loves.
About brown butter
A while back we wrote an entire post on brown butter. If you've never made it, don't worry – it's easy. However, it does require that you keep your eye on it.
If you take it off the heat too soon you've just got melted butter. Leaving it too long gives a scorched flavor and smell.
If you watch carefully and get it just right, though, there is nothing like it. Be sure to visit that previous post for our tips on making perfect brown butter and a whole collection of recipes using it.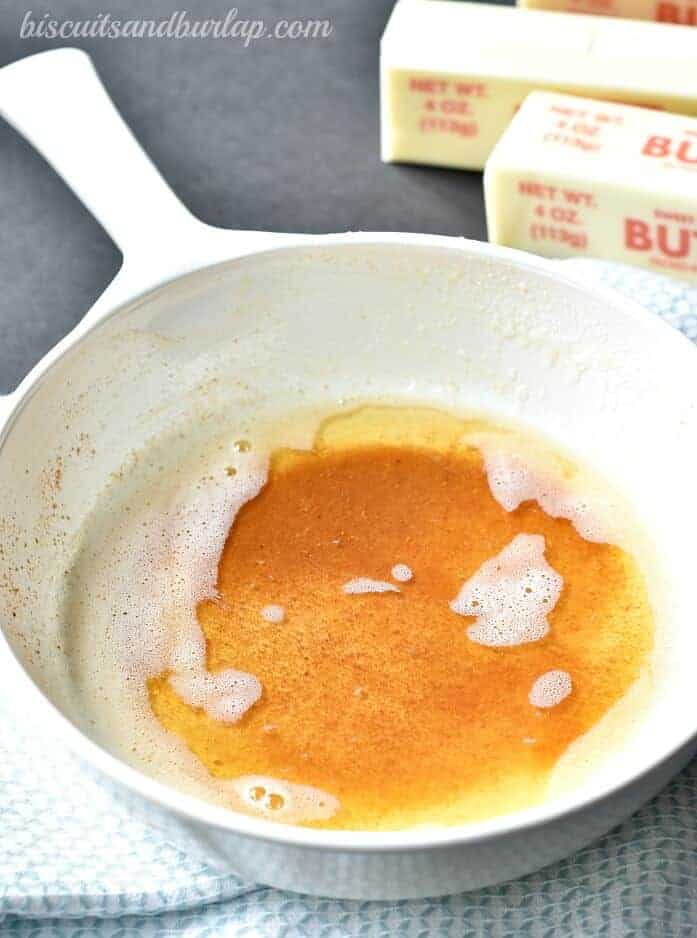 These cookies are not just about the brown butter, though. Clearly, you can never go wrong with semi-sweet morsels. Additionally, we gave them a unique twist with the coconut, but with a light hand, so it's not overpowering.
Cookies that aren't overly sweet
The recipe makes 24 medium sized cookies, but uses only ¾ cup of brown sugar. Coconut adds a touch more sweetness and the semi-sweet chocolate morsels are, well, semi-sweet. Overall, you have no doubt that this is a cookie, but the sweetness is just right and that's the case with our Red Velvet Crinkle Cookies too.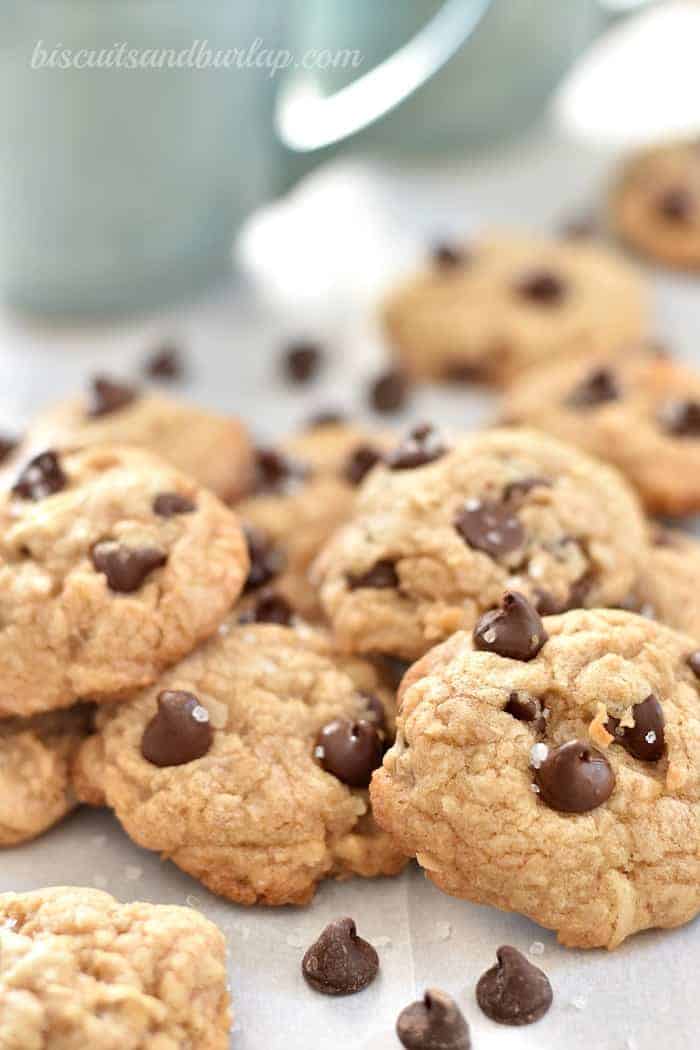 The crowning touch of these Cookies with Coconut and Chocolate Chips?
Without a doubt, it's a light sprinkling of sea salt. Now, you can certainly leave the sea salt off if you prefer. Definitely, sprinkle with a light hand.
But we think that the sea salt gives a perfect salty-sweet twang that just cannot be beat. Think candy-coated pretzels – only better.
If you love small bite sweets like we do you're also going to love Orange Cupcakes with Cream Cheese Orange Frosting.
Another favorite cookie recipe of ours are these Red Velvet Crinkle Cookies and they are so perfect for Christmas or Valentines Day.
Best tips for getting perfect cookies every time:
Check out our complete post on brown butter
Use parchment paper or silicone mats for even cooking and no-stick quality
Use coarse or flaky sea salt
Mound the dough slightly in a tablespoon measuring spoon for just the right amount
2 or 3 chocolate chips pressed into the top will make your cookies prettier
Sprinkle the sea salt immediately after the cookies come out of the oven
Chilling the dough for about 30 minutes makes it easy to handle but not too hard (it's still a stiff dough). The chill time also keeps the cookies from spreading too much.
These brown butter cookies with coconut and chocolate chips are easy, not too sweet, unique and delicious.
Cookies with Coconut & Chocolate Chips, Brown Butter & Sea Salt
Instructions
Stir together in medium bowl, flour, baking powder, salt and cornstarch.

In small skillet (preferably light colored), melt butter and then cook over medium heat, until a golden brown color. Remove from heat immediately.

Pour browned butter in a large bowl. Add sugar and vanilla and mix well.

Add dry ingredients and mix until well combined. This will be a stiff dough.

Stir in chocolate morsels and coconut.

Chill the dough for approximately 30 minutes.

Scoop out with measuring tablespoon, mounding slightly and place mounds onto cookie sheet lined with parchment paper or silicone sheet.

If desired, press 2 or 3 more morsels onto top of cookie.

Bake at 375 for 12 minutes.

Remove from pan and immediately sprinkle lightly with sea salt.

Cool on pan 3 to 4 minutes and then move to cooling rack.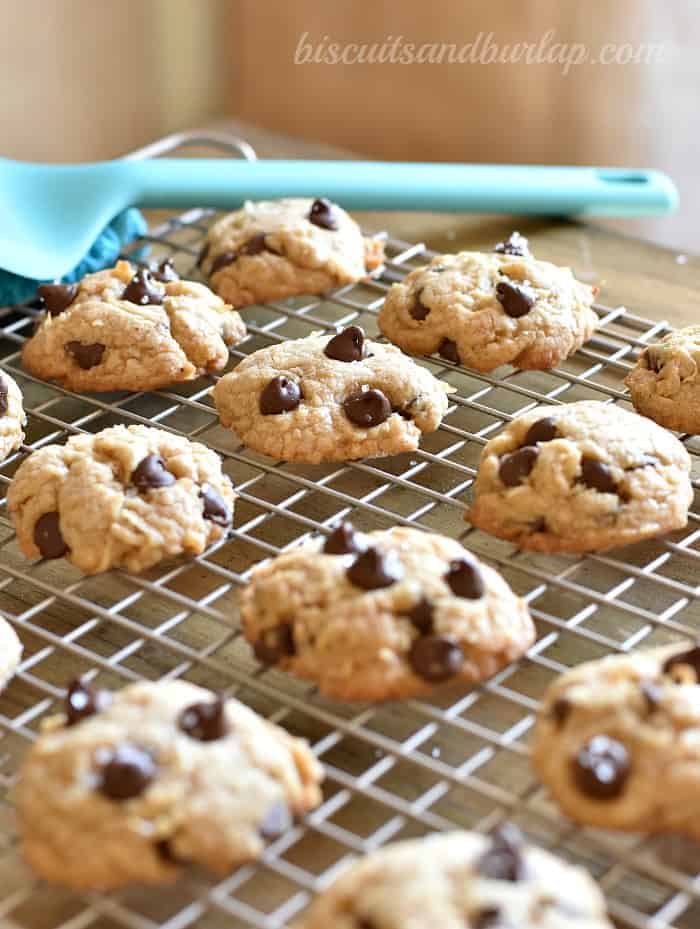 Y'all, don't forget that you can sign up here for our updates. We promise to treat you like family.
You'll Love These Recipes Too
See y'all next time!