Black Bean Soup is a great way to use leftover ham, but the ham can be left out for a delicious vegetarian version.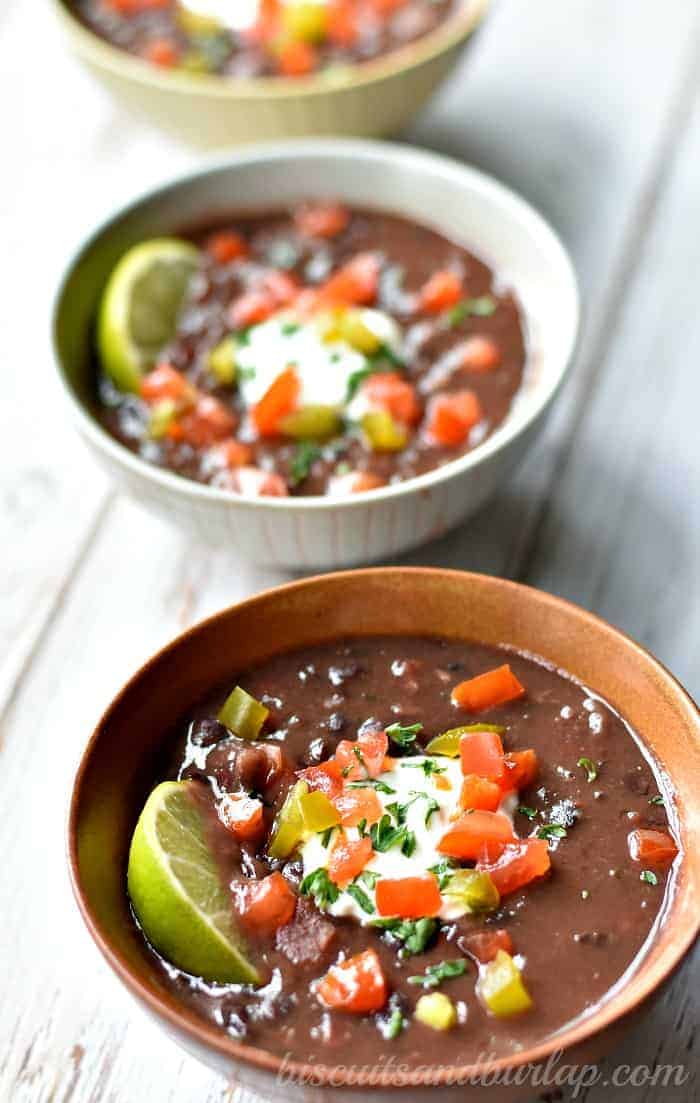 Black Bean Soup is a hearty soup that is perfect for cool weather. Versatility is one of the reasons we love it. Leftover ham gives this soup an extra layer of flavor and makes it even heartier, but it makes a mouthwatering vegetarian version too. You would just substitute veggie stock for the chicken stock and leave out the ham. Another great recipe if you've got leftover ham is Ham and Potato Frittata. 
Besides the ham you can easily adjust the amount of spice according to your family's preference. If you've been around Biscuits and Burlap for any length of time you know that we love some heat in our food. We realize, though, that not everyone feels that way, and it's simple enough to tone down the kick, while still keeping all the yummy flavor.
Black Bean Soup is So Pretty
Okay, that's a joke. Truthfully, it's another one of those tastes-great-but-not-so-pretty brown foods. It's difficult to photograph and make it look as good as it tastes – just like Iron Skillet Hot Fudge Pudding Cake. So, either we enjoy challenging our photography skills, or maybe we just like to eat good tasting food, regardless of how it looks.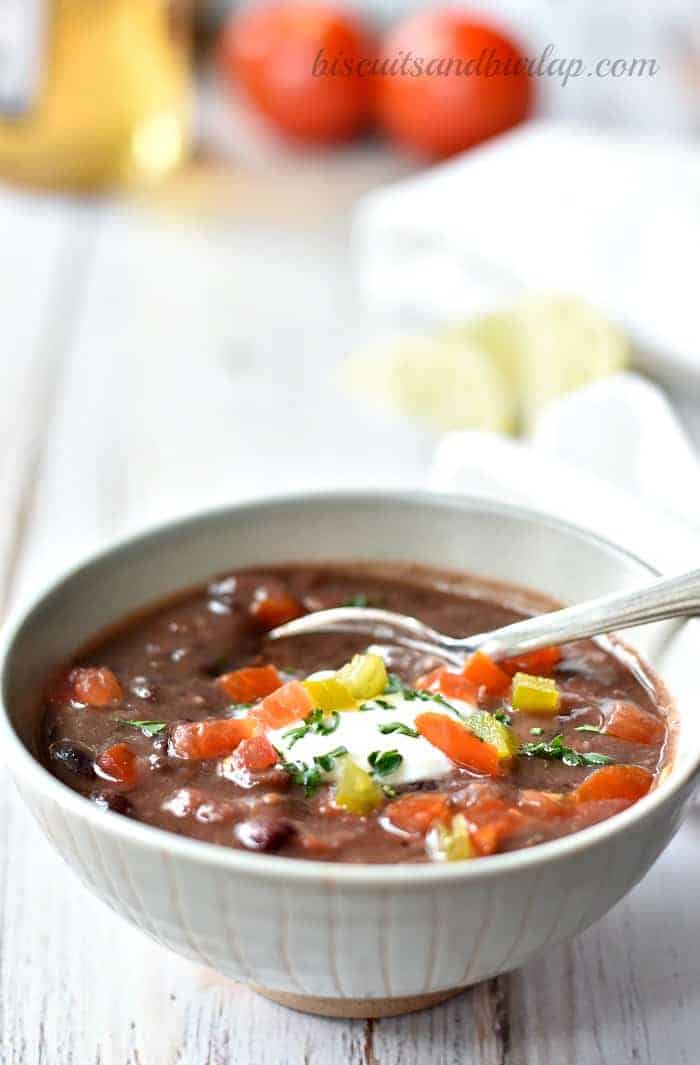 Garnish is the key for embellishing the looks of our not-so-attractive friend. Here are a few ideas for toppings:
diced tomatoes
sour cream
chopped jalapenos (pickled or fresh)
herbs such as cilantro or parsley
diced onions
crushed tortilla chips
grated cheese
However, if you don't have time for garnishments, or just plain don't give a darn, leave them off. You're probably not going to be taking pictures of yours, right? It's still bound to be one of the tastiest bowls of soup you've ever had. Who cares that it's not the prettiest kid on the block. And, do you know what would be perfect with this soup? Sweet Potato Biscuits! They are the best ever!!!!!
Are you signed up for our weekly updates? Don't miss a recipe by signing up here.
Black Bean Soup is Quick, Easy & Quite Healthy
From beginning to end you can have it on the table in under an hour. I love that! Of course, if you want to make it ahead of time that's fine too. When you get ready to eat, just heat it up. Additionally, it freezes quite well. I usually make a pot of it and freeze half for later.
The beans themselves are used to thicken the soup, so no flour or cornstarch to add empty calories. We like to partially mash the beans, giving a nice thick broth, but still leaving plenty of the beans whole for texture.
This recipe will quickly become a staple in your soup choices. Another one you'll love is She-Crab Soup. It's almost as easy as this Black Bean Soup. And our Easy Potato Soup is foolproof. Check it out here.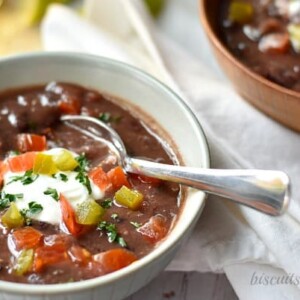 Black Bean Soup with Ham
A hearty and flavorful soup that's great for using leftover ham. The same recipe can be used for a vegetarian version.
Ingredients
1

Tablespoon

olive oil

extra virgin

¾

cup

onion, chopped

2

cloves

garlic, chopped

1.5-2

cups

ham, diced

leave out for vegetarian version

1

lime, zested and juiced

3

cans

black beans (15 oz.)

2

cups

chicken stock

use vegetable stock for vegetarian version

1

can

tomatoes & chili peppers

Rotel brand is our favorite

1

teaspoon

hot sauce

adjust according to preference

½

teaspoon

cumin

salt and pepper, to taste
Instructions
In a large pot, heat oil over medium to medium-high heat.

Add onion and saute' until soft, about 3-4 minutes.

Add garlic, and saute' additional minute.

Add ham and saute' additional minute.

Stir in lime zest, beans (including liquid), stock, tomatoes (including juice), hot sauce and cumin. Bring to a boil.

Reduce heat to simmer and let simmer for 45 minutes.

Partially mash the beans with potato masher to thicken.

Add the lime juice and salt and pepper if needed.

Garnish with your choice of sour cream, cilantro, diced tomatoes, diced jalapenos, parsley, crushed corn chips.
Soup and salad are a classic combination and this Salad with Marinated Asparagus and Oranges goes wonderfully with this Black Bean Soup. Check it out.
Don't forget to sign up for our weekly updates right here.
If you like this recipe you'll want to stick around and check these out too
These may come in handy for making your soup
See y'all next time!