Crab Cakes are one of our favorite ways to eat crab. These come together quickly, and are loaded with snow crab meat. The addition of Cajun Cream Sauce gives a special twist, but you can easily serve them with just lemon wedges or your favorite sauce.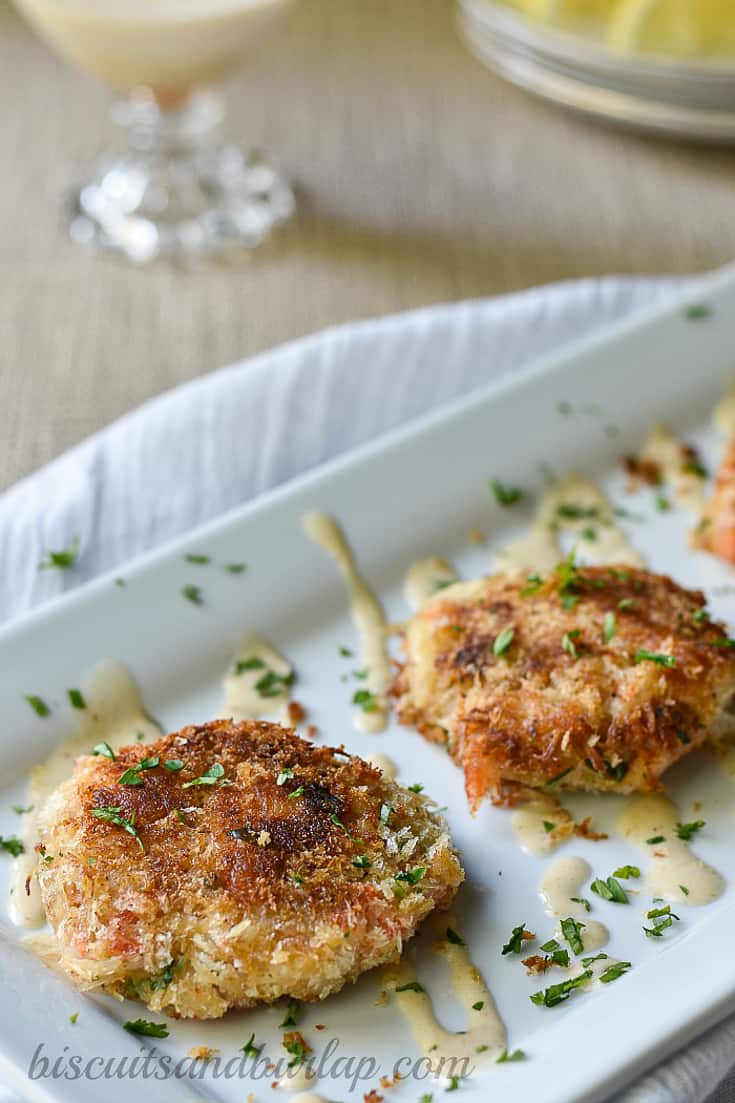 Over the years I've made crab cakes a lot, but never quite been satisfied with the results until these. You've got to have some type of filler to hold the cakes together, but finding the perfect balance of crab meat and filler has been tough. Also, what is the perfect filler?
In the past I've mostly tried a combination of egg and a few bread crumbs, but these have no eggs. I used panko bread crumbs, because I like how light and airy they are. There are a few on the outside for a subtle, crispy finish too.
What kind of crab meat is best for crab cakes?
Well, naturally, living on the coast and catching your own crab would be best. But, how many of us are in a position to do that? I've used crab from a can, but even buying the top quality, most expensive one hasn't given me great results. The refrigerated kind from your seafood department or market is better, but still not perfect.
Then, I heard from my sister-in-law, Susan, that she made crab cakes from snow crab legs. Most of your seafood departments will carry them. They may have a few in the case that are thawed, but generally they're previously frozen. I always ask for some that haven't been thawed. They're fully cooked and the meat that comes out of them is just divine.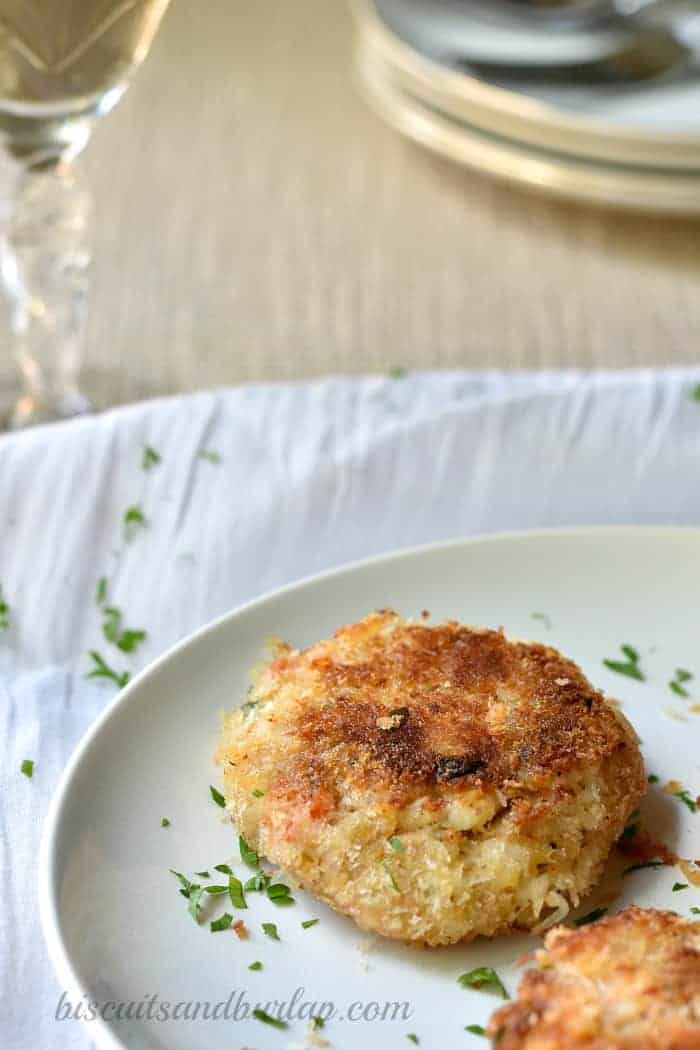 Cleaning the crab meat out is the only time-consuming part of this, but it's not bad. The long legs will just break in half and the crab meat comes out in one, long, beautiful hunk.
Most snow crab clusters will have one claw and I use a nut cracker to break those open. Ordering info is below if you don't have the right kind of nut cracker.
I had three large clusters and got almost exactly 8 ounces of crab meat from them. If the clusters seem on the small side you may want to get four.
More Seafood Recipes
If you're here then you must be a crab lover like we are. Be sure to check out this easy recipe for She-Crab Soup. Another one, also based in the low country (this time from coastal Georgia) is Crab Au Gratin.
This is not the first time I've gotten recipe inspiration from Susan. Shrimp and Grits is one of our most popular posts on Biscuits and Burlap and that one is also "Susan-inspired". And then there's Easy Lobster Flatbread. Are you seeing a pattern here? Susan loves seafood, and so do we.
Sign up here to get our weekly updates. We're going to treat you like family - we promise.
Tips for Making Crab Cakes
After you get them put together, refrigerate for at least two hours before you cook them. This will help hold them together as they cook - an important step since they've got minimal filler. And placing them on waxed paper or parchment before they go in the fridge makes it easier to move them to the skillet for cooking.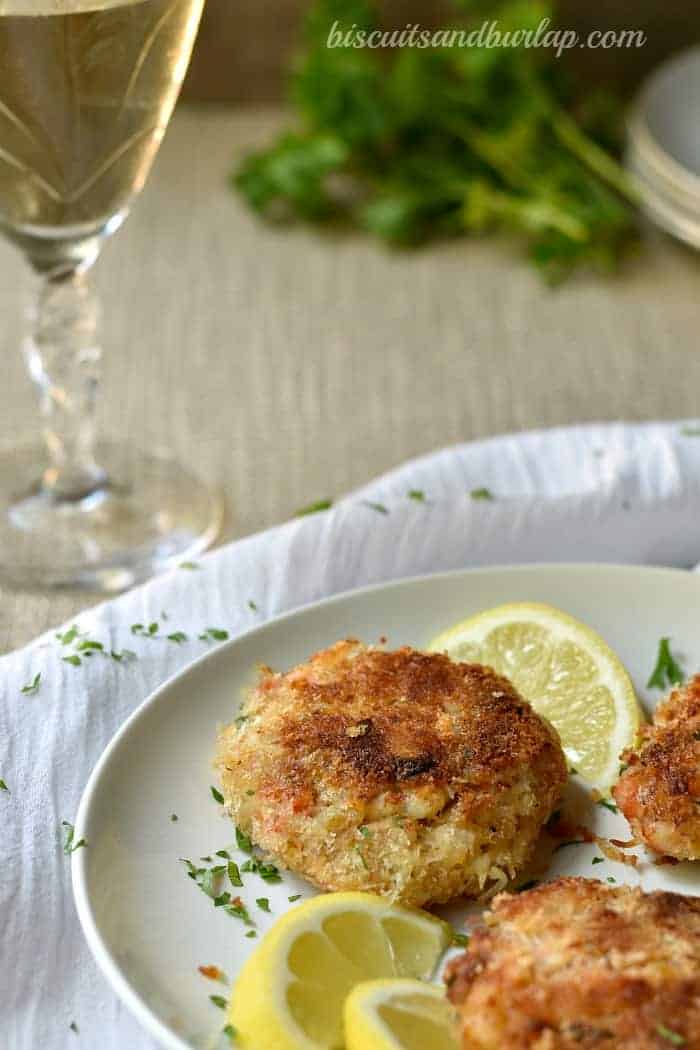 If you don't have exact ingredients these substitutions are fine.
We're all about using what you have and reducing food waste. In keeping true to those beliefs we offer you these options:
Use any type of bread crumbs if you don't have Panko (or make your own)
Don't have a fresh lemon for zesting? Use a spoonful of bottled lemon juice
No Old Bay? Season with your favorite seasonings
Any type vegetable oil is fine if you don't have canola
Dried parsley if you don't have fresh - just use less (1 teaspoon instead of 1 Tablespoon)
Even though we call the sauce "Cajun Cream Sauce" the seasoning we actually use is Tony Chachere's Original Creole Seasoning. It's an important ingredient in our Shrimp and Grits, too and we love it.
If you have another favorite you can certainly use that, but don't try to take away our Tony Chachere's unless you're ready for a fight. We also use it in the Creole Aioli with our Homemade French Fries and Gouda Grits with Cajun Spice.
For an alternate idea, how about a traditional Remoulade Sauce? Click over for our easy recipe.
The perfect New Orleans themed meal always starts with a classic Hurricane and our recipe is super easy! Add Easy Dirty Rice as a side dish and you've got it made.
📖 Recipe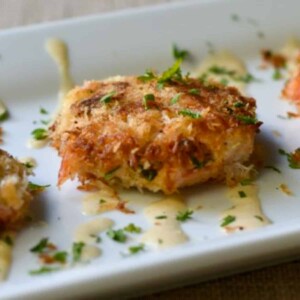 Crab Cakes with Cajun Cream Sauce
The crab meat is the star of these crab cakes because they have minimal filler. Cajun Cream Sauce is the perfect, lemony accent.
Ingredients
For the Crab Cakes
8-10

ounces

crab meat, coarsley chopped

preferably snow crab

¾

cup

panko bread crumbs

divided

½

teaspoon

lemon zest

1

tablespoon

fresh parsley, chopped

2

tablespoon

mayonaisse

2

teaspoon

Dijon mustard

½

teaspoon

cracked black pepper

or, to taste

2

teaspoon

Old Bay seasoning

divided

2-3

tablespoon

canola oil
Instructions
For the Crab Cakes
Combine ½ panko crumbs and ½ Old Bay and set aside for coating.

Combine remaining ingredients, leaving crab for last.

Form into 4 patties. Sprinkle tops with reserved crumbs.

Place on waxed or parchment paper, crumb side down and sprinkle crumbs on top, pressing lightly into place. Refrigerate for minimum 2 hours

Heat canola oil over medium heat.

Cook crab cakes in oil 3-4 minutes per side, turning carefully.
For the Sauce
Cook wine and lemon juice over medium high heat, until liquid is mostly evaporated.

Add butter and seasonings and whisk, just until butter is melted.

Remove from heat and stir in cream.
Don't forget to sign up here for our weekly newsletters.
For a look at the history and origins of recipes and ingredients in the south you'll want to read Southern Food: Then & Now.
Need dessert for after those crab cakes? Check these out.