This Baked Macaroni and Cheese is made the old fashioned Southern way. Just a few simple ingredients go into this classic and beloved dish of pure comfort food.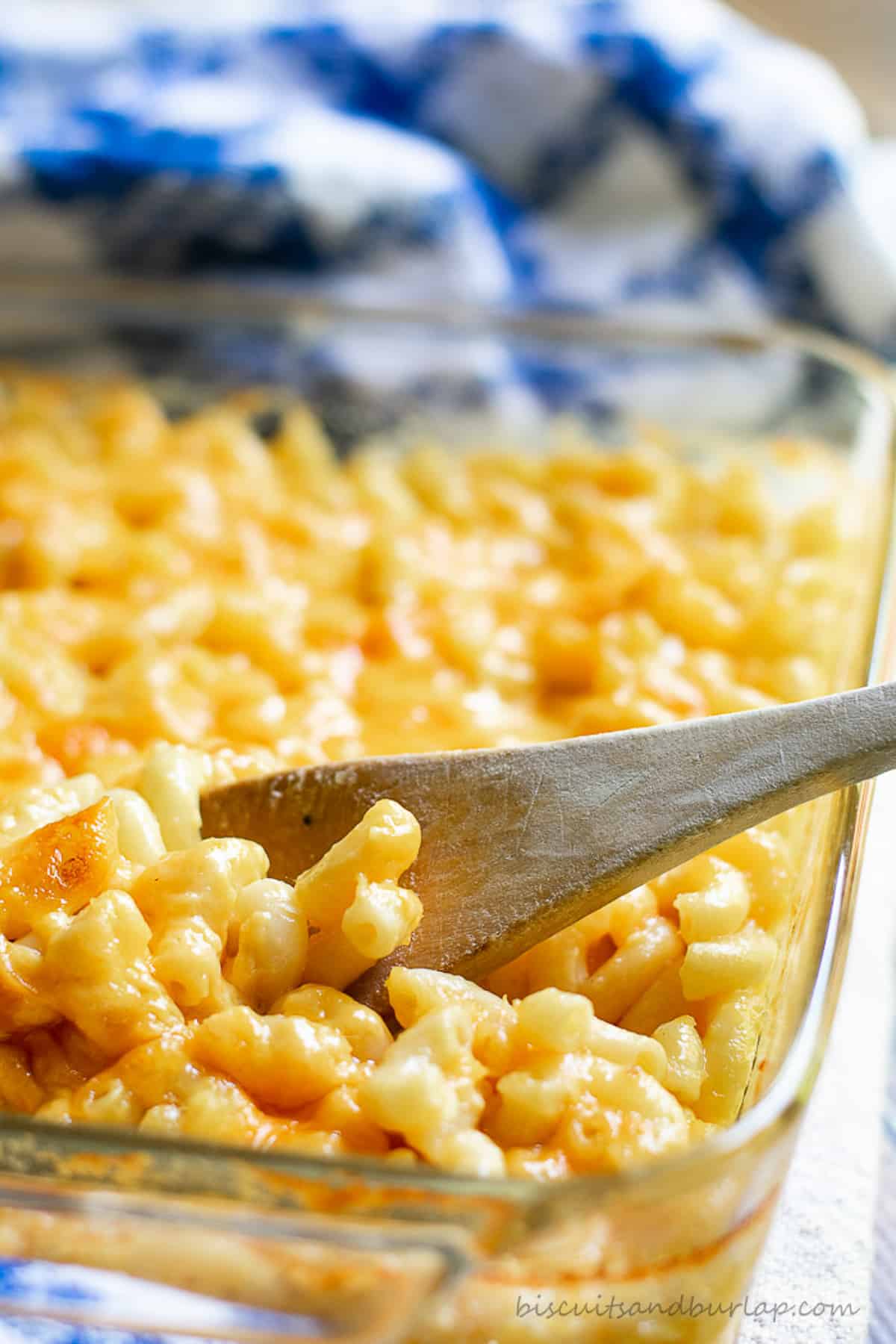 It can be dolled up lots of different ways and there's nothing wrong with that. But, there is something comforting about plain old fashioned mac and cheese made like it was back in the day before "Mac and Cheese" was even an expression.
For a fun look at this recipe, check out the web story!
Preserving the old Southern ways with food
One of our goals here at Biscuits and Burlap is to document, for future generations, some of the old classics like our Mamas and Grandmas made. My own Mama had lots of specialties, and Macaroni and Cheese was one of my personal favorites.
I watched her make it countless times, but I never asked her how she did it, or why she made it the way she did. She's gone now, and I hope this post will inspire you to ask your Mamas about their dishes while you can.
I've made a pretty good version myself over the years, but it never really measured up to hers. And so, I set about working to recreate it, and these memories are what I had to go on.
She did not use eggs or flour
She only used sharp cheddar cheese that she grated (or chopped up) herself
The macaroni was just partly cooked in water
She stirred up the ingredients in a pot on the cooktop over low heat before baking
Besides the macaroni, the only ingredients were cheese, butter, milk (and salt and black pepper to taste)
There was no topping like bread crumbs or crackers (only more cheese)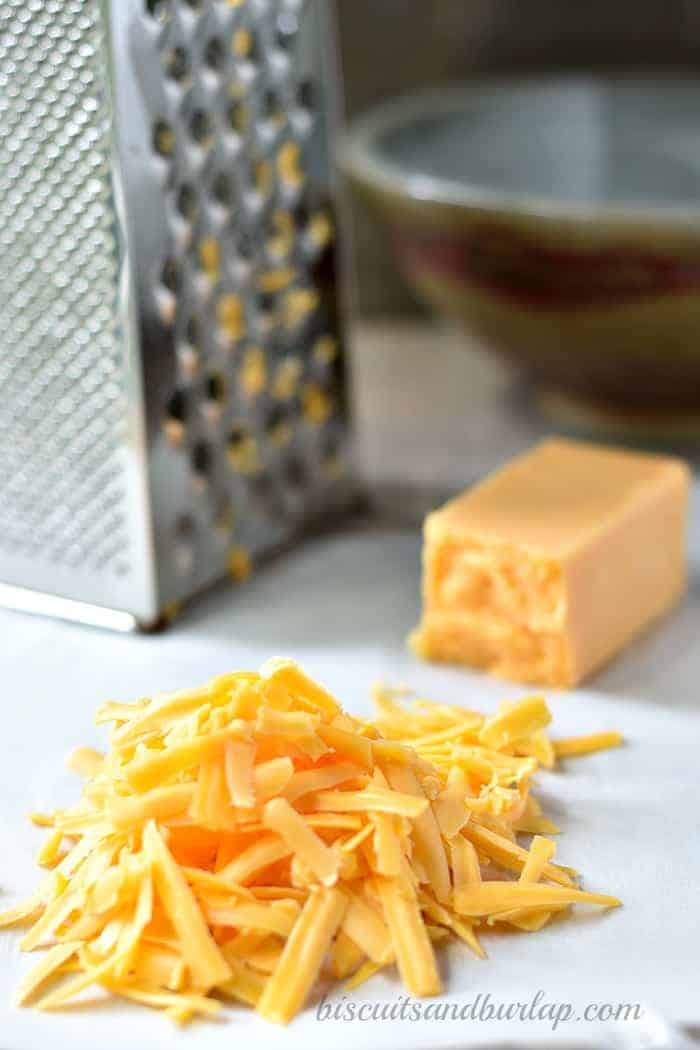 What was I doing wrong? I wanted my Macaroni and Cheese to be like Mama's
After years of mediocre results and some trial and error I've finally got it pretty close. I know you're thinking "It's just a few ingredients. How tough could it be?" My thoughts exactly.
So, why was it dry? Why did I feel like I needed to add an egg or thicken the sauce with flour? I read hundreds of other recipes and no one seemed to keep it as simple as Mama did.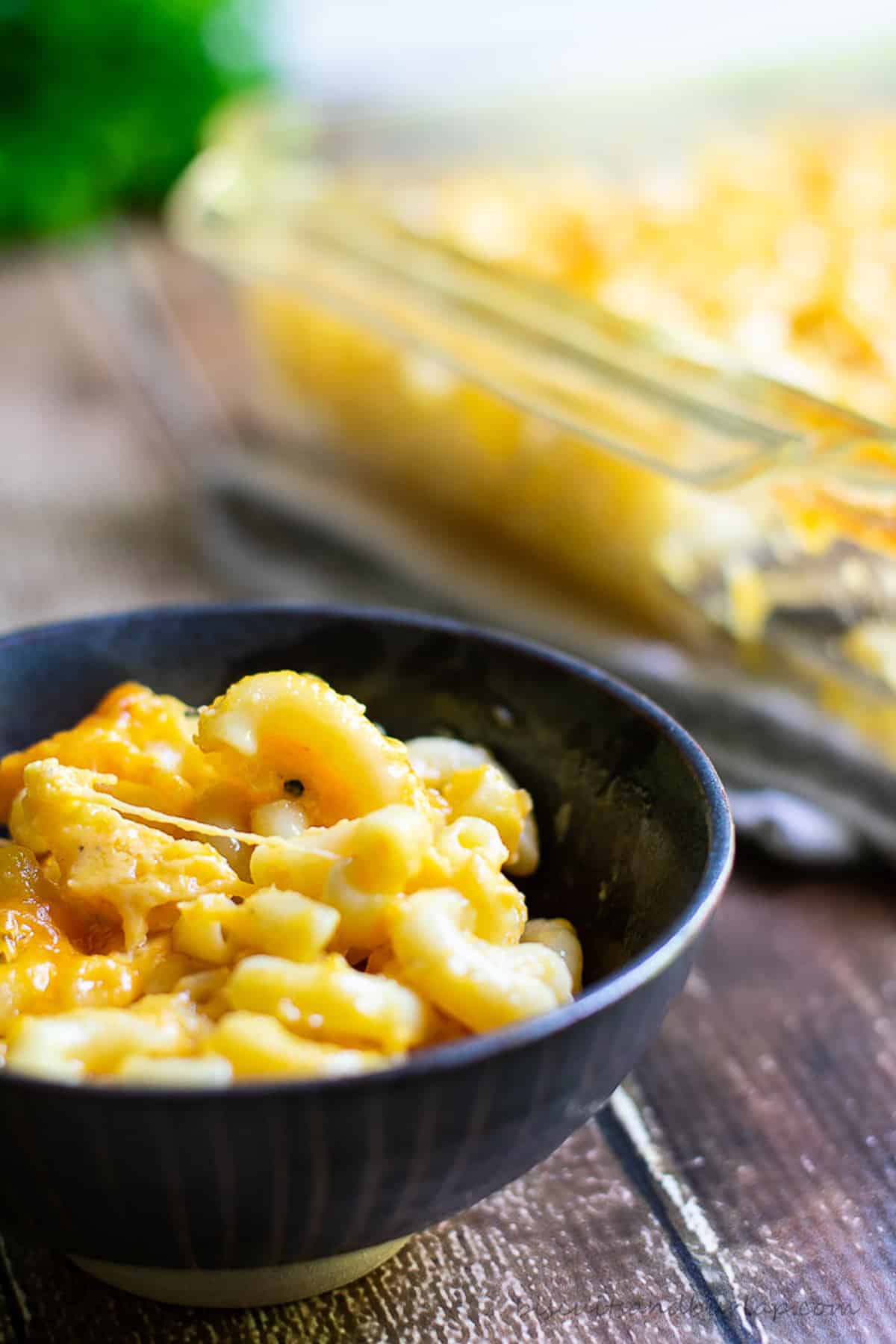 What was I doing wrong? Not enough stuff. That's what. Not enough butter. Not nearly enough cheese and milk.
This old fashioned Macaroni and Cheese recipe is not your diet's friend, but it's the way our southern Mamas intended it to be. Just tape-it-onto-my-hips rich.
Also, I was overcooking it in the oven. With no egg to worry about, the ingredients are all cooked by the time it goes in. It just needs a few minutes in a hot oven to melt that cheese on top, soak up the milk, and get piping hot.
Keep the presentation as simple as the food
When I first started planning this post I was thinking iron skillets. We love our iron skillets around here, and we have lots of recipes made in them. Among the reader favorites are our Tomato Gravy, Hot Fudge Pudding Cake, Cajun Steak Bites and Skillet Potatoes for the Grill.
Mama loved and used her iron skillet often too. But, she did not make baked macaroni and cheese in an iron skillet, and she would probably think I was nuts to even consider it.
And so, when it came down to it, I used the very Pyrex baking dish that she used and I inherited from her. So, maybe it doesn't make the cutest photo, but that's not what this is all about.
For fun, I decided to make it in the same old sauce pan she always used, and I thought y'all would enjoy a photo of it. As you can see, it was well-loved.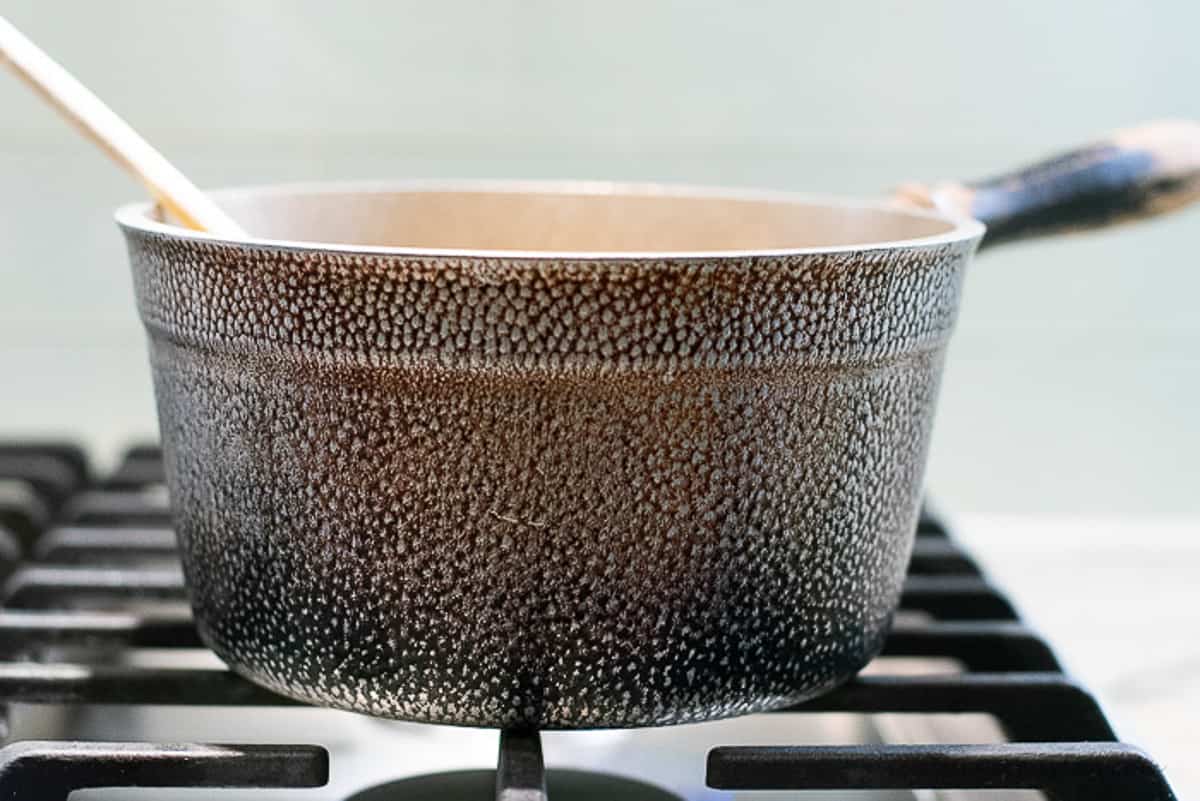 Some tips for making the best old fashioned macaroni and cheese
For a smoky twist on this favorite dish be sure to also make Smoked Mac & Cheese. It's made in one pot or skillet, starts with uncooked pasta and gets rave reviews every time!
This post contains affiliate links for your convenience. Click here to read our full disclosure policy
This recipe made the suggested list for the Backyard BBQ Menu Ideas. You'll want to visit for lots of other recipes as well as tips, tricks and planning help for your cookout.
📖 Recipe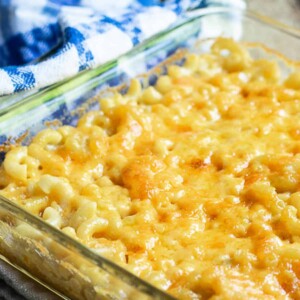 Macaroni and Cheese - Southern Style
Macaroni and Cheese made just the way Mama made it.
Instructions
Bring a medium sauce pan of water (filled ⅔ full) to a boil

Add macaroni noodles and cook, stirring occasionally, for 8 minutes.

Drain noodles and return to sauce pan, stirring in butter.

Put pan on low to medium low heat and stir until butter melts.

Add cheese, milk and black pepper, reserving ¾ to 1 cup of cheese

Continue cooking over low heat, stirring, until cheese melts.

Pour into a casserole or baking dish and top with reserved cheese.

Bake about 25 minutes at 375.

Broil 1-2 minutes if top browning is desired.
Notes
For best results always use freshly grated cheese. 
Nutrition
Calories:
382
kcal
Carbohydrates:
29
g
Protein:
15
g
Fat:
23
g
Saturated Fat:
14
g
Polyunsaturated Fat:
1
g
Monounsaturated Fat:
6
g
Trans Fat:
1
g
Cholesterol:
66
mg
Sodium:
615
mg
Potassium:
138
mg
Fiber:
1
g
Sugar:
2
g
Vitamin A:
687
IU
Calcium:
295
mg
Iron:
1
mg
This recipe made our top 10 of 2018. Click over here to see them all.
If you love southern food, you'll want to read Southern Food Then and Now.
You're going to love these recipes too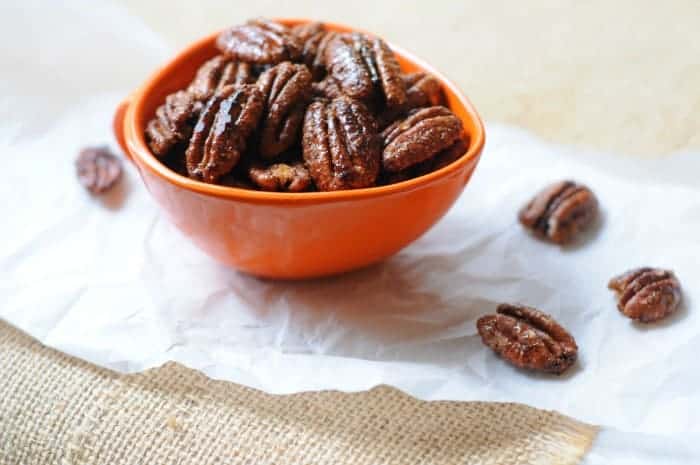 Until next time,