Deviled eggs are one of those staples that Easter lunch/dinner wouldn't be complete without. This recipe adds bacon and pickled jalapenos for an unexpected surprise that makes these eggs totally addictive.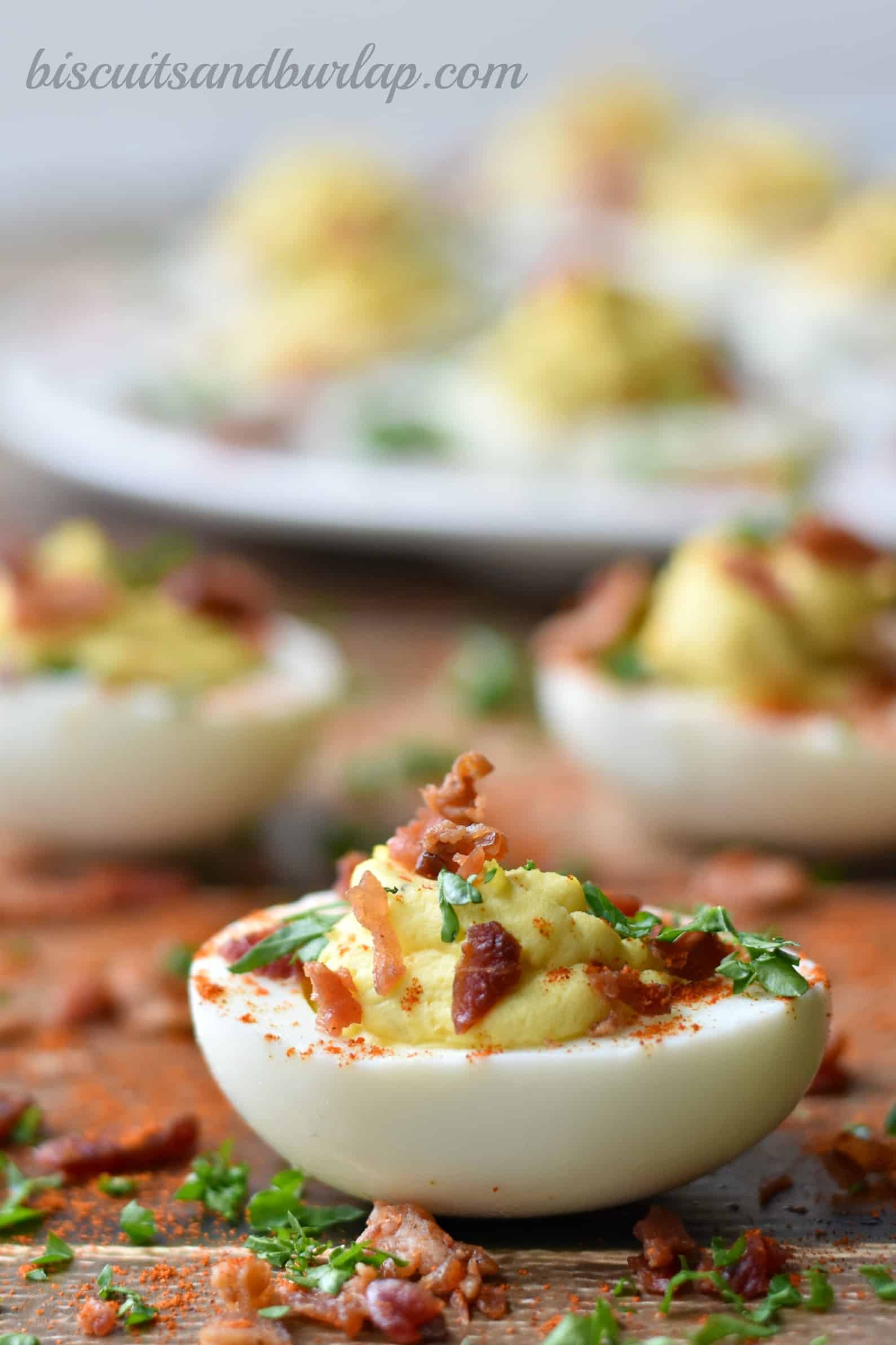 In our family we have a pretty cutthroat egg decorating contest the night before (I'll be honest- this is an adult thing we usually end up doing after the kids have gone to bed haha) and the next day those eggs have become our deviled eggs.
The classic way to make deviled eggs is with mayonnaise, mustard, and pickle relish, but there are so many variations on the original recipe! In my opinion, deviled eggs look most striking when piled up with garnishes, so get crazy with it!
This variation uses pickled jalapenos in place of the pickle relish so they have the same acidity with a little added spice. I also topped them with lots of bacon because, let's be honest… Everything is better with bacon.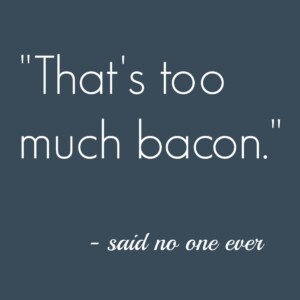 If you're here you agree with that statement and will love our homemade Bacon Bourbon Jam too. Another great one with our favorite friend, bacon, is Baked Brie with Apples and Bacon.
Southern Food Then and Now is all about traditions, regions and the origins of our favorite cuisine!
This post contains affiliate links for your convenience. Click here to get our full privacy and disclosure policy.
Really the only tricky part to making deviled eggs is the technique for boiling them. Look on Pinterest and you'll find a gazillion ways to do this. After trying most of those gazillion methods we finally settled on this one, and it's been foolproof for us.
Foolproof Method for Hard Boiled Eggs
Place the eggs carefully in a bowl of hot tap water for 8-10 minutes. This takes the chill off and reduces the chance of breakage.
Using a pot big enough to have a single layer of eggs on the bottom, bring about 2-3″ of water to a boil.
Reduce heat to medium (you don't want the water boiling so hard that it bounces the eggs around on the bottom of the pot – they'll break).
Lower the eggs into the water gently on a spoon and cook for 15 minutes.
Remove the eggs and put them back into the original bowl of water to cool for 10 minutes.
Crack on counter and peel.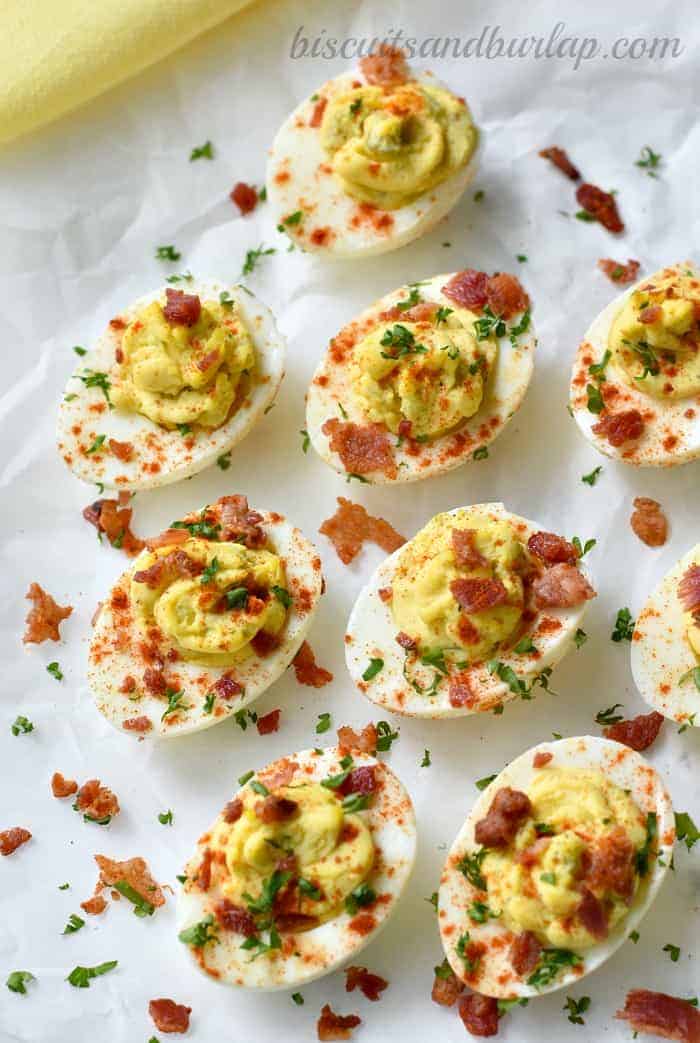 If you've ever made deviled eggs before, the rest is pretty self-explanatory. Slice the eggs lengthwise and carefully scoop out the yokes. Mash them together with the mayonnaise, mustard, jalapenos, salt, and pepper. Add the yokes back into the whites and top with crumbled bacon, finely chopped cilantro, and paprika.
If you're making these deviled eggs for a party why not consider adding a cheese board? We've got some inspiration here for putting together a really special cheese board.
Or, if you're planning your Easter meal these Orange Cupcakes with Orange Cream Cheese Frosting would be perfect too.
If you love variations on classic deviled eggs you'll also want to try our Garlic Herb Deviled Eggs, too.
Bacon Jalapeno Deviled Eggs made our Reader Favorites of 2017 list.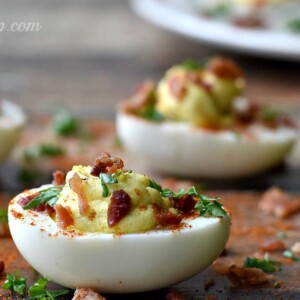 Bacon Jalapeno Deviled Eggs
A fun twist on an old classic
Ingredients
1/3

cup

bacon, crumbled

6

eggs

8-10

slices

picked jalapeno, minced

1

teaspoon

yellow mustard

1/4

cup

mayonnaise

1/4

teaspoon

black pepper

1/4

teaspoon

salt

1/4

teaspoon

paprika

1

teaspoon

cilantro, finely chopped
Instructions
Place the eggs in a bowl of hot tap water while you bring 2-3″ of water to a boil in a pot.

Reduce heat to medium and after it stops boiling carefully lower eggs into pot with a spoon.

Cook for 15 minutes and then place eggs back in original bowl of water.

Wait ten minutes and then crack eggs on counter.

Peel eggs and cut in half.

Scoop out the egg yolks into a mixing bowl and mash. Add mayonnaise, mustard, jalapenos, salt and pepper.

Mix until smooth and fill crevice in eggs with mixture, piping if desired.

Garnish with paprika, crumbled bacon and cilantro.

For more great recipes we recommend Weekend Potluck
Check out these other Easter ideas too!
This post contains affiliate links for your convenience. Click here to read our full disclosure policy