Garlic Parmesan Roasted Cauliflower is full of so much flavor and is also the perfect side dish to accompany a healthy meal.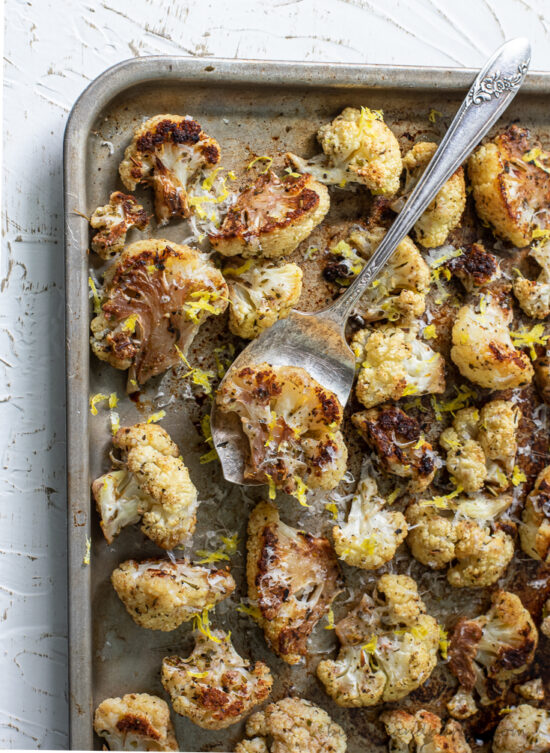 Let me start out by saying that here at Biscuits & Burlap, we pride ourselves on Southern food. We love it all, from Tex Mex to the Low County and everything in between. That said, we are also pretty healthy eaters at home and, let's be honest, Southern food is not the healthiest.
In the South where we consider mac and cheese and baked potatoes "vegetables," we still know that we need "real" vegetables to make a meal well-balanced. That's where cauliflower comes in!
Cauliflower is so good for you
Cauliflower is low in carbs and calories, while being high in fiber, antioxidants, and... get this... it has more Vitamin C than oranges! Seriously, no joke. Best of all, it soaks up the flavors of whatever you put on it, so if your roasted cauliflower is covered in herbs, lemon zest, garlic, and parmesan cheese... what could go wrong?
How to buy, store and prepare cauliflower
If you've never bought fresh cauliflower before, don't worry. The most important thing is that you don't see any dark spots on the flowers. From there, just make sure you take it out of the plastic it's wrapped in at the grocery store when you get home because the moisture trapped inside the plastic will encourage rotting in the flowers.
When you cut your florets for roasting, try to cut them in uniformly sized pieces so everything gets cooked evenly. I know this isn't the easiest thing in the world to do, so don't stress about it, but just try your best to make sure that all the pieces are relatively similar in size.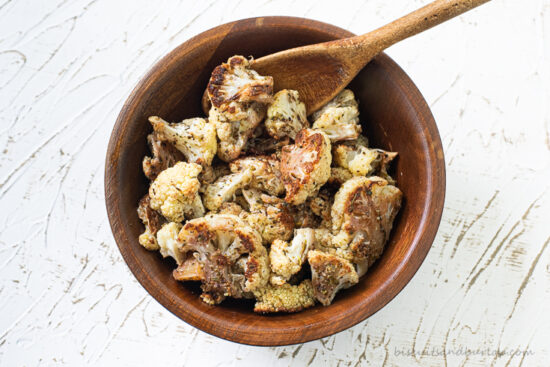 When you roast cauliflower, you're going to want to cook it on a high heat and either directly on a baking sheet or on aluminum foil. This will ensure it gets those nice crispy, caramelized edges. I don't recommend cooking it on parchment paper because it won't crisp up properly.
How to Make Garlic Parmesan Roasted Cauliflower
After you cut the cauliflower into florets, you're going to toss it in the olive oil and herbs, spread it out on the baking pan (making sure there is a little space between each piece!) and put it on the oven.
About 5 minutes before it's done, take it out and grate the lemon zest and fresh parmesan over the top. Put it back in the oven for just long enough to melt the cheese and your delicious roasted cauliflower is ready to serve!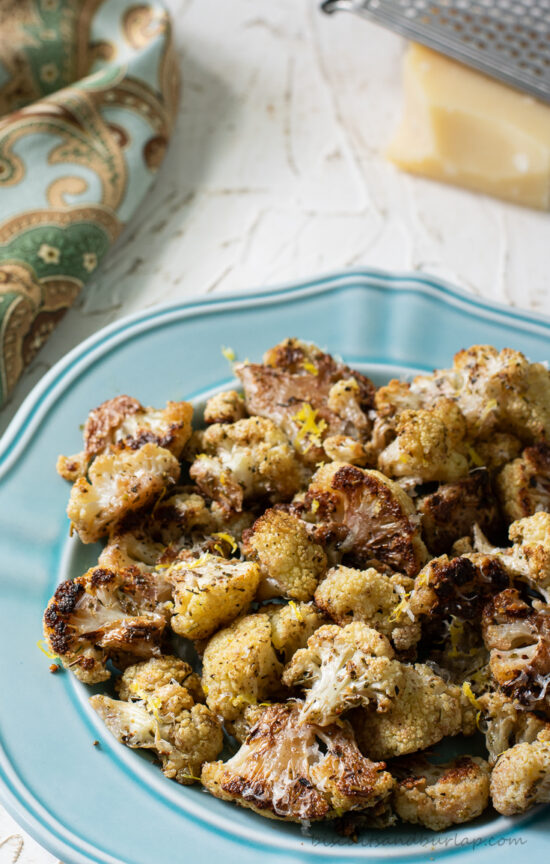 If eating healthy, low carb dishes is important to you, be sure to check out Keto Parmesan Crusted Chicken too!
📖 Recipe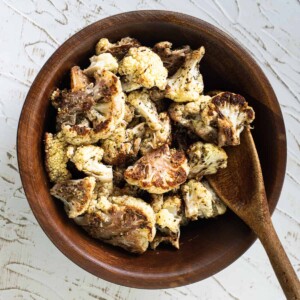 Garlic Parmesan Roasted Cauliflower
Garlic Parmesan Roasted Cauliflower is full of so much flavor, but is also the perfect side dish to accompany a healthy meal.
Ingredients
1

head

cauliflower

3

T

olive oil

½

t

salt

½

t

garlic powder

¼

t

black pepper

Zest of 1 lemon

¼

cup

parmesan

freshly grated
Instructions
Cut cauliflower into uniformly sized florets.

Toss cauliflower with olive oil and all seasonings except for lemon zest and parmesan.

Arrange florets on baking pan (with aluminum foil for easy clean up) with a little space between each.

Cook 25-30 minutes or until cauliflower is tender.

Add lemon zest and parmesan. Cook another 5-10 minutes until edges are slightly charred.
If you make this or any of our recipes we'd love for you to leave us a comment and star rating. If you're into sharing your creations, snap a photo and tag us when you post it to Facebook or Instagram.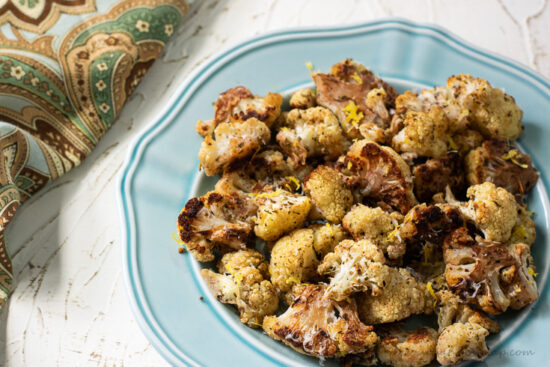 Looking for other tasty side dishes?