These grilled pork chops are brined before grilling, lightly seasoned with Creole spices, and then finished with a basting sauce featuring bourbon and brown sugar. The brine keeps them as tender as can be.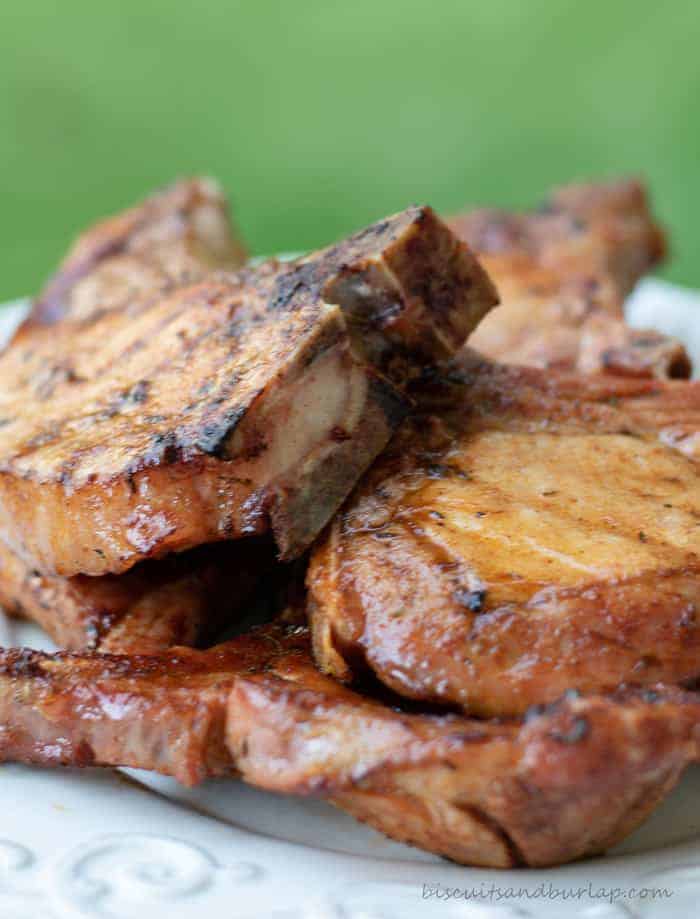 Grilled Pork Chops can be one tough cookie - literally. We've been there ourselves. You've got beautiful chops, a smoldering fire and delicious seasonings and sauce, and still you end up with something resembling a piece of leather.
We want you to benefit from our years of trial and error, practice, and perseverance (and yes, some epic fails). We've finally learned to bring to the table a tender, flavorful plate of pork chops, and we're here to share.
Hey, are you getting our weekly newsletters? You can sign up here.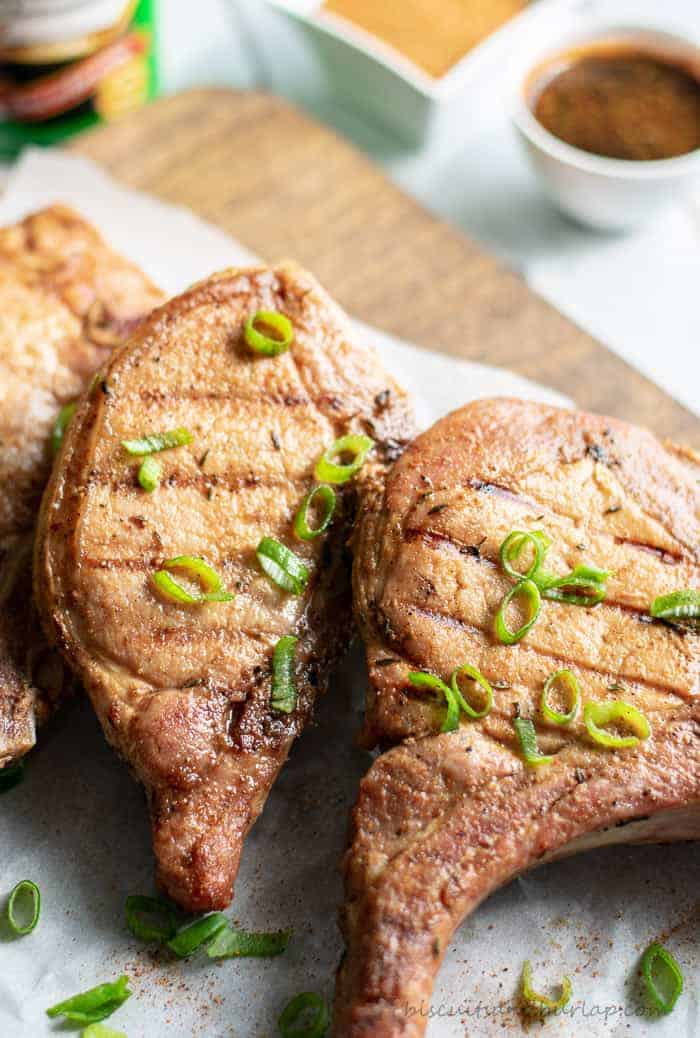 What thickness of pork chop is best?
We've all seen those inch and a half (or even thicker) chops at the store or meat market. If you are anything like us you may have thought that was the key. The thicker, the better. Right? Wrong. By the time the center of those thick chops gets done the outside is getting tough.
Then there are the thin, and super thin pork chops. The thin ones are probably okay if you want to fry your chops. And believe me, there is nothing wrong with a good fried pork chop. But we're talking about grilling here.
Ideally, your chops will be about ¾ of an inch thick. Anything in that range, of good quality, center cut, and you've got the basis for good tender pork chops.
This post contains affiliate links for your convenience. Click here to read our full disclosure policy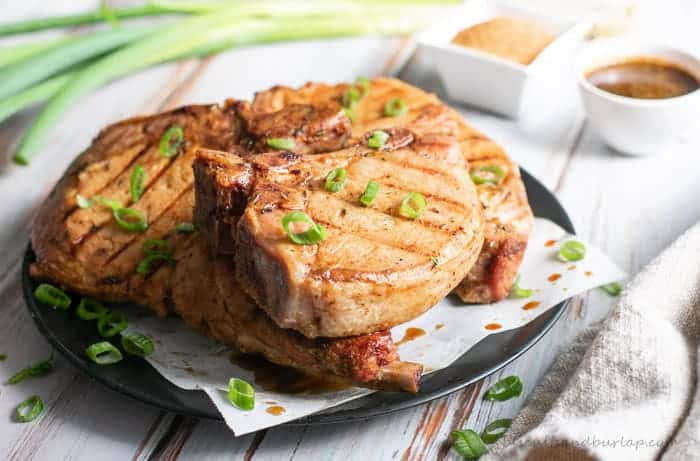 Brining is a key element in tender grilled pork chops
In fact, we have learned that a good brine soak is great for keeping lots of meats tender and adding some flavor. We brine the chicken for our Southern Style Fried Chicken (like your grandma made) and dry brine the fish for our Smoked Fish Dip.
In case you're not familiar, brining is the process of soaking a meat in a salt water solution. The meat absorbs some of the liquid and makes it juicer and more tender. Brining is especially effective with very lean cuts of meat that can be tough when cooked (like pork chops, chicken breast and turkey).
A thorough rinse and then patting the meat dry when it comes out of the brine is essential for keeping it from being too salty.
Cajun/Creole flavors pair perfectly with grilled pork chops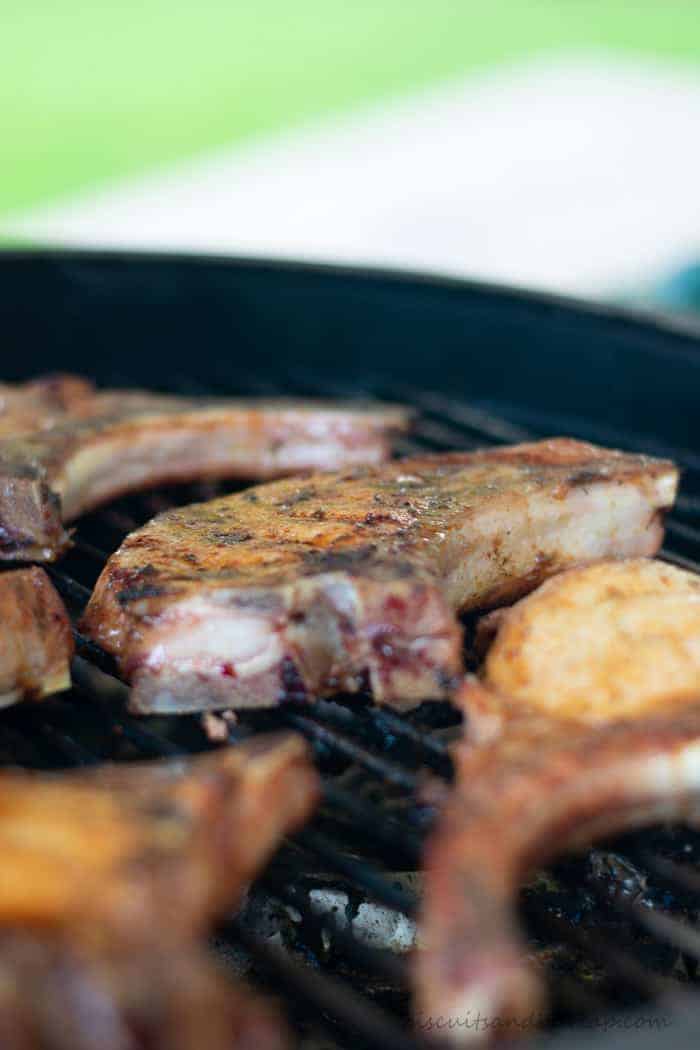 Y'all know we love our Tony Chachere Creole Seasoning because we use it in so many recipes. And we love bourbon and use it often too. (You can click over here to our Ultimate Bourbon Lovers Gift Guide.)
So, it only makes sense that we would combine some of these favorites when we created this recipe for you. If you're here, chances are you love Cajun and Creole flavors too, and maybe bourbon, too, so we've compiled a little list of some of our favorites that use both.
For a totally different twist on grilled pork chops we highly recommend that you use this easy coffee rub for pork. You'll have a great dinner on the table in no time!
📖 Recipe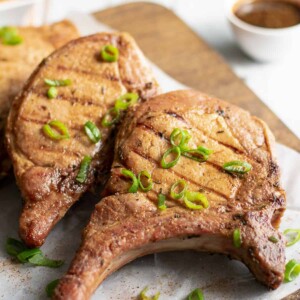 Grilled Pork Chops - Cajun Style
Brining keeps these grilled pork chops tender, and a dry blend of spices and then a wet sauce finish makes them mouthwatering.
Ingredients
5

pork chops

¾ inch thick

4

cups

water

¼

cup

salt

2

Tablespoons

sugar

⅓

cup

reduced sodium soy sauce

3

Tablespoons

extra virgin olive oil

¼

cup

brown sugar

¼

cup

bourbon

1.5

teaspoons

dry mustard

1.5

teaspoons

Creole or Cajun Seasoning

1

teaspoon

dry thyme

½

teaspoon

smoked paprika

½

teaspoon

white pepper

¼-1/2

teaspoon

cayenne pepper

according to taste

½

teaspoon

garlic powder
Instructions
Dissolve salt and sugar in water.

Submerge pork chops in salt water solution, cover and refrigerator 2-8 hours.

Remove pork chops, discard brine, rinse pork chops, and pat dry.

Mix mustard, Cajun seasoning, thyme, smoked paprika, peppers, garlic in small bowl.

Sprinkle pork chops on both sides with dry seasoning, reserving about 1 Tablespoon.

Stir together soy sauce, olive oil, brown sugar and bourbon until sugar dissolves. Stir in reserved tablespoon of seasoning.

Set aside some of the sauce, if desired, to use as a dipping sauce.

Sear pork chops on both sides over hot coals or medium high on gas grill.

Move pork chops to less direct heat and cook about 5 minutes on each side before beginning to baste with sauce.

Cook, until done, testing for doneness by pressing lightly near the bone. The meat should have a slight sponginess when done.

Garnish with chopped green onions or other fresh herbs, if desired.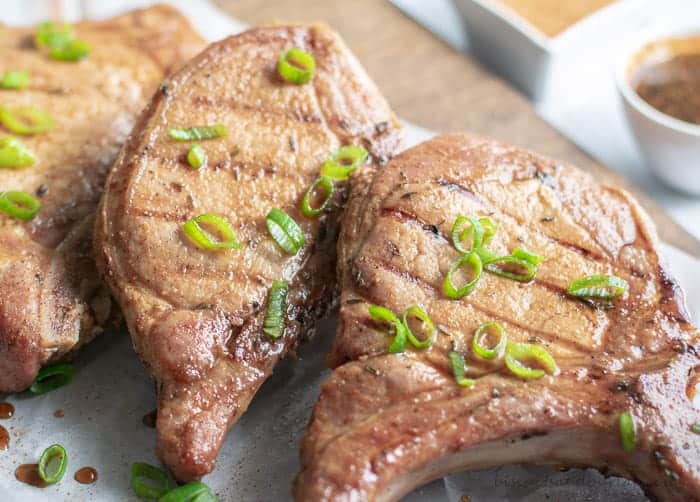 If you're reading this, chances are that you love southern foods like we do. You'll want to be sure and check out this informative article, Southern Food: Then and Now.
A few items that might come in handy:
When the chops are just about done toss Veggie Foil Packs on the hot grill. They just take a few minutes and you'll have your entire meal cooked outside.
Y'all please let us know if you try this pork chop recipe how it comes out for you. We're always happy to answer any questions you may have. And don't forget to sign up for our weekly recipes by clicking here.