A New Orleans Food Tour in the French Quarter and the jambalaya recipe that we brought home from a beloved restaurant in the Big Easy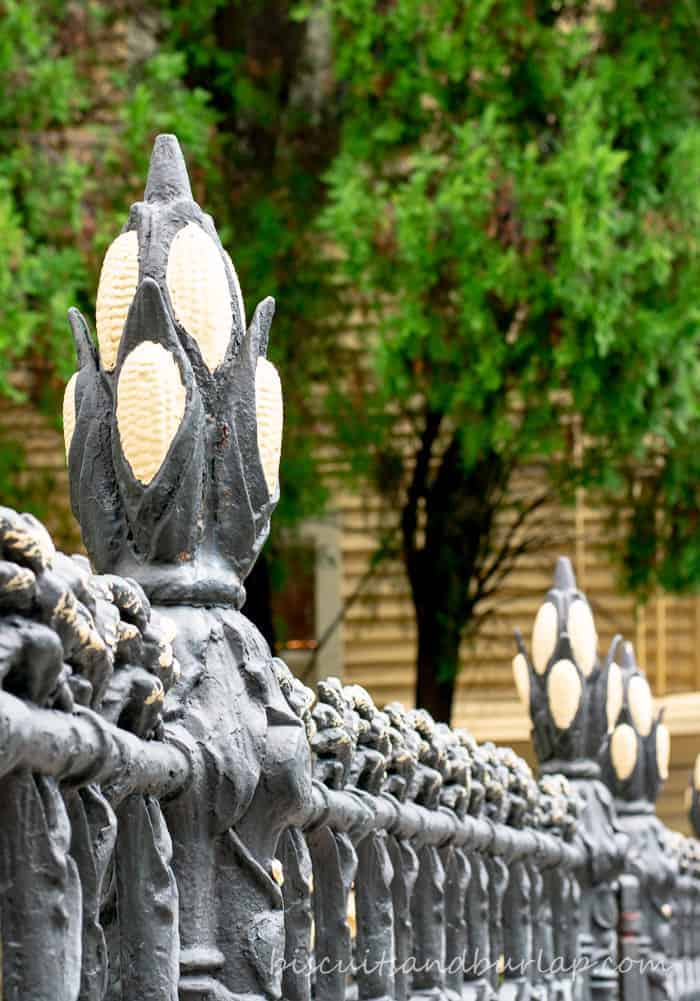 If you get our weekly newsletters (you can sign up right here) you know that we recently journeyed to New Orleans for the International Food Bloggers Conference. Rich in history and food traditions, the French Quarter was the perfect place to take a walking tour and learn more about some of those culinary landmarks. And, bonus! We came home with a jambalaya recipe from a favorite New Orleans restaurant that will knock your socks off!
A little bit about the conference
A group of food bloggers from all over converged at the Royal Sonesta Hotel on Bourbon Street. Food bloggers and New Orleans are a match made in heaven! After a pub crawl the first night, and pre-conference excursions the next morning, we got down to business. The speakers were phenomenal and their topics ranged from how to get the most out of Instagram, Facebook and Pinterest to food photography and video creation.
Not to worry - there was plenty of fun thrown in too! One highlight was a "Taste of New Orleans" networking event with over 20 restaurants represented. They all had "tastes" for us to sample of delicious dishes from their eateries. Heaven again! The conference wound up with a cocktail party sponsored by representatives from the scene of next year's conference, Juneau, Alaska! Here we are at that little soiree'.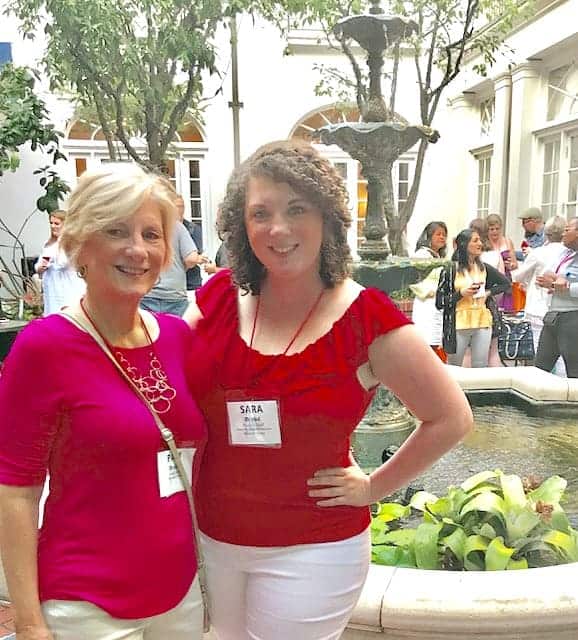 New Orleans Food Tour
It's hard to say what was our favorite part of the trip, but this was definitely way up there! Custom Conventions handled all of the details and did a fabulous job - except for one little detail: They couldn't cool the weather off for us! Y'all, it was hot! Being from Atlanta, we blew off the pre-conference warnings about the heat thinking, "yeah... we can handle a little hot weather." We were so wrong! New Orleans in August is downright steamy! But, we had a great time anyway, and we're excited to share a few details of this great tour, beginning with some of the beautiful architecture.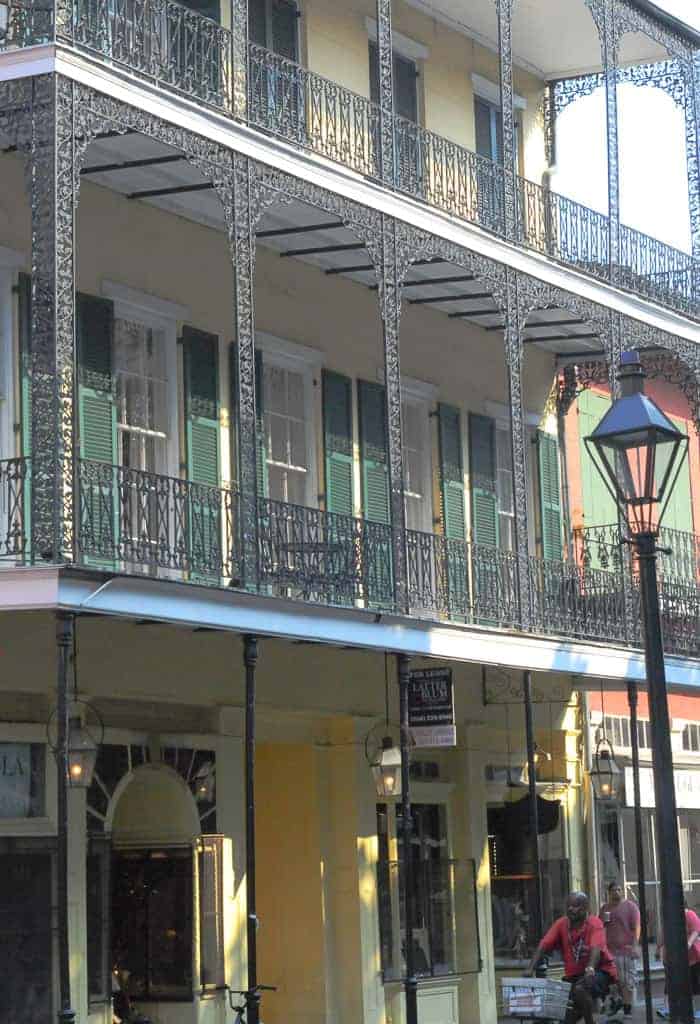 First Stop: Napolean House
Our guide through this 200 year old landmark was none other than Chef Chris Montero. His love of Napoleon House was obvious as he shared facts about the history of the building. Built originally by mayor (1812-1815) of New Orleans, Nicholas Girod, rumor had it that he planned to offer refuge to a then-exiled Napoleon in his home in the French Quarter.
However, Napoleon died and never made it to New Orleans. Whether the rumor was true or not, the name stuck and this structure has since been known as "Napoleon House." It's been operating as a restaurant since 1914.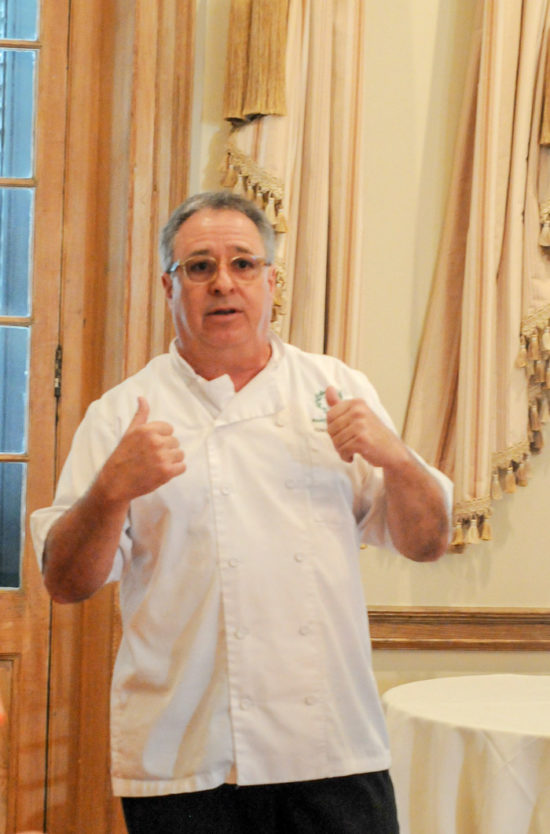 The tour of Napoleon House wound up with a huge platter of muffaletta sandwiches being served to our group. Any other gathering of hungry people would just dive right in to this beautiful tray, but not food bloggers. First, we must photograph!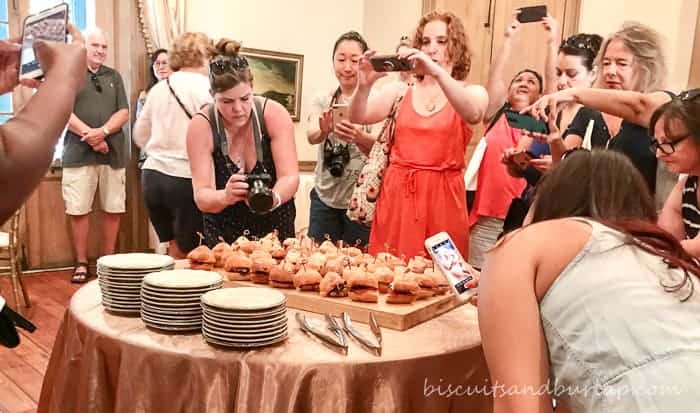 Did you know that muffaletta is actually a type of Sicilian bread? That sesame laden loaf was used to make the sandwich we now know as muffaletta in New Orleans in the early 1900's. It was popular with Sicilian immigrants of the day, but is now popular with everyone who tries it.
The muffaletta is a signature dish of Napoleon House. We have also taken those delicious Muffaletta flavors and created a fun party food. Muffaletta Shot Appetizers are individual servings in shot glasses. Click over for that recipe.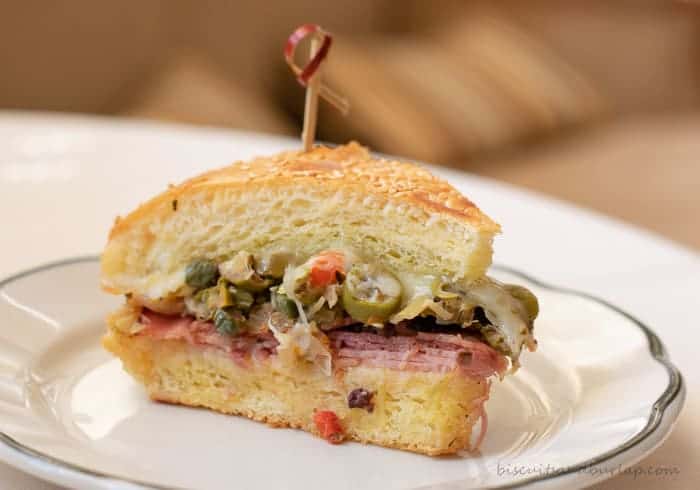 Next Stop: Cafe' du Monde
If you've ever been to New Orleans, you've probably been here. Long lines form down the sidewalk for fresh, sweet beignets. If you're not familiar, it's a square sweet pastry, similar to a doughnut, but so much better! We were able to bypass the lines and slip out back for our treat. A peak through the windows showed beignet prep in progress.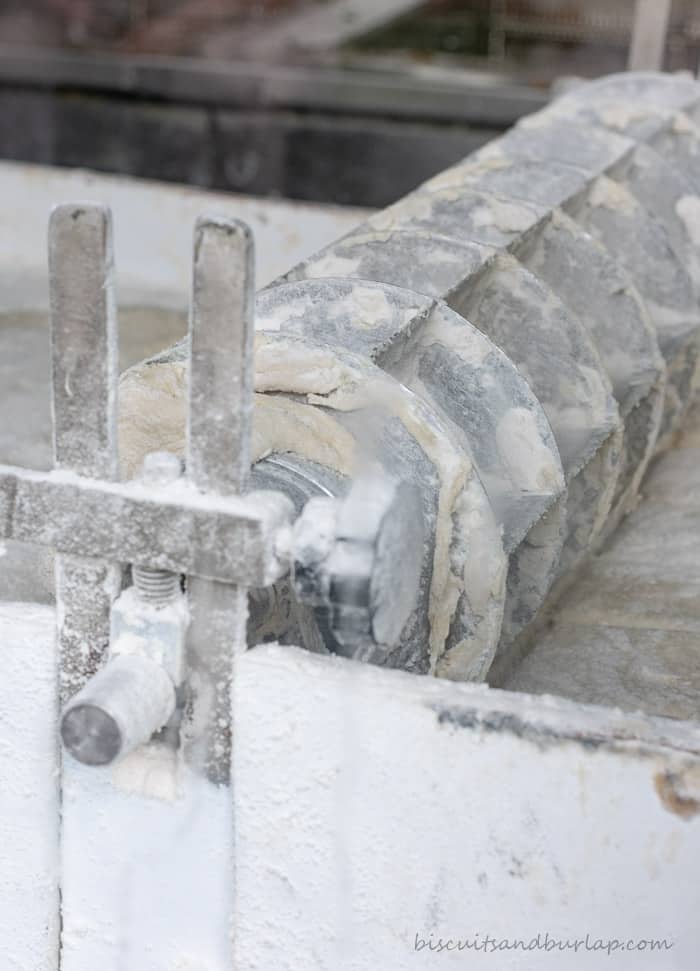 Cafe du Monde Coffee Stand was originally established in 1862. The Cafe is open 24/7 except for Christmas Day and when the occasional hurricane hits New Orleans.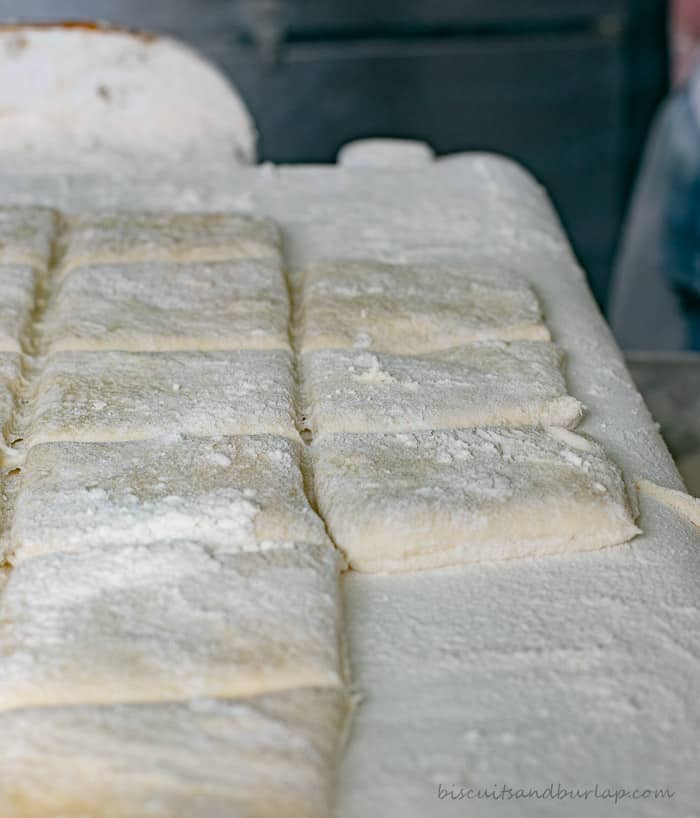 Cafe du Monde sells beignet mix and it's available in most areas. Order your Beignet Mix here and give it a try. They're fun to make, besides being delicious. After arriving home we were anxious to recreate that yummy treat ourselves. They didn't look quite as perfect as those at Cafe Du Monde, but we thought they were just as tasty.
This post contains affiliate links for your convenience. Please click here for our full disclosure and privacy policies.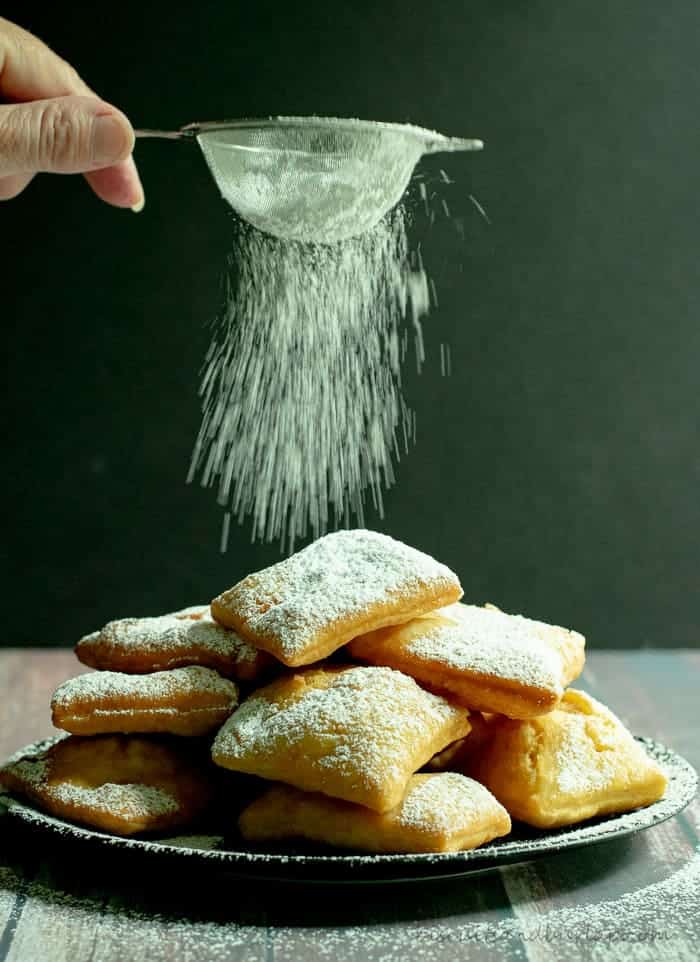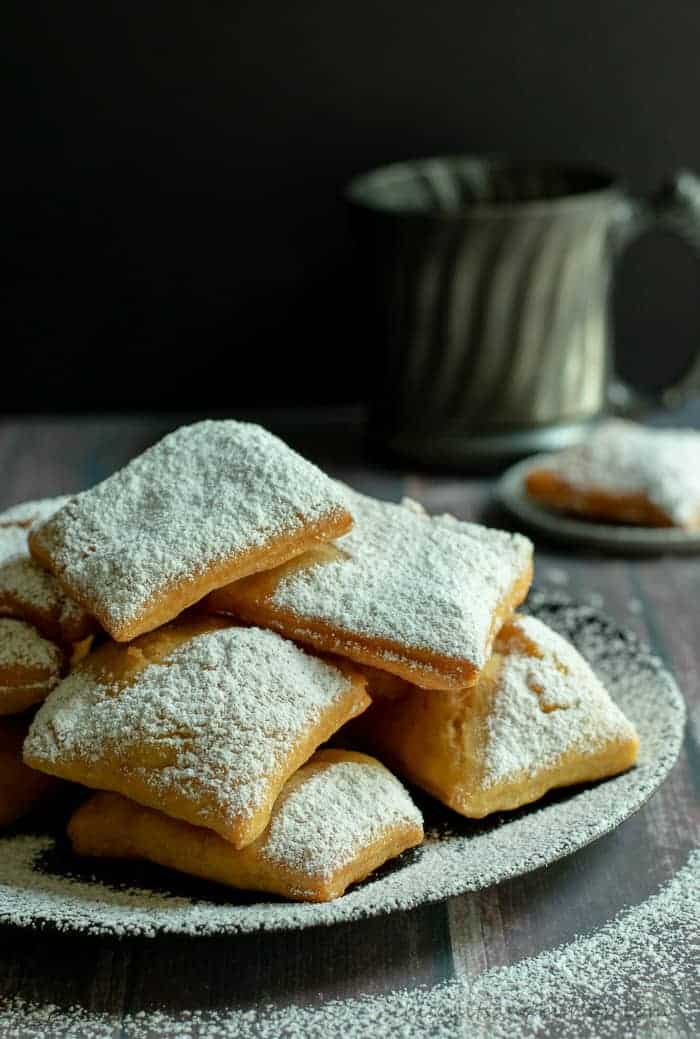 Next Stop: The Home of Chef Gunter Preuss
What an amazing treat this was! He and his beautiful wife, Evelyn, opened up their stunning home to our group. It's an 1830's Creole cottage which they lovingly restored a few years back. The Preuss family owned and ran the legendary Broussards Restaurant and Chef Preuss was featured in the PBS Series "Great Chefs of New Orleans".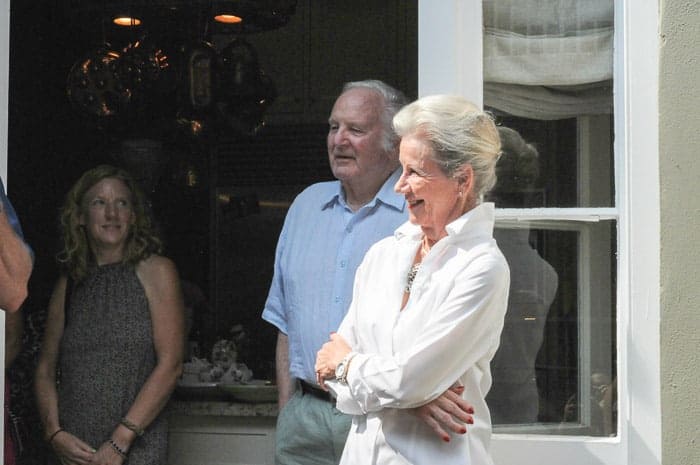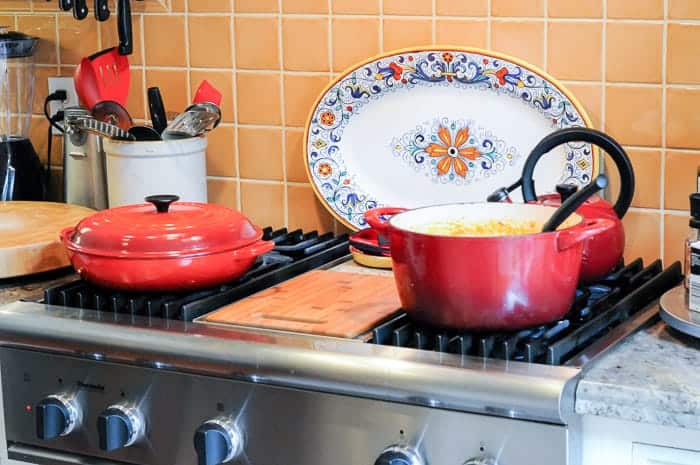 Interesting fact: Evelyn is the cook at home. In fact, she had prepared her own version of Jambalaya for us. It was an amazing combination of flavors, though her variety was "wetter" than Jambalaya we've had before - more of a stew or soup, but crazy delicious to the last bite.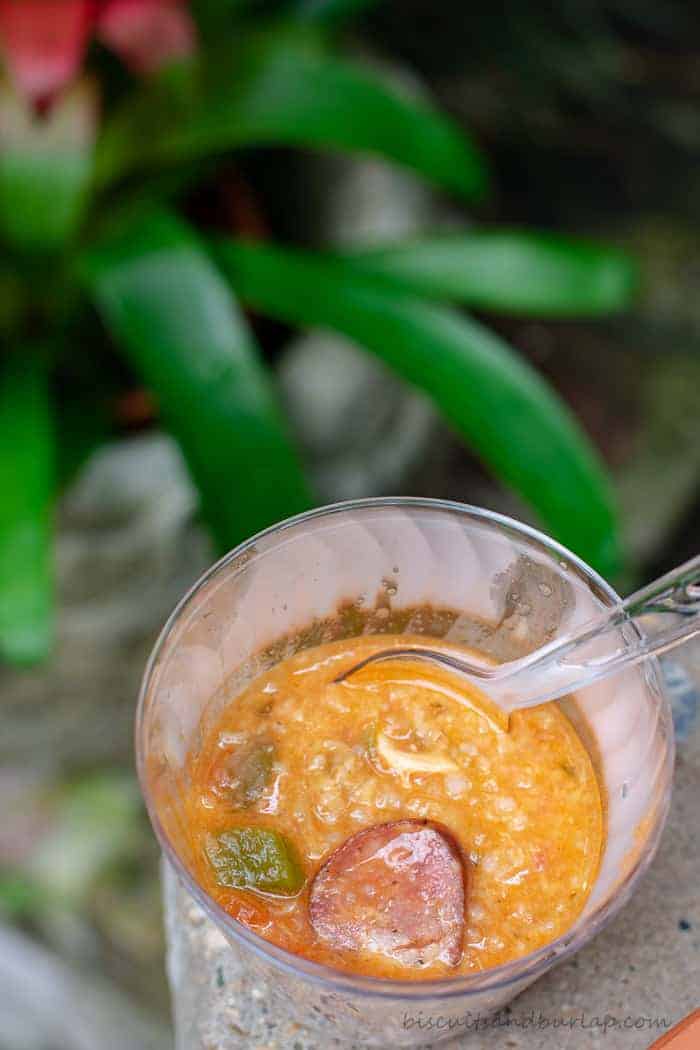 The whole place was elegant, but their hospitality and smiles made us all feel right at home. Check out this cool old grinder mounted on the island in their kitchen.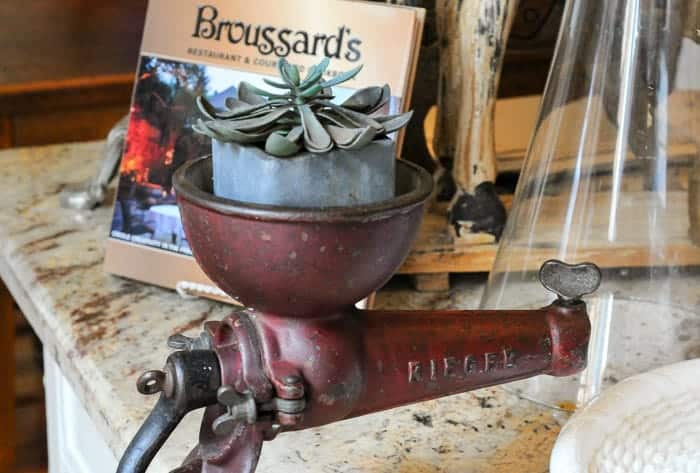 In the background you can see Broussard's Restaurant & Courtyard Cookbook, which was co-written by the Preuss Family. It's available through Amazon and you can get to that by clicking the link right here.
Now, hold on to your hat. We did promise you a jambalaya recipe from a well known New Orleans source and we promise it's coming, but it is not the one from Mrs. Preuss. Though we would love to have her recipe for sure.
Our Final Stop: Antoine's
Even if you haven't been there, you have surely heard of Antoine's. But, did you know that it is the oldest continuously family-run restaurant in the country? This place is the stuff legends are made of. Hard to believe, but it was established in 1840. If only those walls could talk. The list of notable people who have dined there is long and distinguished, including George Bush, Franklin Roosevelt, Pope John Paul II, Bob Hope, Jimmy Buffet and on and on.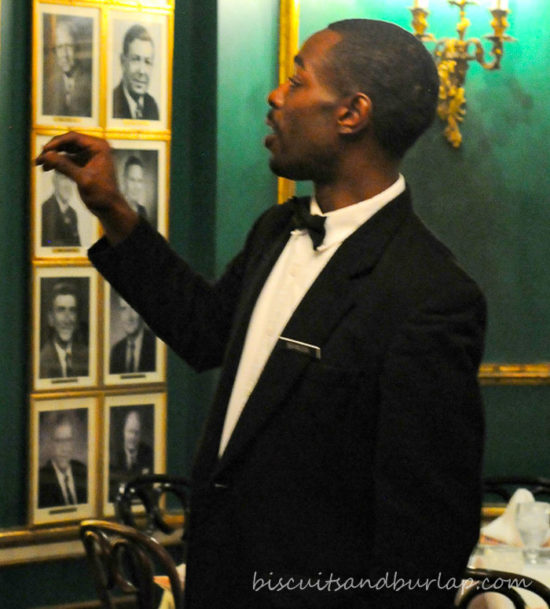 Our guide through Antoine's was a personable, bow-tied server and here he's pointing out photos of some of the well-known diners of the past.
We were treated to a sample of a signature side dish, Soufflee' Potatoes, and learned the history behind the names of some of the private dining rooms. I guess you can see why this one is called the "Escargot" room.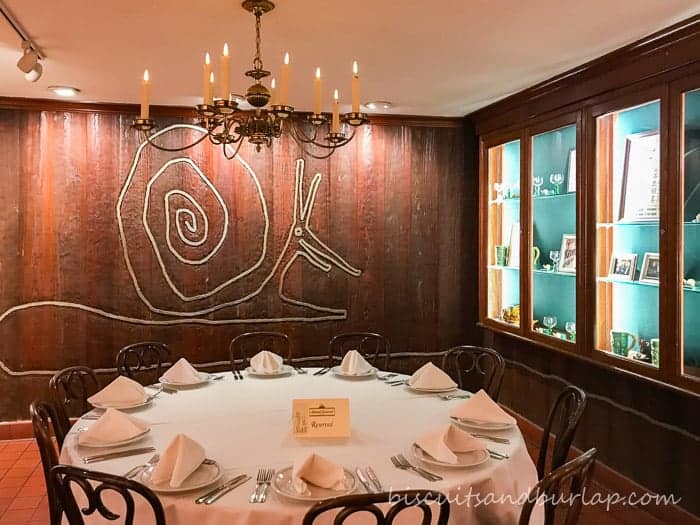 The whole place is like a labyrinth and there are 14 private rooms besides the large, main dining room. The "Mystery Room," though open to the public now, was once a top secret speakeasy... don't you just love things like that?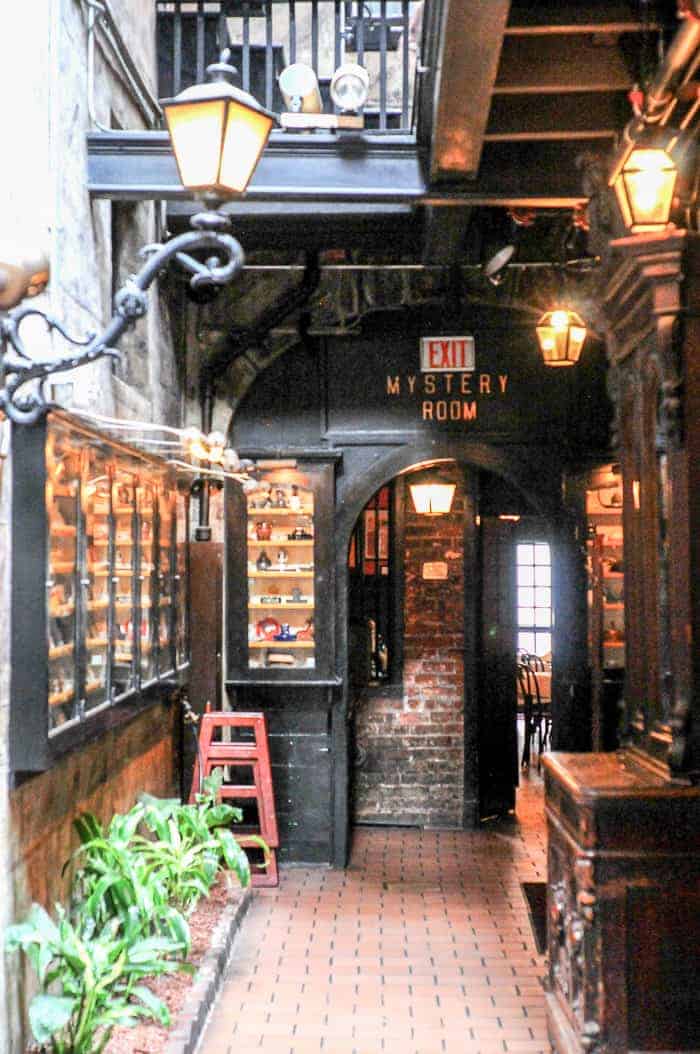 We also got a peek into the wine "cellar" and some of the many liquor cabinets.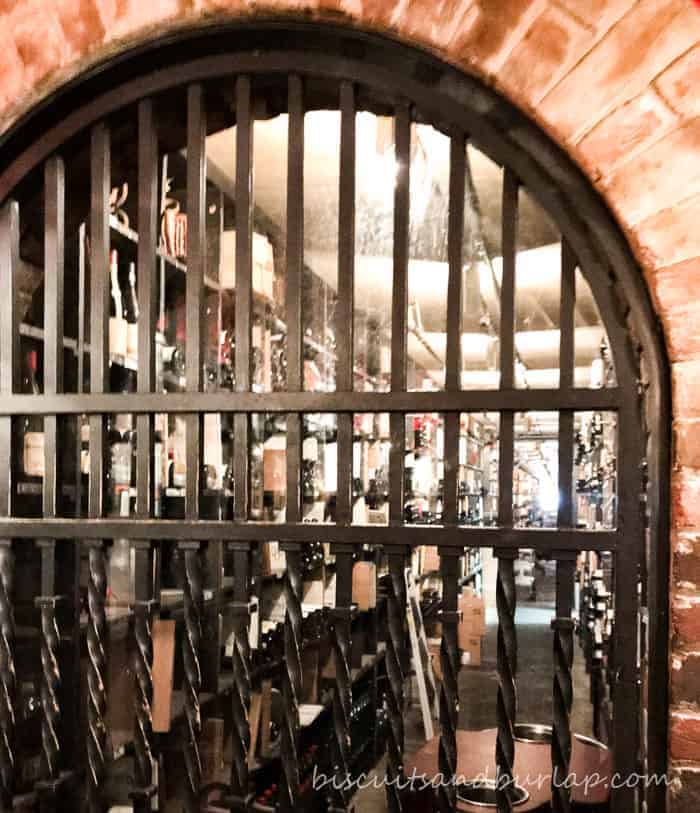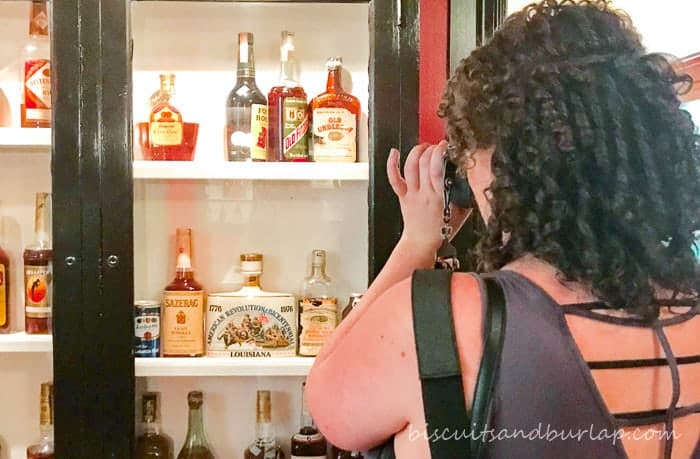 You'll notice that we titled this "Our Final Stop". In all fairness to Custom Conventions, they did take the group to one more stop, Leah's Pralines. They've been making pralines in New Orleans for over 70 years. We hated to miss out (we do love some pralines), but we were still a little flushed from the heat, so our tour ended with a glass of iced tea in the bar of Antoine's.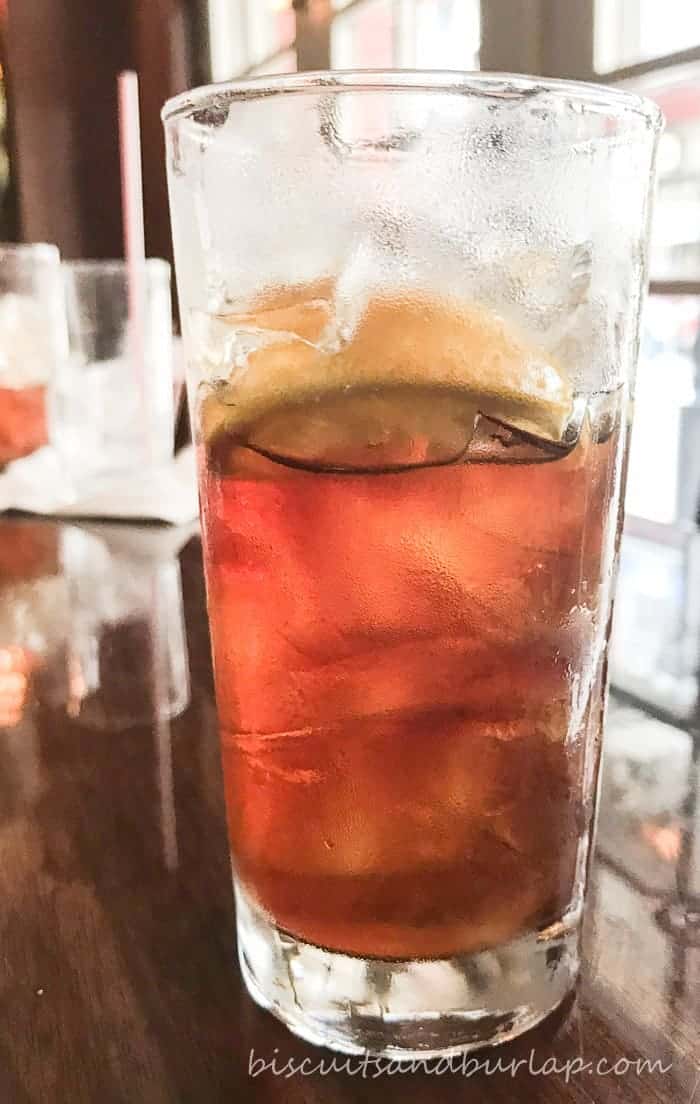 And now for that jambalaya recipe!!!!
You've been waiting on this, right? At the "Taste of New Orleans" event we did with the conference, there were many fine restaurants represented, but none more beloved in the city than Mother's Restaurant. They shared samples of their famous "Jerry's Jambalaya" and have graciously allowed us to share the recipe with you.
This beautiful dish is not something you'll whip up on a weeknight with only a hour to spare. You will want to plan a fall or winter afternoon making it, but we promise you, it will be worth it!
Y'all don't forget you can sign up here to get weekly updates from us.
📖 Recipe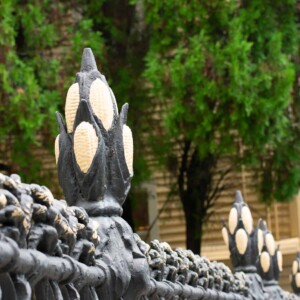 Jerry's Jambalaya from Mother's Restaurant
Please note that the recipe calls for a Creole tomato sauce (recipe follows). You will need to make that first (prior to starting the jambalaya). This is considered a Creole-Italian jambalaya because it includes tomatoes and Italian herbs. To the north & west of New Orleans, in Cajun country, one would not see those ingredients included (Cajun jambalaya is always brown and typically includes spicier ingredients). This is a source of endless and contentious debate in Louisiana… which version is authentic?
Ingredients
2

oz.

Butter

1

cup

Onions

diced (divided into two half cups)

¾

cup

Rice

white

2

cups

Chicken stock

divided into two separate cups

3

Bay leaves

whole

8

oz.

Smoked sausage

sliced

8

oz.

Chicken

diced in large chunks

½

cup

Celery

diced

½

cup

Green bell pepper

diced

1-½

tbsp.

Garlic

finely minced

1

tsp.

Thyme

fresh, chopped

1

tsp.

Basil

fresh, chopped

1

tsp.

Oregano

fresh, chopped

¼

tsp.

White pepper

¼

tsp.

Cayenne pepper

or to taste

1-½

tbsp.

Flour

6

oz.

Creole tomato sauce

see recipe

½

cup

Green onion tops

chopped
Instructions
In a medium saucepan (use a pan with a handle that can go into the oven safely), melt butter,

add one half cup of onions and sauté until clear. Add rice, 1 cup of chicken stock and 1 bay leaf.

Bring to a boil, then remove from stove and place in a 450 degree oven for five to seven minutes.

Remove from the oven and hold. Rice should be approximately half (par) cooked.

In a heavy pot, cook and render fat out of the sausage. Remove sausage from the pot and sauté chicken in the rendered fat.

Sauté the rest of the onions with celery, green peppers, garlic and seasonings (thyme, basil, oregano, white pepper, cayenne pepper) in the same pot.

Dust with flour (sprinkle about 1-½ tbsp. on top of vegetables to thicken and flavor) and cook for five minutes.

Add remaining cup of chicken stock, cook two minutes, add sausage and chicken, par-cooked rice, Creole tomato sauce, green onions and 2 bay leaves.

Simmer for 30 minutes or less or until done, but not too dry (add a little more Creole tomato sauce if necessary).

Add salt and pepper to taste.
For Creole Tomato Sauce
Bring a pot of water to a gentle boil.

Using sharp knife, score a large "X" across bottom of tomatoes. One by one, insert a fork into the stem end and plunge tomato into boiling water.

Remove from water once the skin starts to peel off easily (15-30 seconds).

Cool (an ice bath will speed this) until safe to handle, then remove the rest of the skin.

Cut tomatoes in half, remove seeds and decide (you should end up with roughly seven cups).

Heat olive oil in medium saucepan, add shallots and cook for two minutes. Add garlic, thyme, oregano, basil and white pepper.

Saute' shallots until clear. Add diced tomatoes and bring mixture to a boil, adding red wine and sugar.

Reduce heat and simmer for 45 minutes to 1 hour - until tomatoes begin to break up.

Salt and pepper to taste; puree' in blender or food processor.
Notes
The Creole Tomato Sauce is difficult to make in small quantities. You can make the whole amount and freeze the remainder for other uses, such as pasta dishes or to toss with grilled or sauteed seafood.
If you love learning about culinary regions and traditions you'll want to read Southern Food Then and Now.

Here are some recipes of ours inspired by our love of Cajun & Creole cuisine. You'll want to try them all.