Fresh Corn with Shrimp and Poblano Peppers is one dish with all the just-picked flavors of summer. You can leave the shrimp out for a perfectly delicious vegetarian version.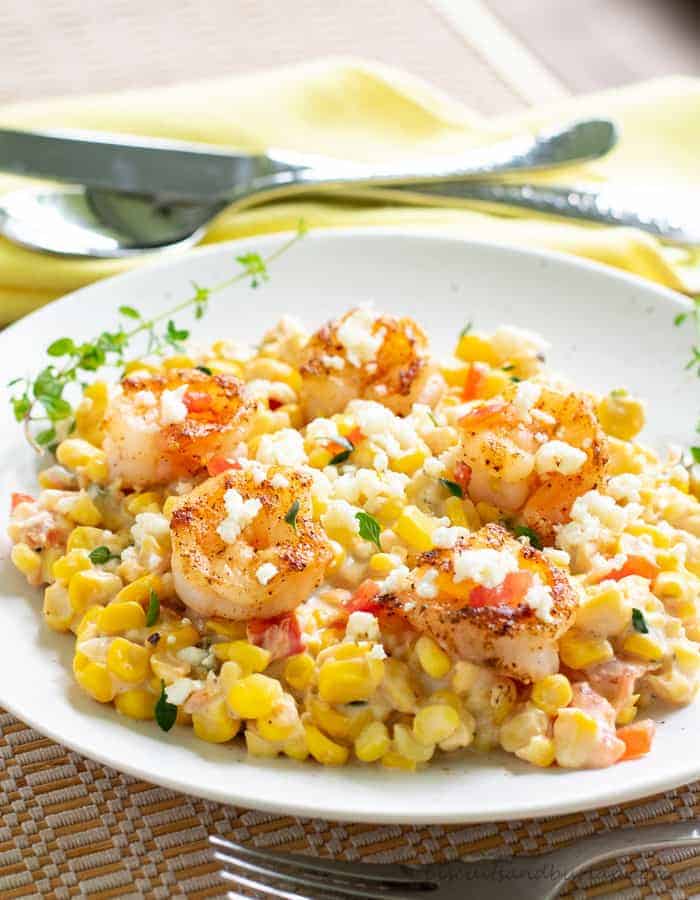 Fresh Corn is one of the many reasons to love summer. Besides corn, this dish includes several other fresh-from-the-garden items.  The combination of peppers, onions, tomatoes (and sauteed shrimp if desired) are highlighted with a creamy herb sauce that will blow your mind. If you like the idea of this dish with shrimp you'll also love Fiery Cajun Shrimp. 
Buy fresh and local if possible
We are fortunate to live in a time when many fruits and vegetables are available to us year round. It's so great to be able to get fresh corn in January, or oranges in August, and I definitely take advantage of those opportunities. But I believe in buying local whenever I can.
That means that, as I write this (late June in Georgia) fresh corn, tomatoes, peppers and herbs are abundant, and come from farmers and gardens in my immediate area.  I encourage you to seek out farmers markets, neighborhood produce stands, and grocers that stock local items. Heck, grow your own if you can. If you have extra corn left over from your harvest, try our Blackened Corn.
Read more about southern food traditions, farming, gardening and where our recipes come from.
Substitutions are fine
In keeping with the "buy fresh and local" strategy, feel free to substitute for different varieties according to what's available at the moment. Or, according to your likes and dislikes. For example, I love, love, love poblano peppers.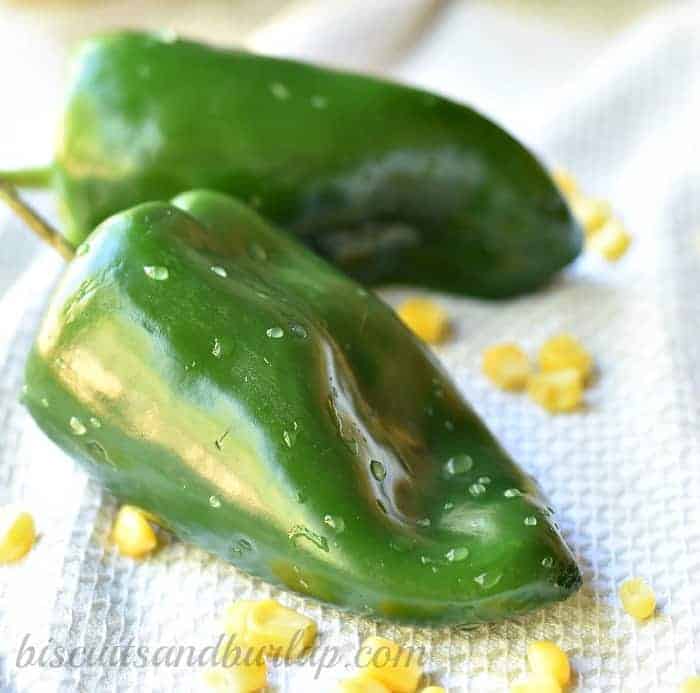 Looking at this photo just makes my mouth water. So, I wrote the recipe using my favorite poblanos, but you could certainly substitute bell peppers, or any other type pepper that you like, keeping mind what is fresh and available. Other replacement ideas:
use sweet (white) corn instead of yellow
scallions or another type onion would work
not a fan of thyme? Try basil, oregano or whatever you have on hand
Queso fresco or Halloumi instead of feta sounds good to me
strips of cooked chicken would be a great substitution for the shrimp
I used Roma tomatoes, but any variety are good
Hey, are you getting our weekly updates? If you'd like to get more great recipes delivered to your In Box every week you can sign up here.
Shrimp or Vegetarian Version
This fresh corn dish is beautiful and filling with shrimp (or chicken as mentioned above), but it's a truly wonderful vegetarian dish as well.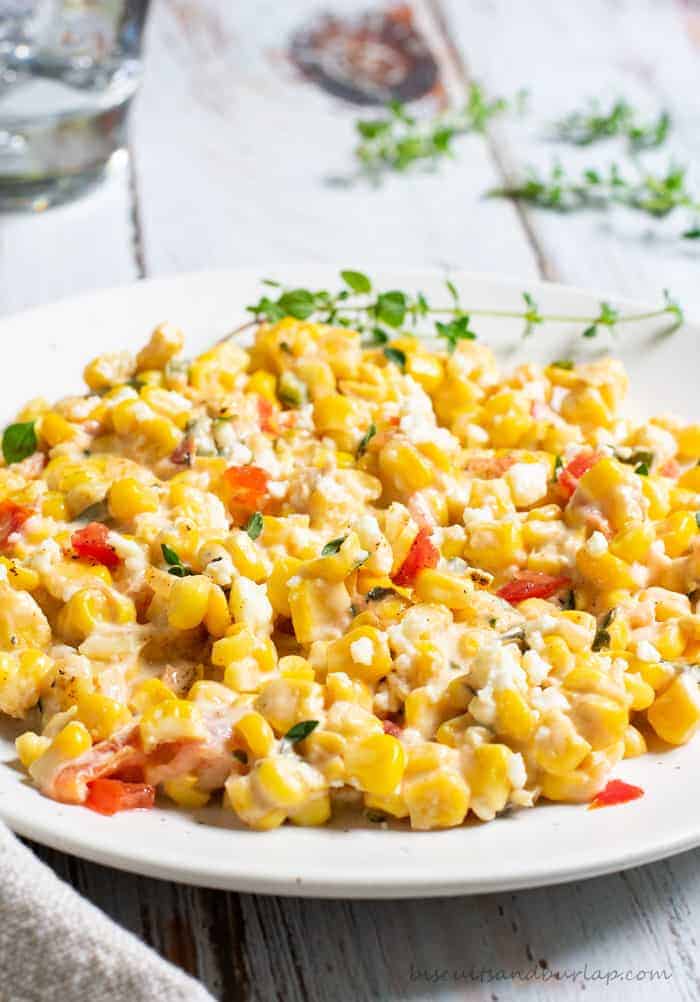 Served in smaller portions everyone will love it as a side dish, or larger main dish type servings are an option, too.  Whatever version, and whatever substitutions you make, you know that fresh, corn, peppers, tomatoes and onions are going to be a hit when made with this creamy herb sauce.
This post contains affiliate links for your convenience.  Click here to read our full disclosure policy
📖 Recipe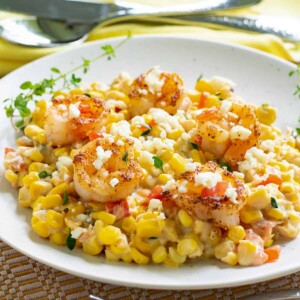 Fresh Corn with Shrimp, Poblanos and Feta
Fresh Corn in a creamy sauce with tomatoes, onion, peppers and topped with shrimp (if desired).
Ingredients
Corn in Cream Sauce with Vegetables
Instructions
Shrimp
Toss shrimp with salt, garlic and Cajun seasoning.

Sautee' shrimp in sprayed skillet until done, about 2 minutes per side.
Corn in Cream Sauce with Vegetables
Melt butter in skillet and add olive oil.

Sautee' pepper and onion in skillet about 5 minutes over medium to medium high heat.

Add corn and cook until tender, stirring constantly (about 5 minutes).

Add cream cheese (cut into cubes), half and half, thyme, salt and pepper. Cook, stirring constantly until smooth. If it seems too thick add water or low fat milk until desired creamy consistency.

Before serving toss with tomato and feta cheese. Add shrimp if desired.

Garnish with additional thyme.
Notes
Substitute bell pepper for poblano pepper, if desired.
More Recipes You're Going to Love!
Don't forget to sign up here for those weekly updates.
See y'all next time,