This will become your go-to recipe for marinating and grilling pork tenderloin. The marinade stirs up in minutes and infuses wonderful flavor to the pork tenderloin before it's grilled to perfection.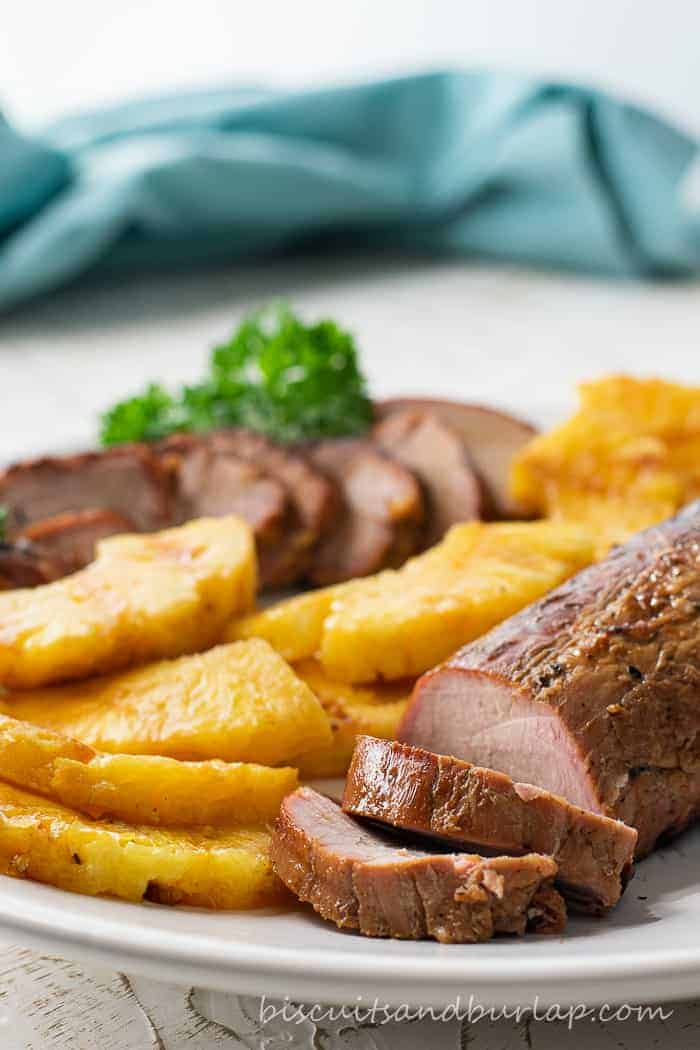 Pork tenderloin is one of our favorite cuts of meat to cook on the grill. It's lean and flavorful all on its own and we sometimes use just a spicy rub on the surface of the meat.
But, more often than not, we use one version or the other of this marinade recipe and let it sit in a plastic bag in the fridge for a few hours before grilling.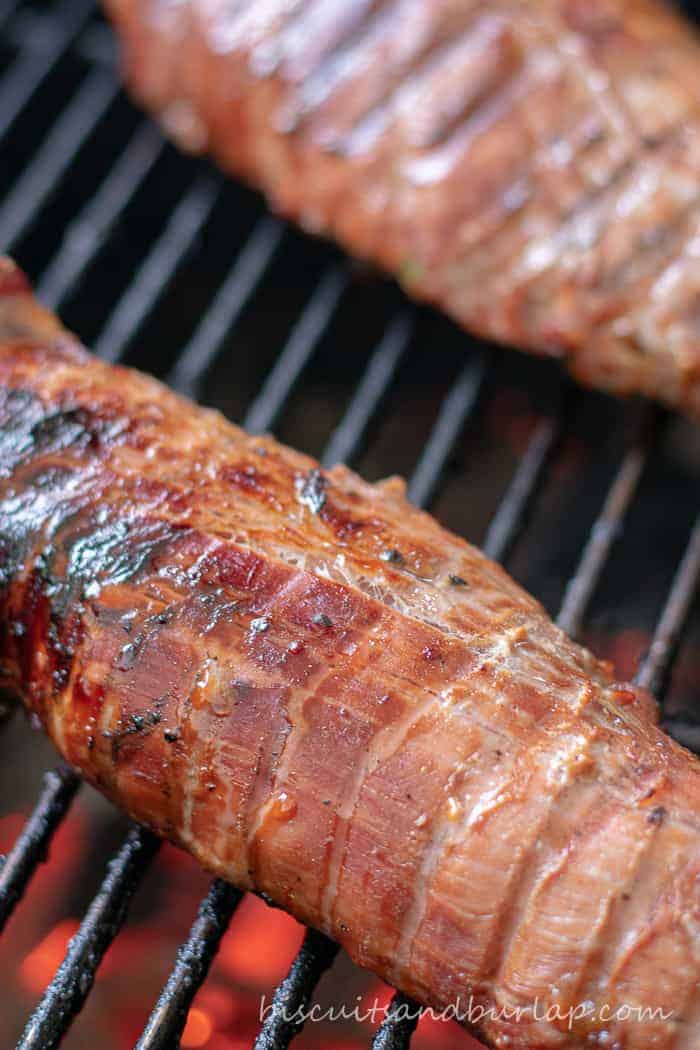 Using a bit of pineapple juice in the marinade makes it a natural to pair with grilled pineapple slices. We usually set aside just a little bit of the marinade to brush on the pineapple slices, but if you forget don't worry. Fresh pineapple is absolutely delicious after a few minutes on the grill completely unadorned.
If you're a pineapple nut like we are you'll want to add this to your list to make: Hummingbird Bread has all the flavors of the better known cake, but is smaller and slightly less sweet. You may also want to check out our Homemade Pineapple Preserves.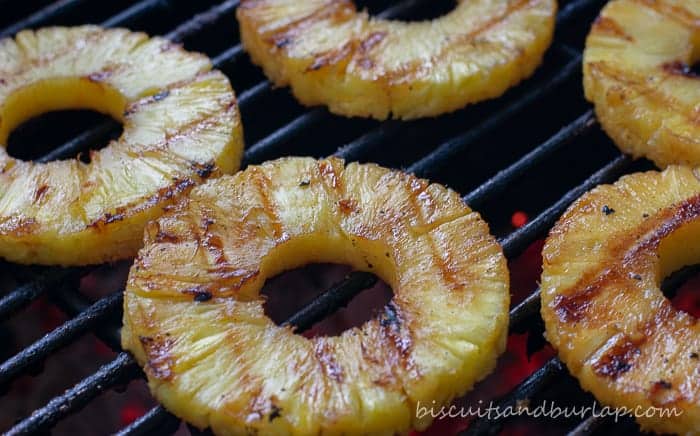 This pork tenderloin recipe is so versatile
Like many of the recipes you'll find here on Biscuits and Burlap, this one is very versatile. We're big believers in using what you have on hand whenever possible. Our Veggie Foil Packs, corn soufflé casserole, and Fried Apples are a great example and would be a perfect side dish with this pork. Carrot Pumpkin Soup with Brown Butter also makes a great side for this dish.
This post contains affiliate links. Click here for our full disclosure and privacy policy.
A few substitutions/alterations that would be just fine:
Don't have fresh ginger? Just use ground ginger remembering that it's stronger, so you won't need much.
Light or dark brown sugar are both perfectly good in this marinade.
We like toasted sesame oil, but regular is fine too.
Use reduced sodium or regular soy sauce.
Make one half the recipe and cook just one of the tenderloins from your package. Freeze the other one for later.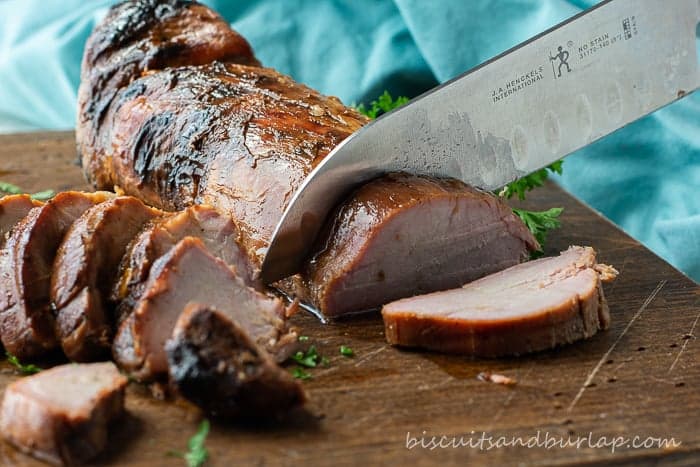 What is the safe cooking temperture for pork?
Since this has been a subject of controversy over the years we thought we'd make sure you're up to date. The National Pork Board now recommends cooking pork to an internal temperature of 145 degrees, followed by a three minute rest. Only ground pork needs to be cooked to 160 degrees.
A pork tenderloin like this one will still be pink in the center at 145 degrees. If you and your family don't want to see any pink you can go as high as 155 to 160 degrees, but anything over that will compromise the tenderness of the meat.
We recommend a digital thermometer to get an accurate reading. Click over here for the type we use. It can be used in a smoker, oven or grill with the lid closed. You can actually insert it into the meat before you start cooking and monitor the temperature as it rises.
For a totally different take on grilled pork tenderloin we highly recommend this easy coffee rub. If you don't have time for marinating that's the way to go.
This recipe made the suggested list for the Backyard BBQ Menu Ideas. You'll want to visit for lots of other recipes as well as tips, tricks and planning help for your cookout.
📖 Recipe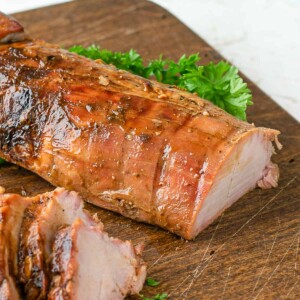 Grilled and Marinated Pork Tenderloin
Pork tenderloin is marinated and then grilled to perfection.
Ingredients
2-2.5

pounds

pork tenderloin

⅔

cup

soy sauce

2

Tablespoons

brown sugar

1

green onion

chopped

1

clove

garlic

pressed or bruised

¼

teaspoon

toasted seasame oil

1

inch

piece ginger root

cut into 3 pieces

1

Tablespoon

vegetable oil

½

cup

pineapple juice

8-10

slices

fresh pineapple
Instructions
Stir all ingredients together except pork. Continue stirring until sugar dissolves.

Reserve 2 Tablespoons of marinade to brush on fresh pineapple slices, if desired.

Seal pork and marinade in gallon zip-loc bag, pressing out as much air as possible.

Refrigerate for 6-8 hours or overnight.

Remove pork from marinade and grill over medium high heat until meat thermometer reads 145-150 degrees.

Remove from grill to rest and grill pineapples slices on hot grill about 2 minutes per side.
Pin the image below to save for later.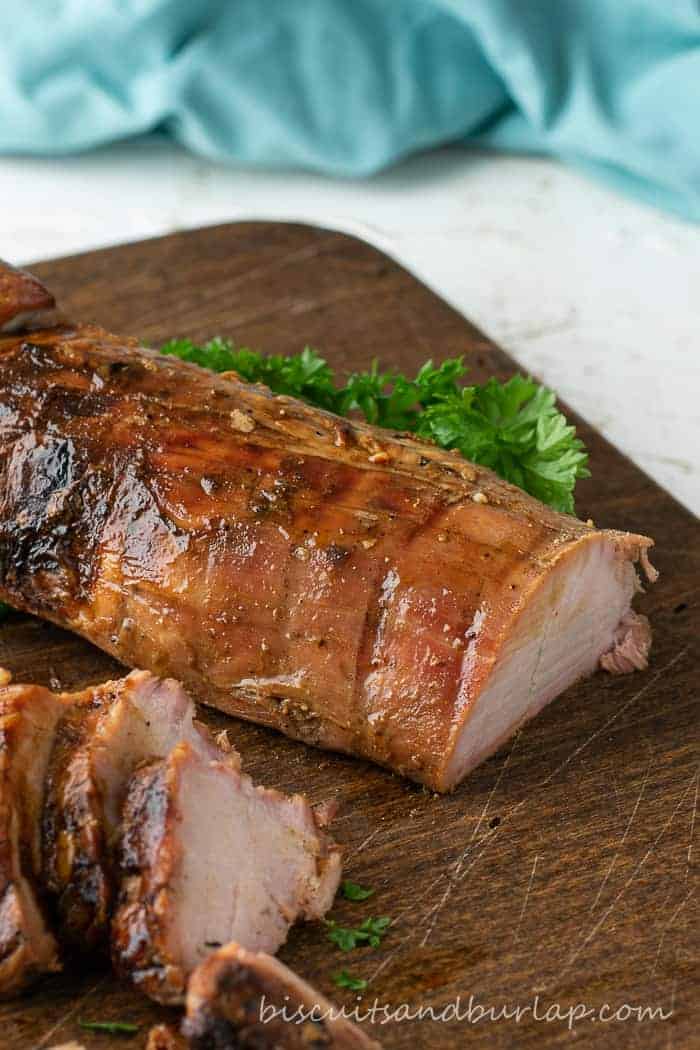 We hope y'all love this pork tenderloin recipe as much as we do. Be sure to tag us with a photo of yours on Facebook or Instagram.
If you need a side dish that can cook on the grill right along with the meat be sure to check out Skillet Potatoes for the Grill. They can be cooked in the oven, too. But, if you've got the grill going why do the potatoes at the same time?
Southern Food Then and Now - Read it Now

If you love grilling you'll want to check out these recipes too: