A coconut pie recipe unlike any you've had before. The filling is sweet and delicious, made with just a few simple ingredients and is topped with crispy coconut.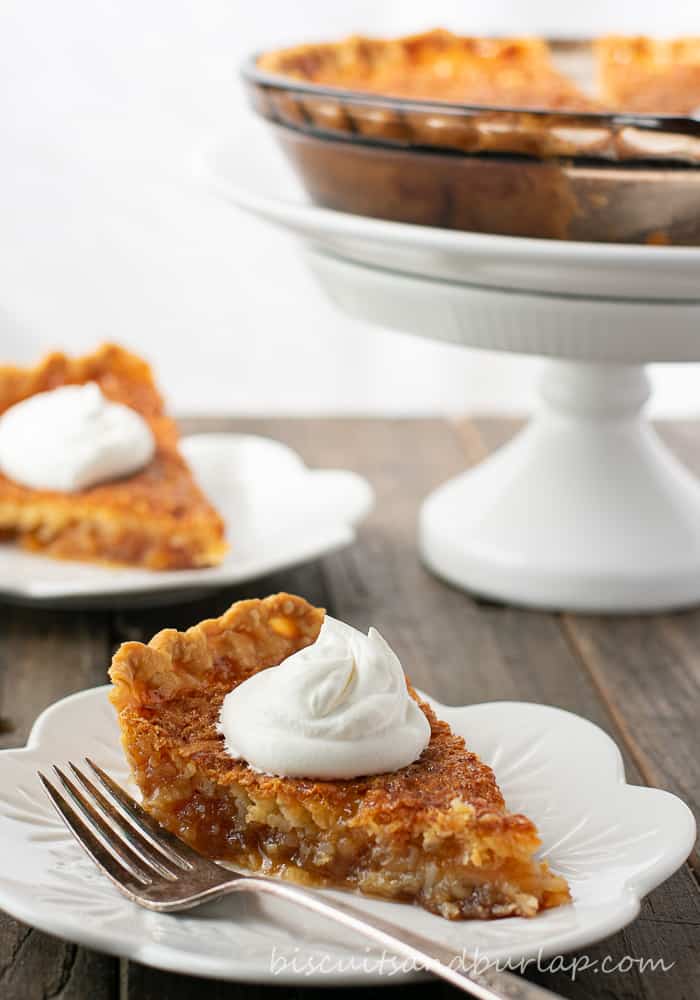 This coconut pie recipe is not your Mama's coconut cream pie or coconut custard pie. The filling is reminiscent of pecan pie so if you love coconut and you love pecan pie, you can be sure this will be your cup of tea.
It stirs up in just minutes and is delicious warm, at room temperature or cold.
Coconut lovers take note: These little two bite coconut tarts are the perfect addition to a tray of mini desserts!
Coconut pie made with just a few simple ingredients
Other than what you see below this pie just has a bit of salt, vanilla, a little flour and of course a pie crust.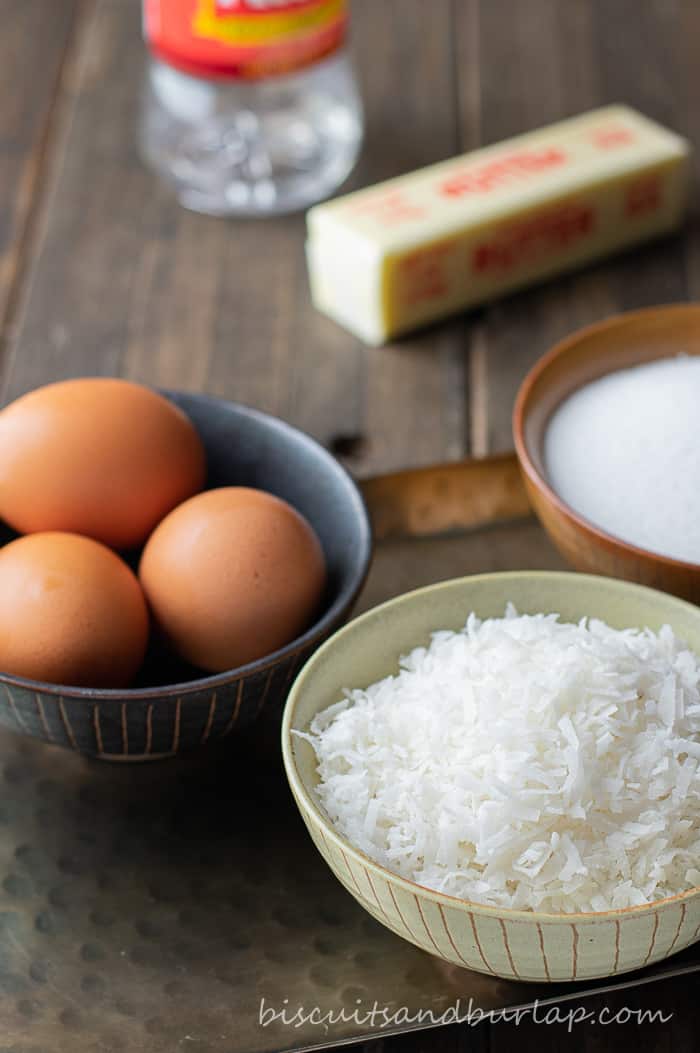 I don't know about you, but I've usually got a pie crust in my freezer and a bag of coconut in the pantry. The only thing I might have to pick up for making this coconut pie is corn syrup, and around the holidays that's typically in my stash too.
Just saying…you can put this sweet treat together in minutes with plain old ingredients you keep around the house.
Using what you have is a recurring theme in southern cooking. Learn more in this article.
The best toppings for this coconut pie recipe:
This post contains affiliate links, which means if you click on an affiliate link and buy something, we may receive a very small commission. It does NOT result in additional charges to you or cost you anything extra. Click here for our full privacy and disclosure policy. As an Amazon associate we earn from qualifying purchases.
Honestly, it's scrumptious without anything else on top. The coconut rises to the top of the filling and makes its own crispy top. But, if you want even more deliciousness you could make our Ice Cream with Brown Butter & Pecan Brittle. It makes the perfect amount in the little Cuisinart Ice Cream Maker (a favorite around here), and that would be one decadent dessert!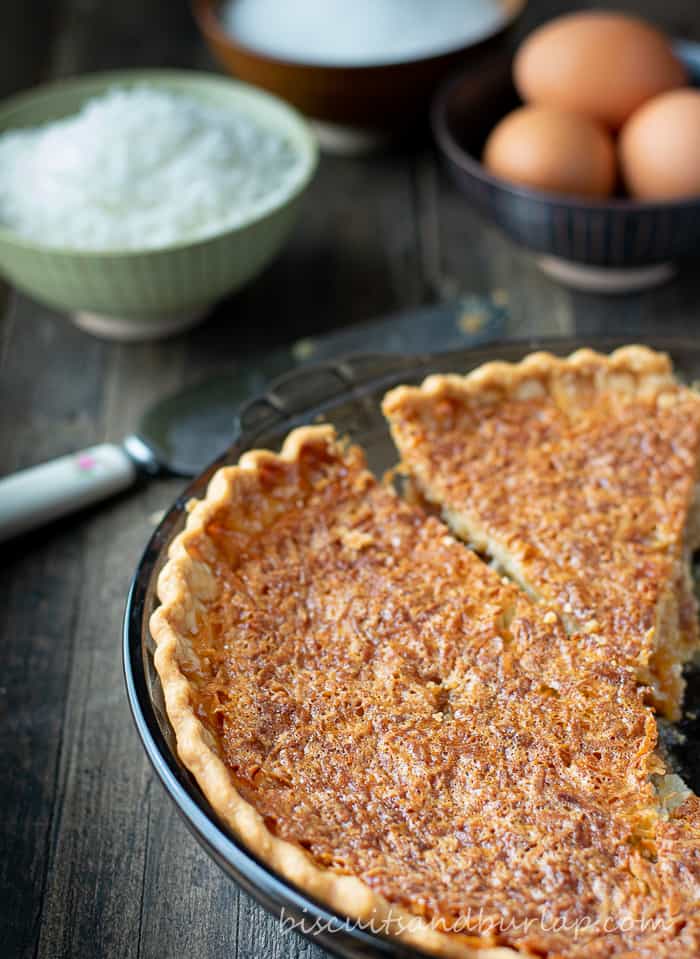 We do like our coconut pie with just a simple dollop of whipped cream. That smooth creaminess pairs perfectly with the crispy top.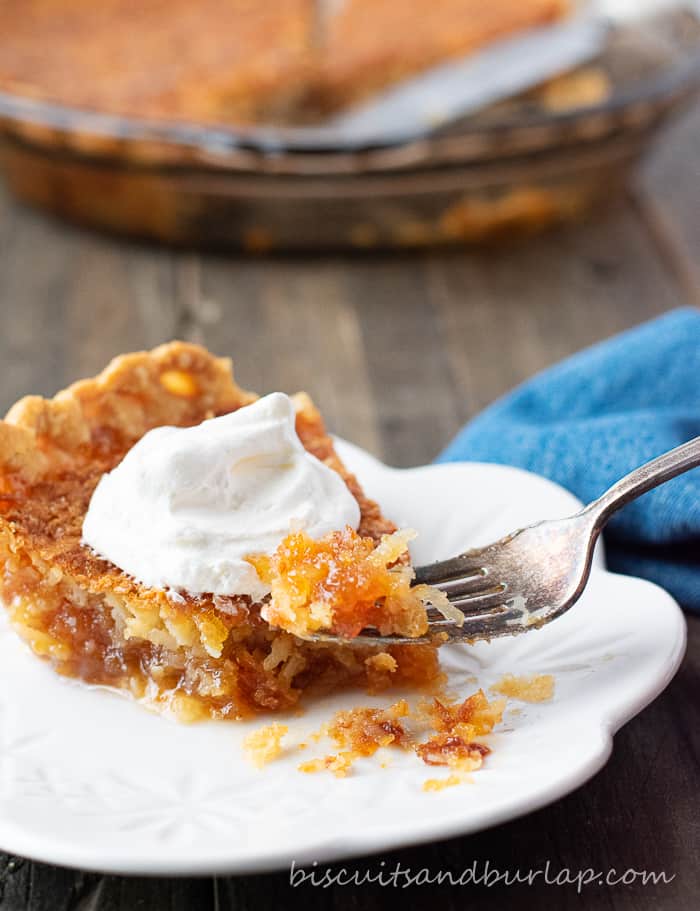 The crust.
If you've been around Biscuits and Burlap long you know that Sara and I both are in it for the pie filling. If you love making your own pie crusts we respect that, but we're more likely to use a frozen pie crust or one of those you find in the dairy section of your store.
The exception to that is our Peanut Butter Pie because it's made in an Oreo Crust. It's simple to do and oh so good!
And, please make note: This recipe is for a traditional pie pan, not deep dish. If you want to make a larger pie in a deep dish the ingredients would need to be increased accordingly. We have not tested it that way.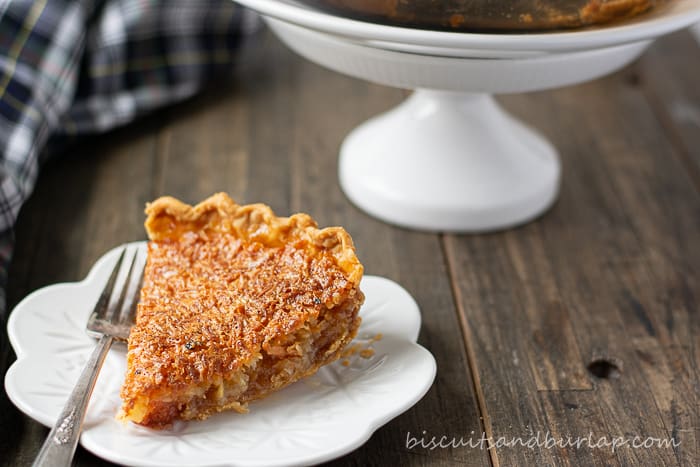 A few items you may need for making & serving this Coconut Pie Recipe:
If you'd like to receive a new recipe from us each week you can sign up here.
This recipe made the list for Backyard BBQ Menu Ideas. For lots of others plus tips, tricks and planning help be sure to check it out.
📖 Recipe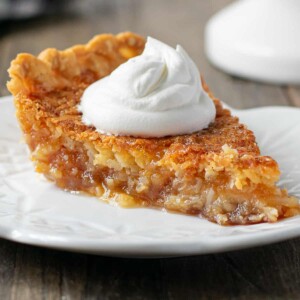 Coconut Pie with Crispy Top
A coconut pie recipe that's sweet and delicious, with a crusty layer of coconut on top.
Ingredients
Instructions
Stir all ingredients except butter and coconut together until well blended.

Add coconut and butter and blend well.

Pour into unbaked pie shell and bake at 350 degrees for 50-60 minutes or until center is set.
Notes
If crust edge starts to brown excessively it may be shielded with aluminum foil.

More recipes you'll want to try: