Brown sugar frosting with cinnamon is an easy to make buttercream frosting that is the perfect topping for cupcakes, cookies and more. Simply put, this is your go-to topping for all of your fall goodies.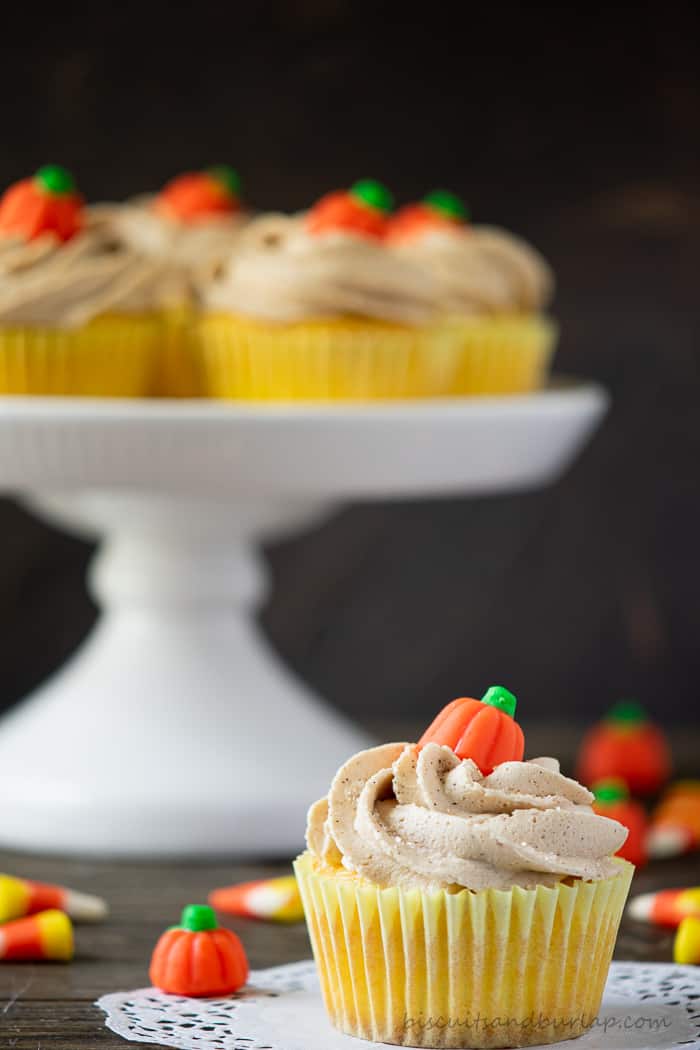 This brown sugar icing with cinnamon is a versatile buttercream that will highlight the flavors of any fruit or spice dessert. It's particularly perfect for all of your fall favorites like apple cake, pumpkin cupcakes or your special autumn cookies and breads.
Made with light brown or dark brown sugar and confectioners sugar it's easy to whip up. You can most likely make it with ingredients that you already have in your pantry.
Fall Desserts
When the weather starts to cool off and the days get shorter our thoughts turn to favorite sweet treats like Pecan Pie and Apple Crisp with Cranberries. Our Sweet Potato Cake has a  pecan praline icing that is a firm, candy-like topping. Licking the spoon after making it is a guilty pleasure to say the least.
But, sometimes you want a buttercream type frosting that can be used on a variety of cakes, cupcakes, cookies and even cinnamon rolls.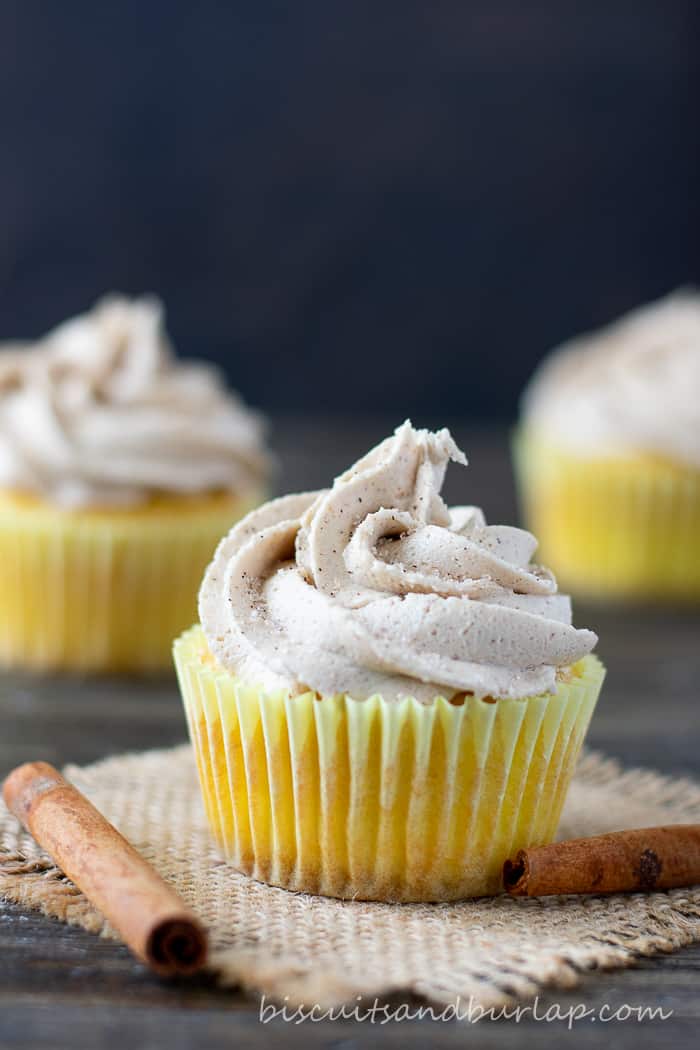 Brown sugar in frosting? It's great if you use this tip!
Brown Sugar is a favorite ingredient of ours. It goes with fall treats like Pimento Cheese goes with summer ones. I wasn't sure, though, about putting it in a frosting because it has a grainy texture. After a little research I came up with the remedy for that graininess: Just let it sit for a while after mixing it with the butter.
A little time is all that's needed for the brown sugar to more or less "dissolve" into the frosting. Then you're left with all the rich flavor, but no grittiness.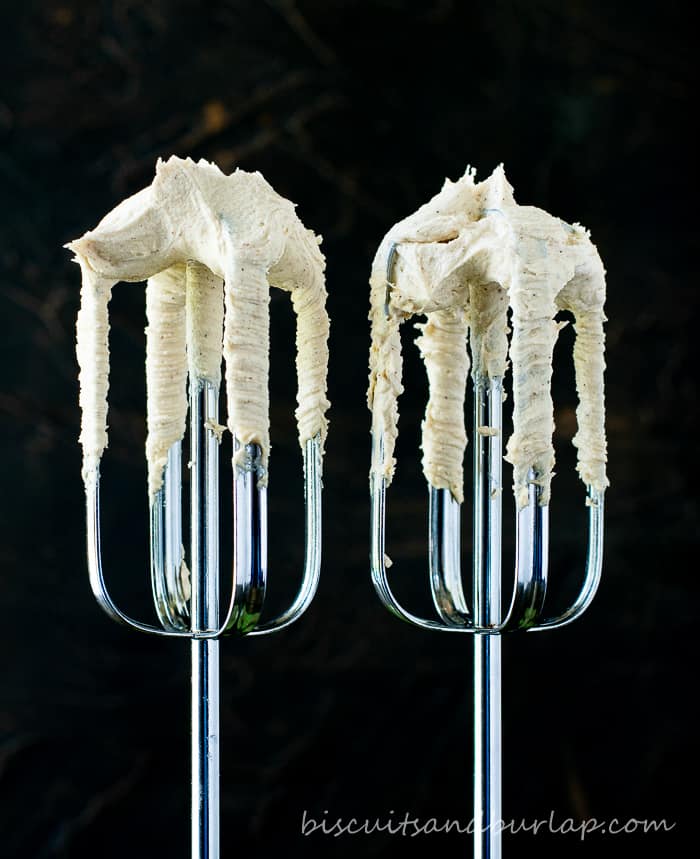 Have fun decorating your fall treats!
We made cupcakes, but you could use these ideas with virtually anything you can put the frosting on - cookies, layer cake, sheetcake, muffins, quick breads or even cinnamon rolls.
This post contains affiliate links. Click here for our full disclosure and privacy policy.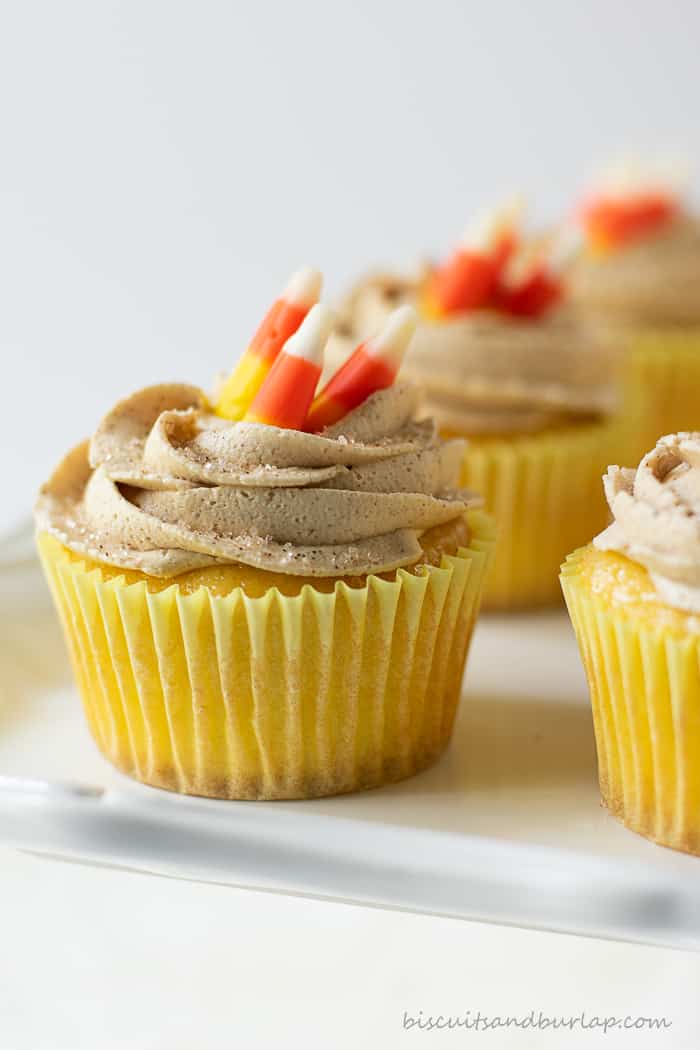 Candy Corn is a classic fall treat and decoration
These are also sprinkled with a little sanding sugar mixed with cinnamon for a light sparkle.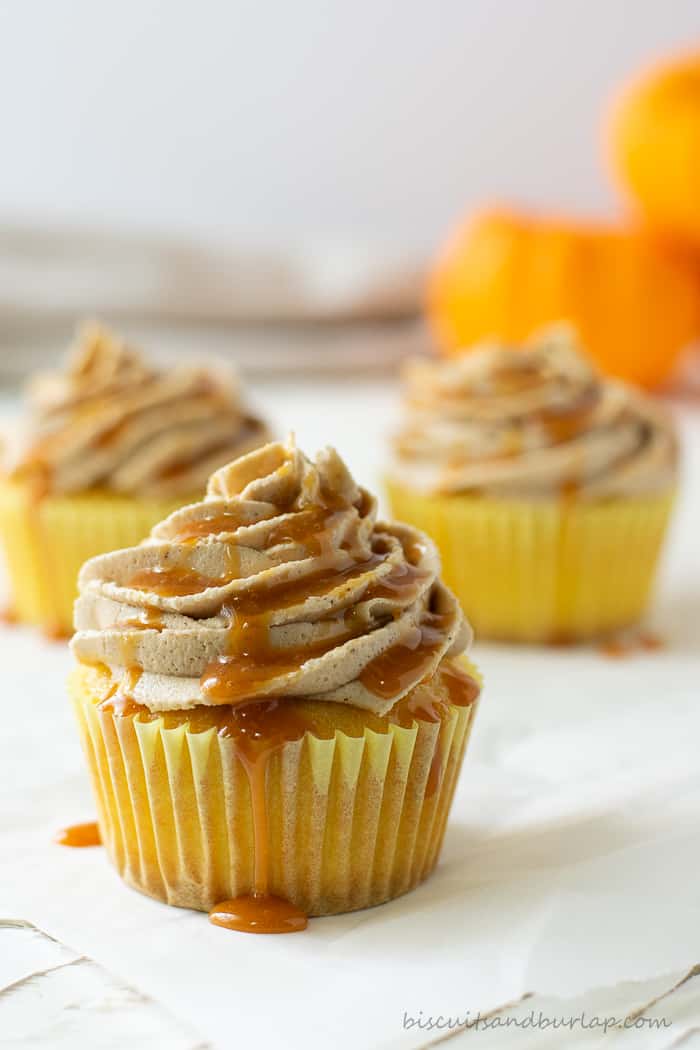 A Drizzle of Salted Caramel Sauce
Hey, are you getting our weekly newsletters? If not, you can sign up here and a new recipe will be delivered each week to your inbox.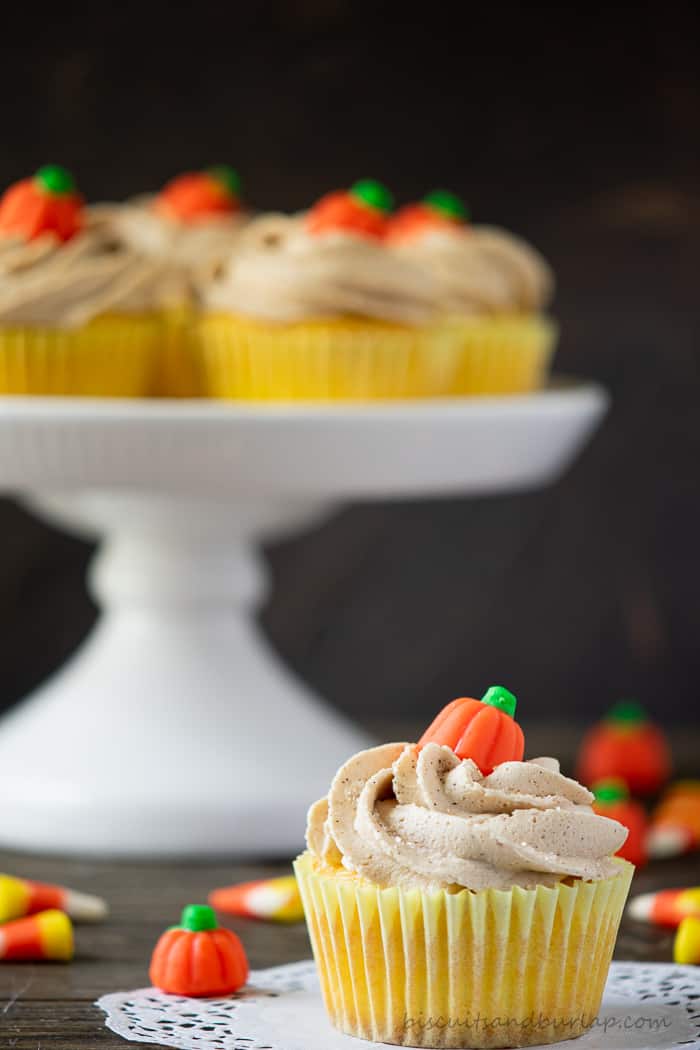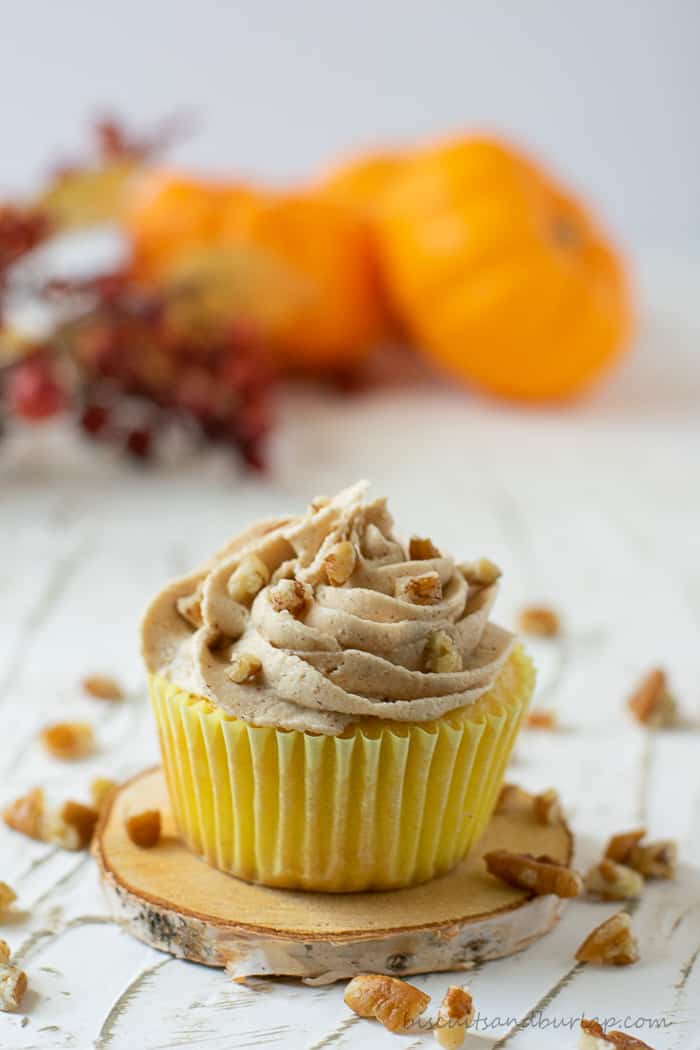 You can't go wrong with a sprinkle of pecans. 
How to get that fancy swirled look with your brown sugar frosting:
I'm no expert at piping frosting or anything else, so if I can do it! If you want to give it a shot but aren't sure your skills are up to snuff, just spend a few minutes watching a Youtube video or two. Search "pipe frosting with 1M tip" and you'll get lots of help.
Order your Wilton 1M tip here and disposable piping bags here. 
For a fun and quick look at this recipe check out the Google Web Story.
📖 Recipe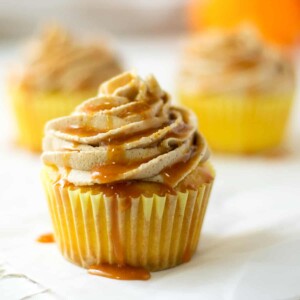 Brown Sugar Frosting with Cinnamon
An easy buttercream frosting with brown sugar and cinnamon that's perfect for fall desserts.
Ingredients
1

cup

unsalted butter

room temperature

½

cup

brown sugar

dark or light

4

cups

confectioners sugar

1

teaspoon

vanilla

1

Tablespoon

milk

plus more if needed for consistency

1

teaspoon

cinnamon
Instructions
Cream butter and brown sugar at medium speed of mixer until well blended.

Allow butter/brown sugar mixture to sit at room temperature for 1-2 hours.

Cream with mixer for 1 minute before adding remaining ingredients.

Beat at medium high speed for 2-3 minutes or until all ingredients are well blended, scraping sides of bowl and adding additional milk (1 teaspoon at a time) if needed for desired consistency.
Notes
Makes enough for 18-24 cupcakes, a two layer cake or a 9 x 13 sheet cake. 
Be sure to tag us on Facebook and Instagram with a shot of your frosting. We love to see what y'all are up to!

You're going to love all of these great fall recipes: