Pecan Crusted Catfish is one of the Southern recipes "reinvented" by Lara Lyn Carter in her cookbook, Skinny Southern.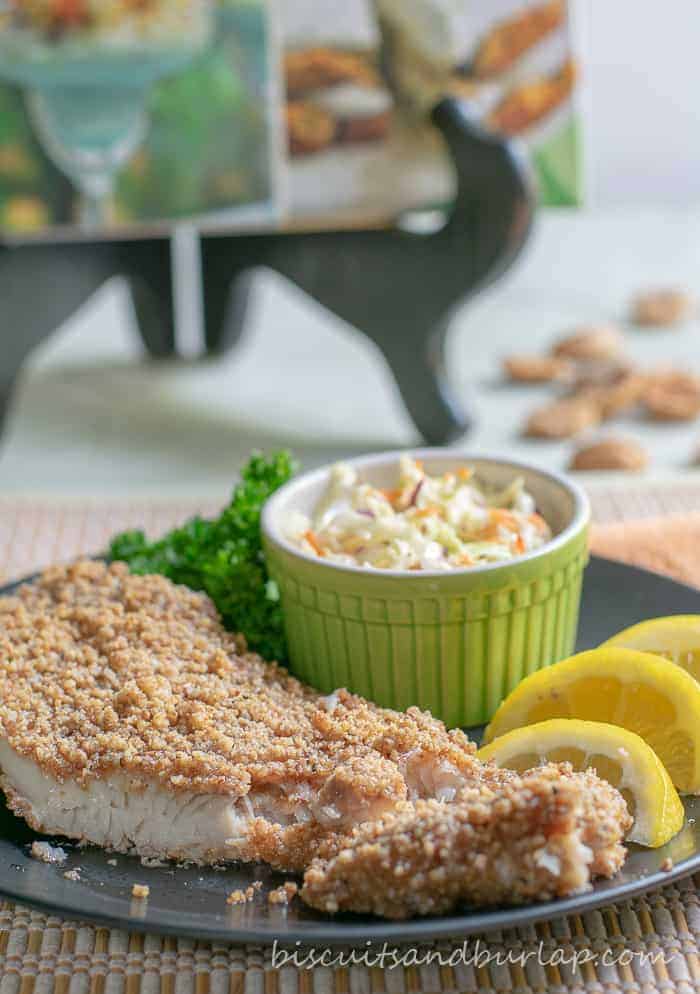 Did you read our review of Lara Lyn Carter's Skinny Southern? We promised to make one of her recipes and we're making good on that promise with Pecan Crusted Catfish. It came together easily and quickly, and made a great good-for-you lunch with a simple side of coleslaw.
Did you know you can sign up right here for weekly updates? We wouldn't want you to miss a new recipe.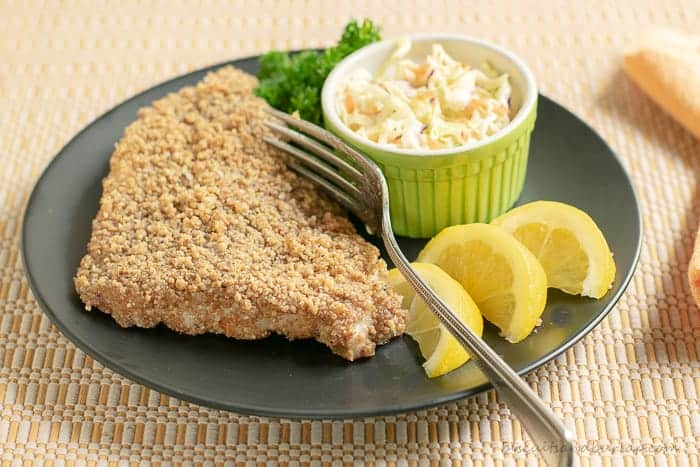 The only issue I had making this catfish was finding the pecan meal. Who would believe that? We're in Georgia, folks, and pecans are king around here. I know I've seen pecan meal in the markets plenty of times.
I'm not sure if my problem was because it's spring right now, and pecan products are more readily available in the fall. Or, it's possible the supply is already being affected by 2018's Hurricane Michael, which devastated many Georgia pecan farms.
This post contains affiliate links. Click here for our full privacy and disclosure policy.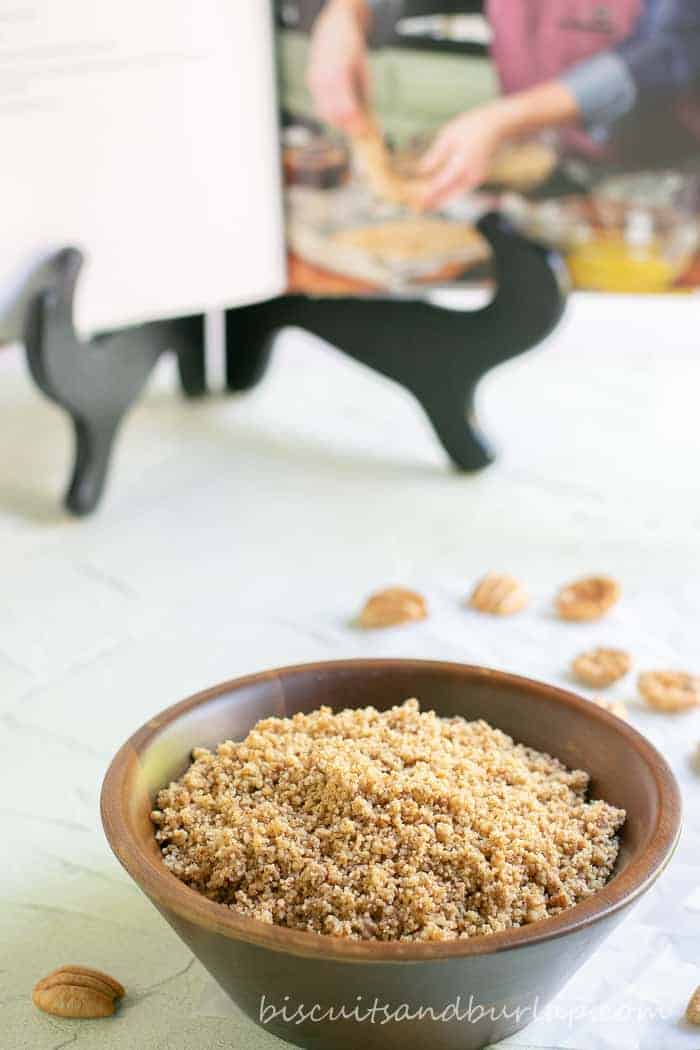 If you run into the same thing you can always order pecan meal on Amazon. Click over here for a link.  Or, if you have pecans, you can do what I did and make your own meal. It was super easy to run a couple of handsful of pecans in the food processor for a minute or two. My food processor is the most basic one out there, but this link takes you to a whole page of choices from basic to fancy.
Pecan Crusted Catfish can be a versatile dish
We loved Pecan Crusted Catfish as a far healthier version than traditional fried catfish. In fact, I think it would be delicious with pretty much any fish of your choice.
Read this article for more about the trend to healthier southern recipes. 
If I had to make a change it would be to spice things up a bit. You know we love our spicy foods around here just by looking at our collection of recipes. Smoky and Spicy Pimento Cheese and Fiery Cajun Shrimp are just two that we've made recently.
In writing up the Pecan Crusted Catfish recipe I've added an optional small amount of cayenne pepper in case you like giving your dishes a kick, too.
Lara Lyn wrote the recipe for 4 filets and that would be just right for 4 servings. There were just two of us when I made it, and it was simple enough to halve the amounts. We've also made Catfish with Lemon Thyme Sauce that's delicious and can be made easily for two or four.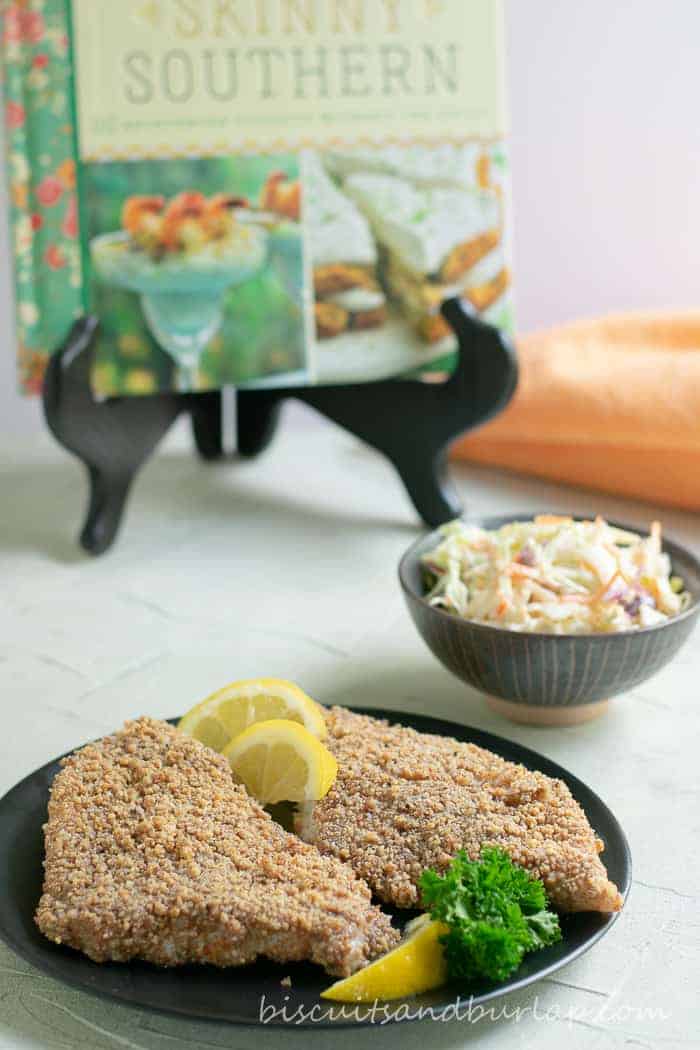 If you missed our review of Skinny Southern be sure to check it out by clicking over here. (Hint! We love ours and you can't have it, but you can get your own copy with this link.)
Here's the recipe, y'all!
📖 Recipe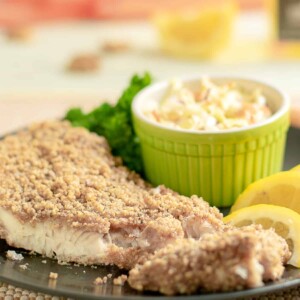 Pecan Crusted Catfish
Skinny Southern's non-fried version of fried catfish
Ingredients
2

Tablespoons

pecan oil

2

eggs

1

teaspoon

coarse salt

1

teaspoon

coarsley ground black pepper

1

cup

pecan meal

4

6 ounce

catfish filets

¼-1/2

teaspoon

cayenne pepper

optional
Instructions
Preheat oven to 400 degrees.

Spread oil on a foil lined baking sheet.

Whip the eggs in a shallow bowl.

Combine the salt, pepper, pecan meal and cayenne (optional) in another shallow bowl.

Dredge the catfish in the egg, allowing the excess to drip off. Dredge the catfish in the pecan meal mixture and lay it on the baking sheet.

Bake the catfish for 10-12 minutes. Serve hot.
Don't forget to sign up for our weekly updates. You can do that right here. 

More lightened up recipes you're going to love: