Succotash is a versatile vegetable side dish. This recipe can made the classic way with butter or a creamy version for extra richness.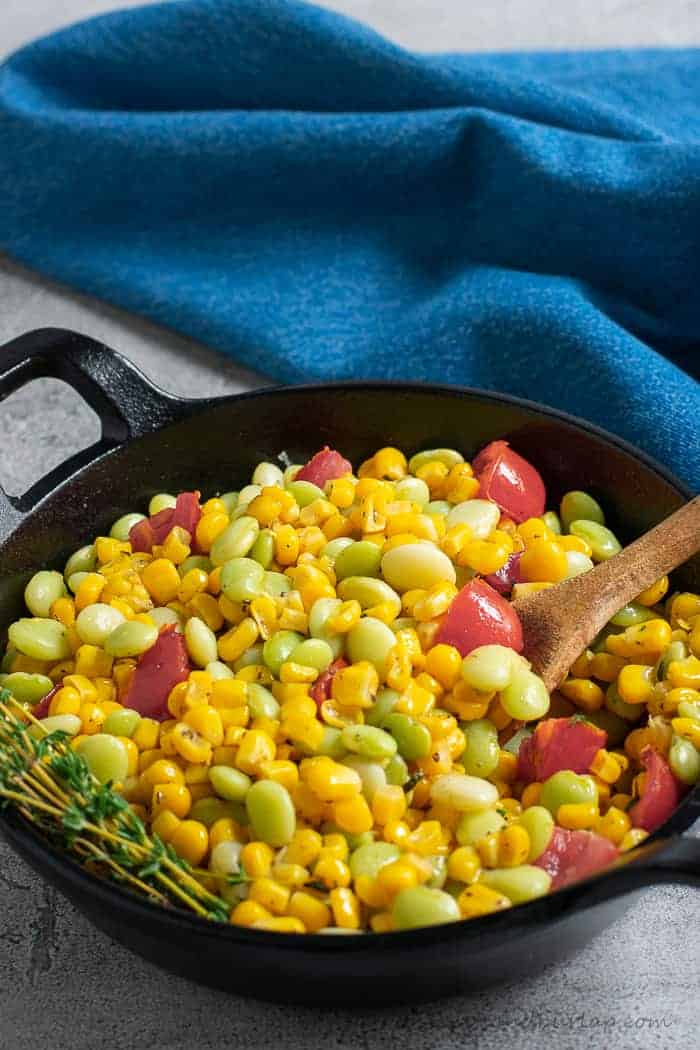 Succotash is a vegetable dish with some interesting stories behind it. A quick Google search reveals that the word itself is of Algonquin origin. The most basic version of the dish is just corn and lima beans, cooked and seasoned most typically with butter.
In the south, it can be any combination of vegetables as long as it includes lima beans, and is often seasoned with bacon and/or bacon grease.
It was a popular dish during the depression because of the affordability of the ingredients. That most likely explains why it was served often at home when I was growing up.
My Mama was a child of the depression, and she was a firm believer in living as frugally as possible, whether by necessity, or just conviction. The version we had at home was simply baby lima beans and corn, seasoned with a little bacon grease and salt.
Many recipes in the south were born because of the need to use whatever was available. Read more about that here. 
Classic succotash with a couple of updated tweaks
We kept pretty true to the traditional version with our recipe here. A couple of herbs add some extra dimension of flavor, and including grape tomatoes gave it a tangy twist and beautiful color.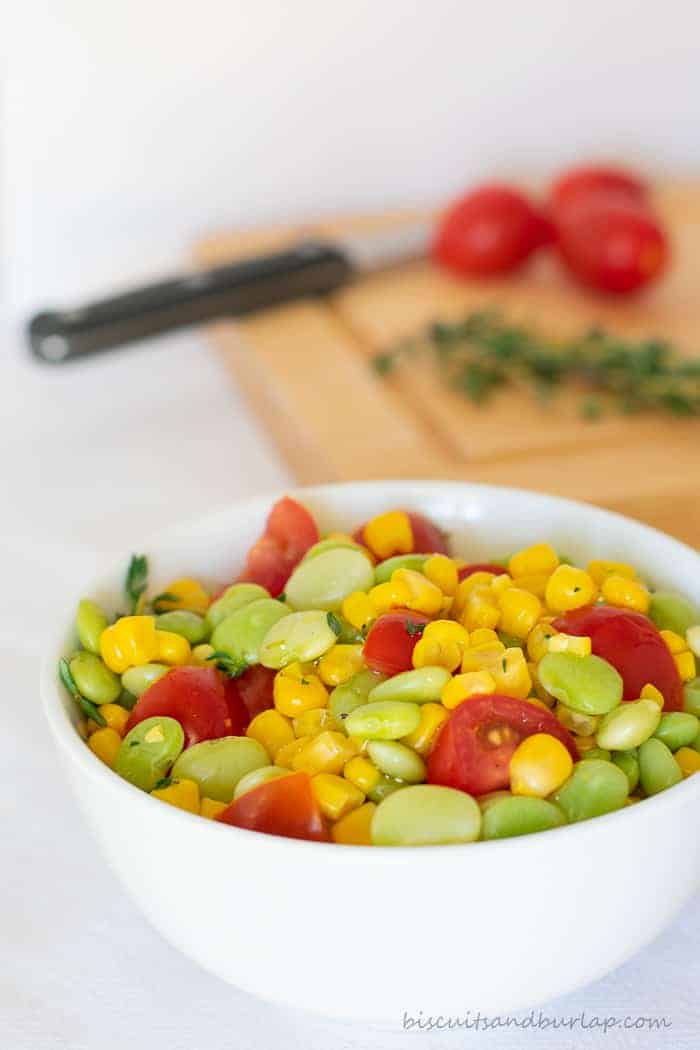 If you like a creamy vegetable side dish it's easy to make that happen with succotash. Right at the end, when the tomatoes are being added, stir in a little heavy cream and flour to thicken. Heat it just long enough to thicken the cream.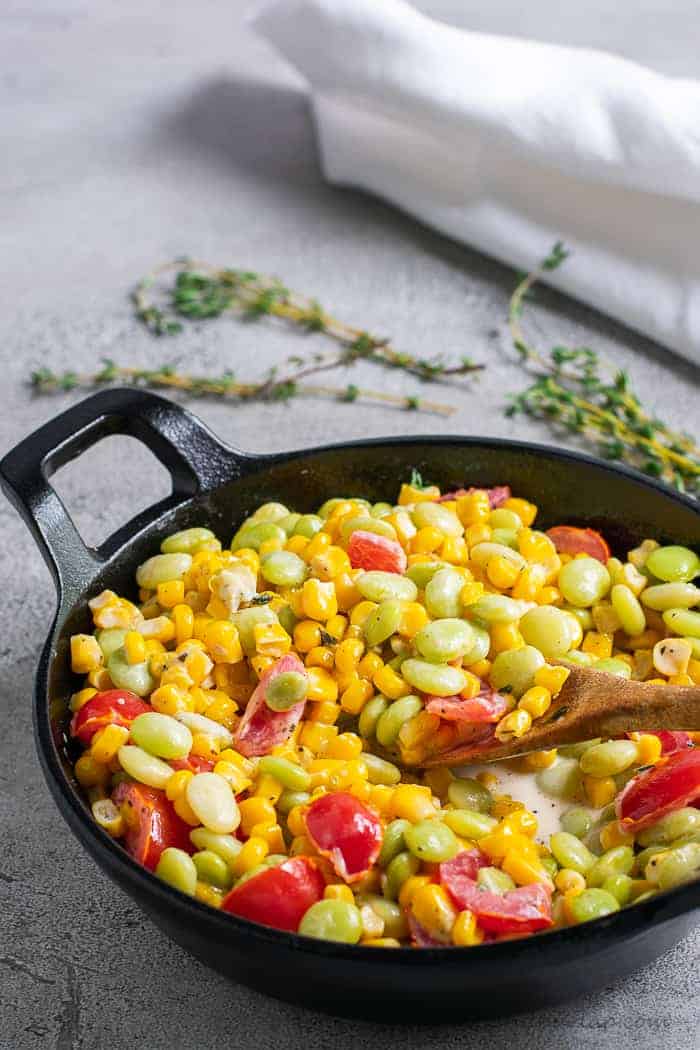 Hey, are you getting our weekly updates? It's easy to sign up here. 
Sufferin' Succotash! How about that recipe?
Okay, here you go. When you make it, be sure to tag us on Facebook or Instagram and snap a shot of yours.
This post contains affiliate links. Please click here for our full disclosure and privacy policy.
📖 Recipe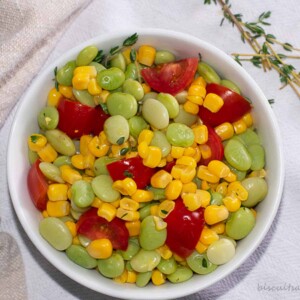 Succotash - Classic & Creamy
Succotash is a classic mixed vegetable side dish. Ours is updated with a couple of twists and can easily be made into a creamy version.
Ingredients
2

cups

baby lima beans

3

Tablespoons

butter

1

teaspoon

fresh thyme leaves

½

teaspoon

sage

1

teaspoon

apple cider vinegar

1-½-2

cups

whole kernel corn

fresh or frozen

½

teaspoon

salt

1

cup

grape tomatoes

halved or quartered

½

cup

heavy cream

optional

1-2

Tablespoons

Wondra Quick-Mixing Flour

optional
Instructions
Cook lima beans in salted, boiling water until tender, 10-12 minutes. Drain and set aside.

Melt 1 Tablespoons butter in a medium to large size skillet over medium heat. Add corn, thyme, sage and salt and sautee' 5-6 minutes or until corn is tender.

Add lima beans, vinegar and tomatoes and heat thoroughly.

If desired, stir in cream, flour and stir over medium-low to medium heat until cream is thickened.
Substitutions are easy
Have fresh vegetables? That's even better!
Use full size tomatoes, diced into bite sized pieces.
Like different herbs? Go for it!
Canned corn can be used, but you would skip the 5-6 minute sautee' step.
Have more vegetables on hand? Add them. That's what succotash is all about.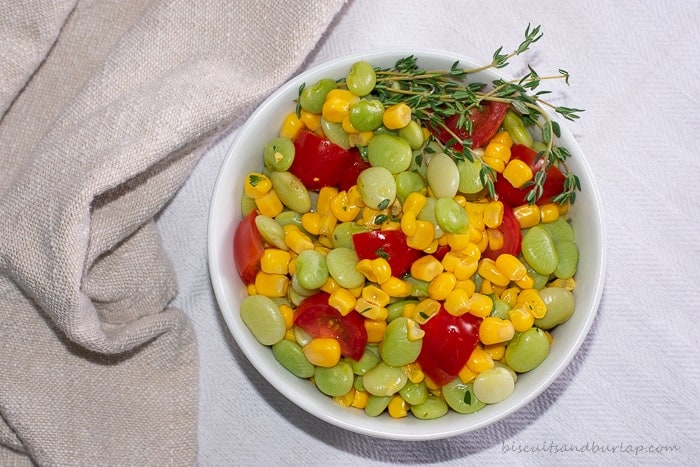 A word about the flour for thickening the creamy version
If all you have is all purpose flour you can use that. I would recommend stirring it into the cream before it goes in the succotash. But, we love, love, love our Wondra Quick-Mixing Flour for applications like this. You can just shake it out into your dish and it blends beautifully. Wondra Flour is also a key ingredient in our (nearly) world famous Shrimp and Grits.  I always keep some on hand. You can order it by clicking here if you like. 
Succotash is a great healthy Southern dish. If you're looking for more, be sure to read our Review of Skinny Southern and then order your own copy.
Don't forget to sign up for our weekly updates. You can do that right here.

More recipes you will love