Get those low country boil flavors that you love even if you can't get outside, and even if you don't have a crowd to feed.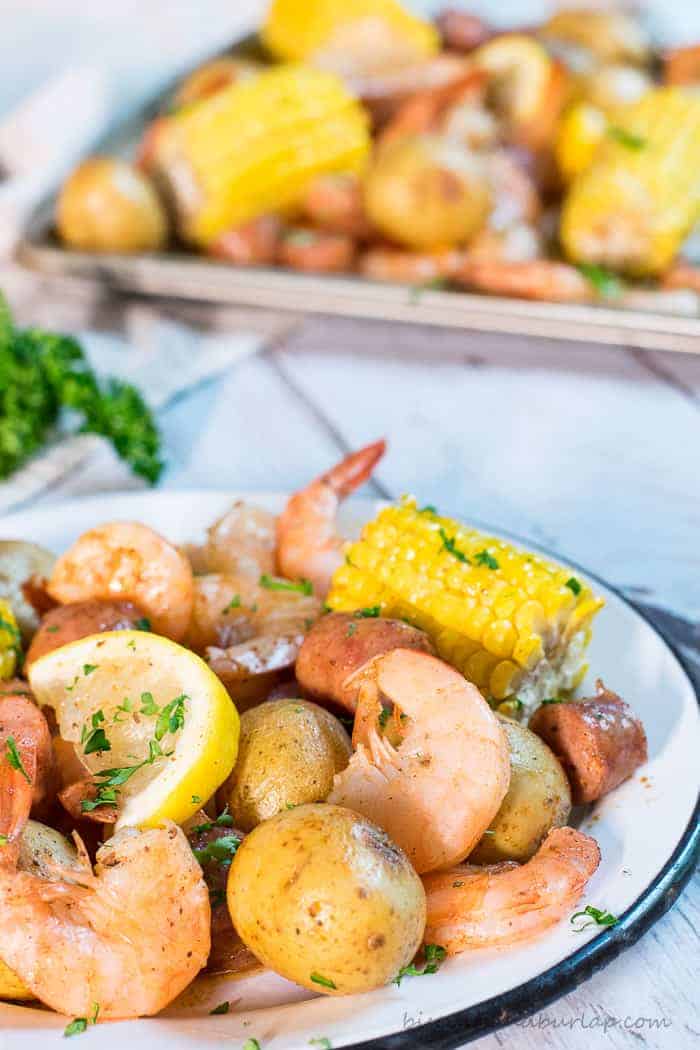 The concept of the Sheet Pan Dinner is all the rage these days, and with good reason. Who doesn't love a meal that's made all on one pan in the oven?
Line the sheet pan with aluminum foil or parchment paper and besides easy prep, you've got easy clean up too. Combine that with the delicious flavors of Low Country Boil, and this is meal is a big winner.
What is Low Country Boil?
In case you're not familiar, low country boil is typically made for a good number of people, and it's cooked outside in a big pot. Classic ingredients are shrimp, potatoes, corn and sausage, but like many southern dishes, it can vary according to what is seasonal and locally available. Onions can be added and lemons, crawfish and crab are all common in this one pot meal.
The traditional serving method is to drain the pot and dump all of that goodness onto a table covered in newspaper. Then everyone gets a paper plate and fills it with as much as they like (no hogging the shrimp or people will talk about you.)
If you love southern food traditions like Low Country Boil be sure and check out Southern Food Then and Now. 
You may have heard the name Frogmore Stew used for the same dish. I don't know where that name came from, but feel free to leave a comment if you do.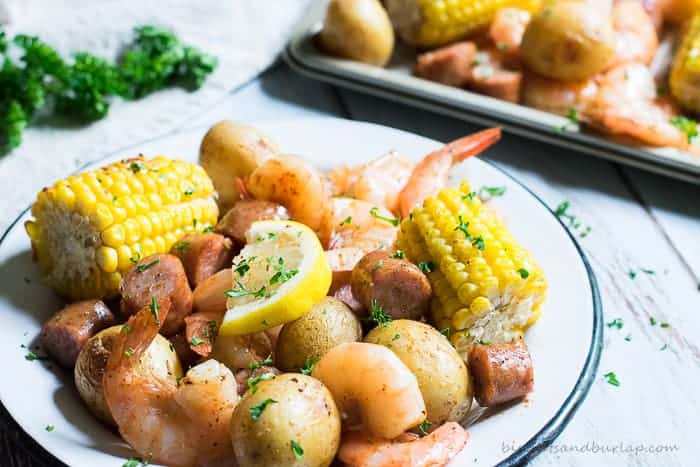 Are you getting our weekly updates? You can sign up here.
How to season Low Country Boil
Now, like many things around here we like ours with a little kick. We've recently discovered a new favorite hot sauce and it's made right here in Georgia. You're going to love this name – Bootlikker Hot Sauce as much as you'll love the sauce. It was a 2017 Flavor of Georgia finalist, and you can get it yourself if you're in Georgia by visiting one of the fine establishments listed on the Bootlikker website. If you're not in Georgia, they'll ship to you, but either way, give it a try. You'll fall in love with it like we did.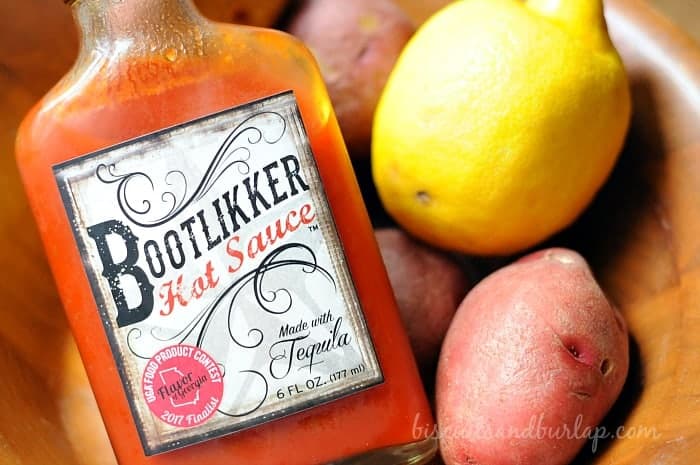 Old Bay Seasoning is another traditional seasoning and we wouldn't think of making Low Country Boil without using it – whether you're making a sheet pan dinner or the traditional cooking method, Old Bay is essential in our book.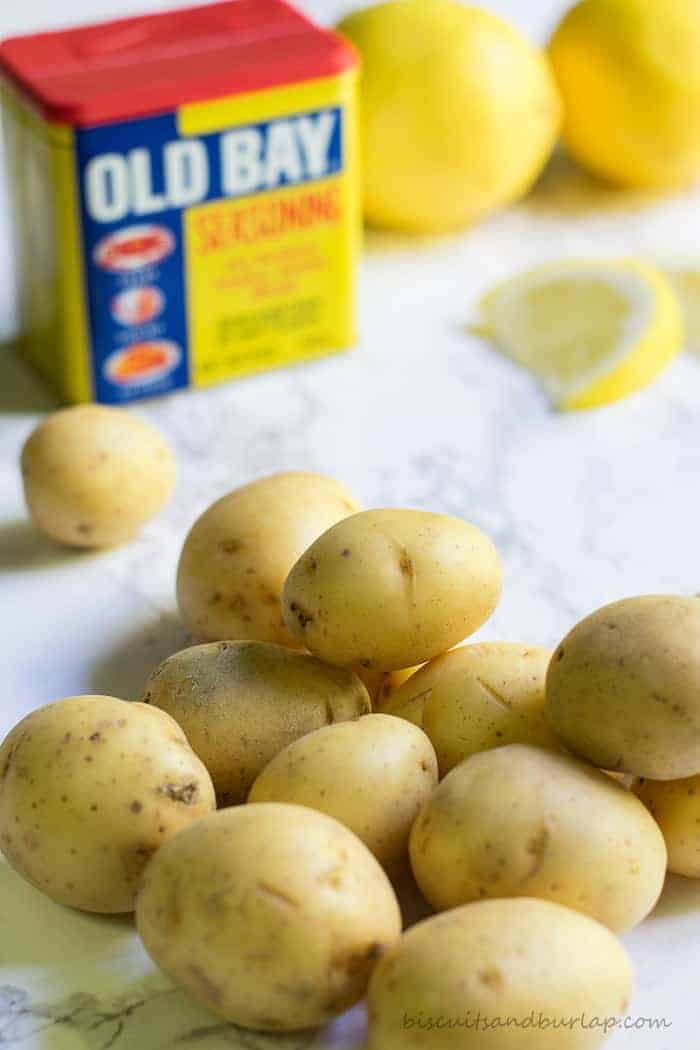 Add a few lemons and you're all set. Most traditional Low Country Boils will be served with cocktail sauce, Remoulade sauce, and melted butter.
As a side note, any size or type of potato can be used and cooking time would be adjusted accordingly. For the sheet pan dinner, we used Honey Gold Petite Potatoes and they are excellent.
Why Cook Low Country Boil as a sheet pan dinner?
you only have a few people to feed and don't want to set up the big cooker
you don't have a big pot and/or outdoor cooker
the weather is bad and you can't cook outdoors
you live in an apartment with no place to do outdoor cooking
easy clean up
you love low country boil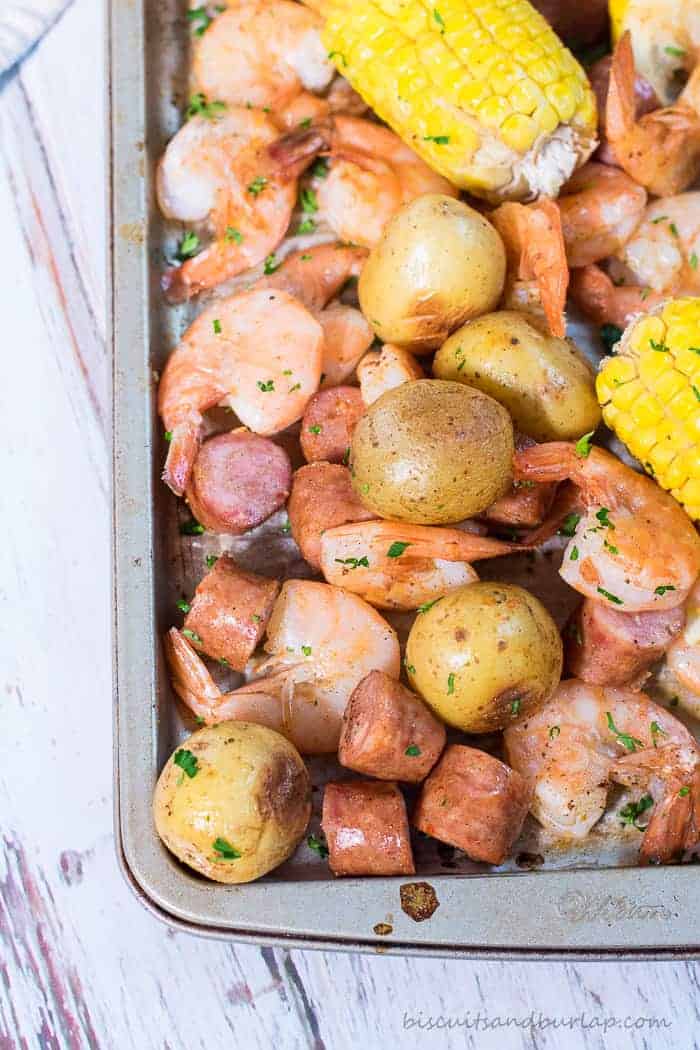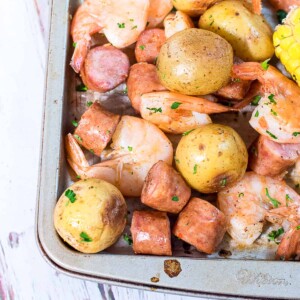 Sheet Pan Dinner - Low Country Boil Style
Easy prep and clean up makes this Low Country Boil on a Sheet Pan perfect for any day and any size crowd.
Instructions
Line sheet pan with aluminum foil or parchment paper.

Place potatoes on sheet pan and brush with melted butter and ½ teaspoon Old Bay. Roll around on pan to coat with butter and seasoning.

Cook at 400 degrees for 15 minutes (longer if potatoes are larger than petite/new size)

Add corn, brush with butter and sprinkle with ½ teaspoon of Old Bay, coating all sides.

Return pan to oven for 7-8 minutes.

Add shrimp, sausage and half lemon wedges, squeezing the lemon wedges over all. Brush shrimp with melted butter and sprinkle another ½-1 teaspoon of Old Bay. Toss all to blend, keeping a single layer on pan.

Cook additional 8-12 minutes, or just until shrimp are pink and cooked through. Check potatoes for doneness.

Remove from oven and sprinkle entire pan with hot sauce, tossing to coat.
Low Country Boil as a sheet pan dinner is super versatile
You can add or subtract from the amount of the  ingredients according to how many people you're feeding and what you have on hand. This could actually be a meal for one made on a small pan, or for 5-6 people on a large one. Just be sure the pan you use is large enough to keep the ingredients in a single layer. If anything gets stacked up, the result will be uneven cooking.
A few items that will come in handy
 

Order Rick Bragg's latest book:
The Best Cook in the World – Tales from my Momma's Table. You'll love it!
We think you'll like these recipes, too:
 Y'all don't forget to sign up here to get weekly recipes delivered straight to you In Box. 
And, we'll see you next time,