This Cinnamon Bread is easy enough for a beginning bread maker. It makes the perfect addition to your breakfast or brunch any weekend or holiday morning.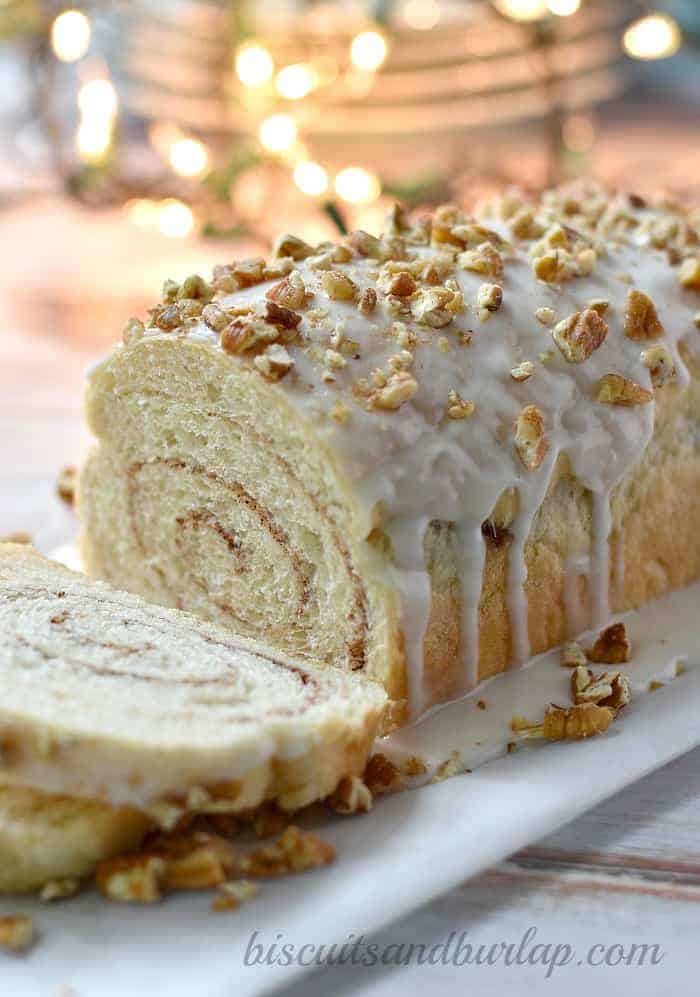 This Cinnamon Bread recipe is another one from the family cookbook. I've been on a roll sharing those recipes and y'all seem to like them so I wanted to share this one too.
Just a few weeks ago we had Daddy's Cheese Ball with Pimento Cheese, and earlier was Apple Pie Like Mama Made and Aunt Mildred's Foolproof Brownies.
The cookbook says that this recipe came from a 1982 edition of Southern Living. I made just a couple of small tweaks to the original recipe, but it is largely the same.
From the other side of the family, but equally delicious is Buddy's aunt's Hot Fudge Pudding Cake and we made it in an iron skillet. Yum!
Make the Bread from Basic Dough Recipe
This recipe is one of the options to make from a basic yeast bread dough recipe, and it uses only half of the dough. It makes a fairly small loaf, so it's perfect if you have just a few people, but you can certainly make two if you have a bigger crowd.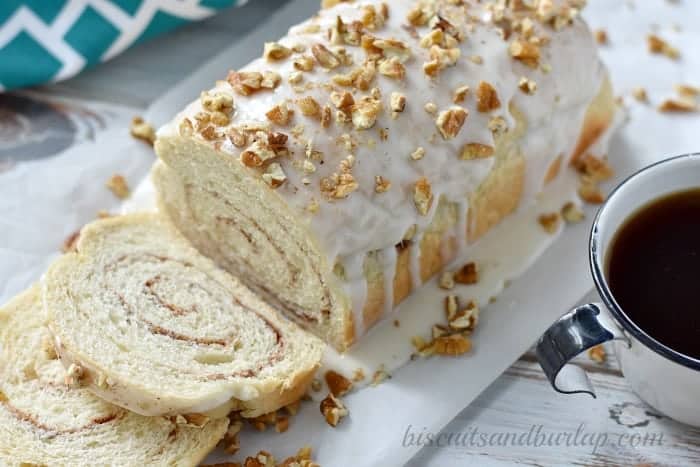 I made Parmesan Crescent Rolls with the other half of the dough. Check that recipe here.
After mixing the dough the recipe states you can cover and refrigerate it for up to five days before shaping, letting rise and baking. I tried it, and it worked just fine.
It took a little longer for the bread to rise, but I think that's because it started out cold, but it still turned out delicious. What a great way to spread out your bread baking. I'm all about using my time efficiently.
If you like quick breads that are made without yeast, you'll want to try Hummingbird Bread and Blueberry Orange Bread.
Cinnamon Bread that's versatile
We love nuts – especially pecans. If you don't believe it, just looks at all the great pecan recipes we have on our site. Classic Pecan Pie is another old family recipe, Ritz Carlton Lodge Inspired Spiced Pecans have been hugely popular, If that's not enough for you we've got a whole collection of recipes in one place that use pecans in everything from salads to main dishes.
But, not everybody loves them like we do, and then some people are allergic. You can always make this cinnamon bread without the pecans on top and it's plenty scrumptious. These cinnamon biscuits are another breakfast option for those who can't have pecans, but love cinnamon.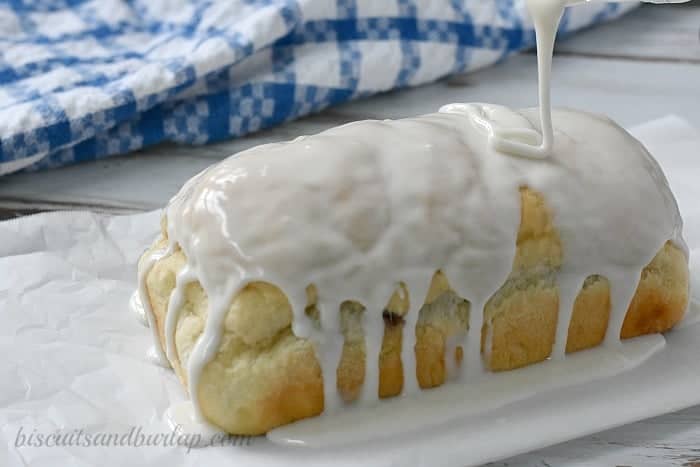 I mean seriously. Look at the icing drizzling down the side of the loaf. Cut a big hunk of this stuff, warm it up and schmear with some butter. A little slice of heaven on earth.
The original recipe calls for the cinnamon bread to be sprinkled with raisins in the cinnamon swirl. We're not big raisin fans, so I left it out, but if your family loves them, go for it.
If you're putting together a menu for breakfast or brunch you'll want to also take a look at Gouda Grits with Cajun Spice.
Things to love about this cinnamon bread
It's easy enough for a beginning bread maker
It makes a small loaf, using only half the recipe
You can make two loaves if you need more
Or, you can make something different with the other half
The dough will keep for up to five days
It's versatile – add pecans or not, add raisins or not
My Daddy used to make it, and that makes me smile
It's delicious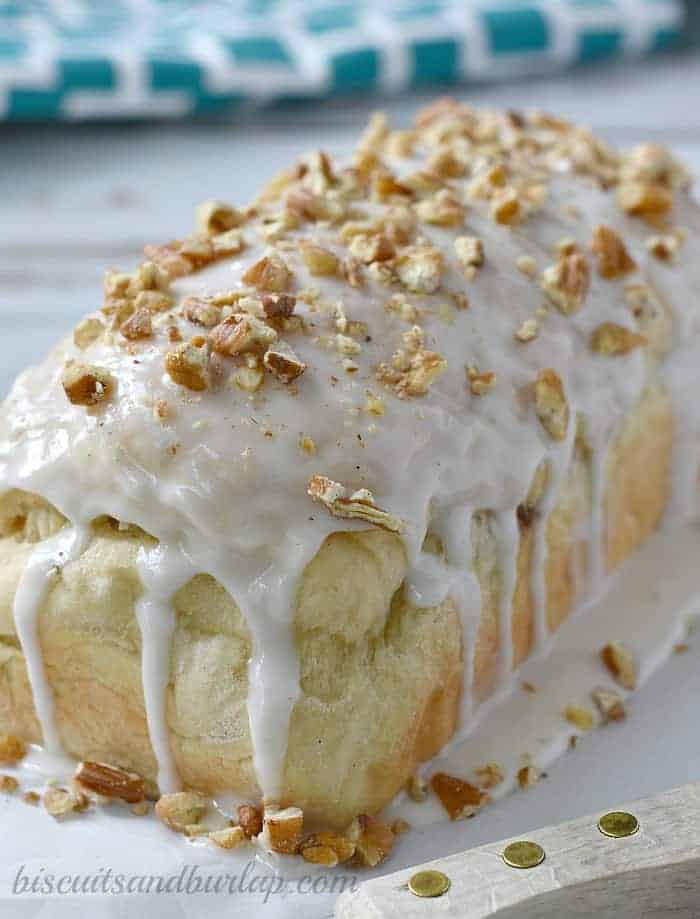 This recipe made our reader favorites of 2017. Check out the others here.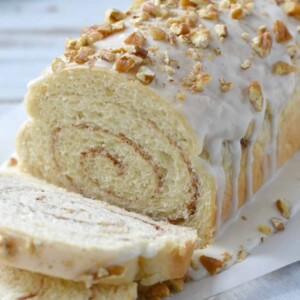 Homemade Cinnamon Bread
Easy enough for the beginning bread maker this small loaf uses only half the dough. Make two loaves or use the other half for another variation.
Ingredients
Basic Bread Dough
Cinnamon Loaf
½

recipe

Basic Bread Dough

2

Tablespoons

butter, melted

4

teaspoons

sugar

1

teaspoon

cinnamon

⅓

cup

raisins (optional)

1

cup

powdered sugar

2

Tablespoons

milk

½

teaspoon

vanilla

¼

cup

chopped pecans (optional)
Instructions
Basic Bread Dough
Dissolve yeast in warm water in large bowl.

Add sugar, shortening, egg, salt and half the flour.

Beat at low speed with electric mixer until smooth.

Stir enough of the remaining flour to make a soft dough.

Place dough in a greased bowl, turning to grease top.

Cover and let rise in a warm place (85 degrees) one hour or until doubled in bulk.

Or, cover and refrigerate up to five days.

Punch dough down. Turn out onto lightly floured surface, and knead 4 or 5 times.

Shape and bake as directed.
Cinnamon Bread
Roll dough into a 15 x 7″ rectangle on a lightly floured surface.

Brush with melted butter.

Combine sugar and cinnamon and sprinkle over dough. Add raisins if desired.

Roll up starting at narrow edge, keeping dough tight. Pinch seam and ends together.

Place seam side down in a greased 8.5 x 4.5 x 3 inch loaf pan.

Cover and let rise 45 minutes to one hour or until doubled in bulk.

Bake at 350 degrees for 25 to 30 minutes, or until loaf sounds hollow when tapped lightly.

Remove from pan to wire rack and let cool.

Combine powdered sugar, milk and vanilla until smooth and drizzle over loaf.

Sprinkle with pecans, if desired.
Tips for making the best Cinnamon Bread
Use original type yeast, not the quick-rising type
Reserve about ¼ cup of the flour to sprinkle on surface and on top of dough when rolling out
Set dough over a pan of warm water for rising (unless your house is 85 degrees and if it is, bless your heart for making bread)
Pinch the seams tighter than you think necessary to seal.
Breathe deeply while it's in the oven (baking yeast bread and cinnamon are one heavenly aroma)
I hope you enjoy making this Cinnamon Bread and sharing it with your family or friends. Leave a comment if you have questions or let us know if you make it and love it. And remember to #biscuitsandburlap with photos on Instagram or tag us on Facebook.
How about trying something totally new? We learned all about making bialys from a guest chef and you can too, by clicking here.

Other Recipes You're Going to Love