Homemade pepper sauce brings back memories of the days when a bottle sat on every table in the south. It gives a vinegary kick to vegetables like peas, butter beans, and all kinds of greens.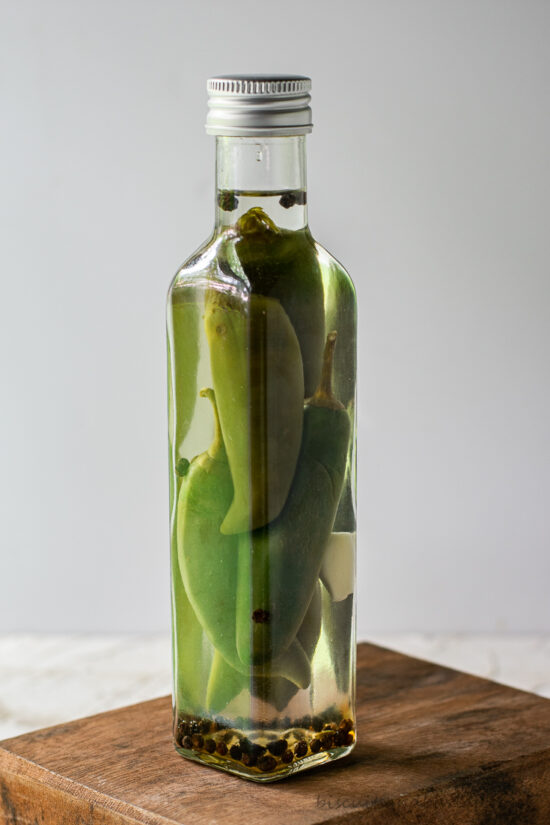 Exactly what is pepper sauce?
For those of you not familiar, pepper sauce is a marvelous thing. Not to be confused with hot sauce, this spicy, vinegary sauce is most commonly used on cooked veggies to add extra flavor.
Basically, it is the liquid from a bottle of peppers which have been pickled in a vinegar solution. The type of peppers most commonly used to make it are very young, green cayenne peppers. But, any type will work, and each will give their own unique flavor to the sauce.
The pepper sauce you see in the photos here is made with jalapeno's so it will naturally have a good spicy kick. You could make it with a milder variety like a banana pepper, and the resulting sauce would be much more "gentle".
What else goes in it?
Besides the vinegar most people add a little bit of sugar (not enough to sweeten, but to balance) and some salt.
We like to add whole pepper corns to ours and a clove of garlic, but it's entirely a matter of choice. We also use these flavors in our Quick Pickled Green Beans.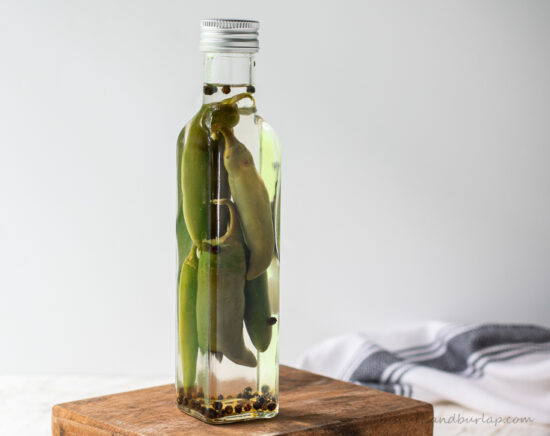 This is one of those recipes that is really more method than recipe (like our Southern Style Creamed Corn). Like so many other southern food traditions it was born from using what you had on hand and stretching it as far as possible.
How to make pepper sauce:
It's really as easy as this: Wash the peppers and put them whole in a bottle. Heat white or apple cider vinegar until it's just about to the boiling point.
Add the sugar and salt, if desired and stir to dissolve, then pour the vinegar solution over the peppers. If you want to add peppercorns or garlic they can be done before or after the vinegar goes in.
That's it! Seal the bottle up tight and set it aside for a few days.
If you use up your pepper sauce pretty quickly you can replenish the whole thing by refilling with hot vinegar again. Each time you do that the flavor will be diminished somewhat, but still good.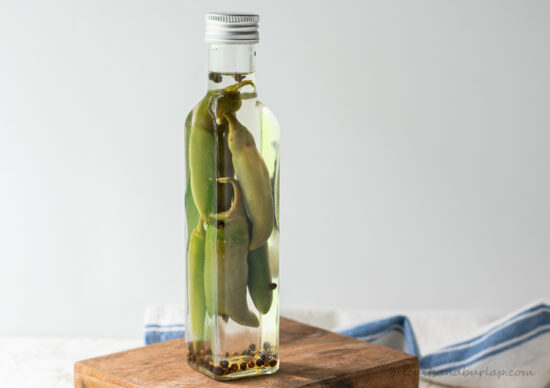 If the sauce is too spicy for you it can always be divided and diluted with more vinegar. It will then have more manageable heat.
Pepper Sauce is perfect for collard greens
We love collard greens around here. If you do too, you'll want to check out these recipes that use them:
Be sure to read about more southern food traditions, including the history and origin of the ingredients. Southern Food: Then & Now also takes a peek into the future of our favorite cuisine.
📖 Recipe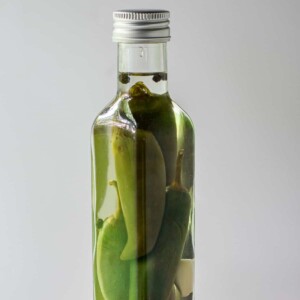 Homemade Pepper Sauce
How to make homemade pepper sauce in just a few quick steps.
Ingredients
Instructions
Place clean peppers in small bottles.

Bring vinegar to a boil and then stir in sugar and salt until it dissolves.

Add peppercorns and garlic to bottles, if desired.

Pour hot vinegar over peppers.

Close up tightly and let peppers "pickle" for 5-7 days before using pepper sauce.
Notes
This is about enough to make two small bottles of pepper sauce, but can easily be cut in half or doubled, depending on how many fresh peppers are available. 
Nutrition
Calories:
15
kcal
Carbohydrates:
2
g
Protein:
1
g
Fat:
1
g
Saturated Fat:
1
g
Polyunsaturated Fat:
1
g
Monounsaturated Fat:
1
g
Sodium:
390
mg
Potassium:
72
mg
Fiber:
1
g
Sugar:
1
g
Vitamin A:
166
IU
Vitamin C:
18
mg
Calcium:
9
mg
Iron:
1
mg
More recipes to check out: