Here you'll find a few tips on how to cut and clean collard greens. Good preparation is key to ending up with delicious greens every time!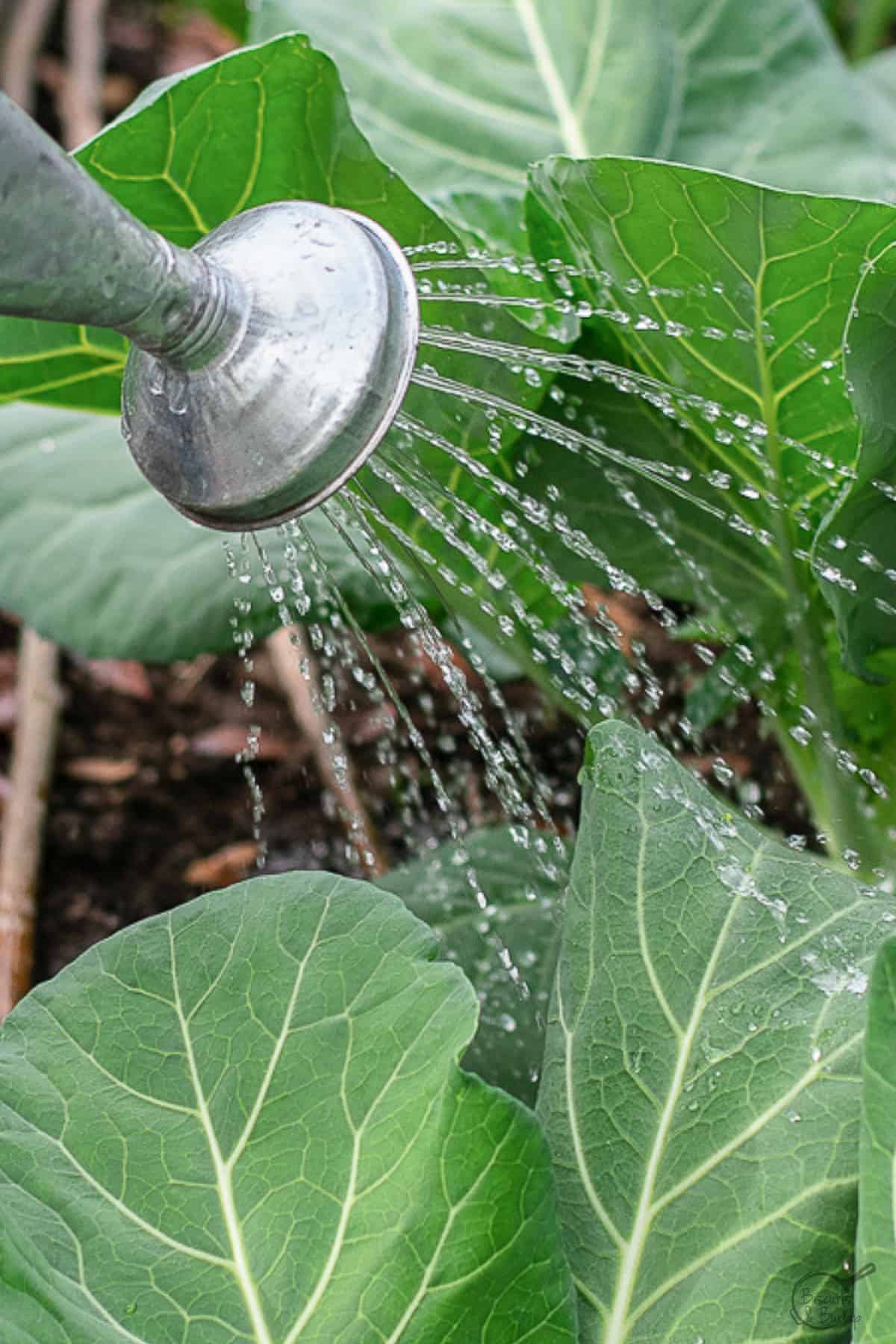 Collard Greens have been a staple around here forever. But in lots of circles, they are just now becoming popular. These days you'll even find them in high end restaurants, including some that don't focus on southern cuisine.
Here's why we decided to write this tutorial on how to clean and trim them: Too many times we have been served collards that would have been perfect with good preparation. It only takes a few minutes and makes all the difference in the world!
Jump to:
First you clean
This is a crucial step! No one wants to bite into grit in their collards, right?
A 10 minute soak in the sink in cold water is the way to start. This gives time for any dirt that has dried to get wet and come off the leaves.
Drain the sink and rinse it. You would following these steps for cleaning greens of any kind like turnip greens, mustard, spinach or kale.
Then use the spray nozzle in your sink to rinse the front and back of each leaf individually. As you finish stack them up on paper towels on the counter.
Now trim the stems
Y'all! This is where even those upscale restaurants can mess up. This is, after all, collard greens - not collard stems!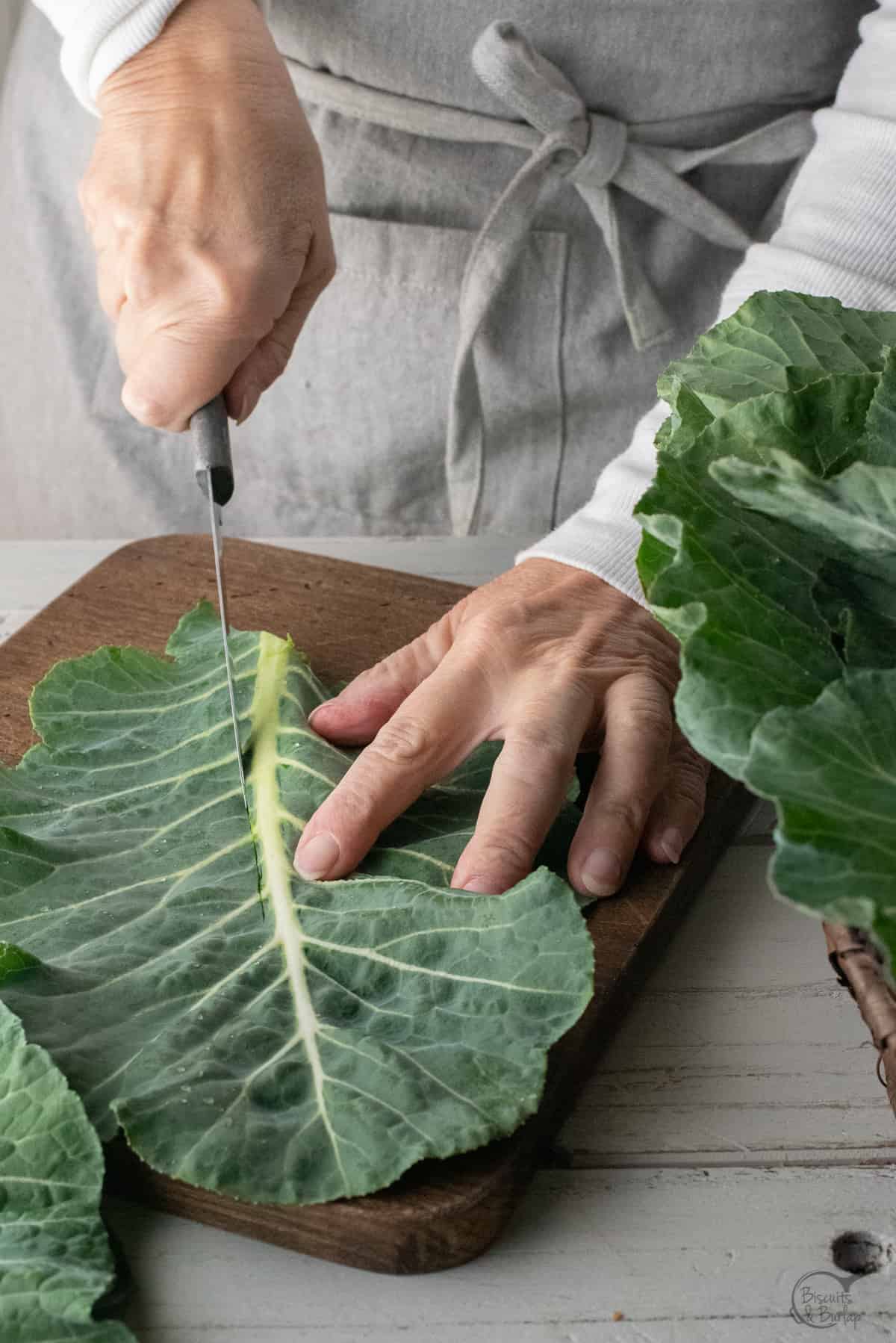 Lay each individual leaf on a cutting board. Using a sharp knife cut first down one side of the stem.
You don't have to go all the way to the end. As the stem gets thinner it will cook up nice and tender just like the greens.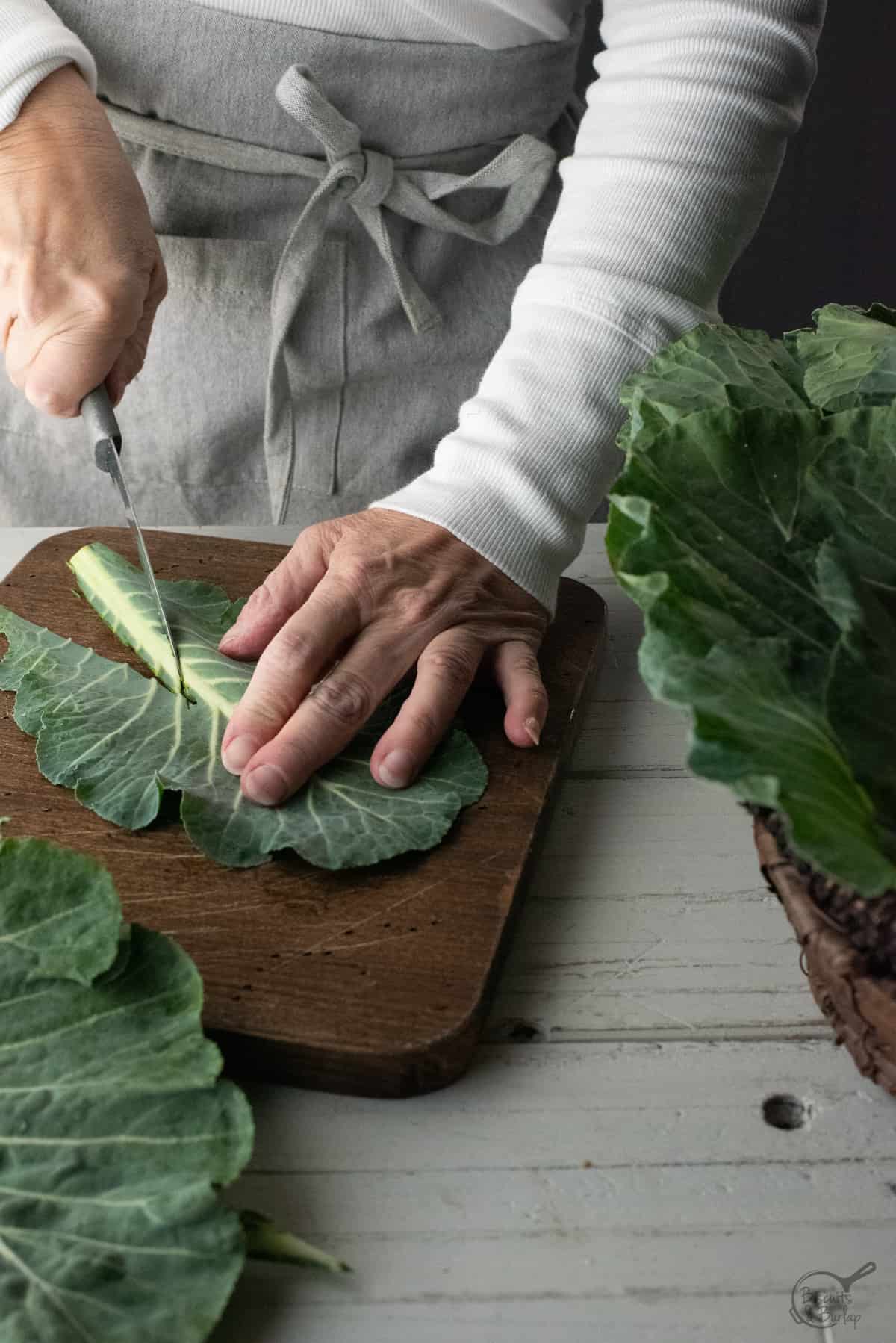 Now cut across the stem and back down the other side. After you've done this a few times you'll be able to do it quickly.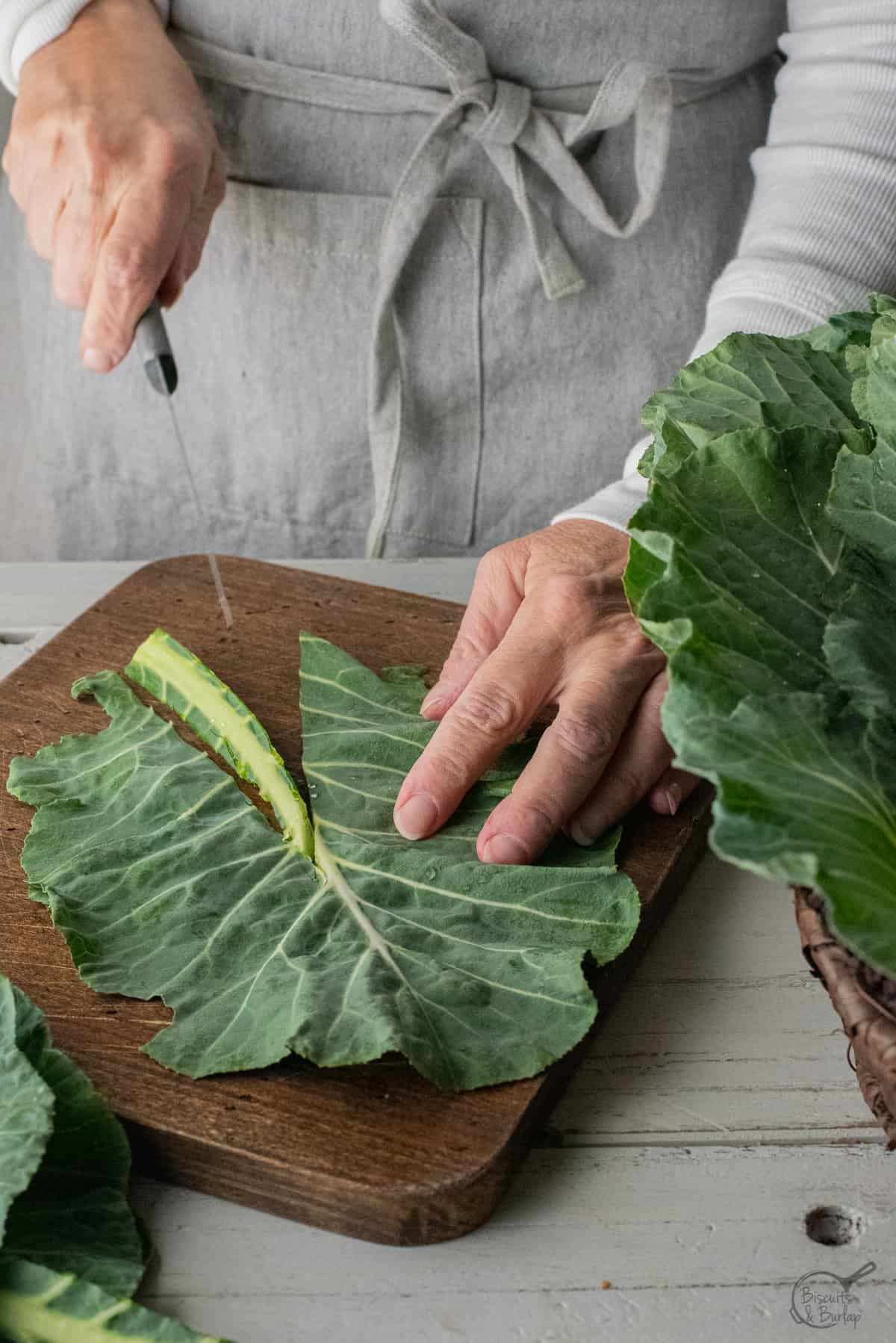 The stem will come out and you can just toss it aside. You'll be left with a beautiful collard green leaf with no tough stem to mess up your recipe.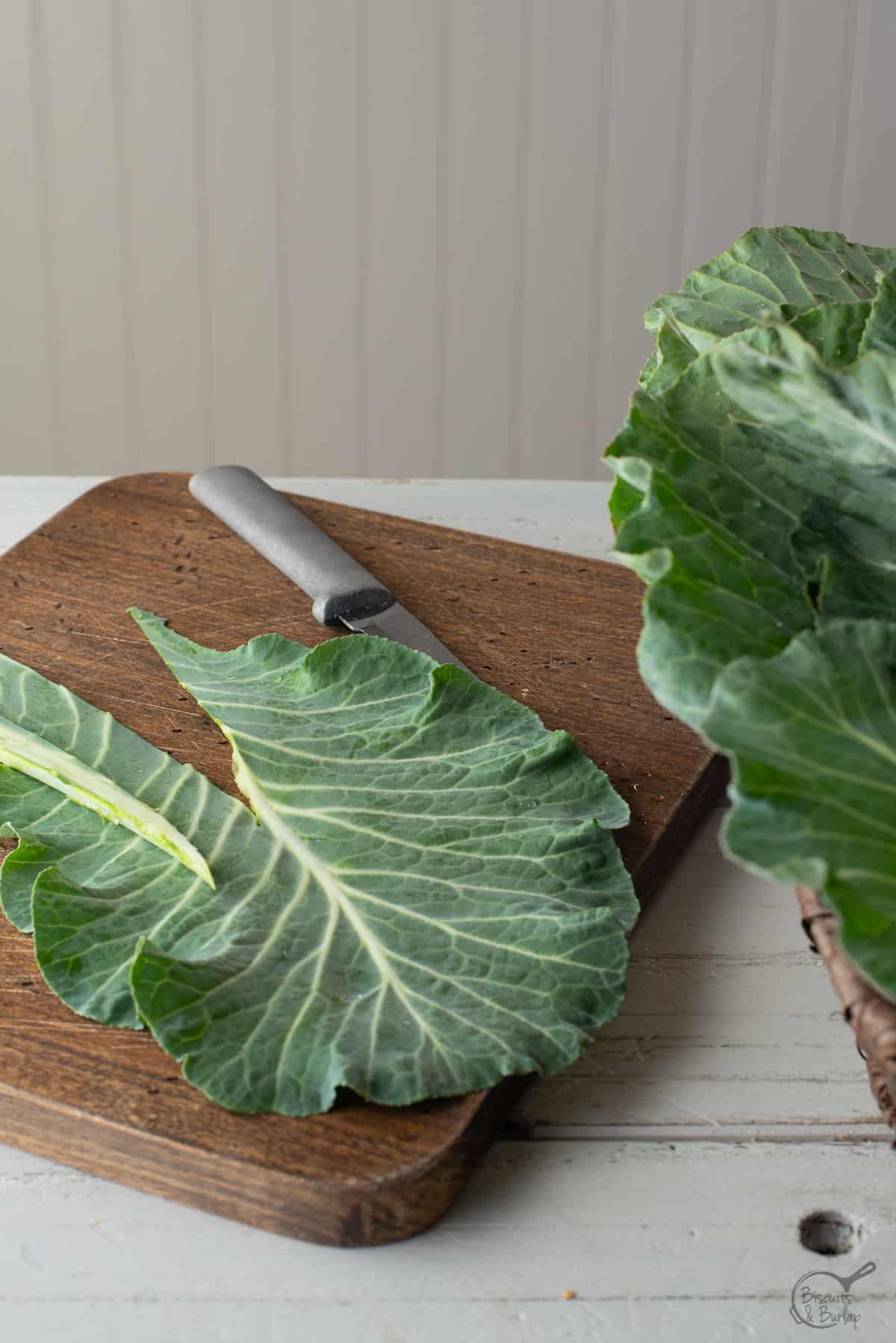 Final step: The best way to cut collard greens
First you'll stack a few leaves on top of each other - 5 or 6 should be just about right.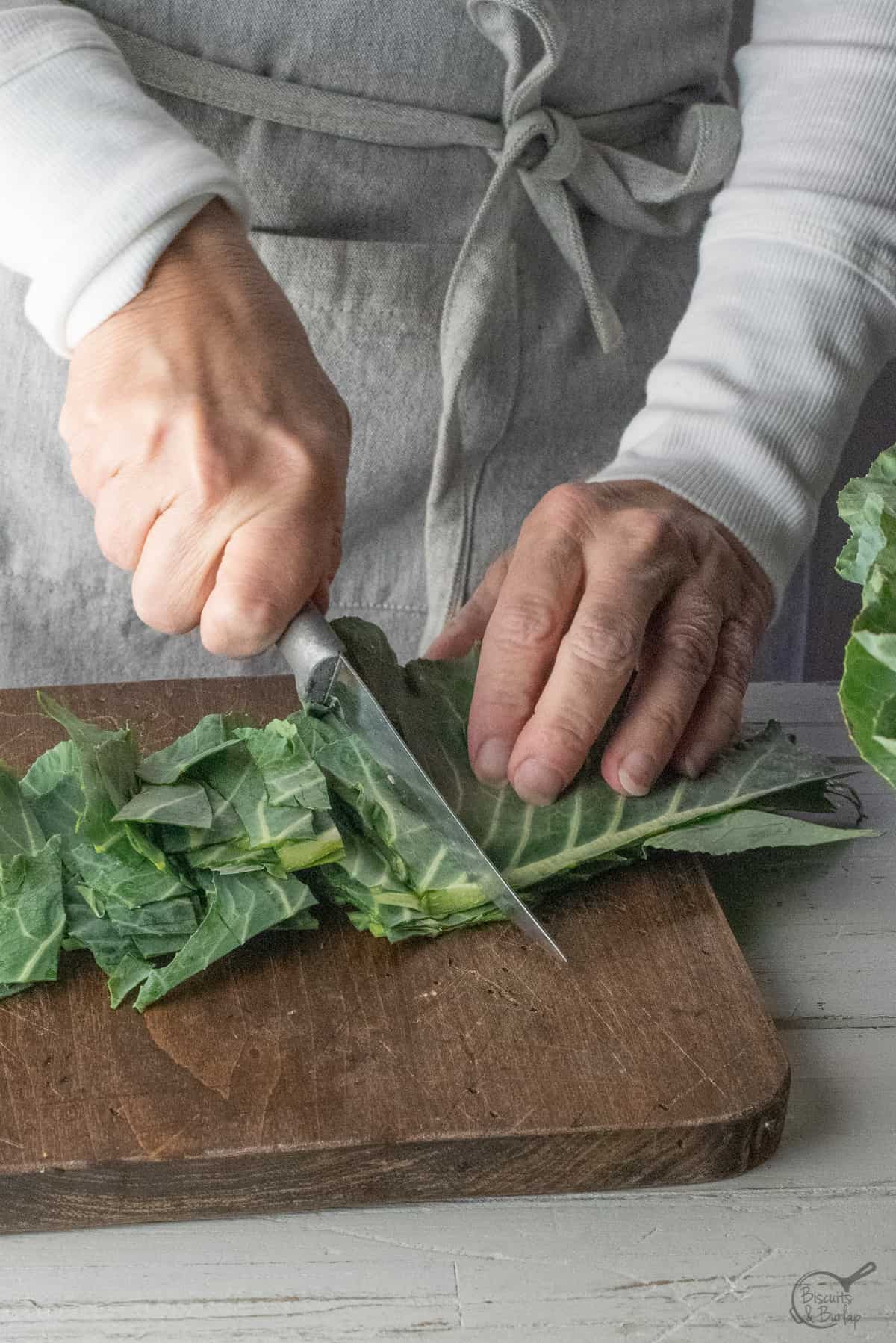 Fold the stack of leaves in half and "slice" into pieces about 1 inch wide.
If the leaves are extra big you may need to make one cut vertically through the stack. You don't want to end up with collard green "strings"!
That's it! You're now ready to cook your greens. Rest assured that they are going to be delicious because you took a few minutes to prepare them properly.
Collard Green Recipes
If you're here you must love them like we do. Here are a few places to get started with recipes:
FAQ's about cleaning collard greens before cooking
What do you soak collard greens in to clean them?
We use just cold water. If you like to use vinegar to clean your vegetables you can add a splash (about ½ cup) of distilled white vinegar to the sinkful of water.
What is the quickest way to clean collard greens?
The method above is what we feel is the quickest way that is also effective .
Do you have to cut the stems out of collard greens before cooking?
No, you don't have to. But collard leaves can be quite large and the stems can be tough, even after cooking. The greens are much better without the stems.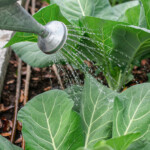 Print
How to Clean Collard Greens
Here you'll find a few tips on how to cut and clean collard greens. Good preparation is key to ending up with delicious greens every time!
Instructions
Cover collard greens with cold water in sink and let sit for about 10 minutes.

Drain water, remove collard leaves from sink and rinse the sink.

Rinse each leaf individually by spraying with spray nozzle in sink. Be sure to spray off both sides.

Lay the collard green leaves on a cutting board one at a time and trim out stem. Using a sharp knife cut down one side of the stem until the point where the stem gets smaller. Cut across the stem and back down the other side.

Remove and discard the stems.

Stack 5-6 leaves together and fold in half lengthwise. If leaves are very large make 1-2 vertical cuts, then cut horizontally into 1 inch pieces.